—Questions to determine purposes for your pool to ensure a result that achieves your goals
Planning a gunite swimming pool is an exciting process filled with many choices—and naturally, you want to make the right ones.
The decisions you make in your project's design and features will impact the overall value and enjoyment it delivers for years to come.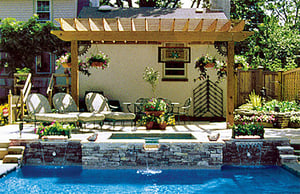 Therefore, your pool designer must understand what each member of your household truly wants from a backyard resort. That way, he or she can review the various options to meet those desires.
With this in mind, here are three major areas of consideration for pinning down your preferences, including some targeted questions to flesh out some needs and wants about which you may not have thought.
1. Determine the key functions your family wants the pool to serve.
What you want to be able to do in and around your pool is among the essential considerations in the planning process.
Most families have multiple purposes in mind. So, think about which activities your pool should accommodate.
For example, swimming, relaxing, sunbathing, playing volleyball or basketball—or all of these?
What about children playing? Will that be in the shallow area for younger children? Are the kids clamoring for a water slide? Is there a diver or wanna-be diver in your household?
Will you entertain with pool parties? And will these social events be geared for young children, teenagers, grown-ups, or all three?
Is fitness on the agenda? If so, what kind—swimming laps? Strength or cardio exercises performed in the pool's shallow end or in a large spa? Or in both spots?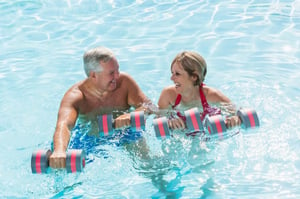 On the other hand, maybe your chief objective is to have the pool beautify your property and use it only for an occasional dip.
Having a clear idea of your intended uses will impact the pool size, shape, and depth. Your desired uses will influence which pool and backyard features—from tanning ledges to swim-up bars—to ultimately include.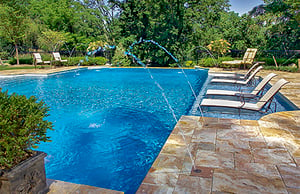 The kind of materials for pool tile, coping, and equipment choices will be part of the equation. So might accessories such as slides, diving boards, or jumping rocks.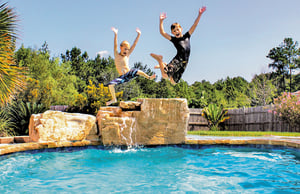 For example, swimming laps may be one reason someone in your family wants a pool. Naturally, you will want a structure that's long enough for this exercise routine.
But whether you build a traditional rectangle lap pool or a creative out-of-the-box design, it must also be configured with a clear swim path and walls that can accommodate flip turns.
That means potential obstructions such as steps, benches, a tanning ledge, or a grotto must positioned outside of the swim path. Such configuration needs are essential to integrate during the pool design process.
Another example that may be on your list of intentions: Entertaining. Do you plan on having friends over for backyard swimming and socializing?
If so, certain features, such as a poolside fire pit, custom outdoor kitchen, or swim-up bar are among amenities to consider.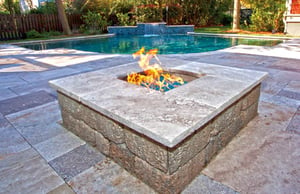 Or, perhaps an outdoor venue for energetic youngsters is the main goal for your new pool.
In this case, you might consider options such as a waterslide, benches/loveseat to provide a rest stop for beginning swimmers, and an extra-large tanning ledge for any little ones so they can splash in just three to nine inches of water.
Are members of your household active and sports-minded? You might want a pool with the benefit of a large shallow end and a deck-mounted basketball hoop.
Or, you might want a sports pool; it has two shallow ends that make it ideal for two teams playing water volleyball.
What's outlined here represents only a few illustrations of how the intended purposes for your pool can and should drive primary design choices.
2. Consider how much your family may benefit from a spa.
Many pool buyers include a gunite spa in their project. Should you?
When it comes to this amenity, understand the paybacks it offers. That way, you can properly assess if a spa will bring appreciable value to your family.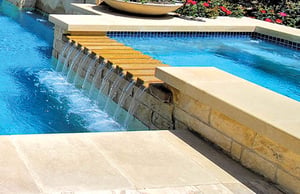 While a spa can bring tremendous value on multiple fronts, this addition can considerably increase your contract price.
That's why is it so important to carefully weigh a spa's potential lifestyle benefits for your particular family members.
A spa will complement your pool by introducing an entirely different dimension to the at-home aquatic experience.
First, a spa is superstar when it comes to relaxation and general well-being. Think of it as an indulgence you can enjoy daily that's actually good for you.
Bubbling hot water helps relieve stress after a hard day's work or life's other frustrations. If you can picture yourself blissfully laying back in the tranquil water, a spa might be for just you.
Along with general relaxation, a spa provides true hydrotherapy. Along with the high-temperature environment, massaging jets work wonders for most everyone.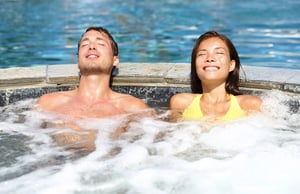 Does anyone in your family frequently struggle with back pain? Endure aching muscles from hard workouts? Suffer with arthritis or other joint conditions?
In these cases, hot-water hydrotherapy can be a tremendous asset. The health benefits of soaking in a spa are vast and well-documented by research. The same goes for the physical benefits of exercising in a spa's warm water.
For any insomniacs in your home, time in a hot spa before bedtime has also been shown to foster a better night's rest.
A spa is also a wonderful place for socializing. The ultra-versatile environment is perfect for family time, kids horsing around, a romantic interlude, and entertaining grown-ups.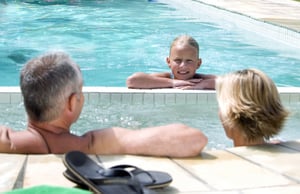 For young children, a spa's benches offer kid-friendly depths. In some ways, it can serve double duty as a kiddy pool.
Yet another spa benefit is extending swim season. If you want to maximize the time spent outside in the water, you can fire up the spa even when it's too cool for the pool—in some parts of the country, even in wintertime.
Lastly, if enhancing backyard style is another goal for your new pool, consider a spa from an aesthetic perspective. Depending on its design, a spa's beauty can surpass even that of the pool's.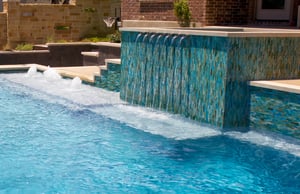 A spa, particularly one that's elevated above the pool, can be styled in multiple ways.
With stylish spa spillways and an exterior dam wall covered in decorative stone or tile, the structure becomes a head-turning focal point within the yard.
For a more striking appearance, you can go upscale.
Features such as channel, spout, and scupper spillways up the visual drama. Ditto for a stunning configuration known as a rim flow spa design.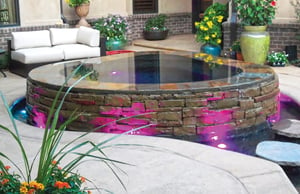 With these possible advantages in mind, you might want to invest in this attractive, functional, hot-water amenity.
3. Determine any special wants or needs for the family pool.
Some homeowners have pool-related objectives that are somewhat unique for their family or home. You want to identify these particular considerations, and ask if they can be factored into your plan.
Let's say you plan to throw large backyard pool parties. Maybe you even plan to bring in a live band or include dancing.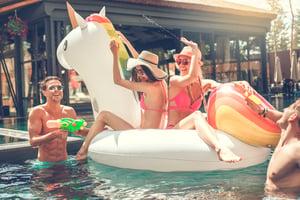 Therefore, it will probably be important to build plenty deck around the pool to accommodate a big crowd and party activities.
In turn, this will influence planning for pool-patio-deck-design choices. It may involve the size of the deck, shape of the pool, or calculating a different location for the spa.
If hosting backyard events is high on your list, you might also want color-changing LED pool lighting. Along with lighting the pool and adjacent area, advanced LED systems will entertain guests with dynamic, themed flashing light shows.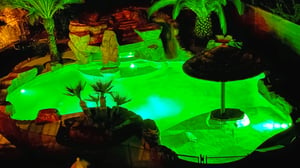 Or, when building a swimming pool in a small backyard or one with some space limitations, your special request could be to preserve a beloved specimen tree, to leave enough space for a vegetable garden, or keep a grassy area for the dog to run around.
On the other hand, your request could be for certain conveniences. Each night before sleep, maybe you want to step out the bedroom's backyard door right into your warm spa.
Or, you practically live in your kitchen. So, you want the ability to glance through the sink window and watch the kids when they are in the pool.
To accommodate goals like these, your designer can properly plan the shape, size, location, and/or configuration of the pool and spa.
A special objective can also arise from concerns over privacy or noise.
For example, perhaps sounds from street traffic make it harder to enjoy your backyard space.
If so, you might include a large pool water feature or series of features.
Why? A large rock waterfall, series of sheer cascade features, or highly elevated spa with water pouring through multiple spillways will create gushing sounds.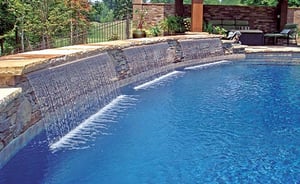 The "white noise" from this flowing water may help mask the sounds of cars and create a greater sense of tranquility.
Or, if you are sensitive to sound or a light sleeper, you will want to let your designer know.
He or she may ensure you have the quietest pool pump on the market or choose a location for the pool-equipment that's far from your bedroom window.
Privacy from the neighbors could be a matter of interest to you. For this, including certain features could help block the neighbor's view into parts of your pool.
For example, you could build a towering grotto waterfall to interrupt the line of sight.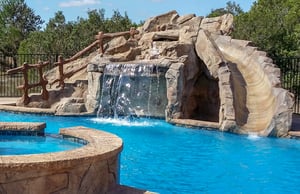 A similar approach would be a dramatic six-foot tall raised bond beam (sections of pool wall) or a landscape planter box where leafy bamboo stalks will quickly grow tall and thick.
By contrast, if your backyard overlooks beautiful vistas, taking full advantage of this element should be on the agenda.
To make the most of the view, your designer may orient the spa and a tanning ledge to face the scenery. Or, the plan might call for the infinity pool's vanishing edge to highlight the lovely horizon.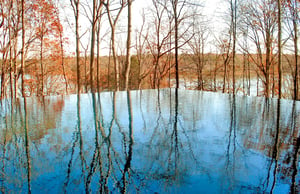 On a whole other front, perhaps someone in your household has mobility challenges. Inform your designer. Then he or she can review options with you such as handrails, extra wide steps, or a gently sloping beach entry.
Does anyone in your household have sensitive eyes or skin conditions that are easily irritated by chemically treated pool water?
What about respiratory ailments aggravated by fumes from chlorine byproducts? Interest in protecting the health of their color-treated hair or the longevity of their French manicures?
If the answer is "yes" to any of these concerns, you will want to learn about possible solutions: Ask about high-tech chlorine alternatives such as ozone and AOP (advanced oxidation process) sanitizing systems.
These technologies ensure a fresh, gentle swimming environment without the typical harsh chlorine effects.
Whether you want the ability to exercise in the pool year-round or virtually year-round is something else to share with your designer.
That way, you can get advice on the best local ways to maintain water temperature throughout the seasons.
Among them will be options such as solar heating, an automatic pool cover, a highly efficient gas heater, or electric heat pump.
Assess your preferences to design and build smarter
Now you have a better understanding of why identifying your priorities for a pool is paramount for strategically planning one.
The purposes for having an aquatic retreat will guide you in creating a pool, spa, and backyard that's best fits your family's lifestyle and any special preferences or needs.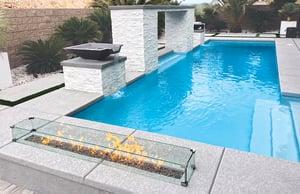 Only you know what is most important to you and your family. Schedule an in-home estimate and engage your pool designer and walk through your wish list.
Doing so will likely uncover potential features you may not have considered and problem-solving options you may not have known were possible.