—15 tips to overcome space limitations for building an inground pool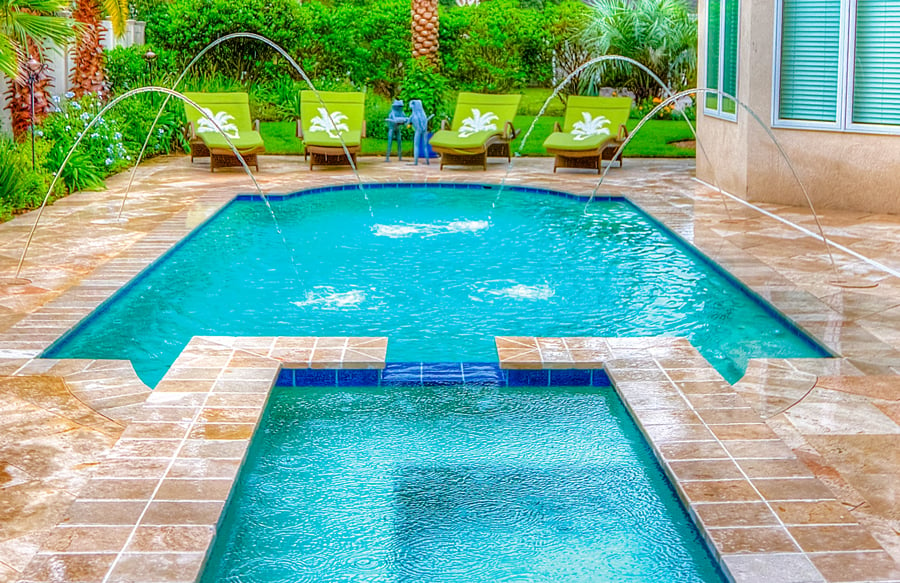 What are some ideas for building a concrete swimming pool in my small or narrow backyard? Is it even possible?
It's a common question among homeowners with small property lots who want a private aquatic retreat. The good news is that in many cases, the answer is "yes," and a variety of solutions are available.
Inground pools in small yard space
Creative planning ideas often make it possible to fit a small-to-medium inground pool—sometimes even a spa too—into a tight lot.
An experienced pool designer can provide a number of successful approaches for all but the most challenging properties.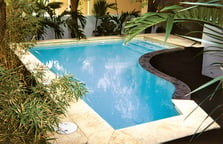 The same goes for a large backyard where the available space to dedicate to a pool is limited.
For example, the lot already contains other outdoor amenities such as hardscape, an outdoor kitchen, or a barbecue grill.
Or perhaps, there are mature trees, a garden, or custom landscaping a homeowner wants to preserve—leaving only a snug spot for a future pool.
Furthermore, local regulations may reduce the available space for a new pool. In most metropolitan areas of the U.S., municipal codes mandate what's known as a "setback." Depending on the city, a pool may be required to be at least three, five, or more feet from the property line.
Let's look at small backyard pool ideas to outsmart the limitations of your real estate. Then you can discuss these design options with your pool contractor.
1. Follow the space
To get the most bang for your backyard space, select a pool shape that mirrors the contours of the yard where you want your aquatic retreat to go.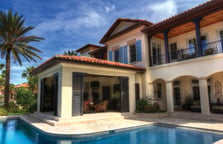 With this in mind, a smart contractor will consider designing the far side of the pool to follow the property line as close as the setback requirement will allow.
Now, on the house side of the pool, consider how much deck area you will need for patio furniture and clear access to the pool.
In many cases, employing this approach will help you define the shape and size of the pool.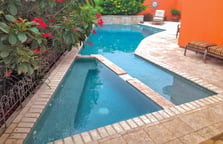 A variation of this strategy is to mimic the outline of your home where it meets the backyard.
In other words, design the pool shape around the perimeter of the adjacent house.
2. Incorporate walls
For some backyards, a helpful technique for conserving valuable space involves a wall.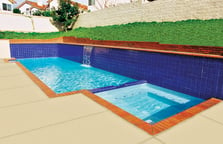 The space-saving trick here is to "push" the pool's location into a corner or edge of your yard. Then, plan a pool design that uses one of the pool's walls to perform on or two additional extra roles.
Here is how this single structure can fulfill two or even three roles. Using one of two possible construction techniques, your contractor can extend the height of this wall several feet or more.
By doing so, the raised wall can kill two or three birds with one stone. It can act as a critical retaining wall to hold back soil from a slope.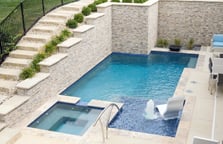 If local codes do not require an additional fence, the raised wall can also create a boundary for your property to separate it from your neighbor's yard and provide privacy.
In some cases, the raised structure may perform as both a retaining wall and a property enclosure.
3. Design vertical with water features
When buildable yard space is at a premium, you don't want to sacrifice the square footage of a deck or the size of your pool for decorative features that demand space.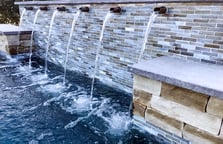 Examples include favorite options like a rock waterfall or a shelf containing multiple fountains.
However, you can have other lovely water features while maximizing the size of a pool.
The tactic us to using the air above it. Pick features with a vertical orientation that require minimal to zero horizontal space.
Several options are available. If your pool design includes a tanning ledge, you can add one to three bubbler water fountains to it.
Another idea is to add curved deck jets or laminars; these sleek streams of water emanate from an inconspicuous one-inch slit on the pool deck.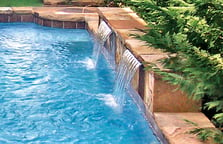 The most space-efficient route is to pick features that integrate into the interior pool walls. These include stylish scuppers that come in various types and shapes. Or you can opt for cascade-style water features that your builder can configure in various widths.
4. Use any pockets
Some yards have a quirky shape. Some have part of the buildable space impeded by obstacles such as a hillside, mature trees to protect, or the home's architectural support columns.
If so, you may be able to take advantage of a small niche, alcove, or other odd-shaped nugget of space.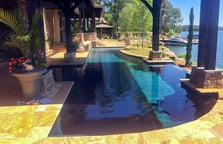 Put this "bonus" square footage to work outside the pool's main swimmable area.
Depending on the pool's size, shape, and location, an ideal choice for this small space is an exterior spa, bench, tanning ledge, or the pool entry steps.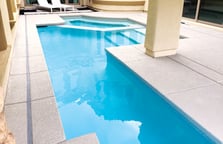 Using this small pocket of land means the particular feature will not gobble up precious room within the pool or protrude into the swimmable area.
5. Make steps do double duty
Today, the vast majority of new inground pools contain a tanning ledge. You might want one too.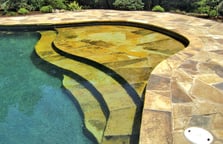 When the room outside is in short supply, one space-saving solution comes from another popular pool-design approach: making the first entry step also perform as this convenient shelf-like feature.
By simply expanding the dimensions of the first step, you create the perfect spot for taking in the rays while relaxing in the cool water.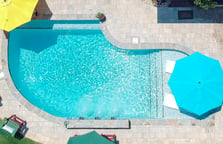 Now, this extra-large hybrid step-tanning ledge will eat up some interior pool space. However, compared to building a separate tanning ledge, this approach will easily save several square feet. And in an ultra-small pool, using this design tactic may make one possible after all.
6. Go shallow
When planning a small pool, among the most important choices you can make is its depth.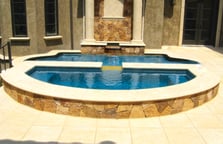 Keeping it to a maximum of four or five feet means additional length will not be needed for the necessary slope
Here's why. A pool's depth determines the slant or grade of its floor. For safety and comfort—and to comply with building codes—each entry step must rise less than one foot.
So with the standard three steps, the maximum depth should be three or four feet at the base in the pool bottom.
Now, in a small pool, having a deep end greater than five feet will create an awkwardly steep floor. Therefore, the pool's overall length would have to be longer to accommodate a more incremental slope.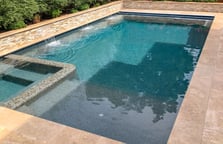 It's also worth noting that keeping a swimming pool's depth to a minimum offers several benefits.
A smaller volume of water requires less heat, fewer chemicals, and easier maintenance.
7. Play with half a deck
Many people assume that a pool needs a deck to completely surround it. However, for a backyard pool, the extra decking may not serve any useful purpose.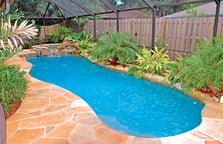 This may be particularly true if one side of the pool is positioned close to a property line, retaining wall, lawn, trees, or other landscaping. No one will ever need to go onto that side of the pool to enter the water anyway, so why would a deck matter?
To save valuable yard space, limit the deck. Install stone, concrete, wood, brick, or pavers on only one of the pool's two long sides and one or both of its short ends.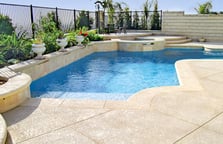 Typically, the best choice is to install decking is between the house and the pool and, if necessary, whichever end of the pool offers the best access for water entry and exit.
8. Build an inside spa
Pools with spas multiply the lifestyle benefits of a pool only. One way to squeeze a spa into a petite backyard is to tuck it into the pool interior.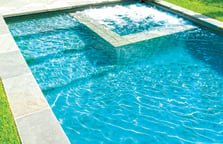 Typically, the place for an interior spa is a niche section of a free-form pool or one corner of a geometric/straight-edge pool.
The wall of the pool behind the spa forms about one-half to two-thirds of the spa's structure.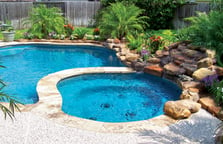 To separate the spa interior from the pool and complete the spa structure, your contractor will construct a "dam wall" with a spillway.
This wall is usually 6" to 12" thick and 7' to 10' wide.
9. Swim in place
If you want a pool at home to swim laps, but a tight property makes this a pipe dream, an alternative is possible.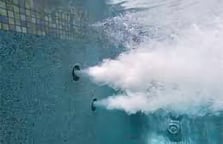 While a typical residential lap pool runs 30 to 40 feet or longer, a smaller one just 10 to 20 feet long can still provide the kind of aquatic workout you desire.
The answer lies with having an accessory known as a "swim jet."
Your contractor can build one of these units into the pool wall during construction.
The system uses a powerful high-volume pump and a large, protected drain to deliver a current that creates resistance.
Adjust the intensity as you like from within the pool. Some models come with a mobile app for total remote control.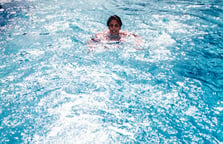 The end result is a counter-current that allows you to swim continuously in place. Think of it as though you are performing your strokes against the current in a river.
Once you are finished with your daily laps, the jet can also help your muscles relax with invigorating massaging action.
10. Unite a pool and spa
You can also opt for what's known as a spool.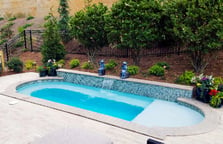 As its name implies, a spool is a hybrid spa and a pool in a single structure. Practically speaking, it is a very large spa.
With a spool, you can unwind in bubbling waters and relax with hydrotherapy jets.
However, it also delivers a few of the benefits of a pool.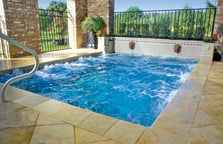 First, compared to a traditional spa, a spool can accommodate more users at one time.
Second, unlike a spa, a spool usually has room for including an option or two such as a water feature, small tanning ledge, or deck-mounted basketball hoop.
Third, a spool can even boast a swim jet for an aquatic workout.
11. Build flush
We explained how one wall of the pool can play dual roles as a boundary structure or retaining wall.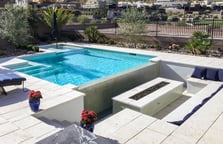 A variation on this approach present another opportunity. Build another backyard amenity right up to the pool wall—and possibly incorporate the wall as well.
For example, say you have a sloped yard. For this reason, your pool might be configured with part of the structure out of the ground.
The pool wall section that's above the ground can serve as the backdrop for an increasingly popular outdoor feature: a sunken conversation area with a fire pit.
Since there is no open space or decking between the pool and this cozy seating area, this flush composition packs two amenities into a compact footprint.
Or, perhaps along with a pool, you want to squeeze a kitchen into your backyard plan.
A portion of the pool wall can be built with a bar countertop that's part of the outdoor kitchen.
This unified formation can more efficiently fit into a small area.
12. Substitute the hydrotherapy
If your chief reason for wanting a spa is hydrotherapy jets, but your backyard simply has no room for spa, a solution is at hand: Add jets to a pool bench or loveseat to achieve a portion of the hydrotherapy experience.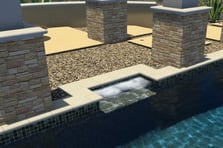 Some people think that pulsating jets work to relax muscles only with hot water. Not true.
The gentle massaging action of an aerated jet of water has an effect at any comfortable water temperature.
Whether they are in a regular pool or a pint-sized spool, hydrotherapy jets feel great. Your contractor can build them into the wall of any pool structure.
In a compact pool without a spa, the ideal configuration here will include a bench in front of the jets. That way, you can sit and relax while the jets work their magic on sore muscles.
13. Look to the side—and in between
Think about any available space on the side of your house. In some cases and subject to local building codes, the often-overlooked side yard may yield expanded design prospects.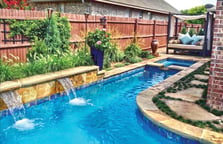 Placing part of the pool in the side yard—typically in an L- or quasi L-shape configuration—opens up opportunities to build a larger pool.
Doing so may offer several additional benefits. Among them: greater privacy, more visual interest, and the space to accommodate more swimmers. So don't limit the pool to only the area behind your house.
Now, perhaps no side yard is available. But does your home happen to have an open courtyard area or patio area nestled between its sections—common with U- or L-shaped Ranch-style architecture? If so, you may be able to use this area to accommodate part of the pool.
Besides property-line setbacks to consider, most building codes specify minimum distances from a house. Pool builders keep these in mind when designing a pool to wrap around the corner of a house or to fit into a niche area of the home's structure.
14. Box in the greens
With no deck on the far side of the pool, that real estate—often a thin strip—may be available.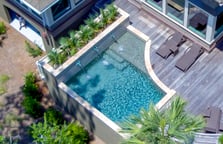 You can allocate this area for some landscaping.
Any plants here will visually integrate with the pool's silhouette—creating a a particularly attractive, cohesive design.
Now, if you design the pool with its back wall raised, you have an even better option. You can have a planter or "landscape box" for your greenery—bringing added dimension and character to your pool.
The tile, brick, or stone facing on the planter's exterior walls will also make a beautiful stage for your plants.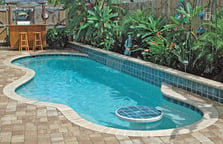 As a bonus, a raised planter can help assure that runoff water from a heavy rainstorm will not overflow the soil and flood the pool.
That's because poolside planters are a great place to locate drains.
15. Use plan B: a solo spa
Now, say in your situation none of these small pool ideas will work—even a tiny pool simply cannot fit.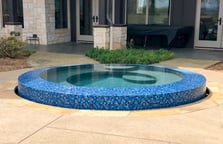 You may want to consider an option that provides some of the benefits of a pool: a stand-alone inground spa.
With such a small footprint, a "spa-only" can go into just about any backyard.
Now, fair warning when you go solo with an inground spa: Building one can easily cost almost as much as a small swimming pool.
However, some homeowners still prefer to go this route. They would rather have a spa versus no aquatic retreat at all.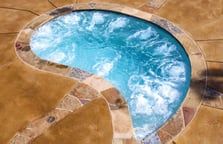 Furthermore, they have no desire to settle for a bulky, pre-fab hot tub that sits on the ground and becomes an eyesore.
A much better choice is a custom spa that enhances the beauty of any backyard.
Small-pool design tactics can make your backyard dream come true
Despite concerns that your property's physical realities threaten to make an inground pool out of the question, you may indeed have a path to an aquatic resort after all.
In most cases, your contractor can employ at least some of these approaches to achieve a beautiful, functional pool design for your small outdoor space.