—More than good looks, pool tile protects your liquid investment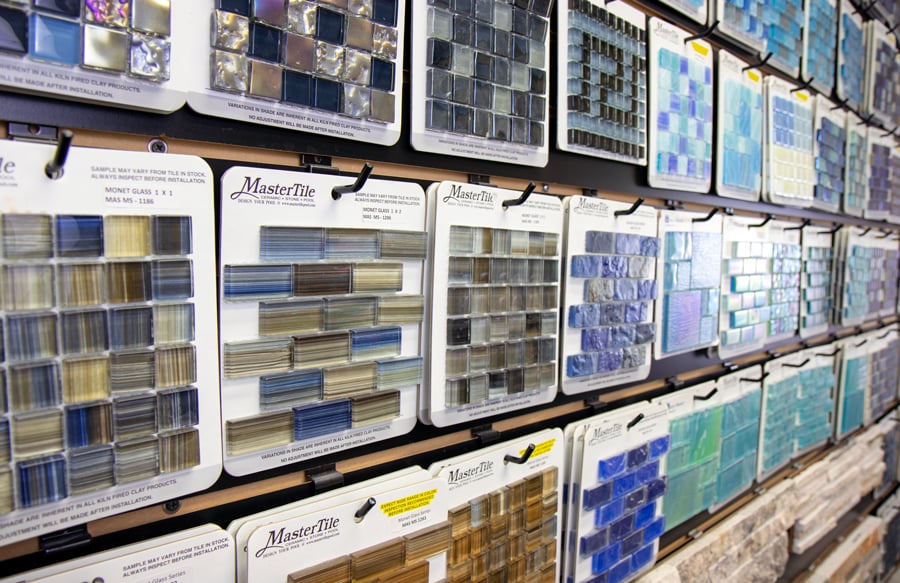 One of the first design elements to draw in your eyes on a swimming pool is the tile along the waterline and on features such as elevated spas, infinity edges, raised bond beam (pool walls) above the water surface.
However, along with the colorful style that swimming pool tile adds to your aquatic resort, the material provides two key functional roles critical to a pool's longevity and maintenance.
Introduction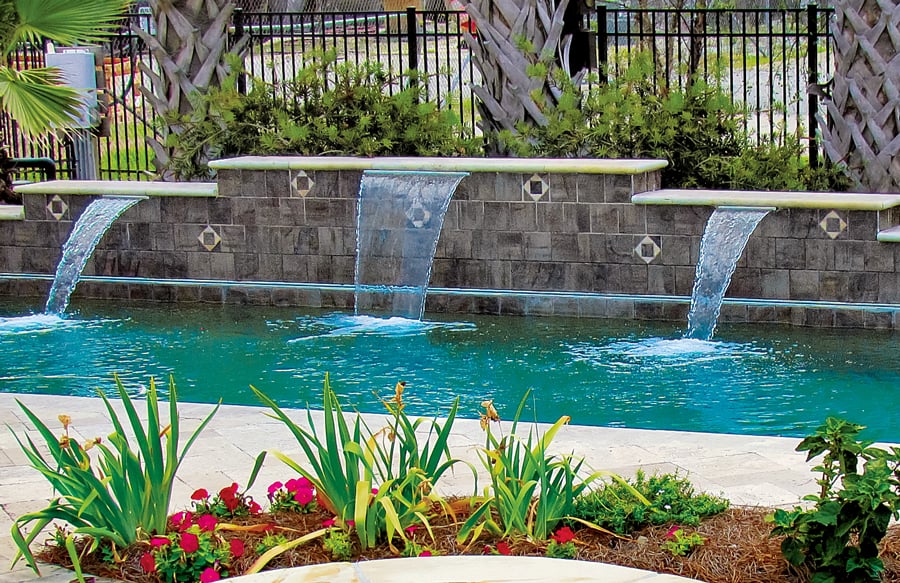 Let's start with what exactly pool tiles are. They come in one of three materials: porcelain, natural stone, and glass. Each is a flat, pre-formed hard plate that is around one-quarter to three-eighths of an inch thick.
Most pool tile comes in a sheet that measures six inches square when applied to a pool wall. Each sheet is formed by gluing the back of the tile or with flexible nylon mesh. The sheet may contain a single large tile or a collection of small ones that comprise a mosaic.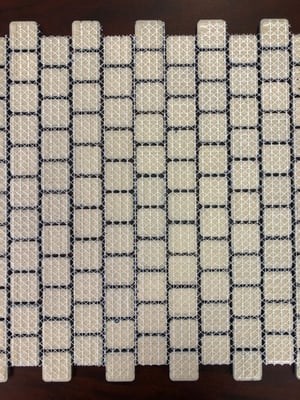 This mesh backing makes the tile easier to handle and to neatly apply to the pool walls; the material helps bond the tile to the adhesive material known as thin-set or grout that fixes it to the pool walls.
Mesh backing on pool tile sheets aids in their placement and helps assure even lines between them. Grout—a sealant—fills in these thin lines between each tile sheet for an attractive, uniform appearance.
Most tile shapes are square or rectangular. On mosaic ensembles of small tiles that fit together on a square sheet, they may be curvy, round, spherical, or other geometric shape.
Pool tile performance
A key characteristic of pool tile is its durability. Unlike bath or kitchen tile, pool tiles are specifically manufactured and tested to stand up to direct sunlight, extreme changes in temperature, continuous exposure to the aquatic environment, and ongoing contact with the harsh chemicals typically used to maintain pool water.
Another key attribute of pool tile is that it can be wiped or brushed cleaned. When mineral scale from hard water and sticky biofilm from bather waste—sunscreen, body oil, perspiration—accumulates along the pool's interior perimeter, tile's smooth, non-porous surface makes it possible to remove the unwanted build-up.
How and where pool tiles are placed
The band of waterline pool tile is almost always at least six inches tall. This height enables you to set the pool's water level at the halfway point; about three inches of tile remain above the water with the other half submerged.
The water level position creates a balanced look. It's also functional, as it facilitates the pool skimmer helping clear floating debris from the water surface.
This position also means there are five to six inches of space between the top of the perimeter coping and the pool water, which ensures comfortable access for swimmers entering the pool.
Now, along certain sections of a pool, the band of tile may be taller. These sections have what's known as raised bond beam.
This beam is a portion of the pool wall that rises more than six inches above the water surface; typically it's 12 inches or more in six-inch increments.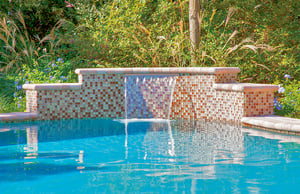 Examples of raised bond beam include the walls of an elevated spa, a section of wall for water features, or a side of a pool that doubles as a retaining wall.
In addition to applying tile to the vertical faces of the pool shell above the waterline, builders often use it to attractively cover horizontal surfaces such as the tops of spa dam walls.
Tile may also be used to trim or accent the edges of steps, benches, bar stools, and tanning ledges.
Kinds of pool tile
Let' take a general look at the three main categories of pool tiles and some considerations for using each effectively.
Porcelain
Porcelain pool tiles are made from dense, fine blends of clay that may contain sand or pulverized rock, slate, marble, or glass.
The material is shaped, and then a glaze—a glass-like coating—is applied. The glaze provides the color and makes the tile impervious to water. Then the tile is fired in a high-temperature kiln oven to harden.
Porcelain tiles are less porous than their ceramic cousins that you see in household bathrooms and kitchens. That means porcelain is stronger than ceramic, and it's why porcelain so widely uses in swimming pool construction.
From a price standpoint, porcelain tile is the most economical. All pool builders keep a variety of porcelain options in stock, and they are available in many colors, patterns, textures, and shiny and matte finishes.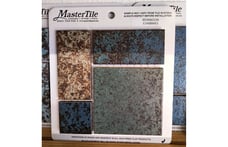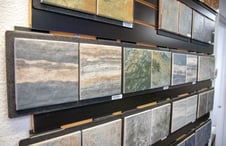 Porcelain tiles come in a wide array of styles. Some even mimic the appearance of natural stone—and do so at a lower price point than the natural material.
Natural Stone
The material for stone tiles comes from quarried blocks of various kinds of stone. Slate, granite, and certain kinds of specially treated travertine are examples of stone that's highly durable and impervious enough to serve as waterline pool tile.
The quarried stone is cut into squares or rectangles. In some cases, the tile comes as a single, six-by-six inch piece; in others, smaller stone tiles come on sheets of mesh.
Compared to their porcelain counterparts, stone tiles are an upgrade on the price spectrum. Stone does provide a beautiful natural appearance that particularly complements pools with an organic design style. They can require more effort to keep clean.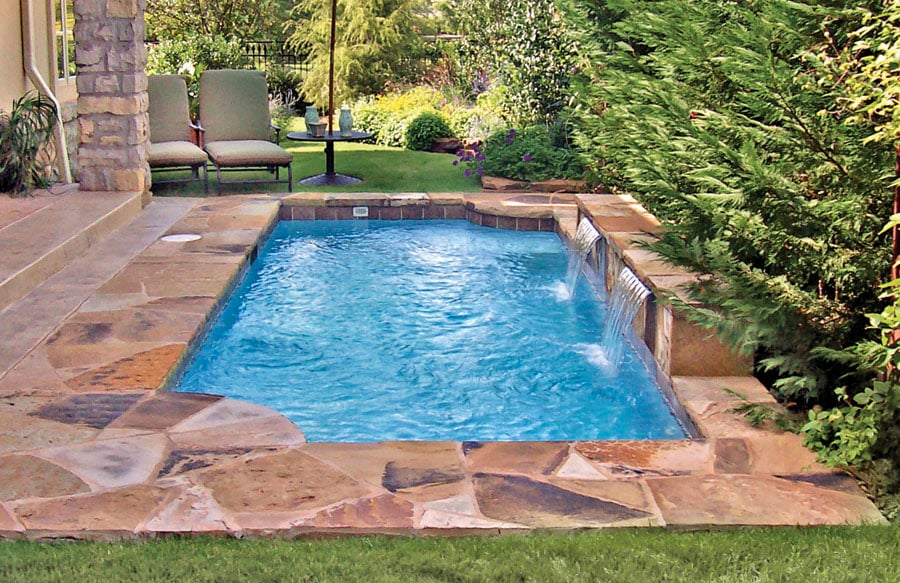 The tiles on this pool are sliced from Oklahoma flagstone, which is the natural material that's also used for the deck.
Glass
Vitreous or glass tiles made from pressure-fused glass are becoming increasingly popular for pool construction.
The luminous tiles come with either a flat surface with an even, transparent color or a rippled surface that creates an iridescent, rainbow effect.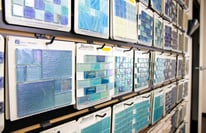 Iridescent glass pool tiles can help up the wow factor in modern pool design. In the sunlight, the tile glistens for an even more stunning appearance.
The glass tile color range is diverse and visually dramatic. They include forms with internal striations, wavy patterns, and a metallic-like appearance in golds, bronzes, and silvers.
Glass tiles are well-suited for pools since they are inherently impervious to water. Frost-proof versions are available as well.
Purposes for pool tile
Whether porcelain, stone, or glass, a band of colorful tile certainly makes any pool even prettier. But is tile merely a decorative option? Why does a pool even need a tile line in the first place?
Two key reasons make tile a critical element for most swimming pools.
Purpose #1: Protecting the pool structure around the waterline
The top reason for pool tile comes down to the nature of water. Water is Mother Nature's ultimate solvent: Over time, water degrades many kinds of materials and elements.
And in some winter climates, water freezes into ice and expands—creating cracks or other structural damage to surrounding materials and structures.
So when it comes to pool construction, water must be controlled. A pool structure of concrete (gunite or shotcrete) is not water-tight by itself.
What's needed to line the concrete shell is a material that's water-tight. For inground pools, that waterproofing interior finish is typically one of three forms of plaster—marcite, color quartz, or pebble.
However, marcite and quartz come with an Achilles heel: To remain impervious to water, the material must remain submerged—it cannot handle long-term exposure to air. Being dry will cause the material to shrink and crack.
So to keep the plaster pool shell sealed when alternately exposed to wet and dry conditions, a band of tile above the waterline is what protects the pool from water's destructive forces. In between each pool tile, waterproof grout seals the thin gaps.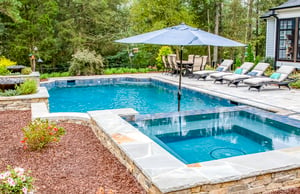 Marcite and quartz finishes remain durable if they remain underwater. The section around the pool's entire waterline which remains dry most of the time—is inherently vulnerable. That's why a pool needs tile to protect this swath of wall.
On most pools, this tile band usually runs six inches tall and extends around the pool's entire perimeter. An exception might be a section of pool with a beach entry or a raised spa or notched bond-beam covered with natural stone veneer.traver
It's worth noting that if your budget allows for high-end pebble finish for your pool interior, tile is not mandatory.
A pebble finish can remain dry and exposed to air without damage. In this case, tile will create a lovely aesthetic touch, but from a functional standpoint, it's not required.
Note: Any accumulated scum line deposits may be more visible on some colors and sizes of pebble and therefore may make regular cleaning more important.
Purpose #2: Keeping a cleaner, more attractive pool
The other reason for tile in your swimming pool is for maintenance—and the resulting appearance.
First, let's explain what occurs with the water in every outdoor pool. Regardless of chemical treatments, all pool water collects some amount of unwanted organic and inorganic elements. At varying levels, these may include various forms of algae that can grow along the pool walls and certain fixtures.
Another element in pool water is minerals like calcium carbonate or calcium silicate. Over time, calcium can form grey or white scale along the pool walls—just like it does on kitchen and bathroom tile.
Pool water—despite treatment methods—also contains some degree of what's known as bather waste. It includes compounds such as body oils, saliva, urine, sunscreen, cosmetics, and perspiration. Collectively, they accumulate on the pool walls in a sticky, microbe-filled substance called biofilm.
Scale and biofilm deposits are commonly referred to as the "scum line". Now, if a pool had no tile, the scum line would stick to directly pool plaster—whether marcite or ColorQuartz™.
In some cases, the onslaught would stain the interior finish; in all cases, cleaning the scum line would be very difficult.
But with tile, cleaning is far more manageable. Tile's smooth, non-porous surface won't stain, and it simply requires some brushing to remove the invading scum line. In addition, a variety of cleaning products designed for pool tile make the process easier.
Expert Tip: To soften pool water, reduce the amount of scale and biofilm, and slash your brushing time, ask your pool builder about advanced water-softening treatment systems.
Beyond appearances
Modern pool tile options provide ample opportunities for design creativity. In fact many pool buyers find picking out their tiles is one of the most enjoyable times during the pool design and construction process.
As attractive as pool tile can be, it's also good to know that the investment you make in its purchase is not only for superficial décor.
Tile serves critical utilitarian purposes as well. The band of porcelain, stone, or glass will help boost the longevity of your pool's interior and maintain its beauty.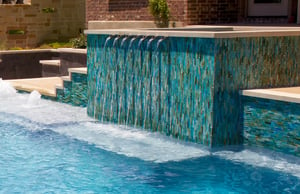 Instead of the usual horizontal orientation, designers created a particularly distinctive look on this elevated spa by applying the glass tiles in a vertical pattern.