Evaluating factors that help determine the ideal amount of decking for your backyard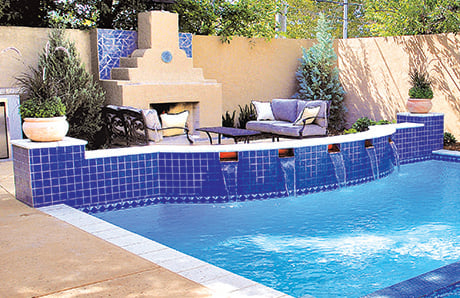 A new swimming pool and deck can serve as the foundation for a beautiful backyard resort where your family and friends come together for relaxing, dining, socializing, and overall healthy living.
Whether you opt for decking that surrounds only the perimeter of your pool or for an expansive installation that accommodates various backyard features and amenities, carefully consider the overall design and configuration of the project.
For this process, there are certain factors to weigh that will help determine how much deck to install and how to configure it around your pool and backyard space. Good planning will help ensure your new deck delivers the space and layout that meets your family's needs on a variety of fronts.
Determining the minimum size for your pool deck
In an effort to save money, homeowners often short themselves on the amount of deck they buy with their new pool. Avoid this common mistake.
For starters, understand how deck additions are measured. Like carpeting or other flooring materials, outdoor decking is designed and installed in terms of total square footage. (Other factors—ranging from soil grading to special features like multi-level configurations—also impact design, installation, and pricing.)
A good rule of thumb is for a deck's square footage to be at least the same as your pool's square footage. To illustrate with a simple example, say a rectangle pool is 15 feet wide by 30 feet long. With a 450-square-foot pool, the deck should also be at least 450 square feet.
Now, this basic formula serves as a general starting point to address the pool perimeter and immediate area around a pool. Your pool's particular shape, placement in your yard, and other factors—discussed below—should also be considered in strategizing how much decking will be best for your outdoor space.
Take note that some municipalities have minimum requirements for residential pool decks or how they are laid out around a pool. A qualified pool builder will be able to advise you on any local regulations and develop an appropriate deck plan for your project.
Let's take a look at some key questions to ask yourself and discuss with your pool builder. Along with your project budget, your answers will help guide the two of you in determining the best size for your new deck and what areas in your backyard it should cover.
1. Does your pool configuration's call for a deck to surround all of the pool—or only part of it?
Depending on your pool's design and its placement in your backyard, decking should surround anywhere from roughly half of the pool perimeter to the entire perimeter.
Some municipalities mandate the percentage of pool perimeter that must have deck around it. Typically, the deck in this area will need to be at least 30" wide.
Enclosing all of the pool with deck is not always necessary. In some pool and backyard layouts, there will be minimal yard on the far side of the pool—typically, that's the side of the pool opposite or furthest from your house.
In these cases, there will be little or no space to install decking or room—or reason—for anyone to walk on that side of the pool anyway. Yards like these might involve a pool to be built flush against a slope, hillside, or retaining wall. Or, the far side of the pool may consist of a low grassy hill or a landscaped area over to which where people will never or rarely venture.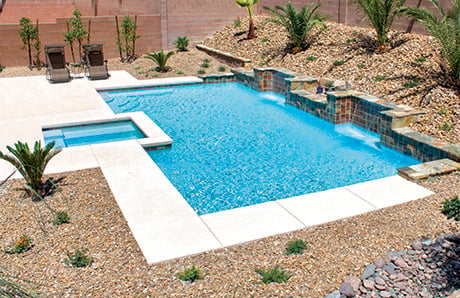 Clearly, there was no need for deck around the far side of this pool. Instead, the design wisely included deck on the area between the pool and the house—where the homeowners walk and use patio furniture.

With this in mind, configure the deck to your advantage and make the most of your deck budget. You can minimize the total amount of square feet of deck around your pool. Or, you can allocate additional decking on the side of the pool that will receive more use—a factor we will look at next.
2. Which backyard areas will receive regular traffic?
You want deck in places around the backyard that will see the most action. In most cases, that includes the stretch between the back of your house—often near a backdoor—that leads to the swimming pool.
The route that your family members will travel from the house to go swimming is usually best covered with deck. Frequently, with plentiful decking, this "house side" of the pool serves the heart of your patio area where people gather. It gets the most use, and it's where many homeowners set out tables, chairs, and cooking amenities.
However, with this kind of configuration—a great deal of deck close to your house—may not make sense for characteristics of your backyard.
For example, if you have a large yard, the pool may be located some distance from the house. In that case, a simple step stone path that leads to the water may suffice. Here, the smart move would be to allocate decking to creating a patio area around or immediately adjacent to the pool.
Knowing which areas are best suited to receive decking is an important step in evaluating how much total decking will work best throughout your backyard.
3. How many individuals will regularly use your pool and deck?
Do you have a big family that will regularly hang out on the patio area? Will you be having friends over to enjoy your backyard resort? Do you plan to hold pool parties? What about alfresco grilling and dining?
If you answered "yes" to any of these, be sure to factor those numbers into your deck plans. You need enough space on your deck and patio area for everyone and their activities.
No matter if the kids are tossing a ball back and forth or if your friends are over for some sunning and swimming, you need to make sure there's going to be ample room for everyone to comfortably have a good time.
The space is not just for the people to move around. Along with flow of people, your patio area needs to have room for the various features and amenities that they will be using, as discussed below.
4. What patio furniture and accessories do you want on your deck?
When estimating how large your deck should be and how it should be configured around your pool and outdoor space, be sure to factor in the staple of backyard living: patio furniture.
The vast majority of homeowners appreciate having at least several pieces around the pool area. Among the most popular backyard furnishings are chairs, lounge chairs, and cocktail tables. Outdoor dining sets are also longtime favorites.
Keep in mind, your deck should accommodate the furniture and also provide adequate space between each piece. "Breathing room" prevents people using the furniture from feeling crowded; it also allows space for them to adjust the position of the furniture on the deck.
Above all, you want enough room between the furniture and the pool to ensure that people have adequate space to walk around without having to navigate around tight spaces—which could increase odds of someone falling into the pool.
In thinking about furniture, it's not only what pieces, but how many? The more family members you have and the more entertaining you plan, the more pieces you will likely want to have. Naturally, all those chairs, lounges, and tables will occupy more area on your deck.
Along with standard patio furniture, don't forget about other backyard accessories. Consider fun, decorative, and functional items to foster a resort-like feel or to create an outdoor living room. Pool owners often add extras such as daybeds, potted plants, space heaters, market umbrellas, portable grills and fire pits, and free-standing cabanas.
Share your general ideas for furnishing and decorating with your pool designer. Armed with this information, he or she will factor this into calculating the amount of deck space that will best suit your plans.
5. What features do you want integrated in and around your deck?
Think about any features you want to include to enhance the environment and functionality of your backyard resort.
More than ever before, homeowners are including amenities that promote relaxing, comfortable outdoor living. Among the favorites: fire pits, built-in seating that's part of the hardscape, pathways around the yard or to the side yard, and landscaping and landscape boxes.
Of course, a new pool and deck can provide the perfect setting for outdoor meals with your family and for having friends over for an afternoon cookout.
If patio dining is on your menu, let your pool designer know. You'll want to make sure your deck is spacious to easily accommodate furniture such as chairs and tables.
That means space for using the furniture as well. For example, the deck needs to be large enough to hold not only the table and chairs, but for people to walk around them and to be able to slide the chairs out from under the table—without them sliding off the deck's edge onto adjacent dirt or grass.
You outdoor dining plans may extend to outdoor grilling or cooking as well. Are you considering installation of built-in features like an island barbecue grill? Grills have are a superb addition for backyard living, but they do take up space on your deck.
If you plan a partial or full outdoor kitchen, this addition will require even more real estate. Configurations can include countertops, bar tops, sinks, miniature refrigerators, stove tops, and grills, storage drawers, and more. Plan accordingly.
Other additions provide plenty of shaded spots for backyard living. You can have shade structures like arbors, pergolas, gazebos, or more complex custom-built cabana/pavilions that house amenities ranging from outdoor sofas to full bars and kitchens. Additions like this will also heavily influence the amount of deck your backyard should have.
It's advantageous to include these amenities at the same time you have your new pool built. A large, properly configured deck provides a foundation to unify the outdoor space, and any features built into or placed on it. An integrated approach also provides greater visual harmony along all of the pool, patio, and other elements.

The Takeaway
With the big role your pool deck plays in your backyard, it's important to think through the factors outlined above.
By answering these questions and reviewing the options with your pool designer, you can more effectively plan your dream pool and deck. Informed choices will help ensure that your new deck and its dimensions will align with your family's plans for backyard living.