—Marrying two backyard amenities for optimal fun and functionality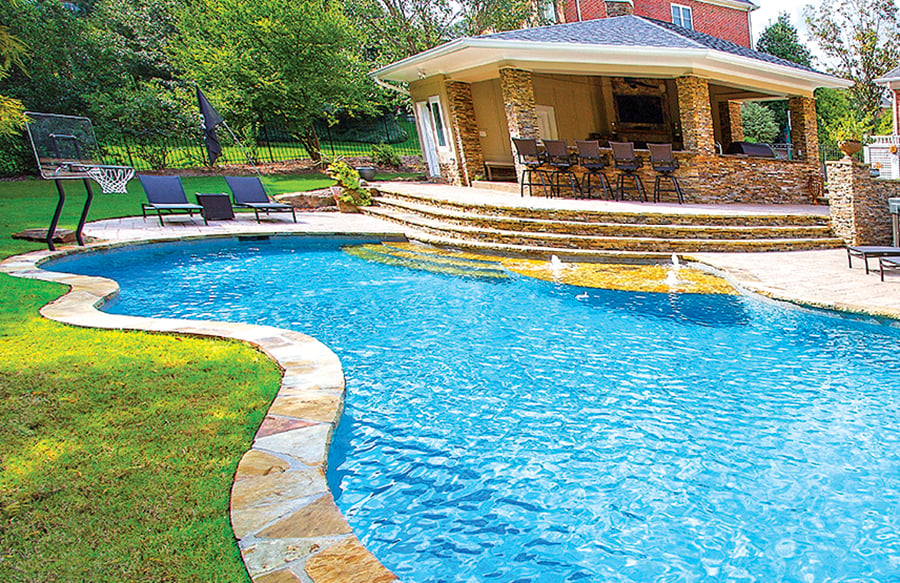 A custom outdoor kitchen—often built around an existing swimming pool or in conjunction with a new or remodeled one—provides a wonderful amenity to expand options for outdoor dining and entertaining.
Before you meet with home-improvement contractors, it's smart to understand basic design and planning tactics that help produce an ideal poolside kitchen.
Plenty of print and online resources can help you learn about the myriad of backyard kitchen options such as cooking appliances, structural components, building materials, and architectural styles.
In advance of appointments with contractors, reading up on these elements will help you develop general ideas of what you want in your dream kitchen.
When a swimming pool is in the outdoor picture
Now, if you either have an existing swimming pool or will be building one at the same time as your backyard kitchen, several special factors and opportunities enter the equation.
Achieving functionality is an important goal for any kitchen project—whether indoor or outdoor. Elements for ensuring ease-of-use in an outside version—particularly in relation to a pool—include its layout, overall configuration, and placement within your backyard.
Our discussion here will focus on outdoor kitchen planning as it relates to these elements, and we will point out some of the unique design advantages and variables if a pool is involved.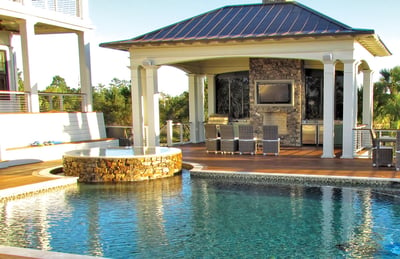 When building a pool at the same time as an outdoor kitchen, you have the benefit of maximum style versatility. You can perfectly match the stone and tile being used in the pool with the materials being used in your kitchen's exterior surfaces.
Backyard synergy: meal prep and dining by your pool
The first tip for achieving the best outside kitchen design is to strategize its position: Where in your outdoor space might you want it to go?
You will want to think about factors such as exposure to or protection from frequent backyard wind, natural pedestrian flow, and proximity to other backyard features.
For example, perhaps the new kitchen will go near a backdoor to your house on an existing deck. Or, it maybe you nestle it under a large awning that extends from the side of your house.
Now, when a swimming pool is in the picture, other considerations come into play. If you have an existing pool in a typical backyard, the odds are that location options for an outdoor kitchen will be limited.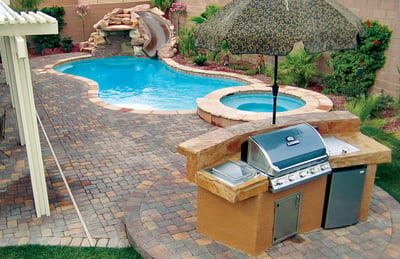 In some neighborhoods and in some metropolitan areas of the country, property lots run small, like the one here. But this compact outside kitchen successfully provides multiple features, including a grill, mini-fridge, counter space, and a patio umbrella for shade.
On the other hand, if you are building a new pool, more variations are possible.
If you are adding a pool, you may also be including new hardscape and landscape or embarking on a comprehensive makeover of your exterior space. If so, the placement of these other outdoor elements will heavily impact the ultimate placement of a cook area.
Therefore, although you may have some thoughts for positioning a backyard kitchen, don't get overly attached to one particular concept; better to wait for your contractor's guidance in developing a cohesive plan that takes all of the outdoor amenities into consideration.
Within the broader scope of that master backyard plan with multiple amenities and elements, the most functional spot for a kitchen may change in ways you not might have imagined.
Let's look at some reasons why.
Amenity interplay and fostering social engagement
In many backyards, the ideal location for the outside kitchen is close to the house.
Keeping the chef close to the residence makes it easy to run inside to the main kitchen for food, drinks, cookware, accessories, utensils, and other needed items for backyard meal prep and dining.
But let's say a swimming pool is part of the outdoor mix. A layout that places the outside kitchen between the house and the pool is often an ideal scenario.
Here's why: While the chef is on duty in the outdoor kitchen, you want them able to face the action going on in the swimming pool. After all, it's not much fun for someone to miss out on the group activity while working hard to prepare meals.
The proximity to the water means the chef can stay involved with others who are swimming or relaxing in the spa—watching them and engaging in conversation. (And that may even make it easier to recruit someone for kitchen duties).
The best poolside kitchen design encourages social interplay. Here, the bar top seating faces out toward the pool—making conversation easy for those on dryland with those in the water.
However, depending on the configuration of and size of your outdoor space, kitchen placement near the house may not be feasible. It may not even be the best location.
In some cases, it makes better sense to build the outdoor kitchen further out from your home. Particularly if your property is large and the pool will lie some distance from the house, that may be where you will want the kitchen.
Doing so means you will have the benefit of a poolside kitchen. Keeping the two outside amenities close together—even if they are a stroll from the residence—will enhance their overall functionality and create a cohesive backyard entertainment center.
Where your kitchen meets your pool
Diving deeper into the layout of an outdoor kitchen with the pool, it's also helpful to consider which part of the pool is nearest the cook area and dining space.
Think about where inside your pool people will spend the most time playing and socializing. Because that's where—if possible—the poolside kitchen should be closest.
Generally, the shallow end sees plenty of activity. In some pools and for some families, the spa may be the hot center of activity.
Other popular spots in the pool include a water slide, large entry steps for people who want to site only partially submerged, and a tanning ledge where kids can play and adults can relax on a chaise lounge.
If your outdoor kitchen is within feet of one or more of the heavily used features in your pool, conversations between those in the water and the chef—and anyone else hanging out in the kitchen—can more easily flow.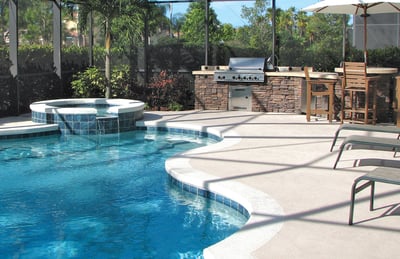 Arranging the outdoor kitchen near the pool facilitates the kind of social interactions that make backyard activities more fun and memorable.
One caveat here: Possible splash out. Do you have high-energy youngsters who will engage in playful swimming pool games, aquatic fights, or kick up water in other boisterous activity?
If so, you may not want the kitchen so close that wet splatters will hit the chef, burgers on the grill, or guests seated at the bar top or dining table.
Combining an outdoor kitchen with a swim-up bar
If your project budget and exterior space allow for it, a backyard swim-up bar is a fabulous upscale feature to include when building a custom pool.
Depending on backyard configuration, pool design, and deck/patio size, you may be able to hit a home run by integrating a swim-up bar with an outdoor kitchen.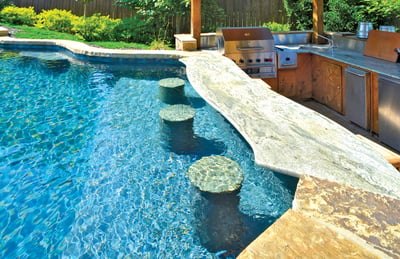 Unto itself, a swim-up bar is a terrific amenity for outdoor living. Pair it with a complete poolside kitchen for complete backyard dining and entertainment options.
The most common swim-up bar arrangement consists of a "wet side," a "dry side," and a countertop shared by both.
First, the wet side. Inside the water, it has several barstools rising up from the pool floor in the shallow end. Swimmers can take a seat and conveniently set their drink on the countertop. The double-duty countertop sits above the water and is built into a specially extended section of the pool wall.
On the non-pool side of the countertop lies the "dry" area. In the most basic swim-up bar designs—those without a kitchen—nothing is other the exterior side of the countertop structure other than regular decking.
Again, in many of these installations, the countertop is designed for use by both those in the water as well on the land. The homeowners set out regular barstools on the patio deck, and the swim-up bar layout makes it easy for people on both sides to drink a cool beverage and chat facing one another.
However, if planned along with your pool project and built at the same time, a high-end swim-up bar can include an entire kitchen on the dry side.
Typically, the attached custom kitchen is constructed in a kind of "well"—a sunken area typically 30" to 36" deep. Several steps lead from the patio down into this well area behind the bar.
Your builder will take into account the number of steps leading into the well and how deep the sunken kitchen area will go, especially if yard space is limited.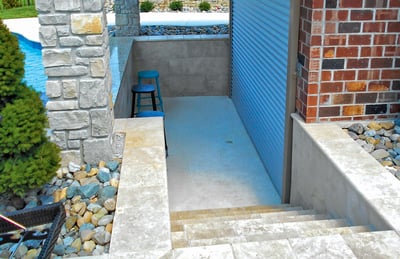 In most combination swim-up bar/kitchen projects, the "dry side" area with the kitchen is recessed below the rest of the deck area. Builders construct patio steps down into this area.
Like any outdoor kitchen, design options—as space allows—run the gamut. It can be relatively simple with a grill and additional counter space, or it may include a fully equipped, feature-loaded installation with all the bells and whistles.
Your bar-kitchen can be completely open and exposed to the elements. Or you can build it with a shade structure that ranged from an airy lattice to a solid, custom-built roof.
You can limit the shade structure to a small area to keep it cooler for the chef working the grill. The most economical option is a patio umbrella over the grill, while the most elaborate encompasses the entire kitchen and even the in-pool barstools so the structure helps block the harsh rays for everyone using the unified amenity.
Keep in mind that you have only one shot at marrying a swim-up bar with an outdoor kitchen. In virtually every case, a configuration like this is possible only when it's part of the original plan for a brand new gunite pool.
Closing thoughts
Now you have greater insight into key layout factors for planning an outdoor kitchen with a new pool. With this knowledge, you should be ready to talk with contractors about planning a great poolside kitchen.
Know that by building both projects at the same time, you prevent some extra expenses involved if they are created independently. You have opportunities to avoid certain construction costs by installing a new grill or complete cook area in tandem with a pool and deck—versus doing the kitchen as a stand-alone project.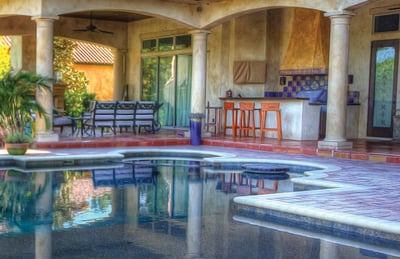 The ultimate scenario: Outdoor space that provides enough room for both a kitchen and a full-size dining table right by the water's edge.
Would you like your backyard to serve as an entertainment paradise for years to come? A poolside kitchen is a multifaceted backyard addition that enhances outdoor living options in so many ways.
For your friends and your family, building the poolside kitchen of your dreams may turn out to be among the best investments you make for your lifestyle.