—Inspiring style for your new inground pool beyond a standard rectangle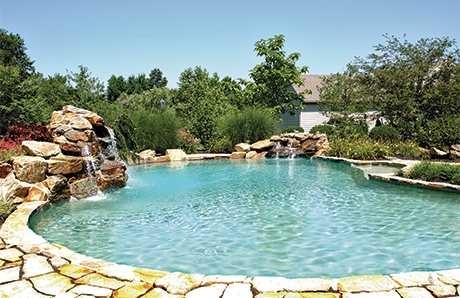 Think that a backyard lap pool comes in only one form—a traditional rectangle? Well, think again: As long as your pool's overall shape includes a straight, clear swimming lane that avoids steps, spas, and other design features, you don't have to build a long rectangular design for swimming laps.
Instead, build "outside the box." You can by first understanding that this unobstructed swimming lane needs to be 4 feet wide and at least 4 feet deep—depending on the arm span of the swimmer. Then, as long as your pool designer develops a project with a swim path that achieves these dimensions, it does not matter what shape pool you create.
Pool builders can configure swim lanes within a variety of pool shapes. Among them: The long section of an L- or T-shape, certain geometric forms such as oval or modified rectangles, figure-8 silhouettes, curvy cloud-shapes and custom free-form creations.
You can include features such as a spa, bench, tanning ledge, dramatic rock waterfall, or a variety of fountains and arced water laminars in your aquatic retreat.
Any style of pool can accommodate lap swimming—from sleek and contemporary to a tropical lagoon aesthetic. Remember: The key element is the unobstructed swimming lane. The lane should end on both sides with a flat wall where swimmers can push off and do kick turns between laps.
Lap swimming pools: When size matters
A typical backyard lap pool offers a swimming lane 30- to 40-feet long. If that's the range you seek for your aquatic fitness routine, it's important to understand that backyard size makes a difference.
Particularly if you seek a creative alternative to a rectangle lap pool, property dimensions come into play. You may need more outdoor real estate to devote to your new pool.
Here's why: Some non-linear, out-of-the-box designs call for making the pool wider or longer—to allow room for a clear swim path—with greater overall square footage.
To accommodate features like a spa or tanning ledge—without them interfering with the swim path—your builder will need a larger design in most cases.
For example, as shown in the photo below, your spa may need to go at one end of the pool at the end of the swim path, thereby creating extra length beyond the 30 or 40 feet. Or, the spa may go to the side of the swim path, so it's out of the way, and the result is a much wider pool.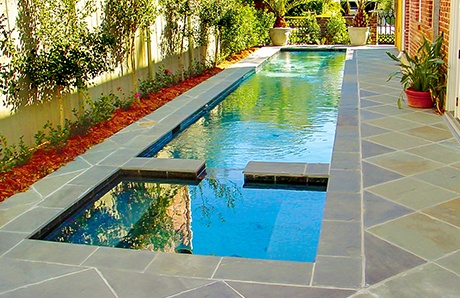 A smaller or narrower backyard may mean you have room for a 30-foot lane. However, if you don't have space to make the pool extra wide, then a curvy, free-form design will probably not work.
Now, in this case, you still can create a distinctive lap pool by adding features to embellish the rectangle and modify its shape by including an offset spa, steps, benches, or fountain shelf.
By the way, even with a shorter swimming lane, you will still reap all the health benefits of daily strokes. If you work out for the same amount of time, it does not matter how many turns you make.
The bottom line here is good news: You are not boxed in. If you want a pool for the primary purpose of swimming laps, you do not have to settle for a strictly utilitarian design.
As long as you create a shape that includes an unobstructed swimming lane, you can have a backyard oasis that will also entertain family and friends and provide a beautiful addition to your backyard. Nothing should deter you from having it all.
For inspiration, here are 10 projects that illustrate the variety of shapes, styles, and features you can incorporate into a pool that you can use for swimming laps.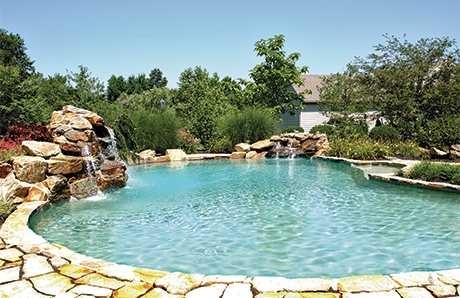 1. Complete with a set of natural stone waterfalls, this lagoon-style pool allows plenty of room for laps across its length. A tanning ledge that's built off to one side won't impede the swim lane.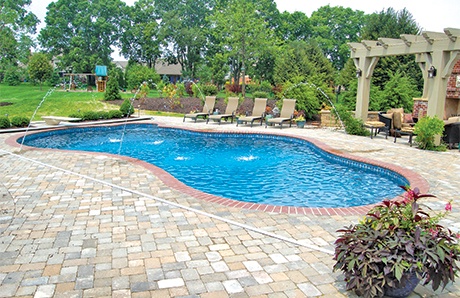 2. No rectangle here: You can easily swim across the softly curved span of this simple but functional pool. For a visual and auditory treat, a series of sleek laminar deck jets produce relaxing images of water in motion with soothing sounds.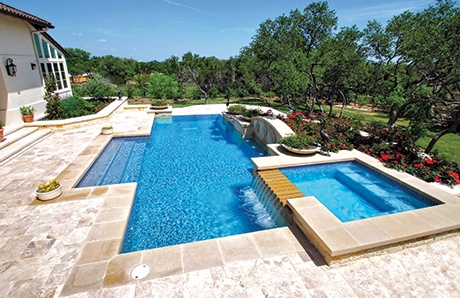 3. Although the main body of this pool is a rectangle—ideal for laps—the offset steps and strategically positioned spa produce a custom geometric appearance. The spa's multi-channel spillway creates a striking focal point and creates a pleasant waterfall sound.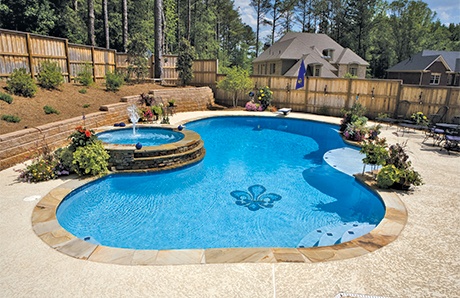 4. Even with steps, raised spa, diving board, and tanning ledge, this curvy pool with a signature fleur-de-lis logo on the floor boasts a clear swim lane for laps.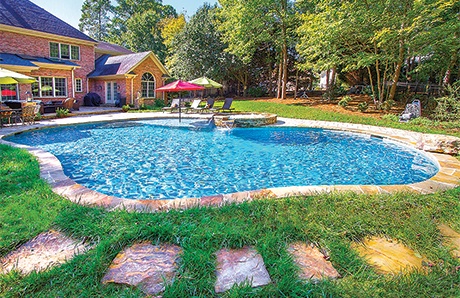 5. More proof that lap pools need not be limited to a rectangle: A series of long, swooping curves on this expansive pool still provides ample space for lap swimmers to get in their daily strokes.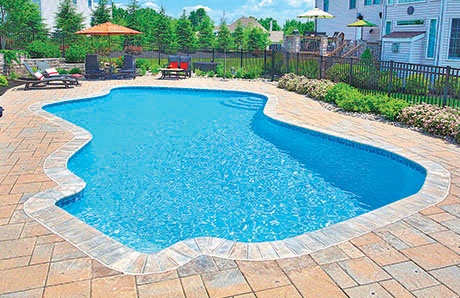 6. While this free-form pool is far from symmetrical, it clearly boasts a wide, straight swath of space for swimming laps. It's another example how you don't have to confine your lap pool design to the typical four-corner configuration.
7. With a large percentage of this semi-rectangular pool designated as a tanning ledge, swimmers still have plenty of space for a daily regimen of laps. Along with the pool's functionality, the owners also enjoy a striking infinity spa.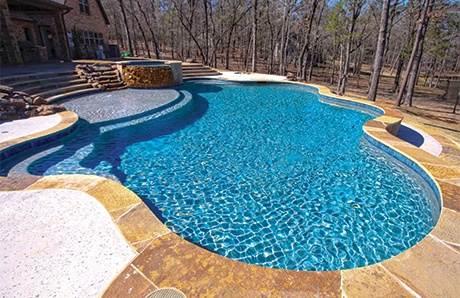 8. Built on a sloping backyard, this elevated free-form pool & spa creates a flowing silhouette. Even with the steps, large tanning ledge, and several curves, swimmers have a distinct path across the pool for laps.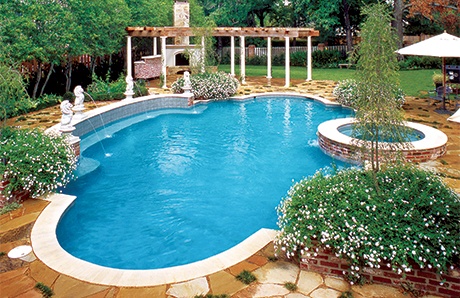 9. What an elegant setting for laps! This modified Roman-shape pool with water-spouting lion statues provides a long expanse for those daily strokes. Along with a spa, fireplace, pergola, and lush landscaping, the poolscape breaks far away from how most visualize a lap pool.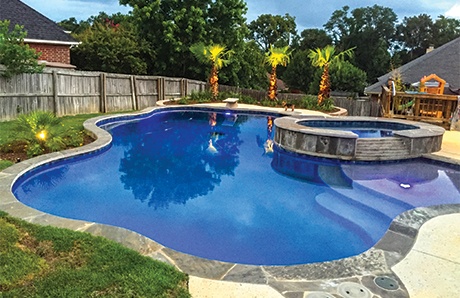 10. Not your father's lap pool: Here is another example of how you can have a free-form design for a lap pool. With a raised spa adjacent to mid-pool steps, the pool delivers on curves while ensuring as a swim lane that runs from one end to the other.