—How building a pool-spa combo enhances backyard appeal and lifestyle options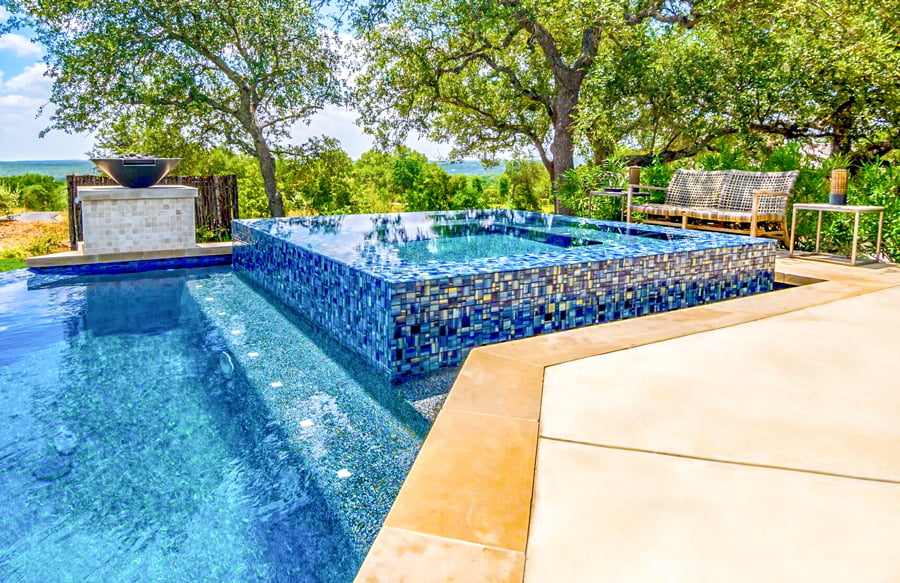 From bubbling relaxation to a more attractive outdoor space, including a custom spa with your inground swimming pool offers a variety of advantages—making it an extremely popular feature.
On its own, a pool is a wonderful addition to a residential property. Properly designed and built, a pool can enhance the character of your exterior space and open up new options for family leisure and recreation.
However, you can amplify and expand these benefits with a pool plan that incorporates a spa. Along with the health benefits that it delivers, a spa can take your poolscape and lifestyle to even higher levels of beauty and functionality. Let's look at the key ways how.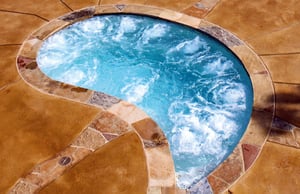 Small lot without room for an entire swimming pool? You can likely still have a custom spa. Learn more about building a stand-alone gunite spa.
1. More Fun and Functionality
A spa creates an inclusive environment—making it possible to generate more enjoyment for more people!
This compact aquatic venue is a natural magnet for family activity and backyard entertaining. In this enclosed retreat, kids and adults alike can interact and play in unique ways.
A spa brings particular functional advantages for families and their friends with young children, seniors, and those still learning to swim. The same goes for anyone uncomfortable in the expansive water of a pool—particularly if the pool's shallow end is small.
Due to its configuration, this little liquid playground is more accessible and comfortable to a wider range of individuals. For starters, the water is shallow.
In most cases, this element allows those inside a spa to better control much of their body they wish to submerge. The shallow environment helps put them at ease and move about with greater confidence.
The benches in the spa provide a convenient ledge for youngsters to sit or stand as well. Benches also make the spa conducive for adults to sit while holding their young children.
2. Greater Serenity
From an evening soak to help usher in bedtime to pulsating jets to help relieve sore muscles, you may already know the physical relaxation a hot spa can deliver.
But you can also turn to heat and hydrotherapy for a little mental relief. Escape to the swirling water to achieve a bit of zen in the midst of or following a busy day. In a hectic schedule or in times of extra stress, a spa offers some respite—a private amenity to help sooth your thoughts and emotionally recharge.
Another way a spa supports tranquility is with sounds. These emanate from water flowing through the spa spillway on the dam wall and onto the pool surface below.
Depending on the style and configuration of the spa spillway, the gently falling water can produce a lovely trickling or whooshing sound reminiscent of a natural waterfall.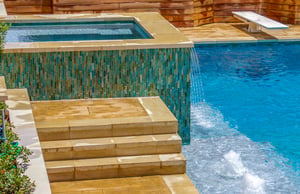 For pleasant flowing sounds, ask for a raised spa—one built at least 6 to 12 inches higher than the pool. This added height, coupled with certain styles of spillways, will produce the desired acoustic effects.
3. Viewing Pleasure
Along with fostering a more peaceful backyard ambiance, a spa raises the bar on your pool's beauty. By serving a distinctive focal point in your pool's overall silhouette, it enhances your home and lifestyle with its appealing good looks.
Building a custom in-ground spa with your pool allows for ample design versatility. A gunite pool-spa combo brings a smart, cohesive look in any outdoor space, boosting its aesthetic impact.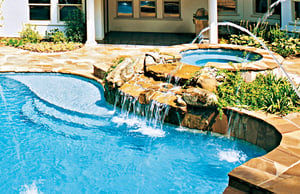 No waterfall on your pool? On some projects, the spillway on a spa can essentially double as a rustic or tropical water feature.
Your choice of its shape—whether round, square, oval, free-form, or another geometric shape—adds visual intrigue and complexity to your poolscape.
Height comes into play as well. Spas are positioned in one of two height categories: pool-level or elevated. Either can be dramatic and make a bold statement in your backyard.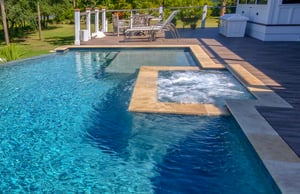 Here, a pool-level spa with coordinating stone tiles atop the dam wall creates a modern look. The spa's simple design perfectly punctuates the pool's clean linear shape and travertine coping
4. Extended Use
Another way a spa brings more value to your lifestyle is by allowing more opportunities for use.
When the mercury drops outside, and it's too chilly to jump in the pool, a spa might serve as a surrogate. In essence, a spa delivers "bonus" time for its owners.
This warm aquatic retreat increases the number of days each year you can comfortably take a dip. In some areas of the country with temperate climates, homeowners can enjoy their spa into the fall and winter months.
As summer wanes, keeping your pool open and swim-ready requires time and cost to heat it. However, you can still take advantage of your spa. That's because you can turn on your heater to warm only the feature—versus your entire pool.
Even during pool season, a spa may generate some extra hours of aquatic fun and leisure. Depending on where you live in the U.S., when nighttime temperatures drop, a dip in the pool may not be all that feasible. But you can quickly and economically fire up your spa for a session of bubbling evening bliss.
5. Supporting Relationships
How about a virtual, mini stay-cation for your family—right outside your back door?
A spa serves as an enticing backdrop for quality family time with healthy socializing. In our over-wired, smartphone-dependent society, the confined space provides a terrific environment for bringing family and friends together.
The cozy, typically circular or square-shaped retreat encourages face-to-face conversation and fosters a sense of connection. With few interruptions of daily life, you have an atmosphere to promote family bonding. Another plus: The cloistered space and shallow benches make it more inviting for younger children to join in.
This amenity may even help in another way: A spa—along with a swimming pool—is a tool for keeping your kids at your home more frequently and under your supervision
This amenity may even help in another way: A spa—along with a swimming pool—is a tool for keeping your kids at your home more frequently and under your supervision.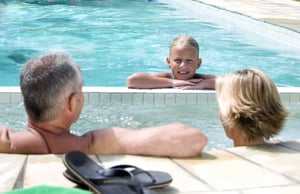 Even if everyone in your household is a capable swimmer who can use the pool, a spa ensures greater flexibility in how the whole family can and wants to enjoy the water at any particular time.
6. Romantic Backdrop
In discussing social relationships, let's not forget about romance. For an intimate evening at home, take a short escape from the rest of the family, and use your spa for date night.
Make the most of this private backyard amenity with your partner. Include a few candles around the spa, play some soft background music, and maybe even open a bottle of wine.
The close quarters and warm water are highly conducive to giving each other massage for a relaxing, sensual experience.
The spa also serves as the perfect haven for quiet conversation or for simply being with one another—away from everyone else—as you indulge in soothing hydrotherapy.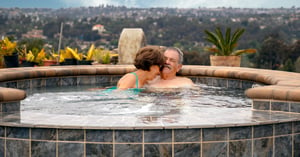 While a spa can serve the entire family, don't forget to spend some adult-only time in this private rendezvous spot.
So many great reasons for including a spa
A spa introduces a whole other dimension of style, personality, and functionality to your home's exterior. With this addition as part of your pool design, you gain an extra treasure trove of opportunities.
Because it creates a special environment unique from the one inside the pool, a spa is a smart, versatile addition that pays off in a variety ways.
While inclusion of a spa with your new pool will increase your initial purchase, your family's health and enjoyment for years to come make it well worth the investment!