—Add extra style, fun, and function to your swimming pool or major remodel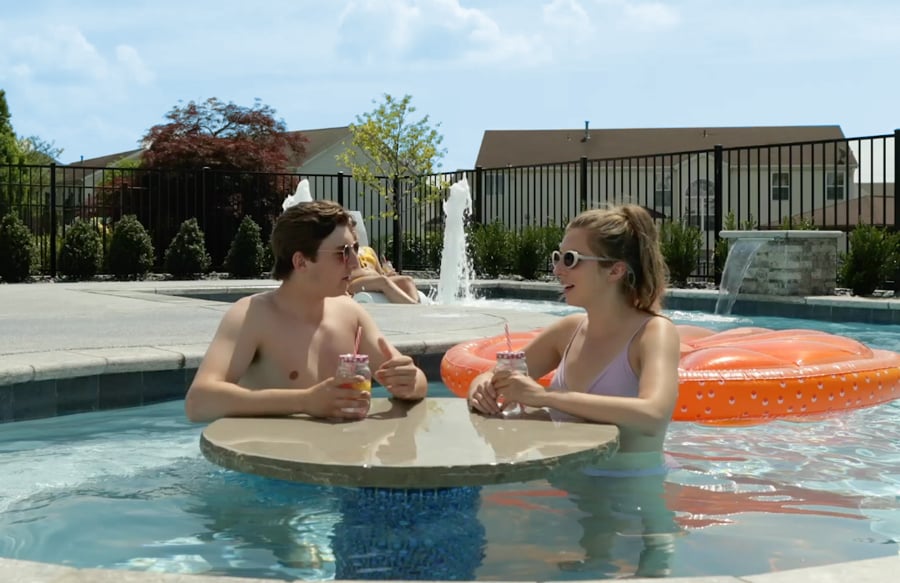 With a swim-up dining table and seating in your swimming pool, even the most ordinary activity can become special.
Your grandparents' antique dining set notwithstanding, tables and chairs are part of daily life and mostly taken for granted.
Now consider what happens with a swim-up table and seating in your pool: When a routine experience goes from dry land to a cool, relaxing aquatic setting, it takes on a whole new dimension.
Eating, drinking, or playing a (waterproof) board game with family and friends can be novel and even more fun and relaxing. Something about being in the water just makes almost everyone feel good.
That positive sensation is one reason why increasing numbers of inground pool owners and buyers are turning to this functional design feature to make their backyard staycation-worthy!
By including tables and seating in a new concrete (gunite/shotcrete) swimming pool or comprehensive remodel, you can maximize your pool's potential.
You have an additional hangout spot in the pool for social interaction and one dedicated to enjoying drinks, snacks, or even a meal.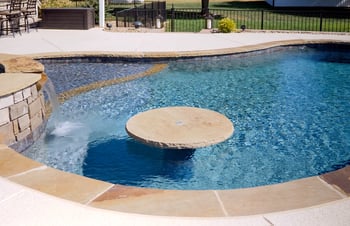 Table design 101: size and shape
In-pool tables and seating represent an attractive, affordable way to bling out your new swimming pool.
Indeed, in-pool tables are pretty simple in concept.
The tabletop rests a few inches above the pool's surface. The most popular seating options are benches or a combination of benches and stools.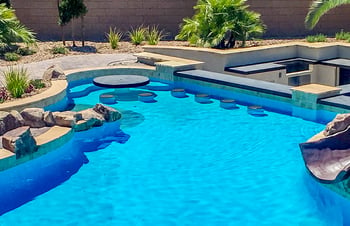 Like their dry-ground counterpart, the tabletop can be circular or geometric. By far, round and rectangle are the favorites for an in-pool table. Other custom shapes are possible, but expect to pay extra for them.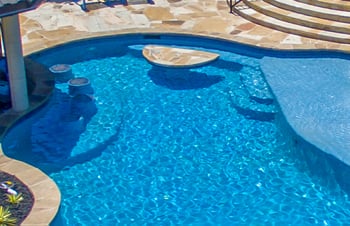 The shape of the table is often influenced by the shape of the pool and the specific location—such as a corner or alcove— where the table goes.
When it comes to the table size, you have a couple of key considerations. One is the number of people you anticipate using the table at any one time (as well as their physical statures).
With this in mind, table and seating ensembles that accommodate four to six people are most common. But certainly, if your pool has the space, you can go bigger.
On the other hand, you can also go smaller. Particularly for a compact pool in a small backyard or situation where the table will typically serve only two users, going with a small "cocktail" table might make more sense.
At 24" to 30" in diameter, this table size can accommodate a few drinks and maybe some snacks, but not much more.
Interior location: where to sit
The other key factor that influences the size of the table and seating is the location inside the pool: How will the table and seating ensemble fit within the layout and size of the pool itself?
Because the pool dimensions and configuration are so important for determining the best spot, builders usually strategize the table's placement during the initial layout process.
With this in mind, the pool silhouette is often configured with a small, semi-sheltered spot specifically for the table and seating.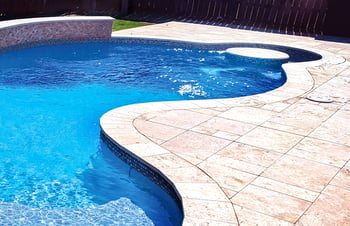 By tucking the table and seating away, and off to one spot along the pool perimeter, you have a dedicated niche, alcove, or corner for enjoying seated refreshments, snacks, or meal.
The other option is to carefully identify a specific zone within the main body of the pool (vs. a niche or alcove). For example, in some cases the table can go near the entry steps for easy access.
Often, the table and seating go in a shallow section of the pool. This keeps those using the table out of the way of other pool users and their aquatic activities.
Tables and seating can also go in deeper sections of the pool. One approach is to use an extra-long pedestal base to anchor the tabletop.
Another is for your contractor to build a concrete platform on the pool floor. This stage-like structure will elevate the position of the table and seating one to several feet.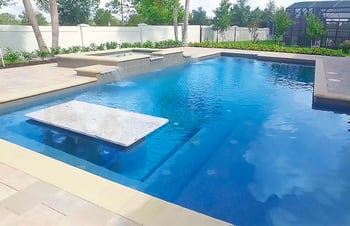 This boost will ensure the tabletop rests just above the water's surface and those seated have their upper bodies comfortably above the waterline.
Another advantage of the platform: It keeps your feet resting comfortably on the solid platform, vs. dangling off the side of a bench.
A less-common table-placement option is in the spa. What's nice is that the bench seating is always part of any spa design.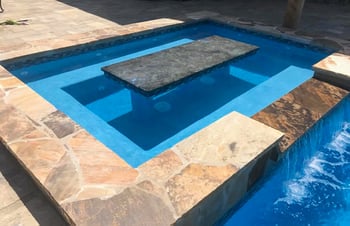 Now, such an arrangement requires a medium or large gunite spa. Depending on the table size, you probably want your spa to be at least seven to eight feet in diameter.
The real payoff: In a warm spa, you will be able to continue aquatic dining for some time even after pool season is over.
Regardless of where in the pool the table and seating ensemble is installed, it should be away from pool areas and features that generate more vigorous, splashing activities.
Examples are diving boards, jump rocks, pool slides, swim lanes, or a mounted basketball hoop. (After all, pool water is not a desirable drink mixer.)
Something else important to note: Even though the tabletop will sit slightly above the water's surface, eating on an in-pool table can be tricky in certain situations.
Some water may slosh over the surface, particularly if energetic individuals are nearby in the pool. (No one likes soggy nachos.)
Style options for a dining set
Maximizing your investment in an in-pool table comes down to your aesthetic and use preferences.
In some ways, swim-up pool tables are similar to swim-up bars. They provide a place to socialize, enjoy libations, and enjoy a meal without having to exit the nice cool water.
However, a swim-up table is much simpler than a swim-up bar to include in a new pool.
Swim-up bars are possible only with an associated dry area that usually requires specific structure and deck elevations.
For this reason, a table is a more economical choice—all while still providing a level of aquatic panache with a fun pool feature that both kids and adults love.
Factory models vs. custom builds
In-pool table tops and seating fall into two categories: prefabricated and those built on site.
Basically, prefab models look like basic patio furniture, but they are made to go inside the pool.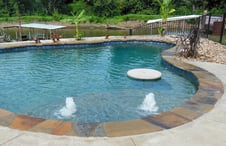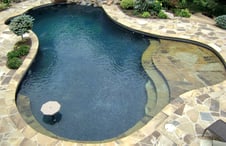 Manufactured units are the more affordable of the two types, with some small models (without installation) starting at under 500 hundred dollars.
Assuming the pool's shape and depth configurations will accommodate a proper position, these prefab sets are relatively easy for a contractor to install.
Typically made of composite material, these units come in various colors. They are designed to withstand the sun's ultraviolet rays and water filled with chemicals, including saltwater-generated chlorine.
Many models have adjustable heights, making them adaptable to many existing concrete pools. Some provide integrated cup holders and pole sleeves for a patio-style umbrella.
By far, gunite pool buyers prefer to go the custom route for their in-pool dining set.
The bespoke ensemble goes into the pool's structure during initial construction (or in some cases, a major remodel).
Like the rest of the pool's structure, this custom, staycation-worthy feature requires skillful craftsmanship in the forming, concrete, and finishing phases.
What you get with this tailored approach is greater versatility and sophistication in material choices and configuration.
Beginning with the tabletop, two techniques are available for its construction. One is for the crew to form it using concrete.
Concrete tabletops may be left bare. Or, it can tiled; if so, the choice tends to be one that's small, such as 1" x 1" or 1" x 2" and in colors that coordinate with the tile used in the pool waterline.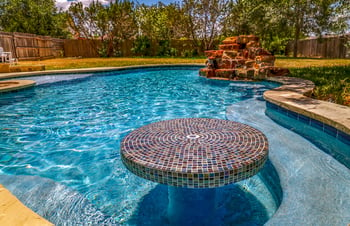 For an organic aesthetic, such as lagoon or rustic, the other custom tabletop building method is to cut a single slab of natural stone.
If the pool coping or deck consists of natural stone, the same kind is often used for the tabletop.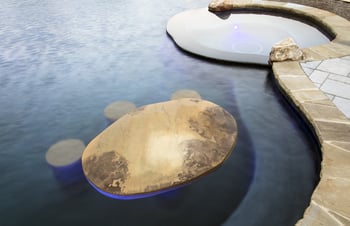 Whether concrete or stone, the tabletop size and shape can be crafted to works optimally in its planned location.
A pedestal—the table's base—will anchor the tabletop to the pool bottom. It is created by pouring a concrete column or cutting a stainless-steel tube to the needed length.
Turning to seating: For the barstool type, prefab models are available, but remain an infrequent choice for buyers.
Building stools in concrete is favored. They are formed at the same time as the pool shell; as crews shoot gunite or shotcrete through a high-pressure hose, the column-like structures take shape.
To enhance a concrete stool's appearance, tile can be added as an accent on the seat top or can fully cover it.
Accent tile may be added to the sides of the concrete stool as well, or, tile can be applied to cover the stool—seat and its sides—entirely.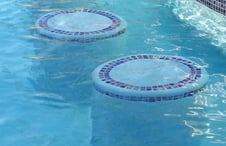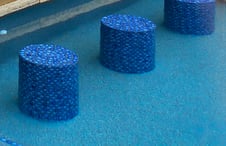 Stone can also be used. When it is, the most-common approach is to add stone fascia to the seats only (versus wrapping the entire stool in stone.)
In some custom projects, the seat of each stool—like the tabletop—is created with a small, round-cut stone slab. The stone is affixed to the column-shaped concrete base.
Virtually all swim-up tables include bench seating.
Like pool loveseats, these benches are fully formed directly into the pool wall while the concrete-steel shell is under construction.
Unlike the picnic-table version, an integrated pool bench always boasts a back. Compared to a stool, a bench provides cozier seating and allows people to comfortably lean back against the pool wall.
When a bench provides the only seating, it might be configured in a semi-circle or "loose" U- or L-shape. This kind of shape surrounds at least half of the table's perimeter and accommodates several people.
Adding accent or border tile to the bench can make a bench more visually interesting. In some cases, the entire seating area is faced with natural stone.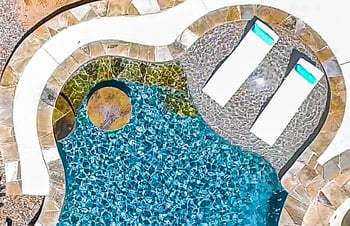 But more often, builders leave the structure unadorned so it matches the pool wall and visually blends into it.
To maximize the number of people that can go around the table, the trick is add some stools to supplement the bench.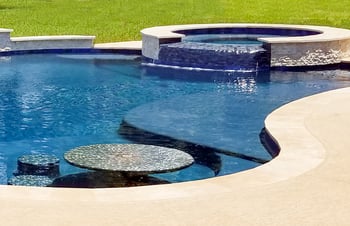 This hybrid ensemble is similar to built-in banquette seating with chairs that you see in some restaurants and kitchen breakfast nooks.
Coordinating with your poolscape
On the appearance front, custom dining ensembles can fit in with any style of pool—classic, modern, rustic, or tropical.
A favorite approach is to include tile in colors and stone used elsewhere in the pool or deck to finish the tabletops and tops of stools and benches.
Doing so creates a cohesive look that's in harmony with the rest of the pool and surrounding environment.
Many swimmers appreciate a shade feature to shield them from the sun, and you might too.
Shade is easy to include on a swim-up table.
Many pre-fab and custom tabletops have sleeves to insert the pole of a patio umbrella. Sleeves can also be added to custom-built concrete table sets.
Better yet, umbrellas come in a variety of colors, so they can add a bright, cheery accent to the pool interior.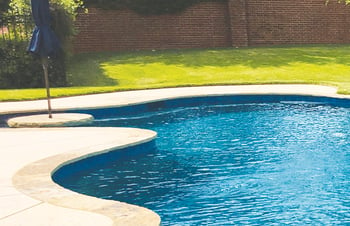 Final thoughts
Sitting at a kitchen, dining room, or patio table—they're so mundane, we rarely give it much thought.
But inside a pool, it's a special experience with friends and family. So you may want to think about including this upgrade in your backyard pool plan.
Keep in mind, in-pool tables and seating will take up some space inside the pool and add widely varying levels of cost.
When carefully considered, this option will add a wonderful, unique functional aspect to your pool and foster conversation.
Ideal for socializing and entertaining, these inviting features are sure to encourage pool users to have a seat and stay awhile.