—7 kid-friendly features to consider for your new gunite pool or remodel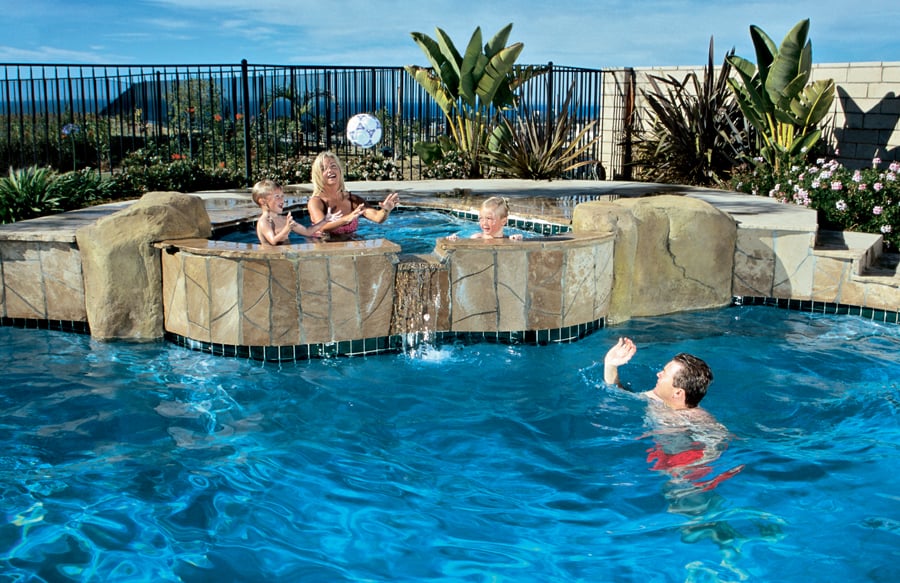 Kids and swimming pools go together like summer and sunshine.
Today's inground gunite designs amp up the fun level with a variety of features that children love—and grown-ups appreciate.
Because we live in an era of giant waterparks with various interactive aquatic rides and attractions, the bar for H2O fun has risen higher than ever.
As a result, a standard backyard pool needs some extra options to make it the optimal kid magnate that you want it to be.
Are you are trying to keep your children at home more often—where you can keep an eye on them? Or, are you are hoping to lure your grandkids over to visit more often?
If so, an activity-filled, kid-centric swimming pool is the bait you need! Let's take a look at some high-end and more affordable additions to create an aquatic playground.
Pools built for entertaining children and teens
If you have plenty of outdoor space and the budget to match, you have some extra-special choices to consider in your project. For example, you could:
Build a separate, dedicated kiddie pool adjacent to the main pool.




Include a winding lazy river on your pool for the kids to float down.




Create an island or spa in the middle of the pool that's reached by a fanciful wood or faux rock pedestrian bridge.




Install a self-contained backyard feature called a "splash pad" with arcing deck jets for kids to run through.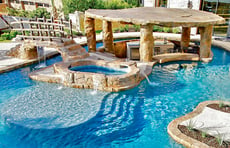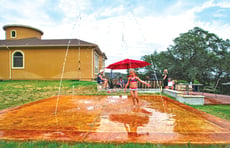 However, if you come to the table with an average budget and moderate-sized yard, the news is also good. You can significantly juice the fun factor with more affordable and space-efficient features.
A variety of options that won't break the bank are available, especially if you incorporate them into the initial design at the time you build a pool.
If you're looking to add activities and appeal to the junior members of your tribe, here are some kid-friendly amenities for your new—or where appropriate—a remodeled inground pool.
#1. Pool Slides
Why hassle with a family trip to a water park for the slide action?
Ambitious homeowners looking to create a haven for kids and teens can create a small version of a waterpark-style slide in their private backyard.
Free-standing swimming pool slide models have evolved over the years. Today, several styles of this deck-mounted pool accessory usher in sheer delight to any family member who rides down one.
For your little riders, a low-profile model is a smart option. With their height of about four feet, these units offer a shorter glide path—and therefore, a softer landing when splashing down into the pool.
For older kids, you have a number of full-size slides from which to choose. Right at home, kids can experience the glee of a full-size, curvy runway before hitting the water.
For even more thrills that will also draw in the grown-ups, opt for a corkscrew-style slide with 360-degree turns.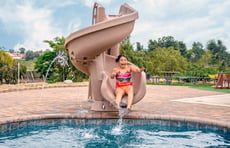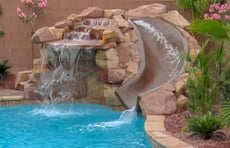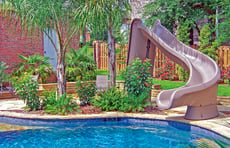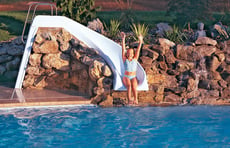 Now, if you have a large backyard and the budget to match, you can offer the ultimate in backyard thrills and spills: Ask your pool builder about an extra-long, extra-curvy custom slide.
This kind of custom slide is not deck-mounted and free-standing. Rather, it comes in several pieces and is professionally assembled on-site and integrated into the structure of a large rock waterfall, rock grotto, or pool-adjacent hillside.
#2. Diving Boards
Considered old-school by some, this tried-and-true accessory can provide a huge boost in the "unbridled-joy-of-flying-through-air" department.
Backyard swimming pool diving boards always have been and always will be a pleasure to use. Also known as springboards, they are especially popular with energetic children and those who are athletically inclined.
However, even those who do not know how to perform a dive can still have a great time jumping off the platform into the water below.
You may not know that pool diving boards come in five categories. Each provides a different level of bounce.
On one end of the spectrum, you have a jump board that's a stationary platform with zero thrust. At the other end, the action from a springboard model significantly intensifies the dive.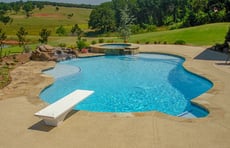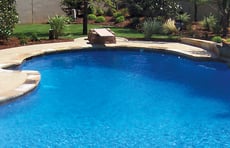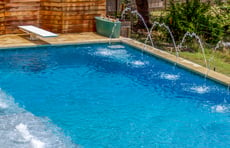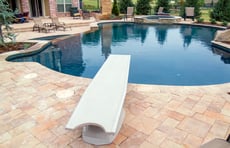 While diving boards are an appealing amenity to kids, they do come with an important list of safety considerations. First, anytime you include diving in a pool environment, you must be sure the pool is of adequate depth.
The International Building Code mandates a minimum depth of 7 feet 6 inches. Now that's for a stationary diving platform.
Other kinds of boards require deeper dimensions. The greater the board's spring action, the greater the depth must be. Some boards require nine feet.
In addition, the pool must be long enough—typically at least 34 feet. Such dimensions allow for a design with a proper transition from the shallow to the deep end.
The diving area—also known as the "diving bowl" or "diving envelope" must also be clear of obstacles. For example, you do not want a slide, bench, tanning ledge, or interior spa in front of the diving area.
Diving boards should always be installed per the manufacturer's instructions and should have a non-slip surface. To encourage their proper use, posting a diving rules sign is also a wise idea.
Always discourage swimmers from rough play on diving board—although posing for Instagram-worthy group photos is entirely acceptable.
It's worth noting that some people believe a diving board introduces a safety benefit. This accessory is one way to clearly mark the deep end; the board lets swimmers know where they should dive—as opposed to jumping off the sides of the pool—sometimes into shallow water.
#3. Jump Rock
One of the simplest, most effective ways to add some sun-splashed joy is what's known as a jump rock. Built using either natural or faux rock, think of this feature as a sort of Flintstones' version of a diving board.
Also called a pool diving rock, this feature is cut or formed with a generally flat surface from which to jump into the water. The rock also draws in additional users by doubling as a convenient perch for sitting by the pool.
Aesthetically, homeowners appreciate a jump rock. Nearly everyone finds one more attractive than a manufactured diving platform. In particular, its organic appearance makes it perfectly suited for the setting around a tropical or lagoon-style pool.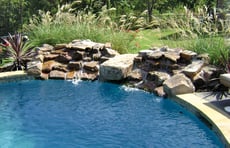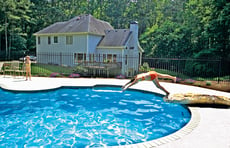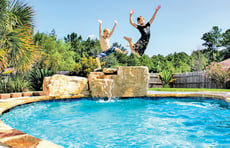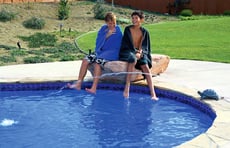 Like a diving board, a jump rock is installed next to the pool edge at the deep end. Unlike a diving board, it has no spring action to accelerate and intensify the jump.
This means the force of the leap is limited; it's dependent solely on how high and powerfully the user can jump.
As a result, during the jump, the user will not be propelled as far out over the water as they would from a spring-action diving board. And when they enter the water, they will not submerge as deeply.
Such differences are meaningful. Especially if they have young children, some homeowners feel more comfortable with a jump rock's "tamer" entry into the pool.
For safety, a jump rock does require a pool with a deep end of at least 7 feet 6 inches.
#4. Sports Pools
While an 8-foot pool makes diving possible, some pool owners prefer the benefits of going shallow with a pool instead of a deep end.
In fact, when a pool has an eight-foot deep end, the shallow side often ends up being the most popular spot in a pool. Wherever kids can stand with their heads above the water is where they gravitate for pool games and water sports.
So you might consider what's known as a shallow "sports" or "court" pool. Other names for this kind of pool are "3-5-3" or "4-5-4".
Such pools have a shallow area on each end of the pool, and the middle is slightly deeper. Typically the dimensions run roughly 3 to 4 feet on the shallow ends, and about 4-1/2 to 5-1/2 feet in the center.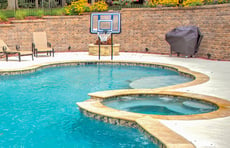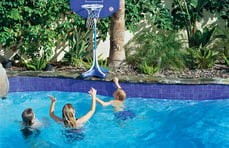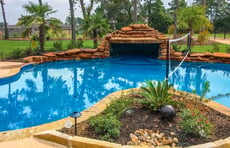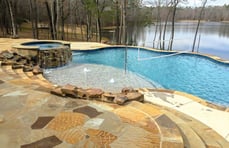 Depth configurations like these make all the difference for aquatic activities and how everyone can use your pool.
If competition and sports are appealing to your family—or even simple pool games such as Marco Polo or chicken fights— a sports pool makes a terrific choice.
Such dimensions are perfect for sports, as they allow kids and adults to stand on the pool ends and hit a volleyball over a net strung across the pool's center.
Plenty of shallow areas is also ideal for standing and shooting hoops into a basketball hoop that's mounted on the deck on the side of the pool.
Plenty of three- to four-foot water depths are also well-suited for a floating game board. Two players can comfortably stand in the water and challenge one another in chess, checkers, or backgammon.
In most cases, a sports-pool configuration can be incorporated into any size, style, and shape of inground swimming pool.
#5. Rock Grotto Waterfalls
Grottos take rock waterfalls to the next level of aquatic entertainment. Often they become an alluring hub of play in a swimming pool.
First, what differentiates a grotto from a regular rock waterfall is how the waterfall element is configured. Masons build the feature in a specific way—usually with a large, flat stone that juts out over the pool surface.
This arrangement creates a space below that ranges from a small niche to a semi-enclosed cave.
In larger, elaborate grottos, you can include features such as a bench, lighting, or speaker system. Even more upscale features like a spa or private deck area for seating are possible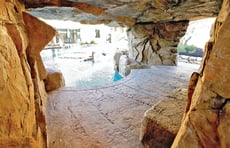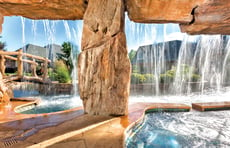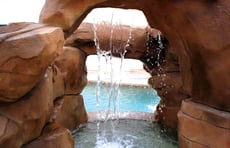 Now, with a grotto, it's this little area of secluded real estate inside the pool environment that makes it special for a kiddie play area.
Ironically, while grottos are often built by homeowners seeking the superb aesthetic appeal, it's the kid-friendly functionality that can end up providing an even bigger benefit.
While grown-ups are who most appreciates the beauty of a grotto, it's the kids who typically make maximum use of the towering feature.
Kids love to hang out in "secret" spaces. That's why building a fort is such a popular childhood past-time. Grottos fit the bill here, serving as the ideal backdrop for imaginary play. As an added benefit, a grotto also provides shade from the hot sun.
Some grottos incorporate a pool slide. When they do, the design includes steps that kids will enjoy climbing up to reach the top of the slide.
Small rock grotto designs are affordable for some budgets. However, because a grotto typically requires engineering and intricate construction, this feature is more common among the pricier pool options to include for your kids or grandkids—but they sure do deliver big on aquatic excitement!
#6. Benches and Tanning Ledges
For children, shallow sections of the pool offer some of the best play areas. When little ones can stand—or even better, sit—head above water, they will find ample ways to entertain themselves.
Even if your pool boasts a sports-style or 3-5-3 configuration, you have additional opportunities for even-shallower features to provide flexible play areas for young children and those learning to swim.
By far, the biggest favorite of these is a tanning ledge, also called a sun shelf or Baja shelf. These structures have become immensely popular in new pool construction and even on remodels.
Built into a side of the pool, most tanning ledges run three to six feet in length. Depending on your swimming pool shape and size, they can be square, rectangle, circular, or curvy, semi-elliptical shape.
These ledges resemble an extra-large entry step. But unlike an entry step, they are typically built only six inches underwater.
That minimal depth works wonders for kids. A tanning ledge is a wonderful spot for small children who are perfectly happy to splash around in a few inches of cool water.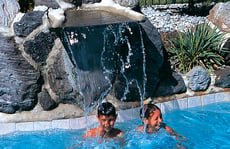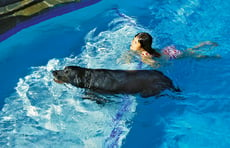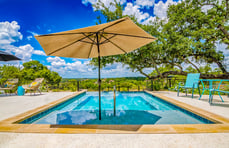 Another shallow structure that's a hit with the kids is a pool bench, also called a love seat.
In some pools, these seating structures are positioned in the deep end. In this strategic location, they serve as a kind of rest area for anyone who quickly needs a rest break without having to swim to shallow water.
Increasingly, benches are also built on other parts of the pool. One approach is to make the second entry step what's known as an "extended step" with extra length that doubles as a bench,
Another is to place a bench beneath a large elevated spa, cascade water feature, or rock waterfall. Kids—and grow-ups—sitting on the bench can then enjoy the overflowing water running down their backs and shoulders.
#7. Spas
Although not always thought of as a kid-oriented feature, a gunite pool's spa is often a major hit with the youngest members of a household.
You might be surprised to see how much time your little ones play in this feature.
Children like to use a spa similar to the way they might in a small kiddie pool. The enclosure of water can be heated—even when the rest of the pool is not. Typically, a spa has a maximum depth of 3 to 3-feet and six inches.
Therefore, this feature provides a more comfortable environment for children who may not be ready for the large expanse of water in the pool.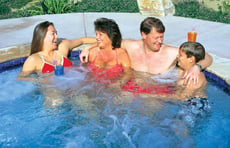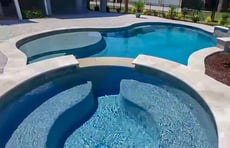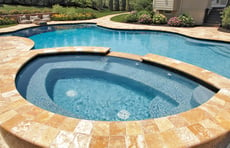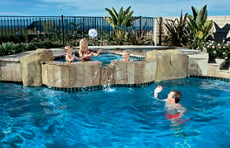 In addition, spas contain plenty of bench seating. At approximately 18" deep, these structures provide a more convenient, more comfortable play area for kids. It's amazing to see how much pleasure children can find simply walking back and forth along the spa seating.
If the spa includes an entry step, this structure will be even shallower—usually submerged only six to nine inches in the water.
In addition, when the spa jets are turned on, kids amuse themselves with the pulsating streams of water and the swirling action they produce.
Frequently, even older kids make good use of a spa. Don't be surprised to see teens hanging out in the warm bubbly waters socializing with their friends.
Teens involved in sports will appreciate a spa's warm hydrotherapy benefits; they can soak their tired muscles just as much as an adult will.
Creating kid-centric aquatic entertainment
A variety of approaches are possible when integrating fun features like these into a new or remodeled swimming pool.
Many factors—ranging from pool size to the age of your children—influence which options will best suit your family, style preferences, and project budget.
To learn more about creating a pool design that your kids or grandkids will love, contact your local Blue Haven team for a free in-home estimate.