—Top features & elements to include for a clean, sleek aesthetic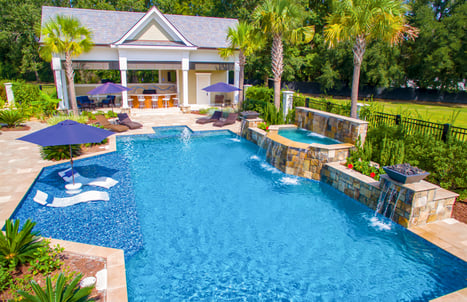 A sleek, modern swimming pool design is on the aesthetic wish list of today's homeowners.
If you would also like an inground pool & spa with a chic, contemporary character, then making the right choices during the planning process is key.
Let's look at some design fundamentals for a visually modern pool, and learn how incorporating at least several of them will support your style goal.
1. Swimming Pool Shape
The foundation for a modern pool design begins with its shape. In most cases, this means a geometric pool shape with clean lines. Certainly, a standard rectangle is one common option.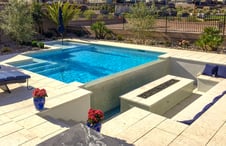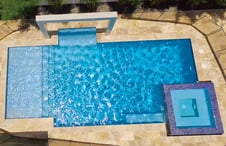 However, by no means must you stick to that symmetrical shape.
You can modify a basic rectangle pool in several ways by altering the corners or adding one or two "cut-outs" into the perimeter.
Venture beyond a rectangle and upgrade to a custom geometric shape.
For example, tweak a standard shape so that it becomes asymmetrical. Or, ask for a polygon composed of straight lines and hard angles.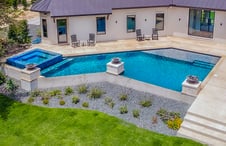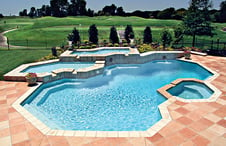 Another way to achieve a pool with a modern personality is by mixing straight lines and hard angles with radius shapes, such as an arc or half-circle.
This combination of linear and curved shapes for the perimeter creates an intriguing silhouette.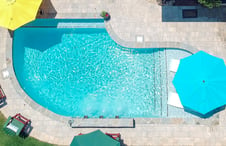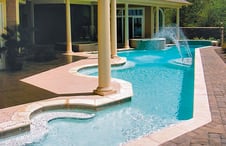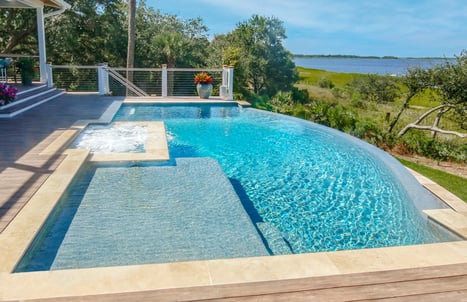 Far less common, but certainly appropriate for a modern look, is a shape that's circular or triangular.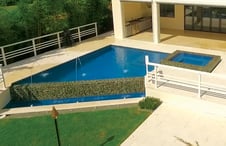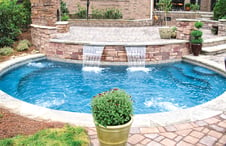 In the right setting, a pool shaped like an "L" or "T" lends itself to a contemporary profile.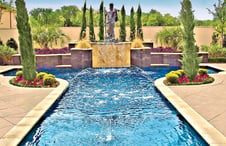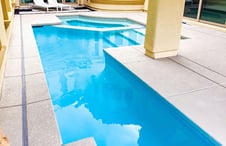 With a calculated approach to the design elements, even a classic Roman or Grecian pool shape can lay the foundation for modern look.
But to do so, it becomes essential that all or nearly all of the other elements and features are decidedly sleek and on-trend.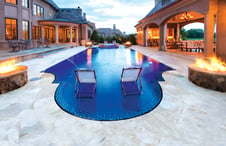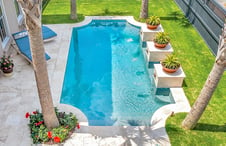 Now, one popular shape that might fail for the goal at hand is a free-form. Curvy shapes such as a cloud, kidney, or figure-8 fall into this category.
Organic contours like these are much better suited for a tropical, natural-style aesthetic, such as a lagoon pool.
As with a Roman or Grecian shape, exceptions are possible.
With the right material picks and feature choices, a generally contemporary appearance with an organic shape can happen. But it will be challenging to reach an ultra-modern final result.
2. Choices for coping
m
aterial and color
Exterior finishing materials also play an influential role in a pool's overall appearance and character.
Coping is one key element that makes a style statement that can be modern, natural, traditional, or rustic.
Coping is the stone, brick, or concrete pieces installed around the pool perimeter between the shell and the deck.
The material helps preserve the pool structure by preventing water from building up next to the pool shell's exterior.
(An exception is cantilever decks, which do not need coping. Found in only certain U.S. regions with highly stable soil, cantilever decks are built with poured concrete. The concrete lip extends out roughly 1 to 1.5 inches over the pool water's edge. In most cases, this design will produce a streamlined look.)
For your modern backyard setting, choose a coping material that with clean cuts, uniform shape a semi-smooth finish.
Examples include factory-produced concrete coping pieces; they come in standard sizes and shapes and have a relatively smooth appearance.
The same goes for prefabricated concrete paver stones. Pre-formed in a factory, they come in clean, consistent shapes and exterior texture.
Another good option to achieve your desired appearance is poured concrete that is either stained or stamped. Even better: Finish the concrete with a colored acrylic topping for the smoothest result.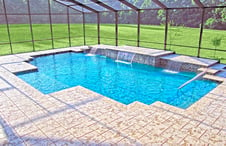 Another option: paver coping in natural stone. You could choose travertine or—in some regions of the U.S.—slate or granite.
Cut from quarried rock, stone pavers are available in various uniform shapes. When a modern aesthetic is your goal, seek those with clean cuts and honed surfaces.
Natural stone pavers come in a variety of colors. Some feature a generally consistent shade. Others are striated or contain deeper veins and swirls of colors.
Finally, you could consider certain kinds of clay brick coping. For pool coping, bricks are available in light neutrals and pastels and with even surfaces.
You may want to stick with coping material in a solid or a generally monotone color.
One design approach is using a dark coping that strongly contrasts with a light-color deck. Or, do the opposite: Install white or light-color coping against a dark deck.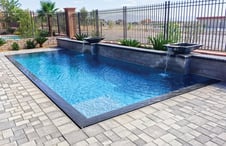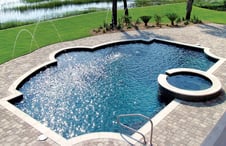 Yet another tactic is matching the coping material with the deck material. Using the same material—even if the size or shape of the pavers are different—creates a clean, unified look.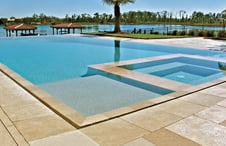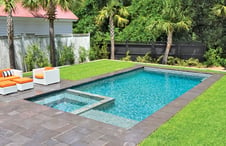 If your pool design boasts many other sleek elements, such as a distinctive geometric shape, you can probably get away with paver material that's varied in its color and organic in appearance.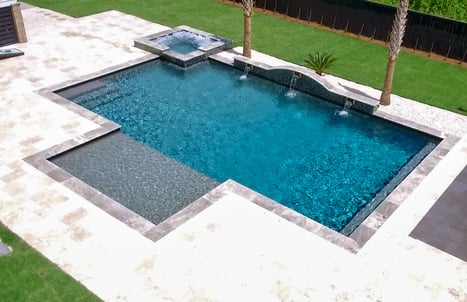 Generally speaking, for a fresh, modern theme, you will want to avoid coping in flagstone or rough-cut natural stone. The same goes for traditional red-clay brick.
These materials bring great beauty to many pool projects, particularly those in a rustic, tropical, or traditional setting. However, they do not mesh well for a modern aesthetic.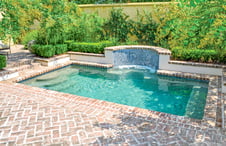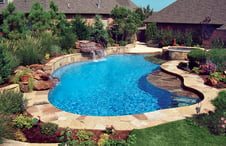 3. Refined deck materials
Much like your coping choices, the materials used to build a deck play a major role in the poolscape's overall appearance.
For this reason, it's critical to pick a color, shape, and finish that supports your design objective.
For a pool and backyard that are chic as possible, it's wise to forgo a deck with brick, flagstone, and other rough-cut natural stone.
The same goes for concrete with random, uneven, or pock-like surfaces such as a salt or broom finish.
If you are set on having natural stone, consider uniform pavers or smooth cuts of slate or travertine; they are better suited to the style task at hand.
Pool decks with decorative concrete inherently look contemporary.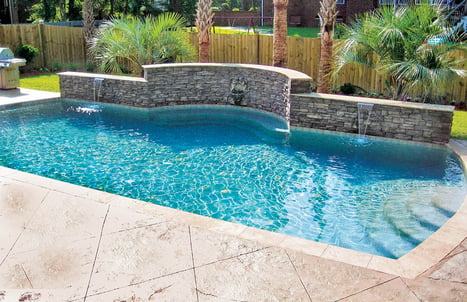 The key here is to give the concrete surface a clean finish by staining, polishing, acid-etching, or stamping it with a uniform pattern or stencil.
Another way to achieve a smooth exterior texture for your pool deck is with a colorful acrylic concrete topper, such as SUNDEK®.
Less common, but also sound choices for a deck with modern appeal: Wood and grass if they are strategically incorporated.
For wood, pick either a naturally water-resistant variety (e.g., Ipe, teak), or a faux or composite material with a smooth finish.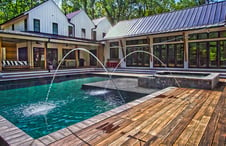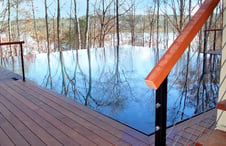 In the right overall design, you can also substitute a grass lawn for an entire hardscape deck. Or, add grass insets into a hardscape material to create a particularly intriguing visual.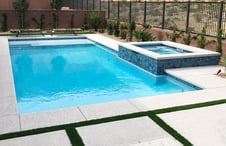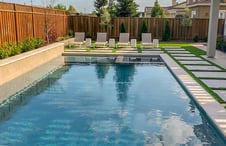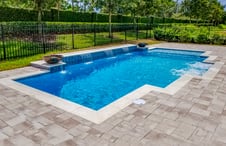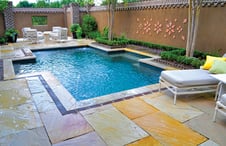 4. Spa
style
Are you planning to include a gunite spa with your new pool? If so, this amenity provides a superb opportunity to enhance the pool's sleek visuals.
Now, unto itself, including a spa does not help modernize a pool. It's the style and shape of the feature that matters.
First, you want a decidedly uniform shape. Think geometric, such as circle, semi-circle, oval, or square. In some yards, polygons and modified triangles are also good options.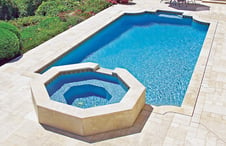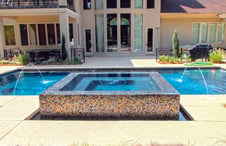 For your modern pool vision, it's best to avoid organic, free-form spa shapes. But once again, if most of the other pool elements hit the modern nail on the head, you could get away with a spa silhouette that's curvy.
Major design tactics to usher in chic style involve building a spa that's elevated above the pool. Doing so opens the door to making the most of the spa's façade, dam wall, and spillways.
For example, with a raised structure, you have swath of dam wall that can be covered in sleek tile. The spa's elevation will also show off the single or multiple spillways and sheer liquid cascades that pour from them.
Elevation also allows the option to upgrade from regular spa spillways to the ultimate in modern pool accessories: Metal scuppers or channel spouts.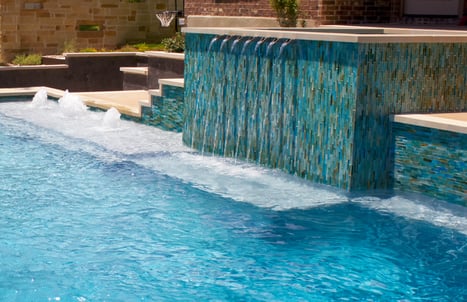 If you have the budget to splurge on your spa, you are in luck: Hands down, one of the optimal ways to go modern on your pool is with a rim flow spa.
Also called a mirror or full-perimeter overflow spa, this trendy design involves a new kind of configuration.
The rim flow spa dam wall is fully exposed. This way, the entire spa exterior—in all of its tiled glory—is fully visible and serves as a full-perimeter spillway.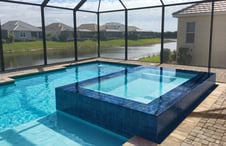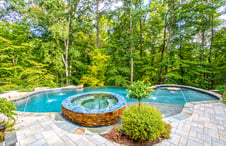 The result is a stunning backyard focal point. In fact, even when the spa is not turned on, the structure almost looks like a modern art sculpture.
In addition, the still spa water creates a visually striking appearance. The quiet surface reflects the sunlight, sky, and surrounding trees with a mirror-like quality.
5. Decorative features and finishing elements
When it comes to decorative features, you have a wide array of options to enhance a modern design. Let's look at several key categories.
Tile:
Choose a pool waterline tile pattern and colors that are sleek and contemporary versus a rustic, stone, or other organic appearance.
You may want to skip earth tones that evoke a natural style. Invest a little more, and you can have tile with an eye-catching, reflective metallic finish.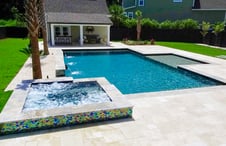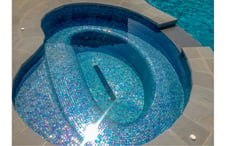 In regions with the right climate, the ideal choice for a modern aesthetic os shimmering glass tile. For even more chic style, pick a glass pattern with an iridescent finish.
Water Features:
Another surefire way to up the modern quotient in any pool is with water features. Here, we are talking about ones besides rock waterfalls or grottos.
The smart move is requesting sleek options such as cascade waterfalls, deck jets, and illuminated laminars. Include a pair, trio, or series of these features for clean, contemporary pool accents.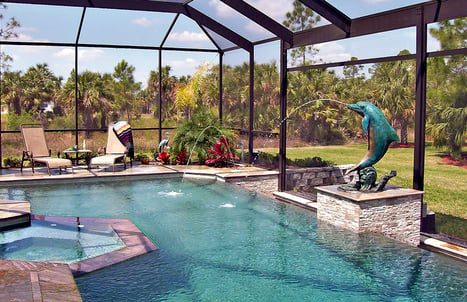 For high-end projects, you have some other terrific options. One is to accessorize with a water bowl. While a round vessel can work in your overall design, a square shape evokes the maximum modern feel.
As for the bowl's finish, choose as you would for other materials. A concrete vessel with a smooth finish will work. But a finish in copper or stainless-steel will do an even better job setting a contemporary scene.
Metal scuppers for cascades water features are particularly trend-forward accessory. So are tube-shaped metal spouts that create thin, sleek channels of falling water.
Lighting:
Swimming pool lighting has undergone a major revolution, and today's technology is ideally suited for enhancing the poolside ambiance.
Ask your pool builder about color-changing LED light systems. They can illuminate the pool overall and spotlight decorative elements such as water features.
In particular, laminar water features can be lit with LED. The dazzling glow travels the entire arc of water for a mesmerizing appearance.
Fire bowls:
If you are going all out on your new pool to attain the wow factor, consider one or more fire bowls (also called fire pots). The dancing flames are a perfect accent for any chic aquatic retreat.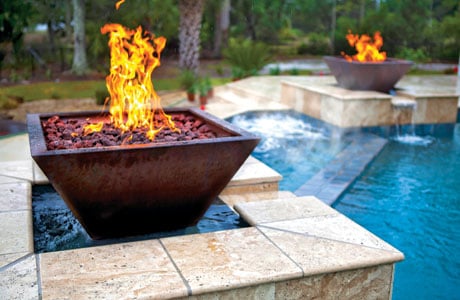 Art not science
Keep in mind, you need not include all of these elements to produce a modern-style pool. No hard-and-fast formula exists.
When it comes to the fundamentals of pool shape and materials, make enough of the right choices—then augment your picks with your favorite selection of sleek decorative features.
If you cover enough ground incorporating the modern elements outlined here, it's even possible to include one or two that are not.
Yes, that means you could even "cheat" and incorporate a tropical or rustic option, such as a stone waterfall or flagstone coping.
To get started on a backyard resort that's state-of the-art in both technology and style, contact a professional for an in-home pool consultation and design concept.