How big, how deep, what shape?—Fundamental design factors for concrete pools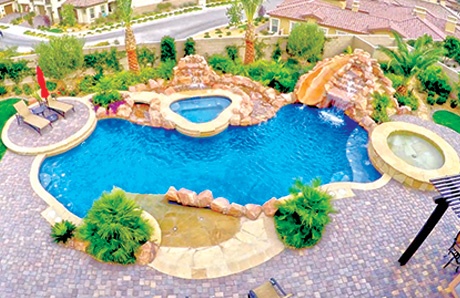 You've decided to build a backyard swimming pool, but don't know exactly how to begin. Particularly with a concrete (gunite/shotcrete) pool, the process is rather detailed, with a wide range of design and construction elements to discuss with your pool builder.
The best way to begin is by addressing these three questions: How big; how deep; and what shape?
To build an inground pool that fits your lifestyle and home, answering these questions will put you on the right track. That's because pool size, pool depth, and pool shape lay the foundation for many additional, smaller pool-design choices to come.
Keep in mind that a concrete pool offers the greatest flexibility for size, depth, and shape. With all the creative design opportunities at hand, let's look at the essential questions to ask as you embark on the exciting process of planning a private aquatic resort.
1. What size should my pool be?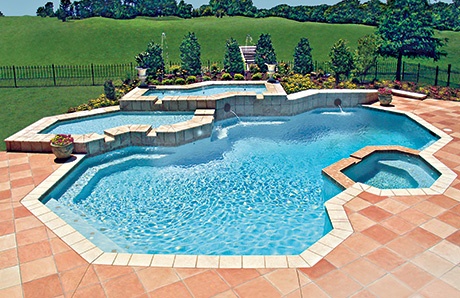 Selecting the ideal dimensions for your pool typically depends on three criteria: planned pool use, project budget, and available outdoor space. The number and type of decorative and functional features you want may play a role as well.
First, think about who will be using the pool and how. Do you have children? How many—and are you planning more? How old are they?
Younger children tend to use a backyard pool more often. Once they hit high school, pool use tends to decrease, except for the occasional party with friends. Of course, that varies by child.
Do you have an older family member living with you? Might they enjoy keeping more active with gentle, low-impact aquatic exercise?
Does anyone at home have mobility issues? If so, you might want to include a sloping beach pool entry—versus steps—for easier ramp-style access into the water. A beach entry will require additional length, and that could affect a final decision about pool size.
Next, for the regular pool users you have identified: How will they likely use your pool on a regular basis? In what activities will you and your family engage?
For example, consider your plans for backyard entertaining. Will you be inviting over your children's friends for swimming? Do you plan on hosting large pool parties on a regular basis for kids, adults, or both?
If you prefer soaking up the sun on the pool deck—with an occasional dip in the water to cool off—smaller dimensions should suffice.
Do you or family members enjoy high-energy or physical activities? Then you might want a larger pool with more room for exercise and play—even for hanging a volleyball net across the pool. And, if at least one household member plans on swimming laps that will dictate a minimum pool length as well.
Under the umbrella of "planned use," also consider what kind of accessories, functional elements, and decorative features you would like to go on your pool.
To illustrate how features can impact dimensions, let's look at a diving board. For safety needs and local codes, diving boards typically require a minimum pool length of 34 to 36 feet. This span allows enough space for some shallow end and a transition into a deep end.
Or, if you want a dramatic rock waterfall and a large tanning ledge for lounge chairs, the two features will compete for space; so your pool may need to go larger to accommodate both safely.
Another driving force for your pool's dimensions is the amount of yard space you can and want to dedicate to a pool. If you have plenty of room, you can go big. If space is tight, or if you want to preserve your outdoor real estate for other amenities like an outdoor kitchen or a grassy children's play area, then a more compact design might be in order.
Another reality that comes into play will be your project budget: How much do you plan to spend? Every pool requires basic construction costs. However, the project price tag will increase along with its dimensions.
So, if your budget is limited, it's a good idea to determine what other features—such as a cascade water feature or multicolor LED lighting—will run you. Then decide whether larger dimensions take priority over these aesthetic upgrades.
Your pool builder will review the construction plan and the final contract amount for various features. Speak with your builder to determine how much pool—and how many bells and whistles to go on it—will fit into your budget.
2. What depths should my pool have?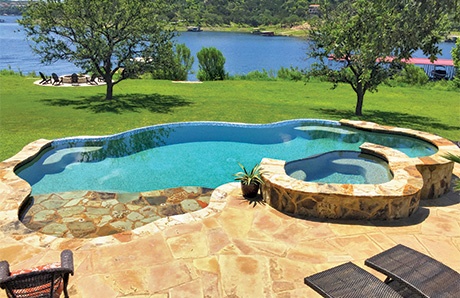 Historically, backyard pools consisted of a shallow end on one side that transitioned to a deep end on the other. The shallow section typically averaged 3 to 4 feet in depth, while the deep end ranged from 5 to 9 feet.
However, in recent years the popularity of "deep-end" configurations has waned. Today, a favorite option includes a shallow area at each end and a deeper section in the middle. But even this center "deep end" may run only 5 or 6 feet. This approach delivers more usable area where people—especially children—can stand up in the water.
Another depth strategy is an off-set shallow end. For example, take an L-shaped pool, and build the deep end on one side of the long "leg" of the L. In the short leg, build shallow to create a play area with steps that people can use while someone else swims in the long, deeper stretch of the pool.
As with size, your pool depth will depend on how you and your family plan to use your aquatic playground. Variables to evaluate include:
Typically 3 feet or less in depth, kiddie-pool areas allow young children to touch the bottom while keeping their heads above water. Play areas also offer a convenient spot to hang out for those learning to swim.
Will anyone swim laps? If so, pools typically require a consistent minimum depth of 4 feet. This depth provides enough space for "kick turns" and for a full range of arm motion for stroking—without hitting the pool bottom with your hands. For very short or very tall swimmers, your builder may slightly adjust this depth as needed.
Water volleyball and basketball make great activities for kids of all ages. The water must be deep enough for players to stand up and to swim.
The typical configuration for what's known as a "sports pool" is two shallow ends, 3 to 4 feet deep, coupled with a center section running around 5 feet deep. This layout provides two sections of level pool-floor areas, enabling everyone to stand and play at the same depth.
Diving demands a minimum pool depth of 8 feet. Pools with flexible springboard-type boards—which provide an additional bounce for further diving distances—must go deeper to maximize safety.
Closely consult your pool builder about the kinds of diving boards to consider, as they may critically impact your pool's depth and slope in additional ways.
Is relaxing and chilling in the water your main goal of having a pool? If so, then an average depth of 4 feet should suffice.
Know that deeper pools cost more to build; they require more material in the structure and additional labor.
A deeper pool also holds more water, so it costs more to maintain. This fact hits particularly hard if you plan to heat the water regularly. You will also spend more on chemicals and longer pump and filtration times to sanitize the swimming environment.
3. What pool shape should I choose?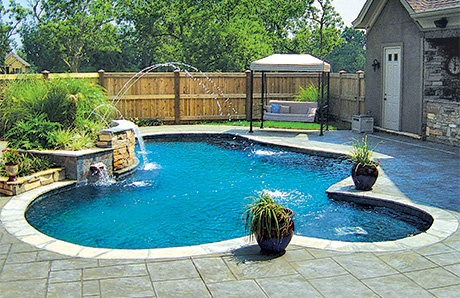 The superior versatility that concrete construction offers means you can have virtually any pool shape you want! Pick from a wide range of shapes and variations; among them: clouds, ovals, figure-8s, kidneys, L's, T's, rectangles, special geometric shapes, curvy free-forms, and classic Greeks and Romans.
Your builder can also modify a shape to your tastes. For example, the straight edges on the side of a Grecian pool can be scooped or inverted.
And of course, a pool builder can develop a total custom creation. Request a curvy, organic free-form one (a great choice if you plan a tropical or lagoon aesthetic). Or, have your builder create an intricate blend of hard geometric lines with round flowing forms.
Searching images online and reviewing your pool builder's project photos will provide plenty of inspiration.
You can take ideas from several images and ask your builder if there are ways to integrate them or modify versions of them into a single design.
When selecting your pool shape, imagine how it will contribute to your pool's final appearance, as well as your backyard setting. The shape may also affect the different ways you can use your pool.
For example, some shapes make it difficult to swim a straight lap across the pool and make turns. The shape can heavily impact the square footage—the total area inside the pool. And of course, it can raise or lower project costs. If you plan to include a spa, doing so will also influence the final pool shape.
Some shapes require more yard space. A curved one typically maximizes the swimmable square footage and offers the most cost-effective option. It provides more usable play area while minimizing your pool's footprint—thereby leaving more room for other backyard amenities like a dining table or outdoor kitchen.
To begin narrowing your choices, start with an overall shape category that most appeals to you. Do you prefer the softer, flowing feel of rounded shapes such as a figure-8 or a cloud shape? Maybe a sleek, angular geometric one appeals more to your aesthetic. Or perhaps you would like a formal Greek or Roman pool to complement your home's traditional architecture.
When your designer understands the kind of shapes you find attractive, they can help you winnow them down or modify your favorite to accommodate your other goals—including pool size and depth.
They will also look for ways to integrate your functional goals, such as lap swimming or a shallow play area for your kids. You may also learn why a certain shape may not work at all, or why you will need to modify it for the goal at hand. The same goes for accommodating certain decorative features.
Special shapes or modifications to them can also help solve backyard building challenges. Let's say you have a smaller backyard, but also an adjacent side yard. To fit in a pool, your builder may develop a unique L-shape that follows your house line and wraps around it.
So, always remember: You can pick a standard shape or use one only as a starting point for an original one that's unique to your needs and style preferences.
Determining the essentials
As you review the factors outlined here, know that some initial choices may impact others. In other words, you may have to alter your first pick to accommodate a need or desire related to another preference.
For example, to keep more open space available in your backyard, you may want a moderate pool length. However, later, you determine that a big waterslide your kids want is a must-have. So, you realize the pool must be larger to accommodate the slide, and you will have to override your earlier pick for length.
Selections for size, shape, and depth lay the groundwork for the balance of other choices to come. So take plenty of time to carefully evaluate these key elements, and work closely with your pool builder about options.
Do so, and you'll achieve a beautiful pool that delivers many years of recreation and relaxation.