—From shapes to water spillways, see the range of popular spa features and styles
—Updated January 3, 2017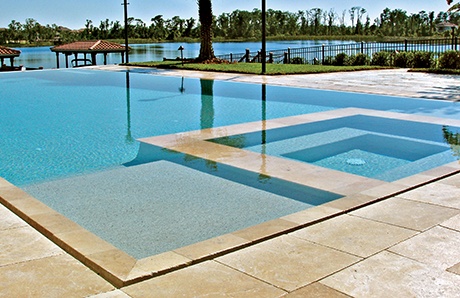 Whether simple or elaborate, the design for an inground spa provides a superb opportunity to accentuate the appearance of your backyard swimming pool. With the right style choices, a spa will become a healthy, relaxing retreat, as well as the visual centerpiece of your new aquatic playground.
Just what goes into creating a beautiful inground spa? Unlike a prefabricated hot tub, a custom build provides so many avenues for creativity that it can be tough to narrow down what you want!
With this in mind, it's smart to start thinking ahead about options before even meeting with a pool builder to develop your pool & spa plans.
From the basic shape of the spa to the decorative tile adorning its façade, let's take a look at some of the key decisions you will have for the appearance of your new spa.
The shape of things to come
One key initial consideration will be the shape for your spa.
The shape is key to its appearance, and shape can also influence how the spa functions when multiple people simultaneously get in for a hot soak.
For this reason, the number-one shape favorite is round. Particularly when several individuals are in the spa, a circular shape provides a cozy, natural seating configuration for conversation and good times.
Pool & spa buyers often pick a square and sometimes a rectangle.
In some cases, pool designers customize these four-sided shapes to provide more visual interest to the spa.
Other more intricate geometric shapes such as hexagons, octagons, horseshoes, semi-circles, and triangles spas are possible.
When it comes to spa design, some of these specialty shapes—particularly semi-circles and triangles—are usually modified for better functionality and use of space.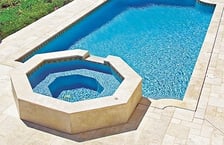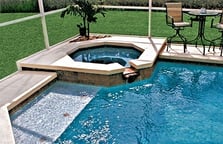 For even more curves and greater originality, ask your builder for a shape inspired by a quatrefoil, like the examples here.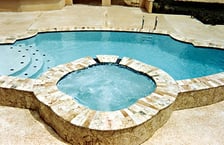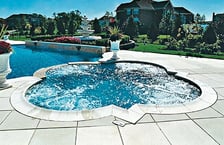 Keep in mind that some of these standard geometric figures can be modified for your spa design.
Your pool builder can tailor a basic shape in several ways.
For example, the 90-degree corners of a square can be inverted, echoing the shape of a classic Grecian pool.
Or, the corners can be rounded for a softer look. Here how these alterations can come out in the finished construction.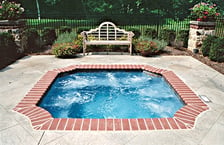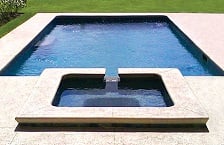 A similar tactic to the rounding of corners can be used for a fresh take on a triangle shape to smooth its sharp points.
Another approach to give extra flair to a triangle: Add some extra short segments to the three standard sides, like the custom design here.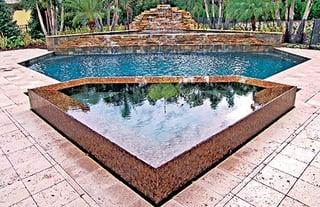 Another spin on the basic triangle relies on curved sides.
Curve all three sides and you have a "fat" Reuleaux triangle.
Or, as you see here, you can curve a single side of a triangle. You now have a quarter circle for a pleasantly unexpected variation.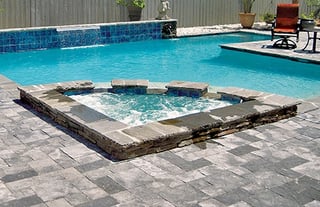 You can do the same trick with a semi-circle; give it a modern twist by curving the normally straight side.
The curve can be outward into the pool, inward into the spa if the spa size is large with some space to sacrifice), or wavy with a slight curve.
In the examples here, you can see how simple refinements can provide a more contemporary feel for a backyard setting.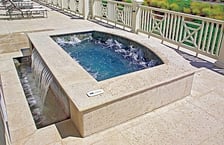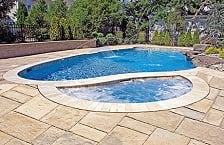 Similar kinds of alterations can help give a new look to a plain circle: invert a portion of the perimeter.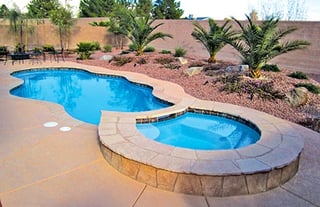 What about other polygon shapes?
You can create original ones, as illustrated here with this modern, unique-shaped pool-spa combination.
Now, if the goal of your pool design is to create or complement a backyard with a rustic, natural, tropical, or countryside setting, you might want to go in another direction altogether.
Here is where a free-form, organic form fits the bill. An imperfect silhouette creates an organic aesthetic.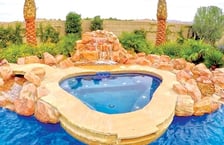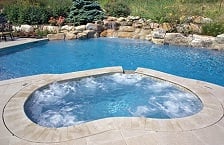 Taking your spa to greater heights
In addition to the shape of your spa, there is its elevation—the height at which it is positioned.
Many spas are built level with the adjacent pool. From a budget standpoint, this approach is usually a good option. Even when flush with the pool, a spa can make a statement and effectively accent the overall poolscape.
However, for a bolder appearance, boosting the spa height delivers more drama.
Elevating the structure so that it sits higher than the pool will increase construction costs, but it will also open up a wide array of design possibilities.
Here, you can see how this simple, raised square spa becomes a head turner with a façade covered in iridescent tile.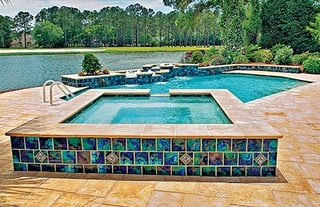 When constructing a raised spa, the most common approach is to build the structure at least 6" above the pool.
However, in some cases, particularly if the spa is situated on higher ground—as with the pool & spa below where the spa is built on a portion of deck higher than the pool—the elevation may be only a several inches.
Even with this small elevation, the spa stands out, particularly with a coping material—like the double brick pattern seen below—that contrasts with the surrounding deck.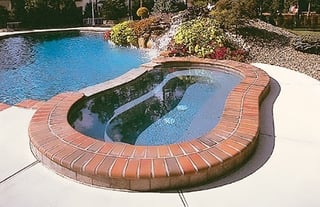 However, more often, a height of 12" to 18" is what's used. For functionality, an 18" height delivers a specific bonus: since it's the same as a chair its edge serves as a convenient seating area for anyone outside the water on the deck.
Some spas are built extra high to integrate with raised walls (known as raised bond beams) along one side of a pool, creating opportunities for additional water features.
Or a spa can have a decorative wall of its own, complete with a cascade water feature.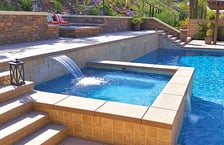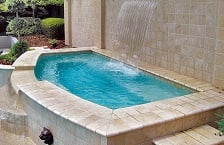 Here, a creative pool builder combined a free-standing, elevated spa with a graduated beach-style entryway.
Finished out with natural flagstone on the spa exterior and the entry, this design illustrates some of the superb possibilities with a spa that's raised up over the pool.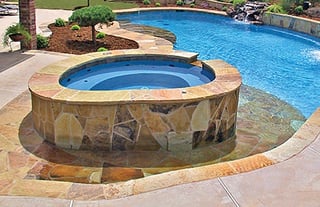 To achieve an even bigger wow factor with an elevated spa, request a plan that takes your spa up to several feet or higher. The taller the spa, the greater its visual impact.
For some backyards, the added height can improve the spa experience in another way: By raising the spa several feet or more, anyone seated inside it can take in an obstructed view beyond their backyard.
In fact, a custom build can be so high up above the pool that separate steps are needed to climb up into the spa!
Walled beauty
An inground spa can be built as a stand-alone structure separate from the pool, as shown below. Some homeowners prefer this approach for the backyard layout.
For example, in a large or tiered backyard the pool may be positioned far from the house, but the homeowners would like the spa right outside the backdoor for convenience.
However, the typical—and budget-friendly—way is to construct an attached spa so it's part of the overall pool structure.
Two ways exist to build an attached spa. The simplest, most affordable approach is to incorporate the spa inside the pool.
The spa is essentially carved out of the pool's square footage. In the example here, you can see this frequently used method of taking a corner of the pool to fashion the spa.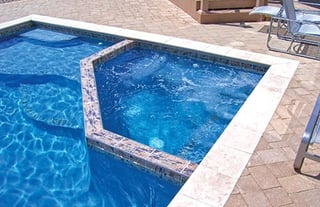 The other method for building an attached spa is to construct it all or primarily outside of the pool perimeter. In this case, the "exterior spa" spa is mostly its own structure, but it is linked to the pool by sharing a portion of its wall with the pool.
With either an interior or exterior spa, a fundamental element is this shared dam wall that separates its water from that of the pool.
The dam wall holds back the spa water—which is frequently heated to temperatures much higher than the pool—to keep it in the spa.
As it turns out, this functional dam wall structure with a rather blunt, utilitarian name serves as prime real estate for some of the most creative, attractive styling for spa design.
Even for a spa that is not elevated, dam wall decoration can make a style statement.
Again, if you choose an elevated spa, the avenues open up to create a real backyard stunner. For example, you can finish out the dam wall on a raised spa so that its façade has its own miniature rock waterfall like the one shown here.
Designs that spill over
A small section of the spa dam wall is what's known as a spillway or spillover. Every spa has one or several of these open sections of the wall to allow a small amount of water to slowly flow into the adjacent pool. These passages can be built in a number of styles and sizes, but typically, they are positioned at the top of the wall at the spa waterline.
Once again, a spa that's raised up over the pool offers advantages.
Tall dam walls that extend above the pool surface below provide the specific opportunity for creating a water feature. Through one or more spillways, water cascades into the pool surface, resulting in a lovely visual attraction and a relaxing sound.
A modern twist on the spillway is a series of channels across the spillway. With this approach, funnel-like slots create concentrated passages for the spa water to pour through for a contemporary effect.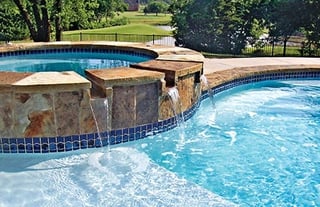 A different take on the spillway is a design that comes down to a spill-through.
Instead of water that flows over the top of the dam wall through a traditional spillway section or channels, the water flows "through" the wall with porthole-style passages, as illustrated with this spa.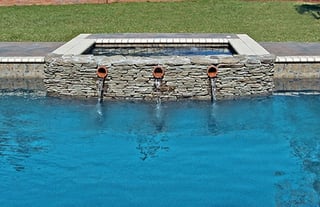 Another favorite approach is a "weeping" dam wall, which boasts a tiered façade: Several steps in front of the dam wall allow water to flow over them into the pool below for an attractive, fluid effect.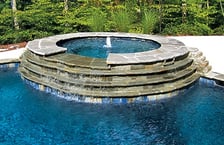 Going to infinity—and beyond
Taking the traditional spa dam wall and spillover to the next level is the infinity spa. The infinity style can be integrated with most shapes and styles of spa, but it does require that the spa is elevated above the pool.
An infinity spa is like an infinity pool (also called a vanishing- or negative-edge pool) in how one portion of its perimeter is designed to "vanish" and blend into the horizon.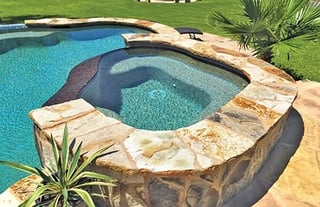 In the spa version, a section of the spa's shared dam wall is specifically designed to be flush with the spa waterline.
Unlike the rest of the spa wall—which will sit above the pool below—this "disappearing" section of wall is not covered on top with coping material (like the rest of the spa and pool perimeter). The final result is a virtually seamless appearance that makes it difficult to see where the spa edge ends.
Today, even the innovative infinity spa has evolved. The latest trend is what's known as a full- or 360-degree perimeter overflow spa.
This overflow design can be described as having infinity walls on all sides. Spa water uniformly spills over the entire spa into its own surrounding, open-style catch basin that integrates with the pool.
Even if your backyard has no real view or horizon for the spa's water flow to "vanish" into, the full-perimeter rim flow design delivers a striking addition to any outdoor setting. For double the drama, pair it with an infinity pool, like the pool-spa combo shown here.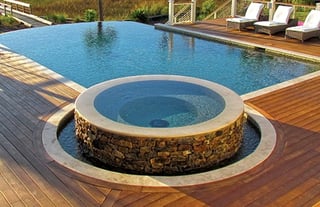 Features, accents, embellishments
In addition to the shape, dam wall, and spillways, a spa affords a wonderful platform to add decorative finishes and features. Water-feature options include spraying or bubbling fountains that rise up from the spa floor (when the spa is not in use).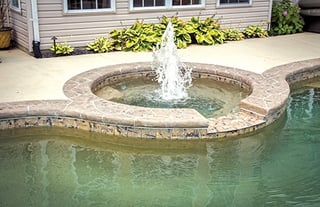 Illuminating a spa adds even more liquid drama and ensures that the dazzling effects can be enjoyed past sundown.
Color-changing LED lighting can be installed for a gorgeous nighttime scene. In addition, some LED systems enable you to alternate or synchronize the colors of your spa lights with those in the pool.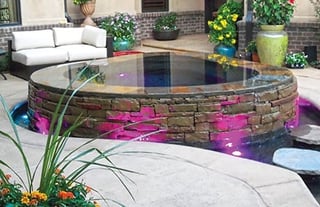 Your spa can also be dressed up with special material along its facade or along several sides.
For example, part or all of a spa exterior can be covered in ornamental tile or stone. For a more tropical look, faux or natural rocks and boulders can be used to surround some or most of the exterior.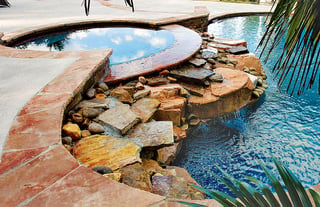 Imagine even more
Want to venture further outside the box with your spa design? You can.
When building a concrete (gunite/shotcrete) pool & spa, your options for both pool and spa are virtually unlimited. Along with an array of popular designs, your pool builder can develop a custom configuration to suit your tastes and imagination.
For more ideas and design inspiration for your new spa, view even more custom spa photos here: https://bluehaven.com/pool-photo-galleries/gunite-spas.