How to shield yourself from the sun: 5 Pool Shade Features Explained in Photos
When it's hot outside, a swimming pool is the perfect way for you and the family to cool off. However, since staying in the water the whole day is not practical—nor is getting sunburned—you want to block or minimize the sun's rays outside the pool and in the nearby patio.
Whether you already own a pool or are planning to put one in, ensuring some shelter from the heat and the ultraviolet light is a smart idea. From a pool umbrella, to a built-in patio enclosure, let's take a look at some popular options for keeping more comfortable in your backyard resort.
1. In-pool Umbrella
You have seen a typical patio umbrella (sometimes called a "market" umbrella), and of course, these provide a simple, affordable way to create shade. But did you know you can integrate an umbrella directly into a pool?
It's done with the inclusion of an
umbrella-pole sleeve
; the sleeve to hold the umbrella is set into the pool structure during construction (or remodel), usually into the top step or a
tanning ledge
(aka sun shelf or Baja bench). This arrangement allows swimmers to stay partially submerged in the cool water while out of direct, burning rays.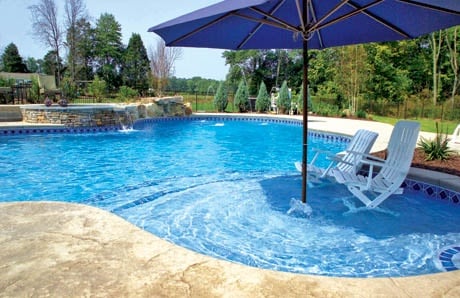 2. Screen Room Enclosure
Popular in some East Coast areas and in southwestern states on the Gulf Coast of Mexico, a screen room is a permanent enclosure—typically with an aluminum frame—built around the entire pool, deck, and often a patio area.
While the key purpose is to keep out tropical insects, screen rooms provide other benefits: The screen material, coupled with the metal support frame, slightly diffuses the sunlight. This can keep the temperature lower in the pool water by a couple of degrees and in the ambient air by approximately six to eight degrees. However, you can boost these numbers with special solar film; adding the film to the roof (or portions of it) will help filter the UV rays and cut the resulting heat while allowing in the majority of overhead sunlight.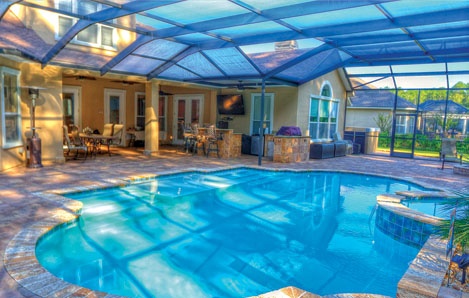 3. Backyard Pergola
Pergolas range in size, style and configuration, but typically a basic version has four columns and open rafters and beams on top. Flexibility is a key advantage to their design—they can work in a wide variety of spaces.
They are often free-standing wall-free structures. However, you can have them built up against an existing wall on one side or built to extend between two walls. Depending on their length, they may have more columns to support the expanse. On their "ceiling" you can include trained vines, hanging potted plants, or climbing plants that grow over the top. Adding plants provides more shade and also creates a nice decorative touch.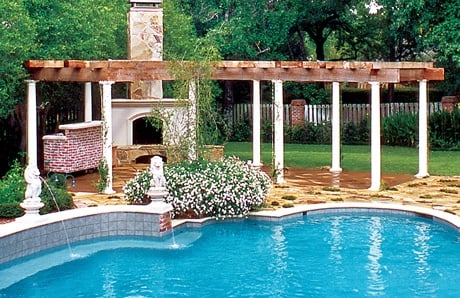 4. Backyard Gazebo / Pavilion
Imagine a space that feels like a living or dining room right in your backyard? Gazebos and pavilions are free-standing, roofed structures that are superb for backyard lounging, dining, and entertaining. Traditionally, they are open on all sides, but modern installations are also built into a garden wall or side of a house.
Distinguishing them from pergolas is that gazebo/pavilion ceilings are usually solid. That means optimal overhead shelter from the sun and heat. And if they are configured with one or two walls, the protection factor climbs higher. More elaborate installations can include electricity for a ceiling fan or portable fan.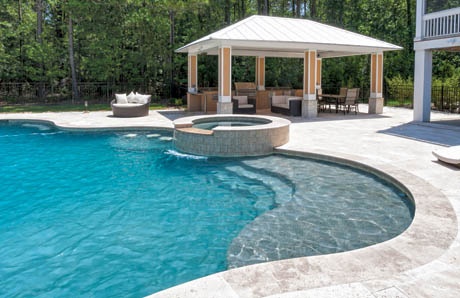 5. Pool Cabana
A common sight at upscale, resort-area hotel pools and beaches, a cabana is a tent-like structure with one open side facing the water. Three of the four sides have some form of barrier or "wall," usually made of fabric. For inside the tent, popular furnishing choices include day beds, lounge chairs, and small cocktail tables, permanent flooring and/or outdoor throw rugs.
While cabanas may be more popular at hotels as a privacy solution, there is no reason you can't enjoy one right at home. Have fun with the design, and you will have a resort-like feature in your pool area that provides plenty of cover from the elements.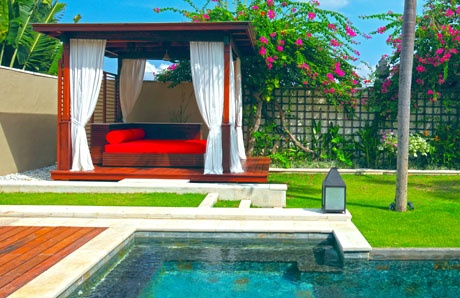 Check out a few pool shade options for your swimming pool!