—Up the visual drama in a basic 4-cornered shape with these attractive, functional features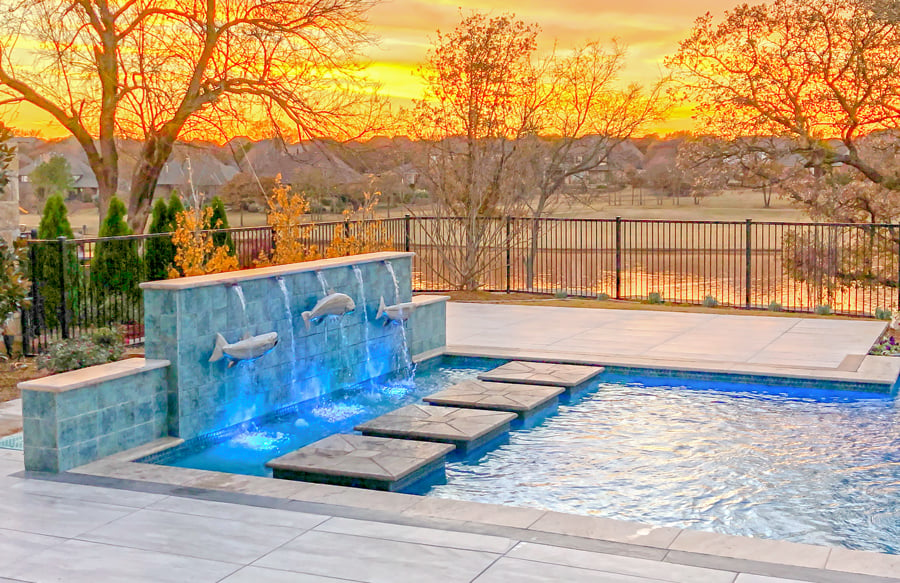 So you love the lines, simplicity, and functionality of a rectangle inground swimming pool or need a lap pool for convenient workouts—but you also want a backyard resort with some personality and pizzazz.
Whether it's a new build or a remodel project, you can have the traditional silhouette—with its easy grace and set of orderly 90-degree corners—you want, but with added beauty and dimension.
How? By taking the basic rectangular form and punctuating it with one or several decorative and utilitarian gunite pool features.
With the right planning, an otherwise-ordinary rectangle pool can transform into an exciting sight in your outdoor space.
Solutions are at hand. Here are 10 favorite ideas for bringing handsome good looks to a box-shaped poolscape.
1. Tanning Ledge / Baja Bench / Sun Shelf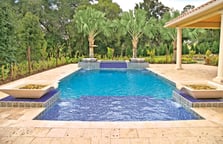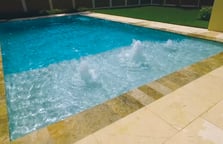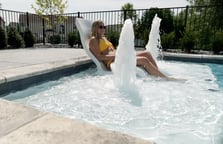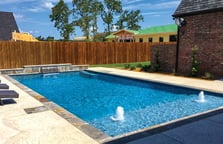 Regardless of the name it goes by in your part of the country, a tanning ledge provides dual benefits to any inground swimming pool.
First, a tanning ledge serves as a nice focal point within the rectangle shape. To maximize its potential, the key is to design the ledge so it stands out from inside the pool's four corners.
The most common way pool builders achieve this is with two or three bubbler fountains. The short, softly bubbling water helps delineate the ledge and draw in the eye.
Another design trick is to trim the ledge's border with colorful accent tile. For a custom look, you can upgrade; cover the entire structure with stone or tile that coordinates with materials used elsewhere in the pool and deck.
Second, a tanning ledge provides superb functionality. In fact it's often the most popular spot in a pool.
You can lie directly on the feature, partially submerged in the cooling water while taking in the rays. A large tanning ledge can accommodate one or two chaise lounge chairs where pool users can keep dry if they like while being "in" the pool.
Regardless of the ledge's size, young children will enjoy playing in its shallow water. Even your pet pooch might enjoy laying on it to cool down on a hot day.
2. Floating Steps / Water Step Stones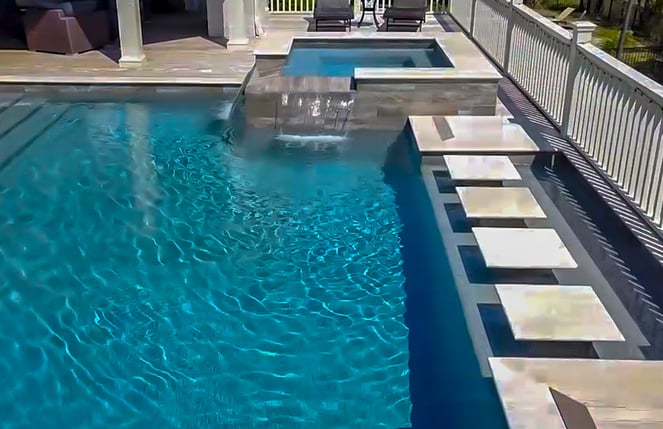 How would you like to "walk on water"—or at least, kinda look like you are?
In some areas of the country, a new swimming pool design trend has emerged from a rather mundane structure: a step. But these are not your father's pool steps.
These specialty features come in addition to those in a pool's standard entry. Along with giving you the ability to stroll across the pool water, these unexpected steps deliver a decorative effect.
Like a fashion accessory for your pool, these small structures make a bold statement in your backyard. They work particularly well if you are aiming for a contemporary aesthetic.
Built into a very shallow area or raised concrete ledge in the pool floor, the steps appear to hover in the body of water. Thus the name of "floating steps."
Floating steps can go into almost any shape of pool, and they nicely complement a rectangle configuration. On a free-form, lagoon-type pool, these steps might be constructed from natural stone for an organic look.
On the other hand, a sleek, rectangle pool calls for another approach. It's better to fashion the steps from poured concrete to achieve a clean, uniform shape that coordinates with the modern, geometric-shape poolscape.
3. Infinity- or Vanishing-Edge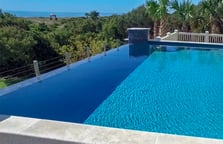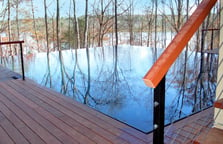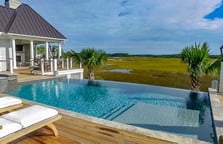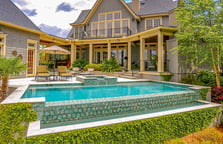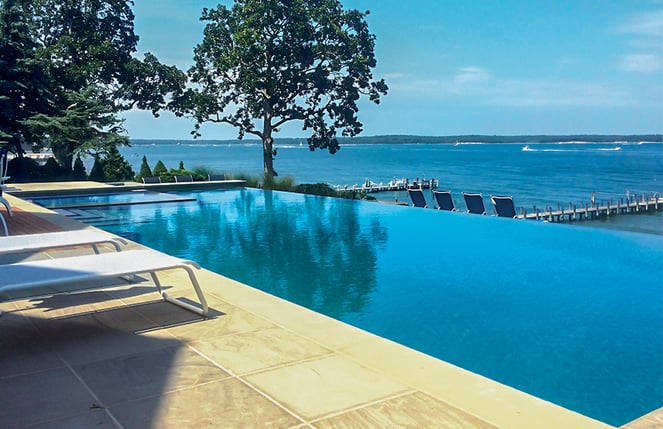 Who doesn't love the amazing sight of an infinity pool? In a fascinating scene, the pool's surface seems to magically blend into the backyard horizon.
An infinity pool (also known as a vanishing- or negative-edge pool) boasts a special configuration that allows the water run over the pool's edge.
There, it falls into an extended catch basin below. Once captured in the basin, the water recirculates back into the pool.
Water on one side of the pool appearing to "vanish" into the skyline always makes for a stunning impression. If the pool overlooks a bay, marsh, lake, or ocean, the view of the edge "blending" into the body of water proves to be a real jaw-dropper!
An infinity pool is feasible on most pool shapes. The overflow edge can range in length. It can even encompass two sides or—in an ultra-high end project—the entire perimeter of the pool.
On a rectangle design, the infinity edge will often span the full-length of one side of the pool. In most cases, it is one of the longer sides.
Hands down, choosing an infinity design for your gunite rectangle pool will usher in glamour and mystique to the simple shape.
4. Deck Jets / Laminar Water Features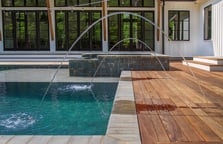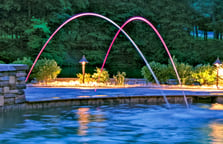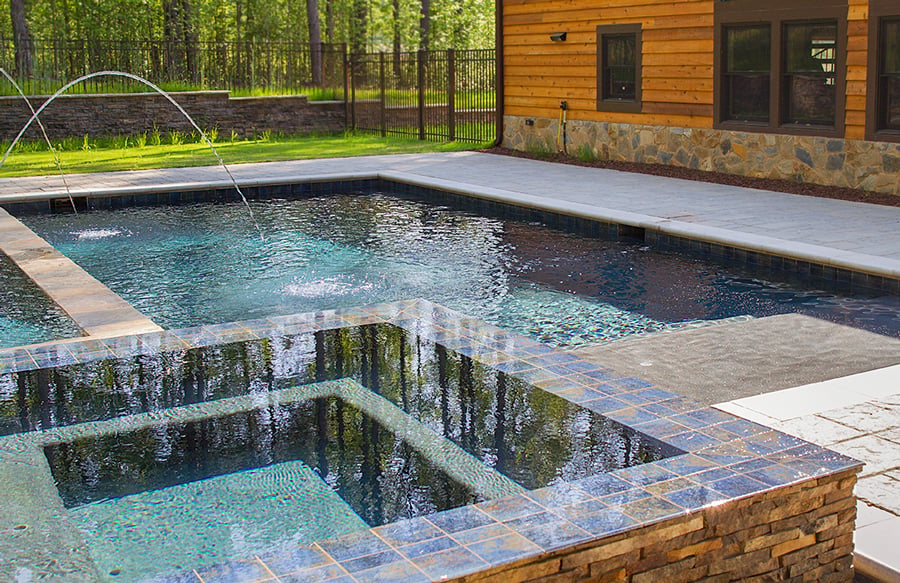 Another solution for avoiding a ho-hum rectangle pool comes in the form of water. The motion of a curved, flowing stream captures attention in any shape swimming pool.
On a rectangle design, a liquid arc provides a bit of whimsy and a pleasant contrast to the pool's straight lines.
Two versions of this lively, pleasing water feature are available: Deck jets and laminars.
A deck jet is the more affordable of the two. It generates a "loose" arc of water, and after achieving its peak height, its shape begins diffusing as it descends toward the pool's surface.
As a bonus, a deck jet's moving water provides a light, soothing sound. With several of them on a pool, the gentle sounds contribute to a peaceful ambiance around your outdoor area.
The second option is the higher-end laminar. Each unit runs on a miniature, water-powered motor.
This electricity-free motor produces a tube-like stream that's a near-perfect arc. Even as the glass-like liquid hits the pool surface, a laminar generally maintains a uniform shape.
Another distinct advantage of the laminar model becomes evident when the sun goes down: Unlike a deck jet, a laminar can be lit with gorgeous LED lighting that changes into an array of mesmerizing colors.
To maximize the allure of your rectangle pool, add a laminar or deck jet on each of the four corners. Or, add two to six of them in a group series along one side of the pool.
5. Raised Wall / Bond Beam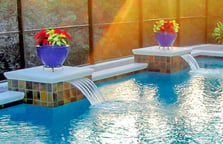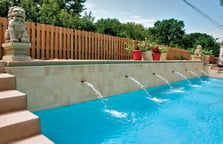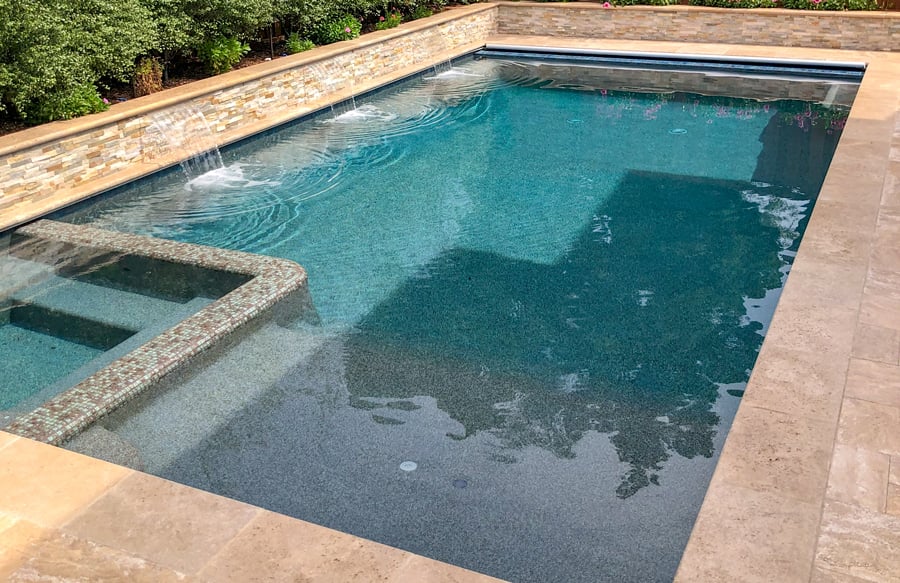 While the basic structure of a pool wall sounds rather boring, it can be an absolute boon for building a more imaginative inground rectangle pool.
The key lies in a pool-design element called raised beam.
Now, you probably understand that the walls of a gunite pool are built beneath the ground. The top of the regular wall ends just above the pool tile line.
But depending on a pool's layout, a portion of its wall may extend above the earth—making it taller than the rest of the pool. This structure, known as raised bond beam, extends six inches or more above the top of the regular wall.
If your property has a slope, your builder may design a pool with raised beam that stands several feet above the pool.
On some pools, this raised beam may soar to more than six feet and even serve double duty as a small or major retaining wall.
However, a pool built on perfectly flat ground can also include raised bond beam. Project plans can easily include a stretch of raised beam strictly for its decorative effect.
A twist on this strategy is to build one or several column-type pedestals around the pool. These structures can range one to several feet tall. They are particularly suited as landing spots for a potted plant, small statue, or fire or water bowl.
Your pool builder can cover this swathe of exposed wall or pedestal with beautiful, coordinating or contrasting pool tile or natural stone. Tile- or stone-adorned raised beam will bring a whole other dimension to your overall poolscape.
Even better: Raised beam or pedestals can incorporate fanciful water features. Here, the approach is to install accessories such as scuppers, wall sconces, or sheer cascade waterfalls.
All three kinds of these water features come in various sizes and styles. You can have them installed and arranged in a manner to best complement the size and style of your pool's raised wall or pedestal and to go with your pool's overall aesthetic theme.
6. Accent Statues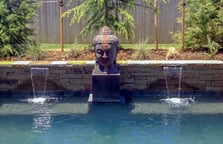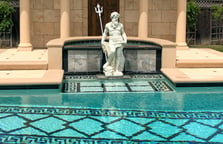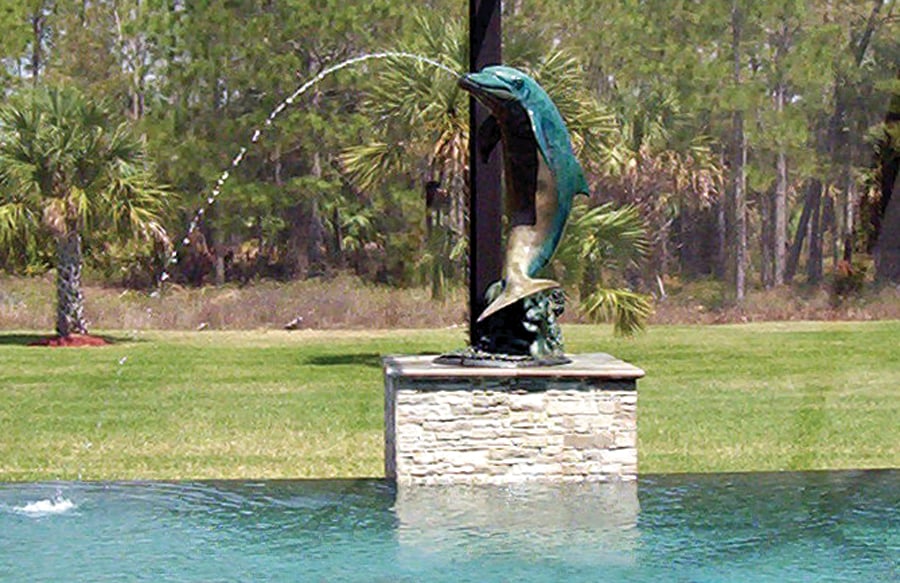 While some design features are built into the pool structure itself, others go around the pool's exterior. One of these features is a statue.
Statues provide an excellent way to punctuate the simple lines of a rectangle pool and give character to the outdoor setting. Position one or several right along the pool perimeter in strategically chosen spots.
If your goal is a traditional or classical theme for your pool, pick the right statues and you will have the ideal accessory to complete the look.
From a playful dolphin to the commanding presence of Neptune—the mythological god of the sea—you can choose from all kinds of figurines to adorn your aquatic resort.
Along with sea creatures and ancient fabled deities, some preferred statue choices include stately lions, zen-inspiring Buddha's, classic-period human figurines, and Roman architectural columns.
Water in motion brings a sense of peaceful energy to any space. Depending on the statue, you can add this desirable element.
Many available concrete statues are hollow. They also come with some kind of exit space, such as the mouth of a fish or opening of a water jug carried by a Greek figurine.
During pool construction, your builder can plumb the statue. Then, along with the enjoyment of viewing the figurine, you will have the sight and sound of an emanating stream falling onto the pool water below.
7. Multicolor LED Lighting / Light Shows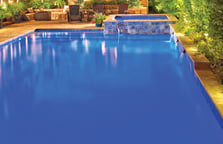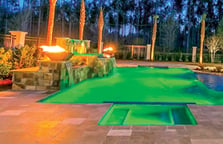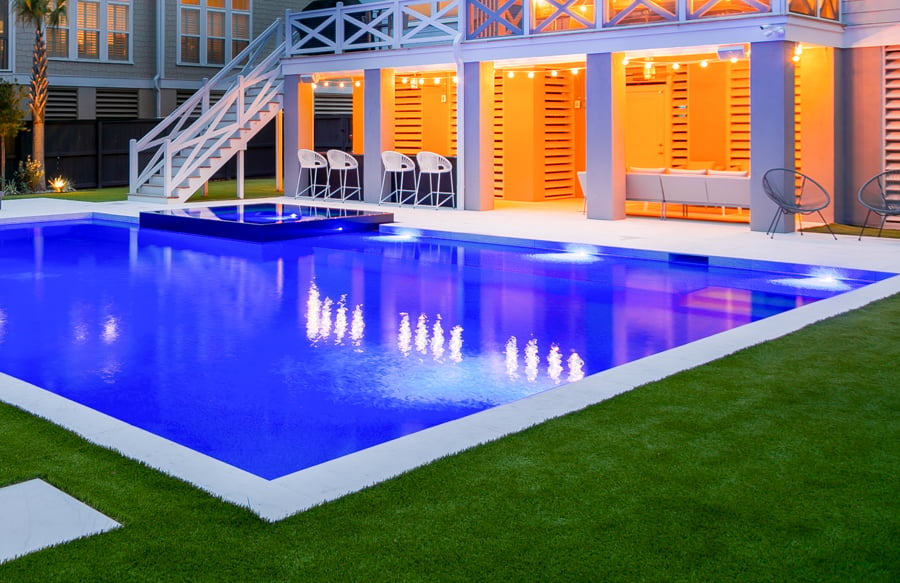 Nothing adds sexy to a swimming pool like dazzling, color-changing illumination. With advanced LED technology, pool lighting is more exciting than ever—and your rectangle pool will be too.
Light emitting diodes, better known as LEDs, make it possible for you to light up the night and experience multiple jewel-tone colors in a pool.
LED pool systems vary. Leading models provide five to ten colors, such as blue, red, green, gold, purple, pink, and white.
With a remote control, you can set the system to remain on a single fixed color. Or, for a change of scene, adjust it to continuously transition through the range of colors.
Even better, LEDs deliver spectacular color-changing "light shows." These dynamic programs usher in the ideal ambiance for backyard relaxation or entertaining.
Some light show programs flash hundreds of pulsating colors, while others play a soothing blend of pastels. Holiday themes, such as Mardis Gras and July Fourth are also available for a pool party.
In addition, you can include one or more small LEDs to highlight specific pool or landscape features such as statues, waterfalls, fountains, pool or patio steps, tanning ledges, and planter boxes.
8. Fire Bowls / Water Bowls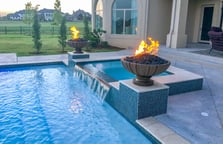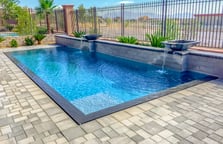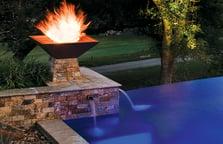 Among today's trendiest pool features are fire bowls, water bowls, and hybrid vessels that marry both elements.
Sometimes referred to as water or fire pots, they are available in round and square models. Bowls come in concrete, copper, and stainless finishes in modern and rustic styles.
With multiple options, there's a model out there to satisfy your taste and compliment your backyard décor.
Add one or more of these vessels to a rectangle inground pool and you'll have a home-run to a gorgeous, captivating scene. Dancing flames, cascading water, or the ultimate—a mix of both—will immediately become a backyard showstopper.
The fire and water are a delight for the eyes during both day and night. As a bonus, the sound of cascading water fosters a relaxing outdoor atmosphere.
With a rectangle pool, a smart idea is to elevate and showcase the bowl or bowls.
To do so, your design can integrate one or more small sections of raised bond beam or one or more pedestals. The idea here is to design and build the structures as the intended spot for one or more bowls.
Now, even if you have no raised beam—that is, your pool is level on all sides—and no pedestals, you can still add one or more fire or water vessels to the setting.
In this case, one approach is to install a bowl on each of two corners on one end of your rectangle. Even better, install a quartet of bowls and cover all four corners.
(A caveat here: Prices for these fire and water bowls and their installation can add up. Therefore, this concept works best for those with a healthy project budget.)
9. Patio Umbrellas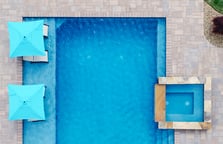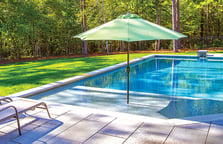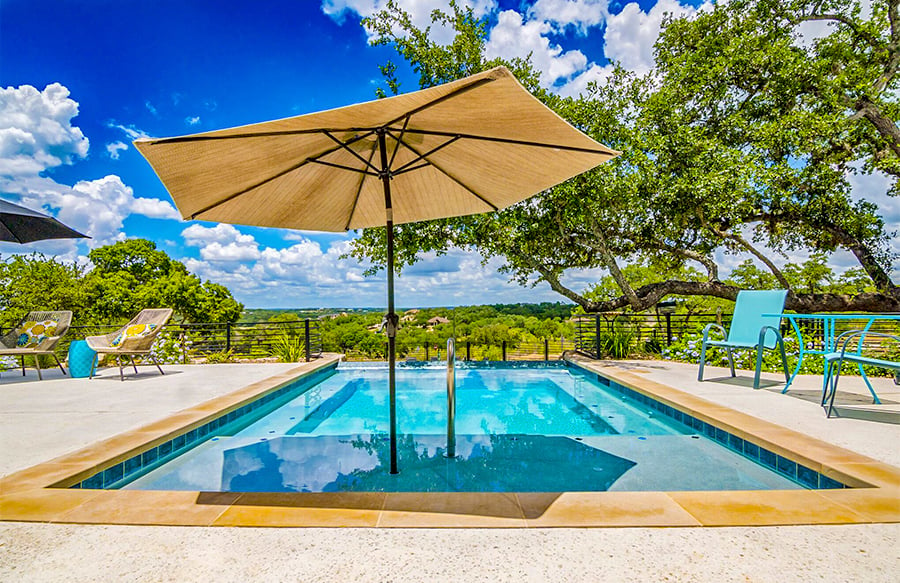 One simple, affordable, and surefire way to liven up a basic linear pool layout is with one or more brightly colored patio umbrellas.
By far, the most common spot for an umbrella is the pool's tanning ledge. During construction, your pool builder can install a sleeve in the ledge for an umbrella pole.
However, don't worry if your rectangle pool has no tanning shelf. And don't overlook other location possibilities for an umbrella. One is at a strategic spot such as a bench/loveseat. Another is over the spa.
In these cases, you can have your builder create an umbrella sleeve immediately adjacent to the chosen location on the outside of the pool. Here, inside the coping, is where the sleeve will go.
(Coping is the line of stone or other material that outlines the perimeter of your pool. Or, if you live in a region where cantilever decks are the norm, there is no coping; this area will deck perimeter edge where it meets the pool.)
With an umbrella sleeve ready, you can buy the umbrella of your choice.
Go for a canopy with vibrant colors, stripes, or other patterns that coordinate with your backyard, patio furnishings, and landscape color scheme. The fresh burst of color will dress up even the most-minimalist rectangle pool.
Keep in mind there is no rule that limits you to just one umbrella. Particularly on large pools, some homeowners opt to put two or three umbrellas into their pool.
10. A spa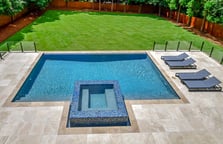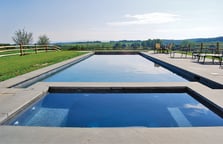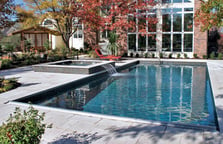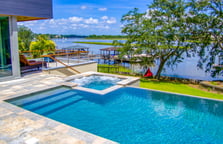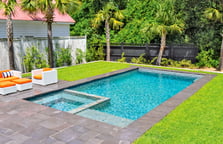 Finally, one of the best strategies to take your inground rectangle pool to a whole new level of attraction is with a gunite spa.
If you are already considering a spa for its lifestyle benefits, know that this feature can also work wonders for avoiding a plain-Jane rectangle pool.
You can retain a perfect, four-cornered pool shape, but change its looks by appending its silhouette with a spa.
From a configuration standpoint, you will need to decide on choices within three spa categories: shape, height, and placement.
First, let's talk shape. Hands down, a circular spa—due to its high functionality—is the most common shape of swimming pools in general.
Squares come in second. Other options include rectangles, hexagons, half-circles, triangular forms, flowing organic outlines, and custom shapes.
By far, when it comes to rectangle inground pools, pool buyers frequently opt for a square spa that echoes the pool's straight lines. However, sometimes using a round shape provides a nice juxtaposition.
As far as the spa's height goes, you also have choices. The simplest—and most economical approach—is to build the spa level with the pool. Doing so will add some visual interest to your rectangle.
However, another avenue is a raised (or "elevated") spa. This means having a spa that will sit at least six inches above the pool.
During the planning process, you can determine the spa height in six-inch increments. The taller you go, the greater the beauty rewards for your poolscape.
You will also have a greater acoustic payoff: The spa water overflowing to the pool surface below produces lovely sounds.
Regardless of your spa's shape and height, its placement in relation to the pool probably plays the greatest influence on a rectangle pool's final appearance.
One placement method is building an interior spa—one that is contained entirely within the pool's perimeter. While an interior spa ushers in some diversity to a rectangle pool's silhouette, the impact will be subtle if the spa is built level with the pool.
On the other hand, if you elevate the spa, your pool's resulting style quotient will increase too.
Now, if you want to preserve the integrity of a rectangle pool shape while simultaneously jazzing it up, you can. One of the most substantial ways to bring on the drama is with an exterior or semi-exterior spa placement.
Doing so changes the entire silhouette of your poolscape, resulting in a more interesting backyard centerpiece.
In addition, your pool builder will review additional ideas for your inground spa. These can include tile selection and placement, the kind of dam wall and spillway, and high-end custom spa designs such as a rim flow spa.
Beyond the Box: Additional Design Ideas
We have discussed some of the most frequently used approaches to upping the style ante on a rectangle pool shape, but by no means is this review comprehensive.
Depending on your budget and style preference, your pool builder may suggest additional concepts to enhance the flair and character of your rectangle pool.
Among them: a swim-up bar, swim-up table with seats, benches/loveseats, a bold contrasting coping color, fountain shelf enclosures, upgrade colors of interior pool finish, deluxe glass tile, pool-floor mosaics and accent tiles, and integrated landscape boxes.
Your builder can also produce an appealing poolscape with an inventive patio deck design that brings attention to the pool with interesting materials, color, or pattern. Hardscape features like fire pits and built-in patio seating can also help draw in the eye to the poolscape.
For more inspiration about designing "outside the box," speak with your pool contractor. A seasoned builder will help you develop a plan that creates some "wow" factor to a rectangle layout.