—Open fire bowls and fire pits create spectacular displays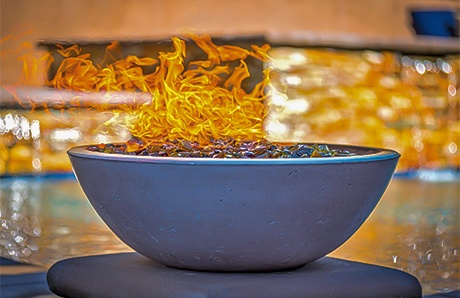 —Updated September 3, 2018
When it comes to swimming pool fire features, forget what you've heard: Fire and water can mix! And when they do, you get stunning aquatic design features that elevate the beauty and sophistication of your outdoor space.
One way to add flames to a backyard pool is with a fire bowl, also called a fire pot or fire wok. Another approach is with a decorative fire pit. Either will generate sizzling style in your backyard.
How swimming pool fire bowls and fire pits work
Inside the feature, lava stones, smooth river rocks, or colorful iridescent fire glass cover the burner and bring another dimension of aesthetic appeal.
Typically, gas powers the flames. (Where needed, propane can be used instead.) A fuel line, which is usually buried in the ground under the deck, runs to a burner inside the feature. You can manually light the feature just as you would a gas fireplace.
A more convenient approach to activate the flames is with an electronic igniter. This upgrade will require the installation of a power line—at an additional cost. However, you will have a handy remote control to turn on the feature from a distance.
An even better option is to include a pool automation unit and remote device that integrates the electronic igniter. These systems will allow you to control the feature—as well as functions ranging from filtration to spa jets—from a PC, Mac, tablet, or smartphone.
Both fire bowls and fire pits come in an array of styles and configurations, and both produce a glowing performance in your outdoor space. Which of the two will you find most appealing for your new aquatic retreat? Read on to learn about each and how they fit into a pool project, and view photos that illustrate some of your exciting design options.
Fire bowls as elegant accents on your pool
By far, the most popular pool fire feature is a fire bowl. You can set the night ablaze with these shallow, prefabricated vessels that come in round or square shapes. Some have a shape reminiscent of a Chinese cooking wok, thus "fire wok" is another nickname for them.
Typically, they span two to three feet in diameter and run 12 to 24 inches tall. Inside, they contain a burner mechanism that connects to a natural gas (or propane) line.
Some models serve double duty for double the drama: While flames emanate up into the air, the bowls—with proper plumbing—also spout a sleek cascade of water onto the pool surface below.
What also makes fire bowls a favorite among pool buyers is the range of available models. Finishes primarily come in copper and colored concrete, but stainless steel is also available. Choose yours to match a variety of pool styles from rustic to modern. Even without the flames on, the bowls serve as ornamental elements around the pool.
Typically, pool designers incorporate one or more bowls on a structural perch along and above the pool perimeter. The features are primarily positioned on a section of the pool wall, known as a raised bond beam.
This bond beam configuration creates a kind of pedestal to showcase the bowls and elevate their flames for greater visibility from a distance. Pool builders can also place small fire bowls into niche spots on certain styles of large rock waterfalls.
Decorative fire pits for integrated beauty
The other approach to introducing fire near the pool is with a decorative swimming pool fire pit. First, let's understand how this feature varies from a traditional raised patio fire pit.
In the patio version with which we are all familiar, a raised fire pit is highly functional in nature. This custom-built structure is commonly formed using concrete. The bottom is usually level with the patio or deck, and it stands 18 to 36 inches tall.
The exterior is covered with tile or stone. In most cases, the facing material matches the stone used elsewhere in the pool or patio, such as the pool's perimeter coping or deck; occasionally, tile is being used. This coordinated palette supports a visually harmonious backyard environment.
Most pits are round, but some are square or rectangular. Builders position the pit at least several feet away from the pool in a patio area. In most cases, you can surround the open, free-standing structure with seating for about four to six people.
While most are powered by gas, some pits can burn wood. This kind of fire pit warms the backyard setting and helps establish a cozy conversation area.
Now, like the patio version, a decorative pool fire pit is a custom concrete structure covered in coordinating stone. Where the design departs is how it's built directly into the pool—usually during the gunite/shotcrete process.
Rather than a free-standing structure, you will have a decorative feature that's fully incorporated into the pool's perimeter wall. In other words, the pit is actually part of the pool itself.
Depending on the pool design and style, the pit shape may be circular, square, or even triangular—whichever best blends into the pool's silhouette. Most are two to four feet tall. However, to elevate the drama, they can soar higher and take a pillar-like form with the fire emanating at the top.
Keep in mind, this kind of fire pit is built to look pretty—not perform. In many cases, the configuration will not easily accommodate adjacent seating like a patio fire pit will; some have open space around roughly half the circumference where you can pull up two chairs. In some projects, the pool structure includes convenient, built-in seating—usually along the same raised wall—adjacent to the fire pit.
With the emphasis is on its good looks, functionality is limited. Where this attractive feature earns its stripes is when dancing blue and orange plumes produce striking scenery. Particularly when built in pairs, these decorative fire pits make a bold statement along the pool perimeter.
Elaborate, specialty fire features
Highly customized variations of fire bowls and fire pits are also available for pool buyers with highly custom project budgets.
For example, pool builders can create linear, glass-enclosed fire boxes along the pool perimeter. Such a design blends well with contemporary pools and backyard settings.
Another option is to construct straight or curved raised pool walls with recessed pockets for the fire. With this approach, you have a kind of "wall of fire" to serve as the backdrop for a spa or a niche seating area inside a pool.
For a jaw-dropping effect, another very complex—and very pricey—option is a "floating" fire pit or fire bowl that's inside the pool.
The pit version of this concept may be anchored to the pool floor or configured as a peninsula attached to a feature such as a large tanning ledge. In either case, the pit has a supporting concrete base that's hidden beneath it. The result: The pit looks like it's floating on the water.
A similar approach works for an amazing fire bowl installation. However, you can position a bowl further out in the pool interior. The result: As it "sits" on the pool's surface, it does an even better job at appearing buoyant in the water.
Again, these deluxe features require prices to match. Naturally, the more intricate and unusual the project, the higher the cost. For this reason, unique fire installations like these are usually limited to luxury pools.
Fire bowls and fire pits in pictures: inspiration for your pool project
Are you burning with desire yet for one of these mesmerizing features on your new pool or remodel? Include one—or several—on your project, and watch your family members and guests delight in the warm glow and captivating flames that reflect on the water's surface.
Let's spark your imagination: Take a look at some completed works to see the variety of strategies your pool builder can use to bring fire to the water's edge.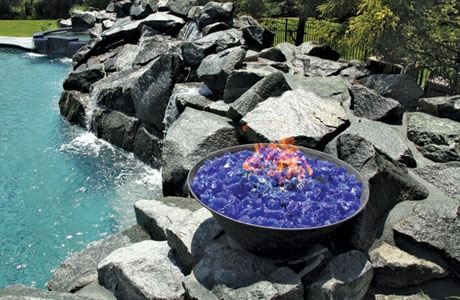 1. Blue iridescent fire glass adds visual intrigue and complexity to a fire bowl that's set into a natural rock waterfall.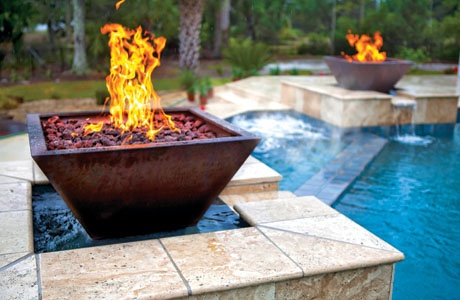 2. These chic, square fire bowls make a contemporary design statement in this pool.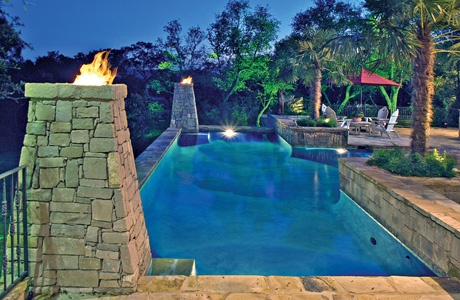 3. Twin pillar-style fire pits elevate the flames far above the pool for extra impact that's visible from inside the house.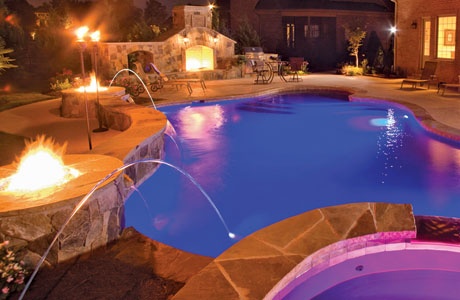 4. Here, integrated, stone-faced fire pits flank a curved section of raised bond beam that doubles as bench seating.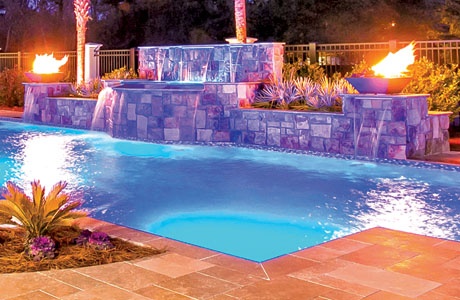 5. A pair of contemporary fire bowls along a span of raised bond beam punctuate a large, elevated cascade water feature.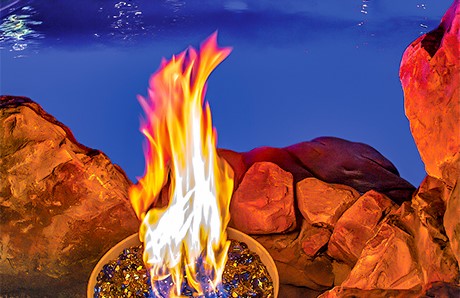 6. Nestled into a rock waterfall, this fire bowl illustrates how well this feature blends with a rustic or lagoon-style aesthetic.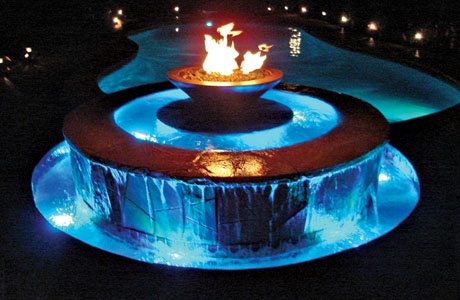 7. Perched atop a free-standing fountain, this distinctive fire bowl steals the scene and sets the mood.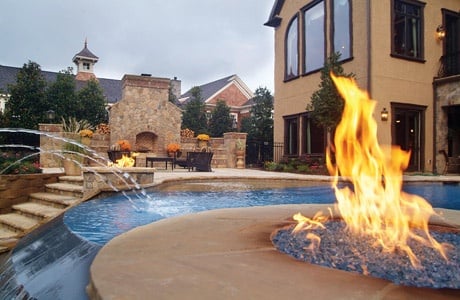 8. Dancing flames in fire pits built into the sides of an infinity-edge pool bring the drama—even in daylight.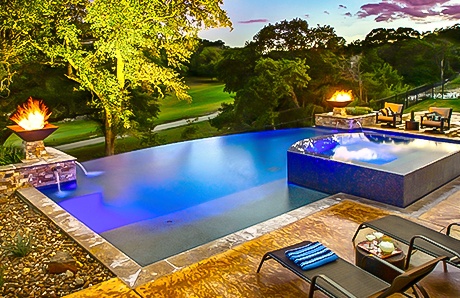 9. Flanked by two sleek, elevated fire bowls, this stunning infinity pool commands extra attention.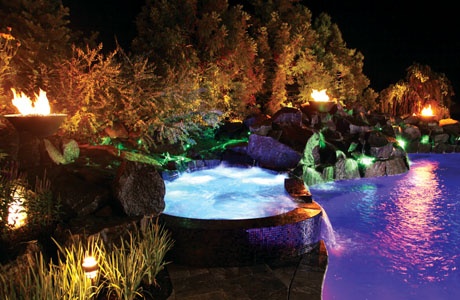 10. Several scattered fire bowls help illuminate this large, sprawling custom rock waterfall for a sublime backyard setting.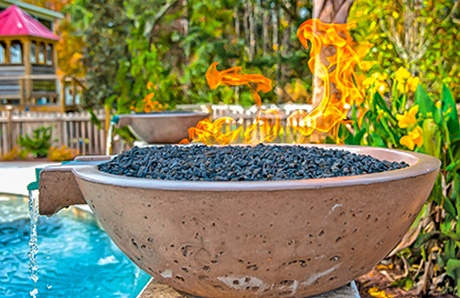 11. For an even more impressive sight, choose a water-and-fire bowl combination that delivers twice the impact.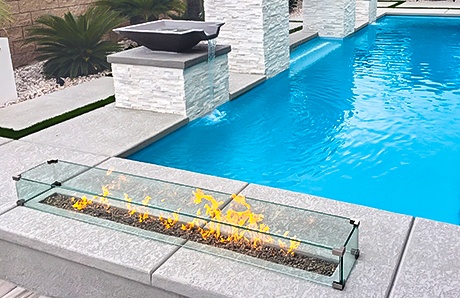 12. This glass box installation with a linear burner delivers an ultra-modern take on the traditional decorative fire pit.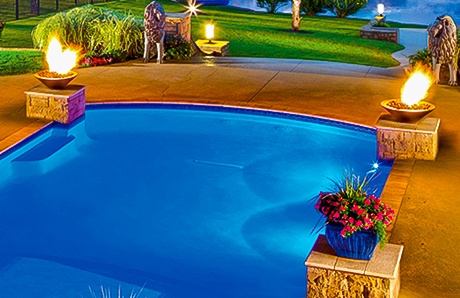 13. Combined with multicolor LED pool lighting, these elevated fire bowls create sophisticated evening ambiance.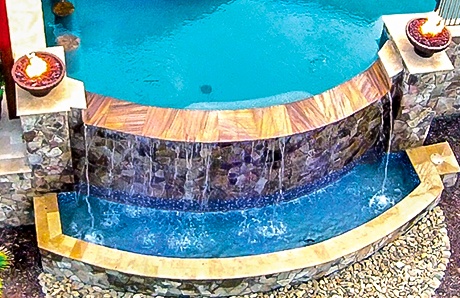 14. For fire bowls set on the far side of a pool—seen here on an infinity edge—a remote ignition system is the best choice for controlling the flames from a distance.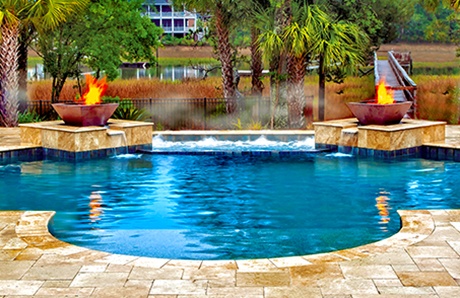 15. Copper-colored fire bowls sit atop cascade water features and vividly frame the large custom spa.
Follow here to see other great Blue Haven Pools Photos.