—From sleek laminars to reverse infinity edges, see the range of modern "liquid décor" options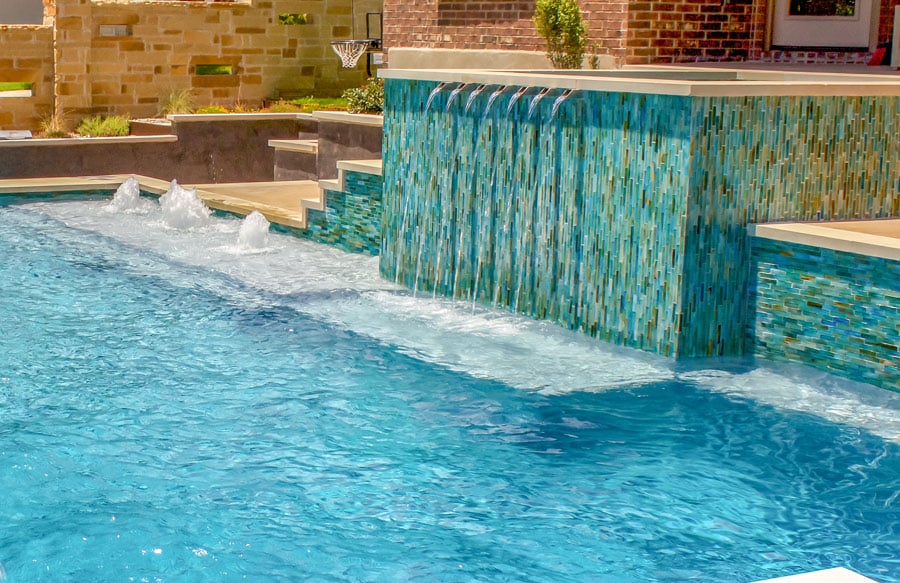 Swimming pool water features are among the top ideas for adding beauty, dimension, movement, and a sense of tranquility to any backyard space.
Among the range of water features are rock waterfalls and grottos—popular choices for rustic and tropical pools and decks and coping with flagstone.
But what if you prefer a sleek, modern pool with contemporary style design accents? From deck jets to scuppers, a number of appealing options will achieve that kind of aesthetic.
Let's look at ten of the most common choices for creating liquid drama, as well as the newer, trending pool water features—including inspiring, high-end custom creations.
1. Fountains
Ornamental fountains make attractive additions to any swimming pool. In particular, these water features are visually intriguing when grouped together in a pair or trio.
In particular, bubbler fountains are a favorite on new projects. Growing demand for pool tanning ledges is driving the rise of the bubblers.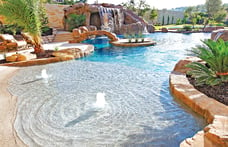 That's because a lively bubbler is a perfect way to accent a tanning ledge or the pool's first entry step. Their fluid motion provides a cue to alert pool users to the shallow structure below.
For the same reason, bubblers are a favorite to mark a beach entry on a pool. A bubbler fountain can also go in the center of a spa.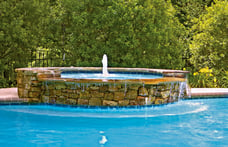 A spray fountain is another version of this water feature. Some homeowners prefer their more symmetrical appearance. Spray fountains are usually taller than a bubbler, and the water diffusing onto the pool's surface sparkles in the sunlight.
To make the most of bubblers or spray fountains, you want the ability to view them at night too. With this benefit in mind, ask your pool designer about adding color-changing LED lighting to each one.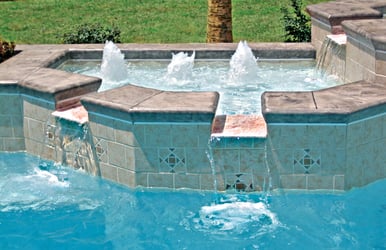 Provided you make the investment, you can take fountains to the next level with a custom installation known as a fountain pen, shelf, or enclosure.
2. Water Bowls
Also known as a water pot or water wok, this accessory is among the pool-design trends emerging over the last decade.
Round or square, these vessels come in various colors of concrete and in metal finishes ranging from stainless steel to hammered copper.
Choose the shape and finish you want to enhance a modern or organic pool aesthetic. For example, a square stainless steel bowl can optimally complement a contemporary pool, whereas a round, rough-finished concrete one might coordinate well on a lagoon-type pool.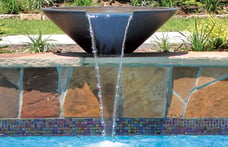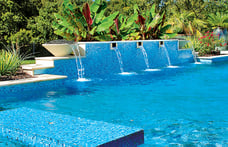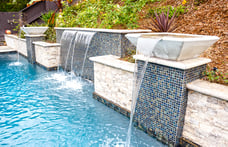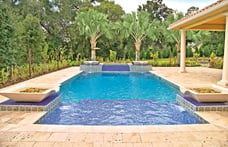 Regardless of shape and material, a water bowl looks best when positioned on a perch such as raised wall or short column. The height allows water to nicely spill out in a longer journey into the pool surface below.
Big spenders on a new pool can up the drama with fire. Combination fire-water bowls are found on some luxury projects. The dancing flames are mesmerizing in any outdoor space.
3. Deck Jets
Flowing arcs of waters imbue the pool and patio atmosphere with beauty, elegance, and a sense of relaxation.
Emanating from the pool deck or coping, these tube-shaped streams of water gently fall onto the pool surface below. Their height can be adjusted; typically, they reach about four to five feet while retaining their shape.
After peaking at the top and beginning its downward descent, the graceful shape becomes less uniform. In the photos here, you can see how the arc begins "breaking" up a bit and diffusing into large droplets.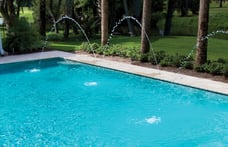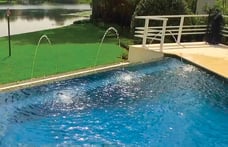 A swimming pool deck jet is an affordable way to give your aquatic retreat an extra dash of flair. In many cases, builders install them in sets of two or more. For example, on a rectangle or Roman pool, one jet might punctuate each corner.
Along with their good looks, deck jets provide a few functional benefits. The gentle sounds of falling water promote a serene ambiance, particularly if you have four or more of these liquid beauties.
The fluid motions also introduce a sense of whimsy. In the pool or around the pool deck, kids will love playing in the streaming water.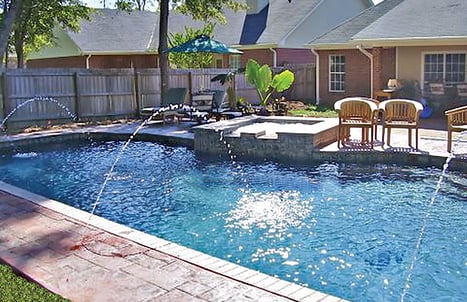 4. Laminars
At first glance, a laminar may look similar to a deck jet. But take a closer look, and you will see why it represents the deluxe version of the water feature. A laminar provides several benefits the more economical deck jet cannot.
First, without breaking its arc shape, a laminar can reach greater heights—about six to eight feet. Its water stream is also thicker, running two to three times the diameter of a deck jet.
Next, this water feature boasts a sleeker, more consistent tubular form throughout its arc. Even as the stream hits the pool's surface, the water generally holds its shape.
Achieving this lustrous, nearly glass-like form requires motorized parts to control the water flow. And yes, those components mean a higher price tag.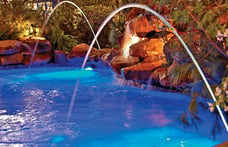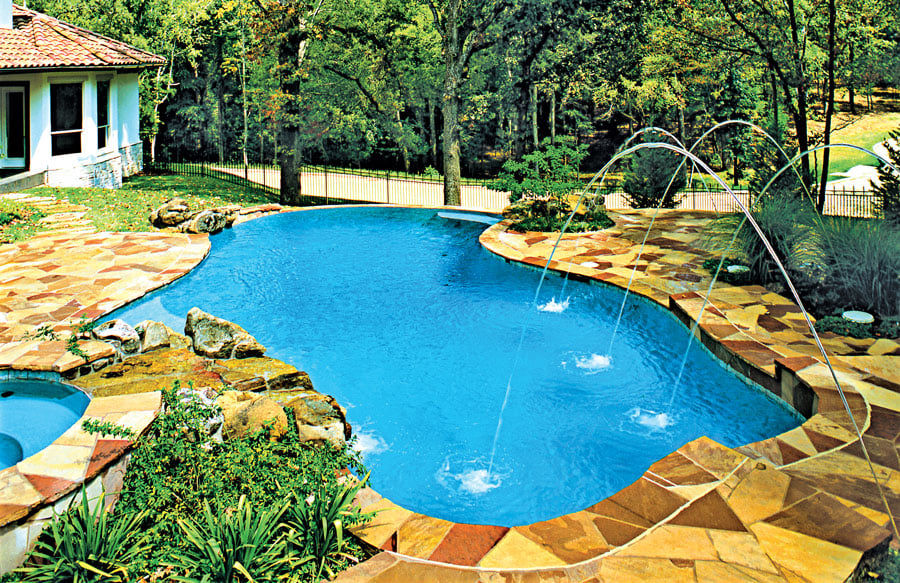 Another reason to upgrade: Stunning lighting. The LED technology integrated into this water feature means you will have a night-time attraction as well.
The illumination travels through the entire liquid arc in an elegant evening display. Even better, with the right automation system, you can remotely change the colors or set them to cycle automatically.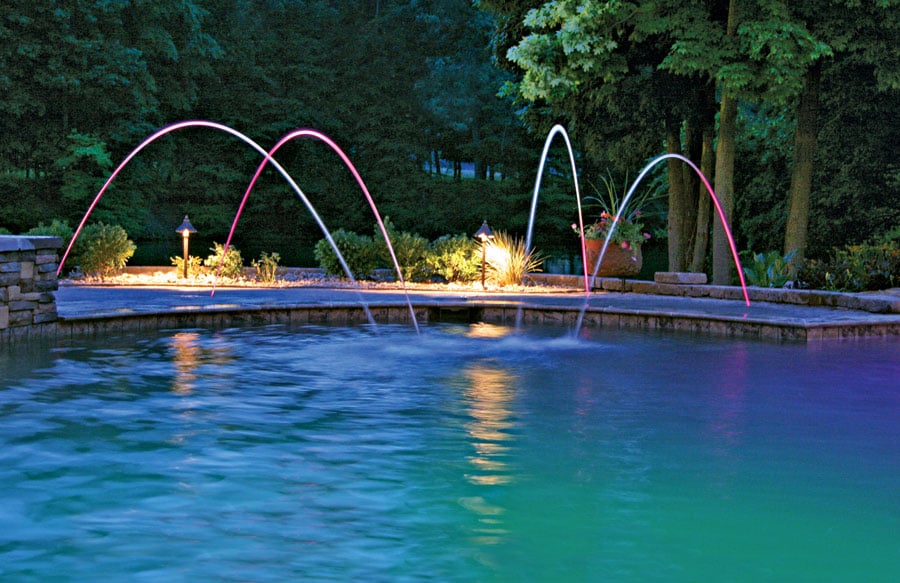 5. Reverse infinity pool
With most infinity/vanishing-edge pools, the water overflows one pool edge to seemingly blend into the horizon.
Behind the scenes, the water is spilling into an integrated catch basin or trough beneath the pool's edge. Positioned on the far side of the pool, this basin is hidden from sight.
Now, in some backyards with the just-right mix of elevations and orientation, a reverse infinity-edge may be possible. With this approach, the backside of the infinity pool and catch basin is built in the line of sight from a high-use location, such as the island BBB grill or patio seating area—or even from inside your home.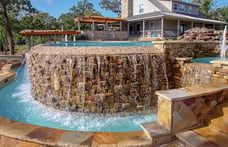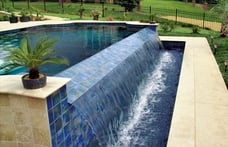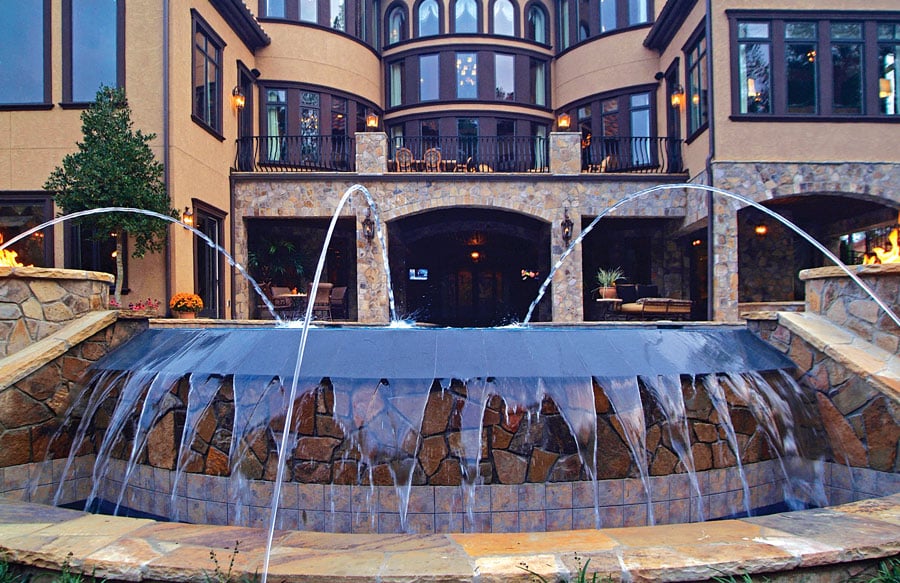 In these reverse orientations, extra attention will go to the final appearance of the infinity edge's exterior pool wall and basin.
The section of exposed wall will be faced with decorative pool tile or stone, and to ensure the basin is visually pleasing, it may receive some extra finishing as well.
The end result is a large, almost artistic, "wall of water." This distinctive custom feature creates a fascinating centerpiece in your outdoor space. And even from the patio area around the pool, everyone will appreciate hearing the gushing water.
6. Cascades
Among the most common decorative elements on today's pools are cascade waterfall features. Also known as sheer descents, they come in several styles and sizes. Their affordability and versatility for installation make them a smart option for many pools.
You can choose from two chief styles of cascade. One is a raindrop pattern. The other, and most common, is a smooth, even sheet. Depending on its location in the pool, this smooth kind captures sunlight for an almost shiny appearance.
Regardless of the style, the thin veil of water usually juts out about two to four feet the pool's tile line before descending in a softly arced shape.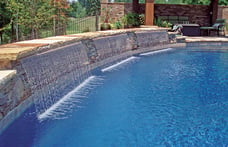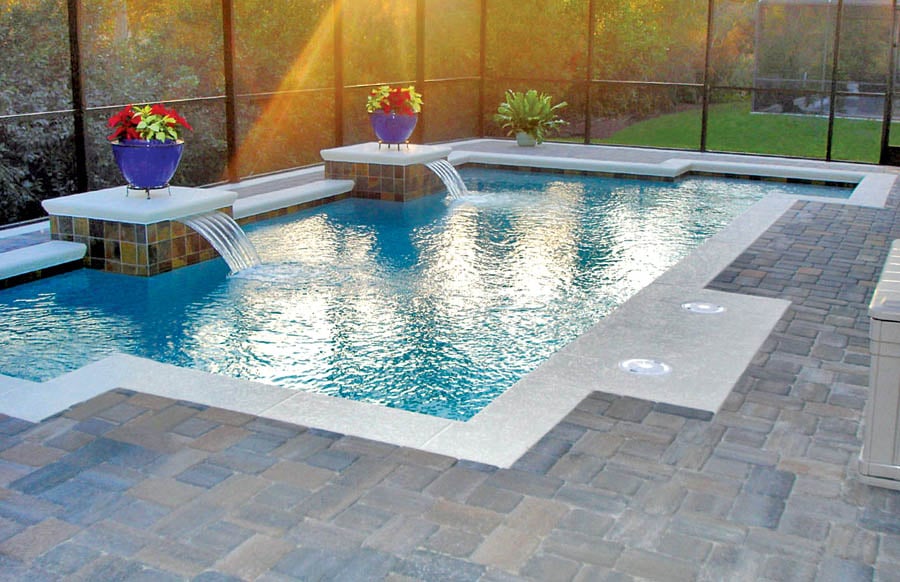 In nearly all cases, pool builders install a cascade feature near the top of raised bond beam—a section of pool wall that rises at least one foot higher than the water's surface. The taller the pool bond beam, the more alluring the cascade effect, as the sheet of water has further to travel.
If your pool's configuration is level throughout with a standard six-inch tile line along the entire perimeter, you have two options for a cascade.
For a cost, you can include a short column or pedestal to provide the needed height for a cascade. Or, you can ask for a special kind of cascade arc that shoots upward first, and then out over the pool surface.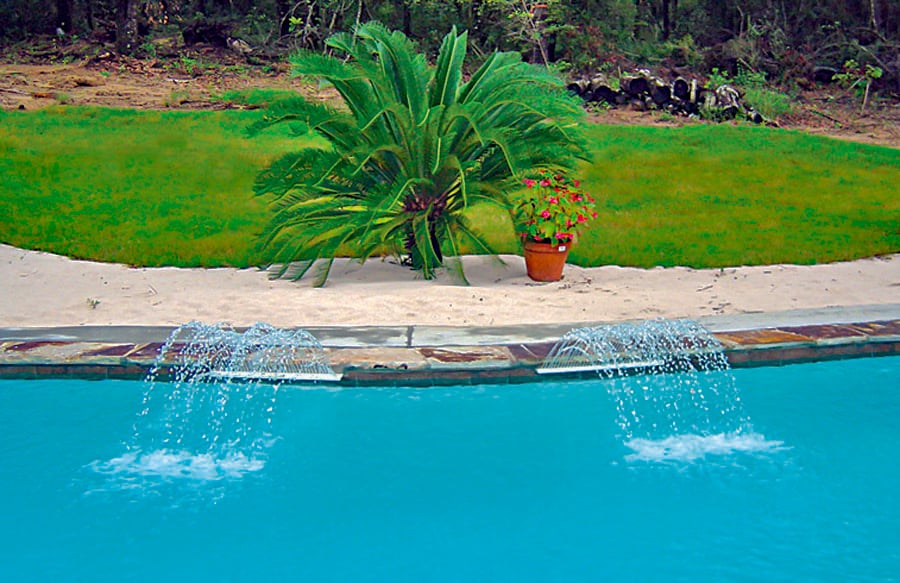 Cascade water features are highly customizable. They come in lengths at 6-inch increments, with the most common spanning two, four, or six feet.
So as long as you have a wide swath of raised bond beam, you can install a series of several narrow cascades or one that's several feet wide. Or, splurge and order a custom unit that's even wider.
7. Spouting statue
Do you plan on including some kind of statue around your pool? Whether you choose a figurine, animal, or object like a classical urn or column, a statue adds personality and sophistication to any pool.
If you choose a hollow figure with at least one open hole, your pool contractor can usually plumb the feature to have a curving stream of water that flows out and into the pool below. For example, a stream can come from the mouth of a dolphin.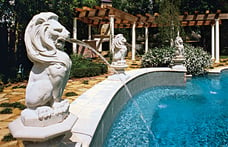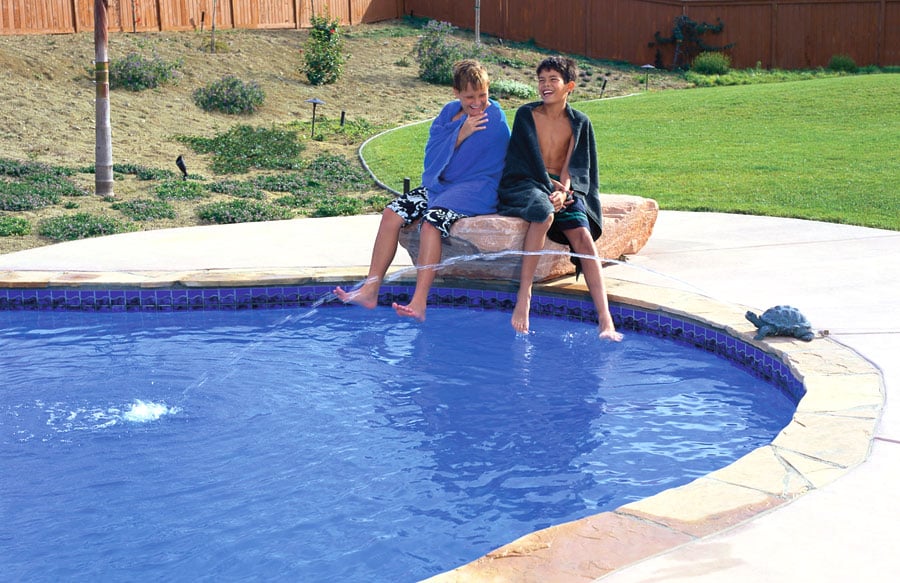 Installing a plumbed statue is relatively straightforward. However, until the figurine is at the job site and ready for plumbing, the logistics can be tricky in surprising ways.
First, to ensure you have exactly what you want in a statue, most pool builders prefer that you pick and provide the feature. Second, the statue may require a pedestal; if so, your builder will need to coordinate its construction for when your deck is being installed.
In addition, you may have to special order a statue from another city or state. It may arrive, and you do not like it. Or, it may arrive late during the construction process—creating a delay while your builder schedules an extra visit from the plumber.
8. Rain curtains
Imagine a cascade water feature—whether sheer or raindrop—on steroids.
In a sense, that describes a rain curtain (aka rain descent or water curtain). By installing a wide, cascade-style waterfall on a frame-type structure that's typically four to eight feet tall, you create a showstopping delight at your pool's edge.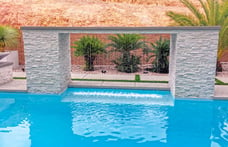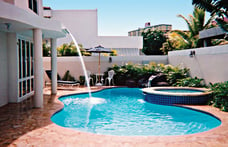 The height makes the feature highly visible in your backyard. Depending on the rain curtain's location in the pool, you may even be able to gaze at it from inside your home.
Ask your builder to include LED lighting in the feature, and after sunset, you will have a breath-taking display of water and light.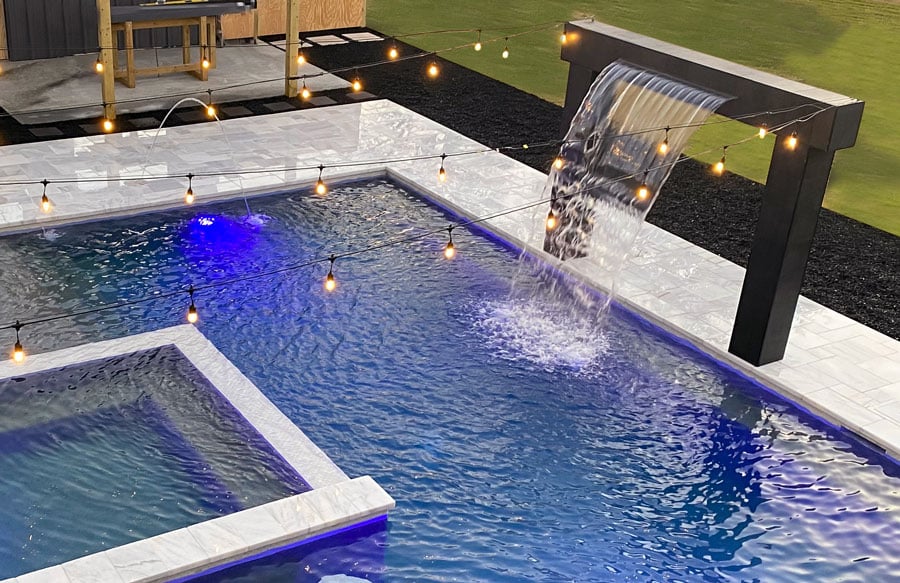 Along with an impressive sight, the waterfall's altitude will entertain your ears. By dropping from an extended distance, the water hitting the pool's surface below produces soothing sounds.
The structure for suspending the curtain of water can be built in any style that compliments your pool and home. But do expect this specialty feature to come with a specialty price.
9. Scuppers and spouts
Would you like an attention-grabbing element your neighbor will envy? If you have the budget, eye-catching pool scuppers or spouts deliver a home run in the originality department.
Both features neatly channel water over or through a form—typically metal—that shapes how it exits out and flows into the pool.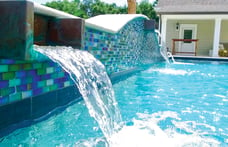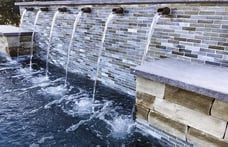 Like cascade water features, contractors install scuppers and spouts on a pool's raised bond beam. But these features can go on an elevated spa or landscape box as well. Scuppers can also attach to certain kinds of water bowls.
Scuppers are fabricated in square, rectangular, U- , round, and other spherical shapes. Available finishes include brass, copper, nickel, stainless steel. Some are made of concrete and are called "stone" scuppers.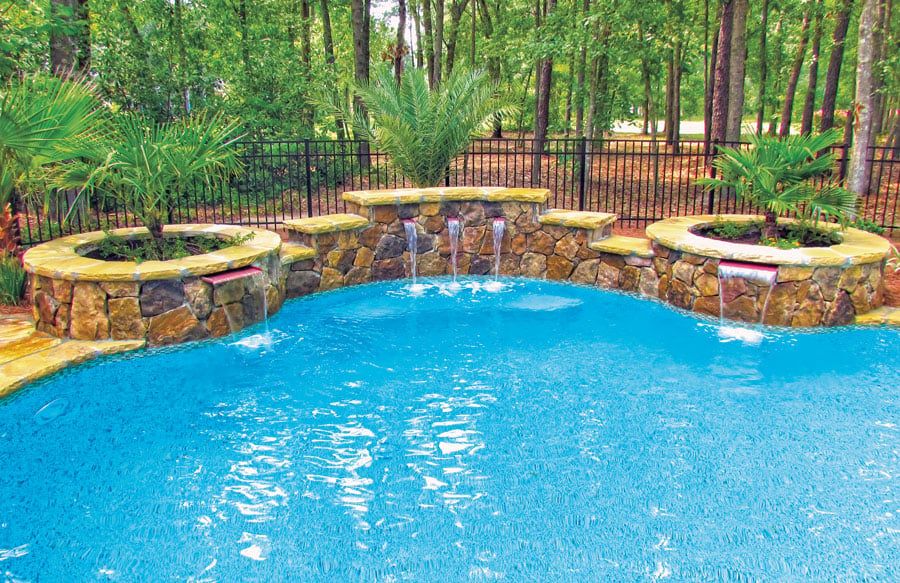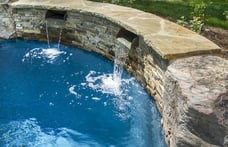 Spouts (also called Tishways and channel spouts) also come in various metal finishes and shapes. Traditional and modern styles are available. They funnel the water into tight, thin jet-streams for a striking, captivating appearance.
10. Spa spillways
If your pool plan includes an elevated custom inground spa, you're in luck: Its spillway—an open section of the spa dam wall through which water overflows to the pool below—can perform double duty as a lovely water feature.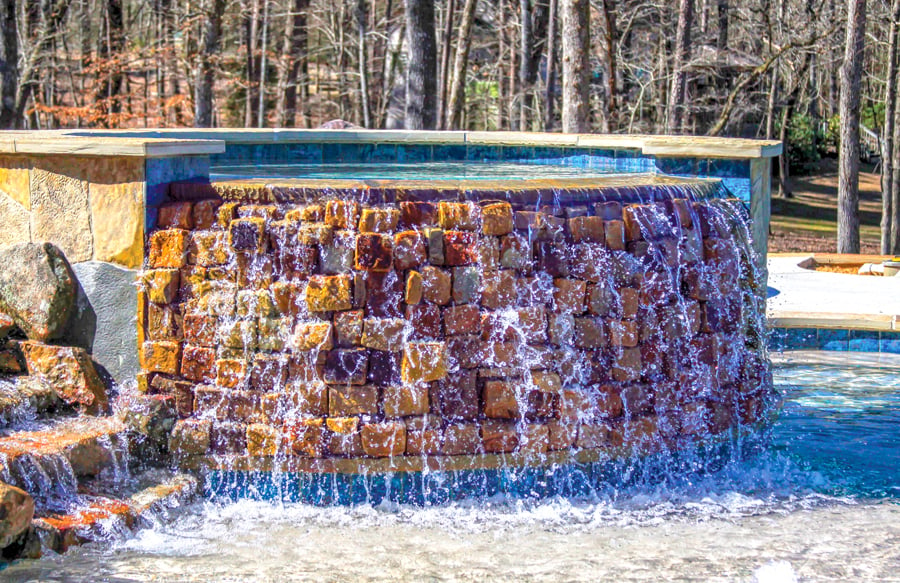 In particular, spas raised at least 18 or 24 inches offer the best opportunities for creative spillways. The extra height delivers another benefit: The further the water descends before hitting the pool surface, the peaceful swooshing sounds are amplified.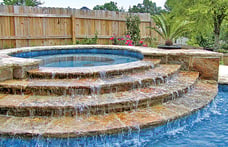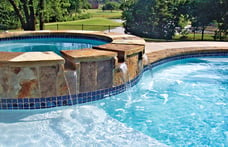 For optimal results, the spa's placement and orientation are key. Ideally, you want a nice view of the spillway feature from locations you frequent, such as a patio dining area or a kitchen window.
An array of innovative designs for the spa spillway and dam wall is possible. Choose one large spillway, several mid-size ones, or even a whole series of small notched or channel-style openings.
Spa spillways can be built "closed". These are covered with the pool coping, and the spa water passes through them. Or, a spillway can be wide open so that its decorative tile or stone is visible for everyone to appreciate.
The spa's dam wall can also serve as a unique element of a spillway water feature. In an approach sometimes called a "weeping" spa, the façade is organized in a step-stone or graduated arrangement; this configuration allows the spa water to slowly travel over several levels on its journey down to the pool—producing a waterfall effect.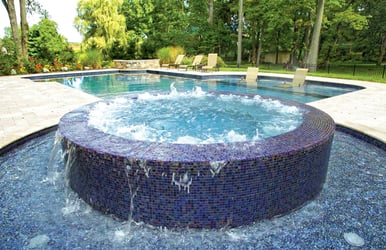 For a rather subtle water-feature effect, an infinity-edge spa is an option. So is a seductive, upscale rimflow spa, where the entire spa perimeter serves as the spillway.