—See today's take on key elements of gunite-pool style and configurations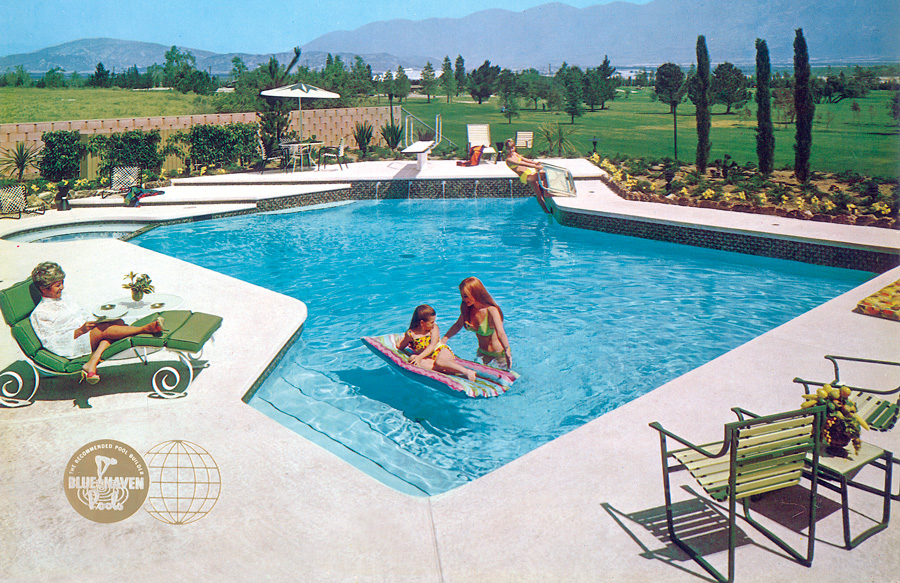 The Mid-Century Modern swimming pool has come a long way. Inground designs from that era have changed over the decades and given way to more sophisticated contemporary looks.
In some cases, important characteristics of gunite pools from the Fifties and Sixties have undergone a complete 180; for others, today's interpretations remain reminiscent of their predecessors.
Mid-century postwar boom and the swimming pool
First, a quick history lesson on residential swimming pools: As a private amenity, the backyard pool really came into its own in the mid-Twentieth Century. Several factors contributed to its rise.
One was advances in construction methods. During the 1940s, a new form of concrete application, known as gunite, was developed.
This innovation made building a lasting, beautiful residential pool easier and more affordable.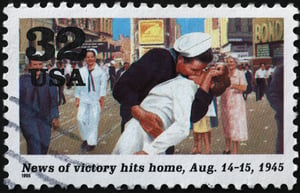 Then came the Fifties with its post-war economic boom and rapid growth of the suburbs. Having a home with a pool for leisure was a mark of middle-class success and the American Dream.
Another fundamental change came in the total number of people who knew how to swim. World War II service members—particularly veterans from the Navy—came home with a newly acquired skill: swimming.
Propelled by these cultural and economic changes, interest in building a family pool surged. The number of pools ballooned, with tens of thousands going in during the Fifties and Sixties.
So what did these residential pools look like? Let's take an entertaining look back at Mid-Century Modern style.
Check out these Blue Haven projects from that era, and compare the various design elements to their present-day incarnations.
1. Kidney Pool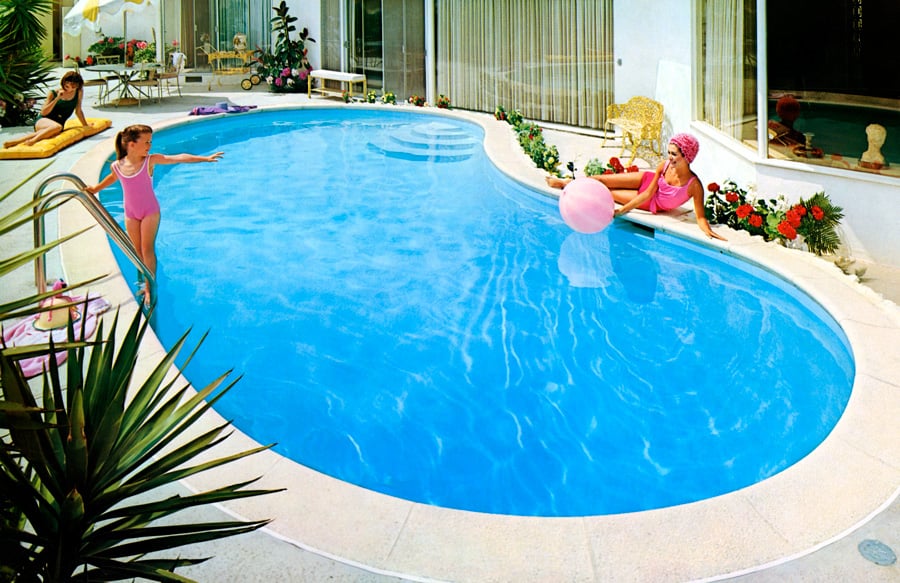 Something of an architectural icon, the kidney swimming pool is etched in our cultural history and the collective consciousness of the Boomer generation.
Introduced in 1948 in California, the kidney was something of a breakthrough; until its arrival, most residential pools had been only rectangular in shape.
Throughout the 1950s and 1960s, Americans built thousands of these bean-shaped beauties across our nation's backyards.
Today, curvier, more flowing free-form pools have overtaken their kidney forerunner. However, you can still find the echo of the famous old-school shape in new pool projects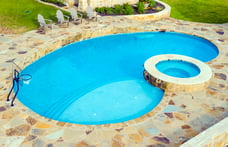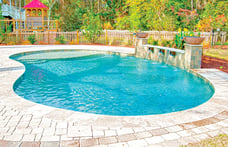 A favorite among homeowners for its attractive simplicity, the familiar bean-inspired design now comes with a fresh look. Typically, the basic shape is dressed up with contemporary aesthetics.
The refreshed shape may come with features such as raised bond beam, an elevated spa, a tanning ledge, one or more rock waterfalls, or other water features.
2. Rectangle/Geometric Pool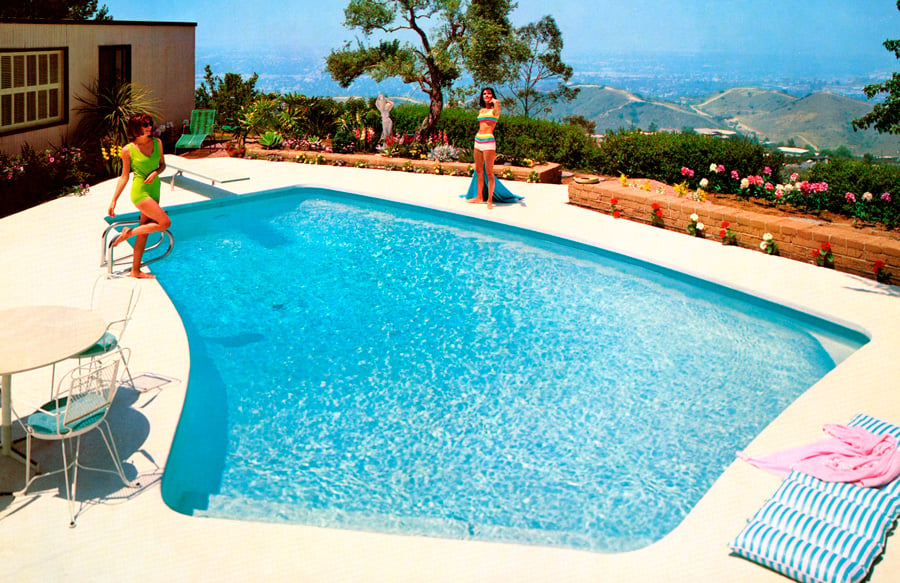 When it comes to home design, Mid-Century modern architecture showcased engaging elements such as vaulted ceilings, open floor plans, sunken living rooms, and floor-to-ceiling windows.
But swimming pools of the same era were just coming into their own. While appealing for their day, typical rectangular pools and those built in other geometric shapes were simplistic and one-dimensional.
Designs found in 21st Century pools are more complex and multidimensional. High-end projects may boast advanced style and construction techniques such as infinity-edges or full-perimeter over-flows (pictured below).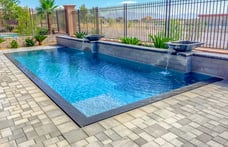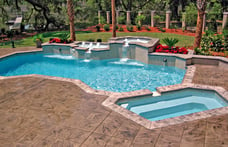 Many mid-range projects provide plenty of versatility with gunite pool configuration. You can customize pool shapes into intricate, visually surprising silhouettes.
One common approach for a more multidimensional appearance is designing a pool with varying elevations.
For example, custom spas are common on contemporary pools; often, this feature is built elevated 18" to several feet above the pool below. As the spa water overflows onto the pool surface, the action produces another layer of visual interplay.
By far, the biggest change to geometric pools is the frequent use of raised bond beam (pictured above in both photos). The beam is a raised wall that extends above the water level in various sections of the pool structure.
By integrating raised bond beam and finishing it with decorative tile or stone, you have a swathe of wall that creates a more intriguing appearance and a more pleasing poolscape.
Raised bond beam is also found in features such as elevated fountain enclosures (pictured below) and in retaining walls and landscape boxes that are incorporated into the pool structure.
3. Pool Depth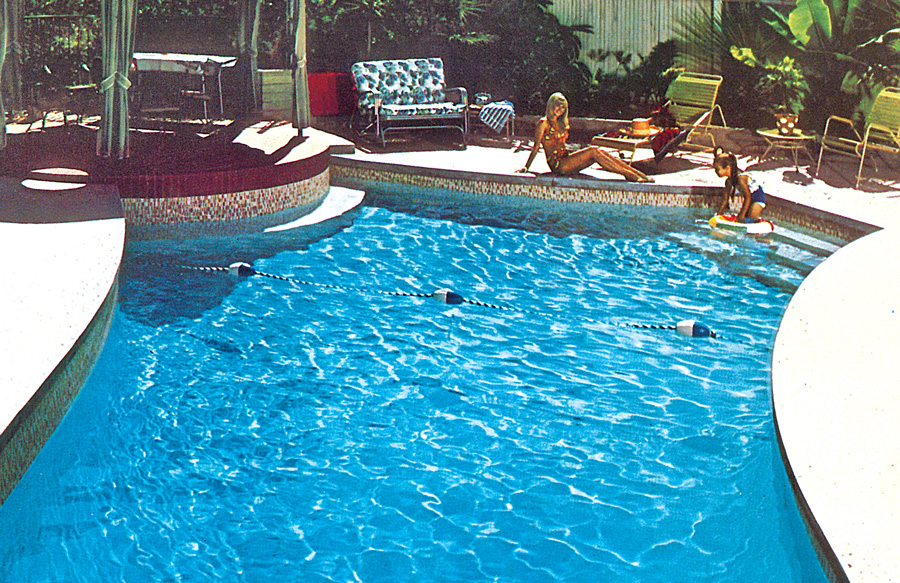 Once upon a time, it was practically a given that a backyard pool was built with an 8-foot deep end. You might have seen one like the example above with an old-school floating depth marker to delineate the transition from shallow to deep.
In many cases, the deep Mid-Century Modern pool came equipped with a diving board.
However, decades of at-home pool use led to a realization by many homeowners. Their water's deep end saw little to virtually no use.
Deep dimensions also meant a greater volume of water to filter, heat, clean, and sanitize—requiring increased time and money spent on utilities, maintenance, and chemicals.
Fast forward to the 2000s: Deep end dimension began to shrink and even change location within the pool's layout.
Today, people understand that a shallow end wins the pool popularity contest. Three- or four-foot sections of water see more use for both children and adult activities. Shallow areas serve as the hub for aquatic play and leisure.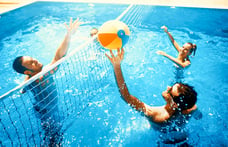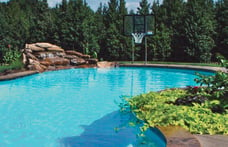 For this reason, today's builders design residential pools to maximize their use. Many modern projects are built with what's known as a "sports pool" configuration.
This layout includes a shallow end on each side of the pool and a "deep" end that lies in the middle. The maximum depth is typically 4 to 5-1/2 feet.
With more overall space where adults and older children can easily stand with their heads above water, this kind of pool provides more usable space for enjoying activities.
In fact, when some homeowners update an aging pool, they change the depth to shallow the deep end. Doing so expands functionality and cuts ownership costs.
4. Pool Entry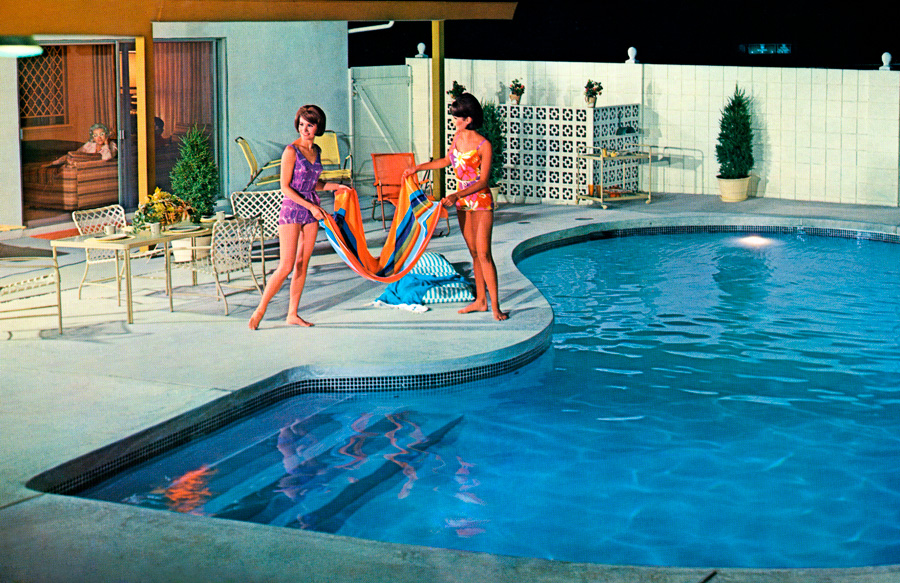 Mid-Century swimming pools featured basic, functional entry steps. For decades since then, these simple structures served the sole purpose of facilitating easy entry and exit of the water.
Today, the pool steps have taken on new character, purpose, and style.
One key trend is designing the first step to perform double duty as one of today's favorite pool features: a tanning ledge—also known as a sun ledge and Baja shelf.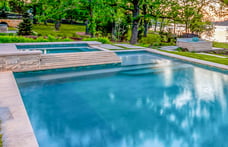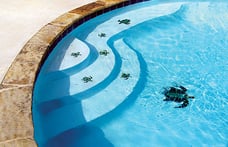 Another increasingly popular tactic is to build the second entry step as what's known as an "extended second step."
At 18 inches deep, this extension provides an additional expanse that doubles as a bench.
Those wanting to relax and cool off without fully submerging will find that the structure provides a comfortable perch for doing so.
Children enjoy playing on the bench as well, and seasoned swimmers wishing to take a break also appreciate the convenient seating.
Another modern approach with entry steps of any size or shape is including a decorative touch.
One way to do so is to edge the steps with pool tile; another is to add a few tiles in the center of the top step.
A second approach introduces a bit of whimsy on one or all of the steps. Choose from colorful pool mosaics of sea creatures such as crabs, starfish, or a school of turtles.
5. Interior Finish
For decades, you could not compare interior pool finishes because only one kind was used almost exclusively for swimming pools: marcite plaster.
Made of crushed marble dust and white cement, a coat of this white material waterproofed the concrete pool structure and made the water inside it sparkle.
Plain marcite—and all of the common pool plaster problems to which it is vulnerable—is still available for new and remodeled pools.
But so are two newer pool finishes. Compared to old-school marcite, these advanced materials provide greater overall beauty and long-term durability.
The first one on the scene was pebble. Pioneered in Australia, this material migrated to American pools in 1987 on a very limited scale.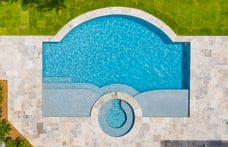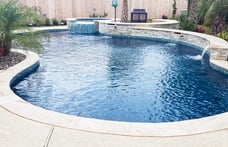 Exotic pebble blends come in different colors, and they incorporate small polished stones in the mix.
Furthermore, pebble's handsome good looks come with a lifespan that can run 15 to 20 years in a properly maintained pool.
However, these aesthetic and performance benefits don't come cheap or easily.
Pebble carries a high price tag that in most cases will significantly increase your contract amount.
In addition, the installation process is also more complex and requires specially trained craftsmen who are not available in many areas of the country.
For these reasons, the adoption of pebble finishes has been slow. Today still, the distinctive material is available only in major markets around the U.S., and it goes on only a small fraction of pools.
Another marcite alternative came along in the late Nineties and has been more widely adopted. It's known as ColorQuartz® interior finish.
Quartz is definitely not your father's pool plaster. By blending marcite with ceramic-covered quartz granules, you have a more enduring, more attractive speckled-colored pool interior.
It's available in an array of whites, blues, tans, teals, and greys. Along with its pleasing appearance, the tough quartz boosts the resiliency of your pool interior, outperforming plain marcite.
Quartz—among the hardest minerals—helps resist chipping, mottling, and erosion; it can also help hide streaks and stains.
Quartz does cost more than marcite plaster, but less than pebble. However, tens of thousands of pool buyers across the country have chosen it and found the modest extra investment yields a high-value return.
6. Pool Lighting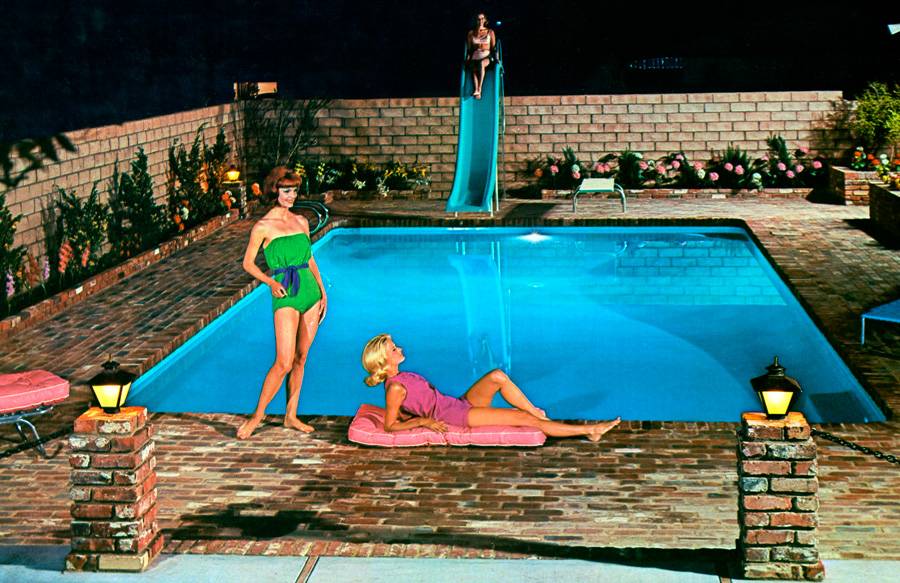 Plain white incandescent lighting was all that was available to illuminate mid-century pools.
But the technology began changing in the Eighties, and the decade saw the advent of quartz halogen lighting.
With greater lifespan and brightness, halogen bulbs were vastly superior to their incandescent cousins.
The early Nineties welcomed colorful fiber-optic pool lighting; a few years later, metal halide bulbs joined the evening scene.
Tech-savvy pool builders used both of these systems through the rest of the decade and into the early 2000s.
Pool lighting took a major leap forward in the early 2000s with the arrival of LED technology—light-emitting diodes.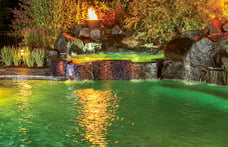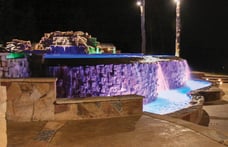 LED was a game-changer. With so many major benefits from these systems, adoption by pool-industry professionals was rapid.
For starters, LED pool lighting safely delivers incredible energy efficiency.
Second, you have a product that performs about 10 times longer than its incandescent counterpart.
In addition, LEDs infuse irresistible beauty into any backyard setting. Upgrade from a plain white model to a color-changing LED, and enjoy an array of jewel-toned colors that you can change at will.
For even more excitement, put on a "light show." Top-quality LED units come with dynamic programs where hundreds of colors flash in mesmerizing "performances."
Pre-set programs can include festive, fast-moving, holiday colors or soft, relaxing colors that transition slowly.
7. Tropical Style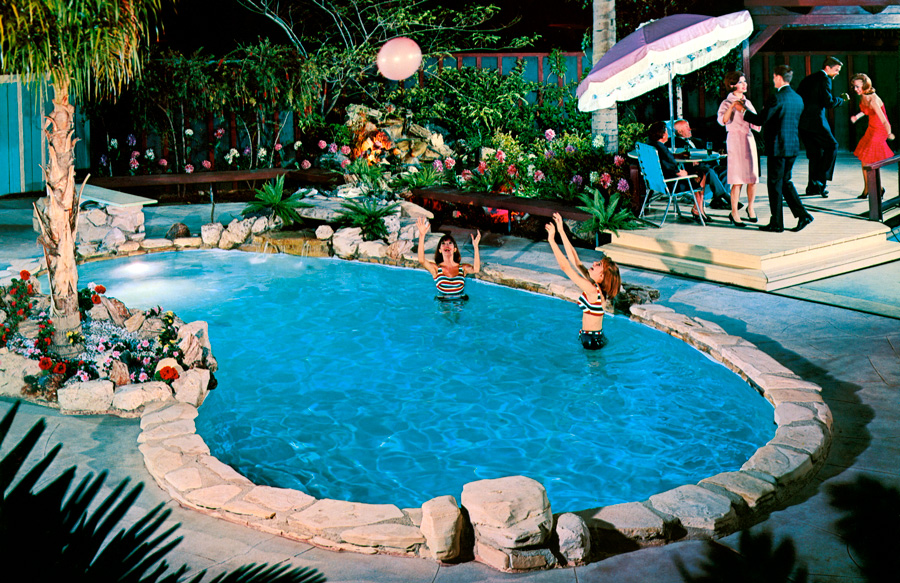 Most everyone is drawn to an exotic lagoon pool in a lush, tranquil setting.
For decades, homeowners have been trying to capture its alluring image in their backyards with a tropics-inspired pool design.
Through to the present, a natural-looking pool remains a favorite among pool buyers.
Compared to its mid-century counterpart, the modern lagoon pool has a much-improved appearance. Pool builders have become far more sophisticated in executing the design and giving it an organic look.
For starters, the pool shapes you see nowadays are curvier and more free-flowing.
To produce a more natural backdrop, builders typically turn to one particular natural building material: They install the pool-patio deck and coping around the pools using stone such as flagstone or quartzite.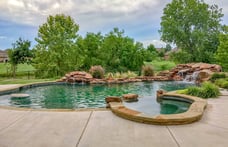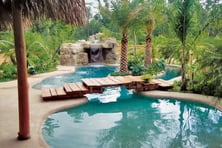 The pool's interior is more likely to be coated using speckled, color quartz or pebble blends. Compared to stark white marcite plaster, these finishes create a more distinctive, more organic appearance.
Like its mid-century predecessor, a contemporary tropical pool almost always includes one or more rock waterfalls.
Increasingly, you also see the latest incarnation of a rock waterfall: a large, elaborate grotto waterfall.
Other popular additions to round out the tropical design include fire bowls, accent rocks, bubbler fountains, and swim-up bars.
On some high-end projects, a gradually sloping beach entry replaces regular pool steps to create a more natural appearance.
Your modern backyard resort
Would you like to have a state-of-the-art aquatic masterpiece in your backyard?
Whether you prefer a sleek geometric design, a traditional Greek or Roman creation, a private blue lagoon, or a contemporary version of a kidney shape, a professional pool builder can help you realize your backyard dream.
For a free in-home estimate and custom-designed pool concept, a Blue Haven designer can help you get started. Find your local team in our national office directory.