—Planning tips for creating an exotic backyard lagoon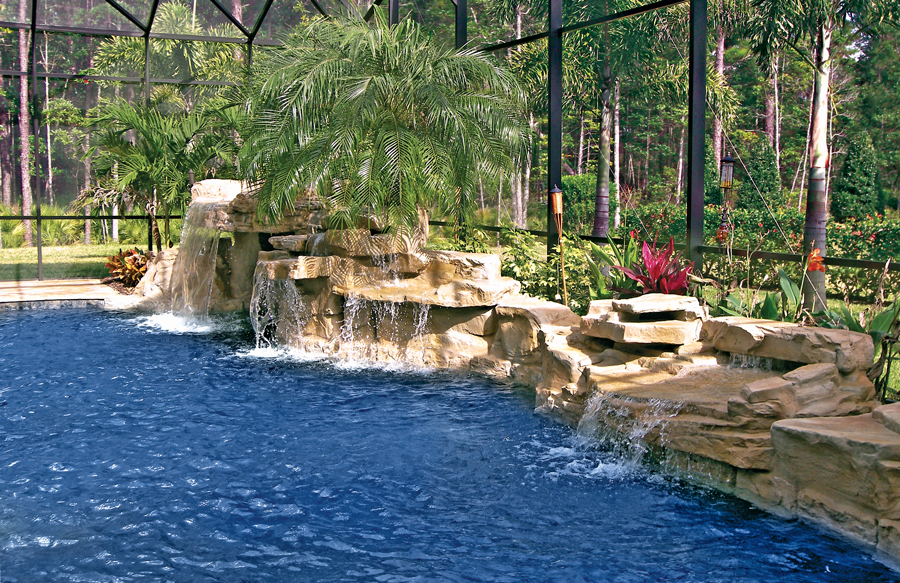 So, you are dreaming of a tropical swimming pool in your backyard. Just how do you go about designing a lush, beautiful lagoon retreat?
From beach entries to grotto waterfalls, here are some of the best and most commonly used ideas to consider when planning your new liquid paradise.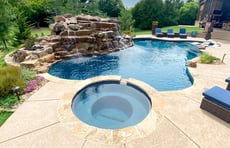 Along with the right kind of decking and landscaping, these pool-design options will help you fashion a nature-inspired aquatic oasis.
Keep in mind that you can take a cafeteria-style approach to most of the features here, choosing the ones you like best.
Most tropical-type pools include at least several of these elements, but few have every one of them.
1. Organic pool shape

First things first: To achieve that quintessential tropical look, the swimming pool shape you pick is critical.
While many of the features discussed here are optional for a tropical design, the pool's shape is one element that really is not. After all, most everything seen in a natural landscape is freeform—specifically, bodies of water.
An organic shape sets the foundation of your poolscape. Without a curvy, natural pool silhouette, the final result will never achieve full tropical potential.
While technically you could incorporate straight lines in your pool, why would you want to? A flowing profile will deliver a much better natural look.
Soft, free-form pool shapes better mimic a body of water you might see on a Caribbean island, Polynesian paradise, or Balinese jungle.
2. Stone coping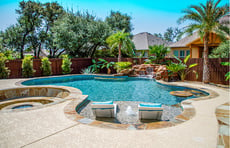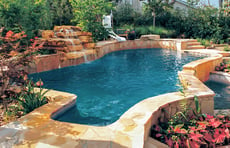 Coping is the material installed on the pool border between the pool walls and the deck.
Using stone—whether natural or simulated—for the coping is another design element that's virtually essential for a tropical aesthetic.
(Note: Exceptions are possible. Pools built in some parts of the country, such as Florida, do not use coping.)
Trim a pool's perimeter with rock, and the final appearance will help evoke thoughts of a lagoon in the wild.
By far, when it comes to coping on a tropical pool, the most popular stone choices are flagstone and quartzite. Many varieties of these two types of stone are available, and most perfectly suit the design goal.
In some cases, builders use travertine or other kind of natural stone for the coping.
3. Rock waterfall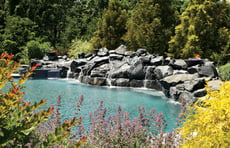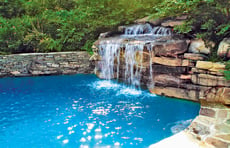 Can you have a tropical or natural-style pool without a rock waterfall? Well, yes. But it's just so much better if you include one—or even several.
An alluring waterfall can be built in either natural rock or concrete formed and finished to replicate a natural surface.
A variety of stone types work well for creating a waterfall, but most pool builders will recommend selections from a local or nearby source.
Rock masons who specialize in waterfall design serve as project craftsmen. They strategically cut and arrange the individual stones to configure a wide variety of custom shapes and dimensions.
Waterfall widths begin at several feet, but the most-exciting ones stretch out 5, 10, or even more feet. The taller the waterfall and the wider its base extends along a pool's perimeter, the greater the visual drama!
4. Grotto waterfall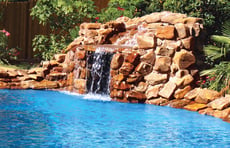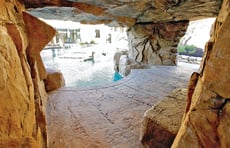 If you have room in your budget, you can up the rainforest-style quotient with a waterfall grotto.
What's the difference between a waterfall and a grotto waterfall? The latter boasts an overhanging stone that extends out over the pool surface.
In combination with the body of the structure, this flat overhang typically creates the grotto—a kind of niche or cave-like space beneath the water spilling overhead.
Grottos provide a shaded, semi-private space for escaping the sun and any raucous activities going on elsewhere in the pool.
5. Accent rocks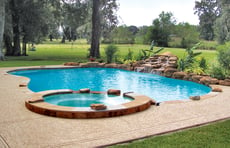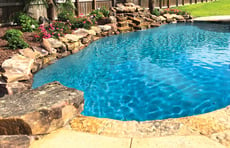 Whether combined with a waterfall or as a complement to one, accent boulders around a pool or spa border are a great option for crafting a tropical aesthetic.
If your pool includes a rock waterfall or grotto, accent stones serve as a natural visual extension of the water feature.
Using the same stone, your builder can incorporate pieces along the pool or spa perimeter. Dot the border, or extend a series of stones to frame a wider portion of the pool or spa.
Are you set on having a spring-board action diving board on a large pool with a deep end?
If not, a nice alternative to a diving board is what's known as a jump rock. Along with its functionality, a jump rock doubles as a large accent rock.
Now, even if your project does not include a waterfall, a few accent boulders strewn at key locations provide an affordable way to capture a little natural style.
6. Floating steps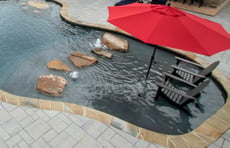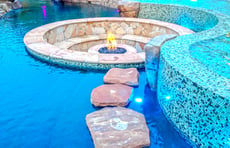 Take accent rocks to the next level with one of the newest trends in custom pool design: floating steps.
Built into a raised concrete platform or very shallow section on the pool floor, these structures appear to magically hover on the water's surface.
Walk across the path, and they lead you to the other side of the pool or a particular feature such as a spa or sunken conversation area.
This intriguing feature can be built in different aesthetic styles. Sleek, modern pools use poured concrete steps that are perfectly round, square, or rectangular. For a tropical pool, use natural, rough-cut stones to create an organic appearance.
7. Spa with waterfall facade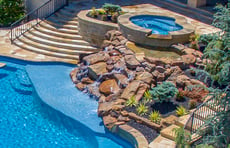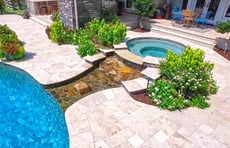 An alternative to a pool waterfall—or in addition to one—is a raised custom spa that boasts its own mini-waterfall.
Using a strategic design approach, the spa spillway design and the exterior, pool-facing façade can serve double-duty as a kind of waterfall.
The higher the spa's elevation over the pool, the more dramatic the creation will be. Similarly, the length of the span between the spa spillway and the pool provides a striking waterfall-design opportunity.
Once again, you can realize the design using either natural or faux rockwork. The size, style, and configuration are highly customizable.
8. Beach entry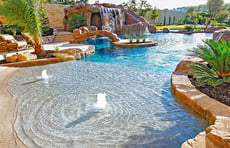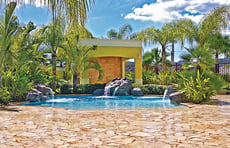 In nature, you never see neatly formed entry steps on any body of water. So, in an optimal tropical pool design, you won't see them either.
Instead, a graduated sloping access area, known as a zero or beach entry, is the ideal alternative for a backyard lagoon.
Typically, the entry includes an accent rock or bubbler fountain. Along with a dash of extra style, the addition provides a visual marker to delineate the beach-entry's incremental depth.
Keep in mind that a beach entry makes sense only under certain conditions.
First, you need the room on your property for a long pool that will accommodate the space required for the graduated entry. Second, you need the room in your project budget.
9.

Fire bowls / integrated fire pits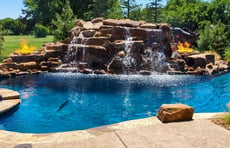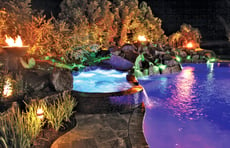 While a flaming bowl never exists in a real-world body of water, somehow a fire feature around a tropical pool—because it showcases a natural element—just seems like it belongs.
Typically, fire bowls are placed along the swimming pool perimeter. A favorite approach is to elevate the vessels on a pedestal-type structure. That way, the bowl and emanating flames are highly visible above the pool surface.
In a tropical pool, a terrific approach is to integrate this fire feature into a rock waterfall or grotto.
Even better, skip the bowl altogether. Build a small fire-pit structure directly into the waterfall's rocks; tuck it into the stone configuration for a more natural, integrated look.
10. Thatch
shade structure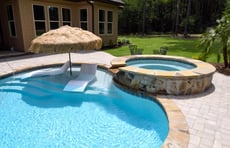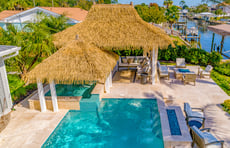 Thatch—a catch-all term for dried straw, reeds, palm fronds, or a similar material—provides the perfect accent for any man-made tropical setting.
To bring a Hawaiian flavor to your backyard, the simplest, most affordable option is to include a thatch-canopy umbrella for your pool tanning ledge.
Do you plan a more complex project that involves other backyard additions? If so, you could incorporate a palapa-type structure or thatch-covered roof on a pavilion or gazebo.
Along with serving as a perfect accent for the setting, these decorative elements shield you from the sun when you are in the spa or at the swim-up bar.
11. Integrated landscaping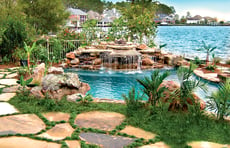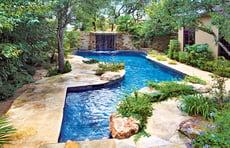 Lush trees and plants in your backyard around the pool area help advance a jungle-like theme. For example, a palm-tree studded patio area provides the perfect backdrop for a tropical pool.
Other good choices—based on your local climate and landscaper recommendations—include ferns, croton, hibiscus, Bromeliads, plumeria, colocasia (elephant ears), and birds of paradise.
However, to step up the lush factor in your exterior space, here's a clever tactic to use in your pool and deck plan: Incorporate landscape pockets directly into your pool and spa perimeter and around any waterfall.
These bursts of greenery along your pool-spa edge won't replicate a rainforest, but they do make a big impact.
The small, irregular-shaped patches of foliage make the man-made pool appear more natural and better capture the appearance you want.
12. Theme-appropriate statuary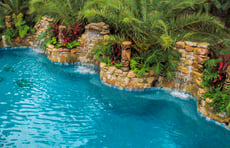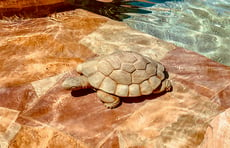 For extra nature-themed fun, add a statue to heighten the overall scene.
Forget King Neptune, a classical Greek maiden, or the ever-popular dolphin statues that flank some formal, Greco-Roman swimming pools.
For your wild-inspired aquatic masterpiece, enhance its character with the right pick of statues and figurines.
Consider options such as oversized Polynesian Tiki masks or a wild critter you would find inhabiting a real lagoon or lake.
Planning your tropical pool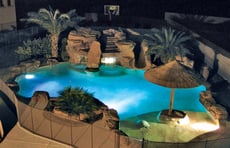 With these concepts in mind, work with your pool builder to bring the tropics to your outdoor space. On a deluxe project, they may suggest additional, highly custom ideas to consider.
Take note, the best way to achieve ultimate tropical style is with gunite pool construction—versus vinyl or fiberglass.
Indeed, many of the options outlined here look best on a gunite project; some are generally possible only on a gunite pool.
To learn more about building a tropical pool, contact a professional pool designer. For a Blue Haven office near you, visit our national office directory.