How to Integrate Pool Landscaping: Explained in Pictures
A little green can go a long way. Incorporating trees, plants, flora, and foliage into a new or existing pool & deck enhances not only the pool's visual allure, but the ambiance of your entire backyard setting.
To combine landscaping features with your swimming pool, consider these five approaches and discuss your favorites with your pool designer:
1. Custom Planter Boxes
Create a dedicated spot for trees, shrubbery, and plants right in the pool structure itself. This approach works best when a pool is designed from the outset to include these features. This way, any style and size of planter box can be created to perfectly integrate and complement your pool's unique design. For existing pools, options are more limited; depending on the pool's design, the box can be constructed as free-standing structure that sits adjacent to the pool's perimeter edge, creating an attractive feature that blends in well.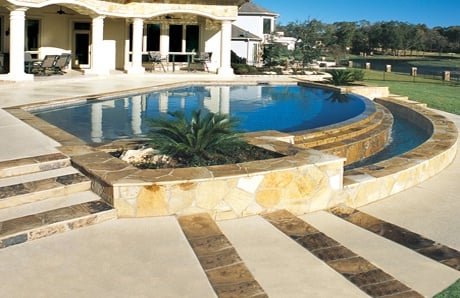 2. Plant Pockets in Waterfalls
One popular method is to construct "plant pockets" into various nooks in a custom rock waterfall. For a natural, more "random" look to the setting, include several of these specially designed concrete bowls in various sizes in different locations in the waterfall. Be sure to use a contractor who understands how to properly plan and build a lasting, happy marriage between the waterfall and the plant life inhabiting it.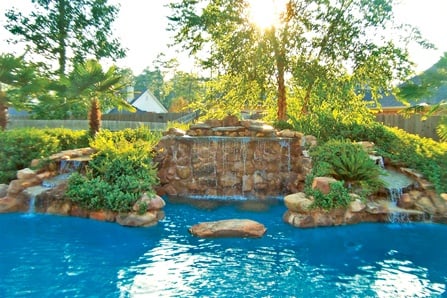 3. Ornamental Pots & Urns
Particularly if your pool is already built, decorative urns and large pots are a simple, affordable way to bring color close to your pool. Purchase large vessels that are made for outdoor use, and pick ones that match the style of your pool—modern, natural, classic, etc. Strategically place them in locations that accent your pool's features. Fill them with plants or with bright, seasonal flowers that bloom with color from spring to fall when you will most frequently be using your pool.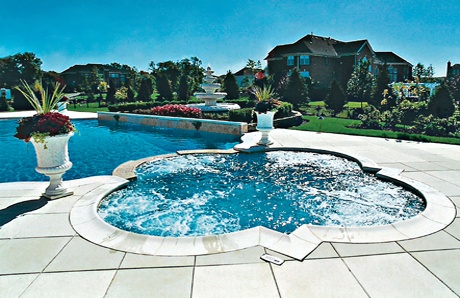 4. Grass Deck
Who said a pool deck had to be concrete, wood, stone, or other hardscape material? The ultimate way to add green is with a grass lawn that serves as your pool deck. Do break up the grass with some sections of hardscape, such as stepping stones or brick pathways. Doing so creates a more architectural look, provides an alternative to stepping on (and crushing) the grass, and gives wet swimmers exiting the water a way to avoid grass and the dirt on their bare feet.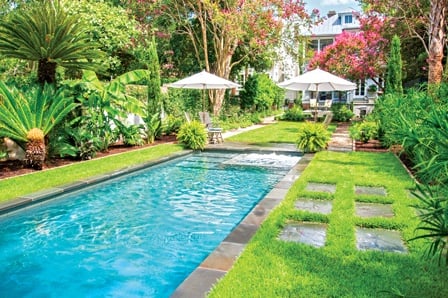 5. Fully integrated landscaping throughout the pool
If you really love your green, then yes, your pool can be essentially be "landscaped" with trees, plants, and flora that unify into the entire poolscape. For example, where there is a retaining wall or a wall enclosing your yard that is very close to the pool, expansive planter boxes can be built abutting the pool structure and completely combine with them. You can also take advantage of places where the pool's perimeter coping meets the deck, and use these spots for landscape pockets that will accent your pool.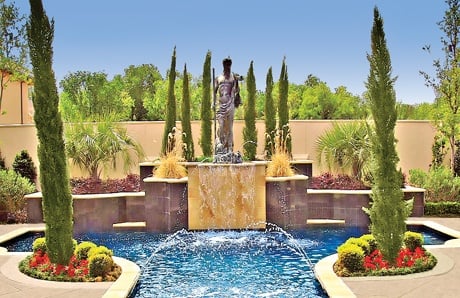 Click for more pool landscaping photos and inspriation.