—Get any design for any yard and style preference with a gunite/shotcrete pool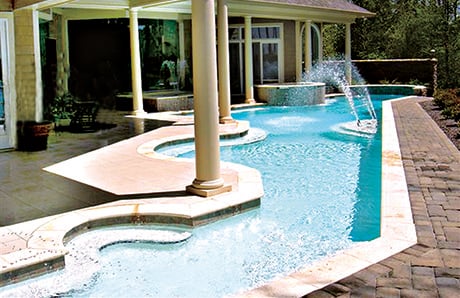 Choices, choices, choices! With concrete pools built using gunite or shotcrete material, options for your new pool's design and overall configuration cross the full spectrum.
While you have two other options for a residential inground pool—fiberglass or vinyl liner—the concrete one rises above the pack. Whether composing a pool in a classic rectangle or Roman, an organic form with soft curves, or a modern silhouette with sharp angles—concrete delivers on all fronts.The form of concrete used for pools is either shotcrete or gunite, the latter of which is actually a form of dry-mix shotcrete. These blends are similar, and both are applied with a high-pressure hose over a network of steel bars to form a thick, durable pool shell that will last for years to come.
Concrete provides ultimate versatility for pool design. Built using gunite or shotcrete, your private aquatic resort can take on virtually any size, shape, depth, and configuration—and in any combination of these—that works best for your budget, backyard, lifestyle, and style preferences.
Shapes go "free-range" with concrete pool designs
Starting with shape, concrete pools can't be beat. Essentially, any form or contour is possible, so you can pick the pool shape that works best for your tastes and functional needs.
Would you like your pool's attached, elevated spa to have a soft triangular shape? You can have it. How about a free-form lagoon with long, incrementally sloping beach entry? You bet.
Do you prefer a contemporary geometric shape—and does that shape need to wrap around the perimeter of your house to fit in a tight backyard? That pool can absolutely be built; after all, with the flexibility of gunite or shotcrete, you have freedom to tailor a plan that meets nearly any backyard condition or constraint.
When your outdoor space poses one of those constraints, concrete pools can provide a solution. Here's just one kind of scenario: Your yard contains several lovely, mature trees that you want to preserve. The trees block a clear swath of space for a new pool. Chopping down these beauties is out of the question, but left as they stand, the trees will dramatically limit the size of the pool that can go in between them.
A concrete design can actually incorporate the trees—creating a kind of miniature island around each one—into the pool structure itself. Or, the trees can remain by building a pool in a flowing, amoeba-like shape with a perimeter that stops just short of each tree.
Now, if you want a simple Roman, rectangle, or L-shape pool, you can have that too. But the real beauty of concrete is the ability to tweak those traditional shapes.
For example, you can design a "half-Roman" with one end of the pool straight and built flush against a retaining wall.
Or you can have a rectangle pool with spa built on one of the pool's long sides. This position might be ideal so those sitting in your spa can enjoy the sight of your outdoor fireplace—and enjoy its warmth when they exit the spa on a chilly night.
You can also take a "basic" shape and add visual dimension with features ranging from raised walls to integrated landscape pockets. Materials make a big difference too. A traditional round spa takes on a whole new appearance when it gets built three feet higher than the pool below and has a dam wall and spillway (the channel where the water flows into the water below) that's covered with iridescent glass tile or distinctive natural stone.
Whether simple or complex, a concrete pool means you can take customization to a whole new level. The end result: Having a stunning pool that most closely aligns with what your family wants in your backyard resort.
No limits on your pool's dimensions
Along with flexibility for the shape and configuration of a concrete pool, there are almost no limitations to its width and length. Build it as long or short and as wide or narrow as you want and as your yard can accommodate. In some cases, a concrete pool's ability to adapt to any measurement is particularly valuable.
For example, if you would like a lap pool but have a narrow yard, concrete provides a solution: You can build a 40-foot long pool that's only 8 feet wide if that's what it takes to work in your outdoor space.
The ability to tailor pool size becomes even more helpful when coupled with the myriad of possible shapes. That's because you can make sections of the pool dimensions larger or smaller as needed. Let's look at how this might play out.
It's not uncommon for homeowners to have both design preferences and certain yard conditions for a new pool. Let's say you want your new patio situated adjacent to the pool and also right outside your kitchen's backdoor. This spot in your yard will get dedicated for that purpose. However, also on your wish list: a sizeable, free-form lagoon with spa and rock grotto for your big family or big entertaining plans.
Now what? With this layout constraint in mind, you can still have your large dream pool. A concrete pool builder can make one end of the pool—the one near the limited space by the patio—much smaller. For example, think of a figure 8 with a small circle on top and a much fatter one beneath it. The small "head" will go in the tight spot, and the shape can be "stretched" wider or "squeezed" narrower to make optimal use of available space.
Keep in mind that this figure-8 example is a very simple one. Most experienced pool professionals can develop much more interesting cloud- or bubble-shape pools or one-of-a-kind, free-flowing curves that hug the borders of your yard for maximum utilization of its space.
Choices for pool depths to suit all activities
In addition to the pool's surface dimensions you see, there are the dimensions beneath the water line. Shallow areas and deep ends play greater significance for pool use than some pool buyers may realize.
The depths around the pool interior impact how your family will use the water environment. With a concrete pool, you can have depths that fit functional needs of regular users.
Among these may be areas for diving, using a pool slide, children's play, sports like water volleyball, as well as space to allow arm strokes for lap swimmers. Each activity needs a different depth. Family members who are varying heights also appreciate a variety of depths for standing and playing.
Increasingly, pool buyers are opting for what's known as a sports pool. Don't get hung up on the term "sports" in the name. These designs are very practical for families even when their level of water sports is zero.
Here's why: The design has two shallow ends that slope into a moderate "deep end" in the center of the pool—vs. the traditional 8-foot deep end off on one side of the pool. Typically, the shallow ends in a sports pool run three feet deep, and the middle is five feet. These depth dimensions provide more usable area for people to stand and engage in pool activities. (One major exception: A sports pool is not the right choice if you have a diving board on your pool.)
If you have a gunite pool, you can have the range of depths you want, and—in accordance with safety guidelines and building codes—you can help plan the configuration of the depths.
Bottom line: Concrete pools deliver vast design options
With virtually unlimited options for size, shapes, size, and configurations, concrete pools provide the superb ability to be easily modified. You can have just about any design, so it meets the style and functional goals for your backyard space.
If you would like to speak to a pool expert about how a concrete pool can meet your family's backyard dreams—and any challenges you may have in your backyard—contact your local Blue Haven Pools office; you can view a national office directory here.