—Optimize your relaxation and convenience beyond the water's edge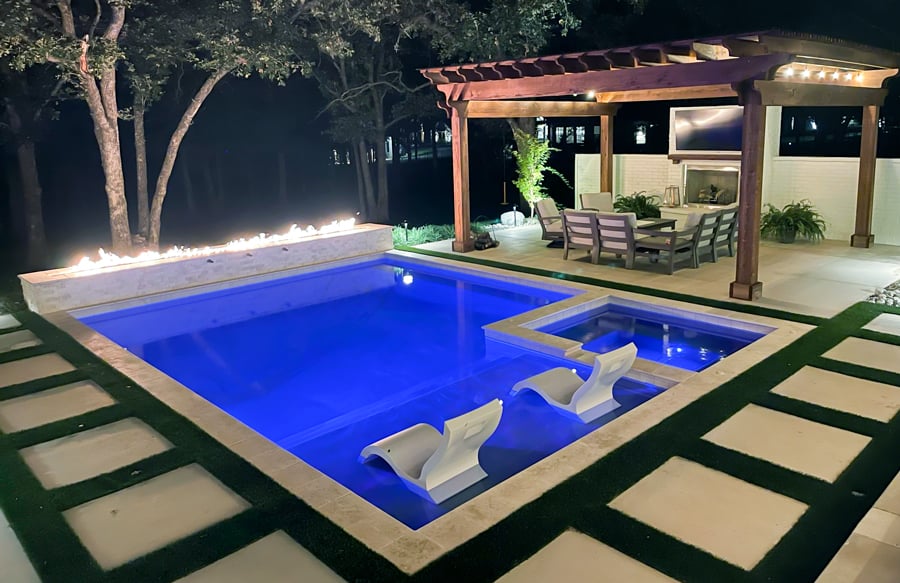 The experience of swimming pool ownership is a joy unto itself, but you will maximize fun and relaxation by making the right choices for the adjacent patio features and amenities.
Along with outdoor furnishings like seating and tables, achieving optimal physical comfort and convenience comes by equipping your outdoor resort with five other poolside features. Ideally, each is incorporated at the time you build or remodel an inground pool.
As you collaborate with a contractor on your aquatic design, here are important options for the space surrounding your pool.
1. Shade structures and elements
It's refreshing on a sunny day to jump in the cool pool water—whether to swim, wade around in the shallow end, or lounge in a half-submerged tanning ledge.
But what if you are not in the mood to get wet in the first place? Or, you don't want to remain in the water or keep returning for periodic dips? And what about other family members or guests who feel the same?
To escape the sun's direct rays while still enjoying the backyard and poolside activities, don't forget to include shade features to fully and partially shield guests from the sun.
You have a number of options for doing so. Even better, they span the budget range.
First, consider basic patio umbrellas. One or more strategically placed canopies will block a small area from the sun and inject a dash of color into your outdoor space.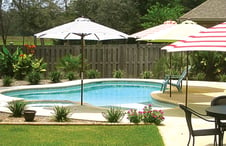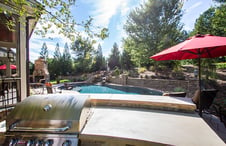 Umbrellas can also be integrated into an island BBQ grill, an outdoor kitchen that has no canopy cover, and the center of a patio dining table.
Another favorite approach: A trellis or pergola that partially buffers the harsh rays for those beneath it.
Say you have an outdoor spot, such as a dining area, that's nestled against your home—where the home's exterior walls provide one, two, or three sides to partially enclose the area.
This is a superb place to build a trellis or pergola overhead. The structure will provide a respite from the heat for those relaxing below.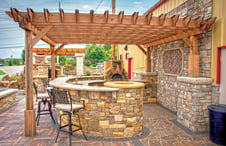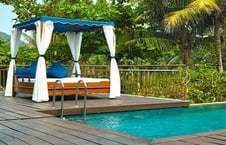 If you have rented a poolside cabana on vacation, you will have discovered what a wonderful option this amenity is. If you have the space and budget, there's no reason you can't have one at home too.
For greater shade—and added beauty—grow vine-type plants throughout the structure that fill in more of the open spaces.
Another shade structure is a free-standing gazebo. It's the perfect spot for a dining table that provides overhead shade in a cooler, cloistered setting.
If you have the space and the budget, you can construct a more elaborate structure—a hardtop pavilion that covers a large area.
A pavilion may house a full kitchen or a veritable outside living room with couches, coffee tables, and amenities such as a fireplace, overhead lighting, fans, and sound system.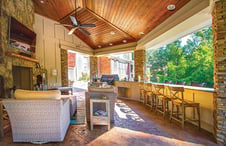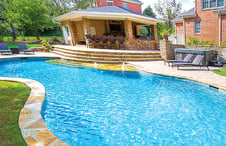 Finally, certain landscaping elements around the pool can contribute shade. Some kinds of trees and large, leaf-dense bushes and plants add natural beauty and provide welcome pockets of shade.
2. Cool Decking
When you have a swimming pool, the temperature of the deck material surrounding matters— a lot.
The reason: With a pool, you and your family will often be barefoot on the hardscape—likely on some of the sunniest days of the year.
Especially for the little ones, walking across a hot deck is awfully uncomfortable. On some deck surfaces, it can be downright painful.
For the sake of everyone's feet, strategically choose your pool deck material and its style.
The first rule for comfort underfoot is to forgo darker colors that will absorb more heat. No matter what material you ultimately choose, a lighter shade can go a long way in limiting heat retention.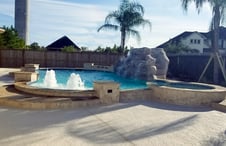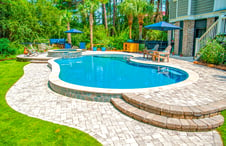 A wide range of deck materials are available at various price points. Certain kinds are more popular in various regions of the country, and some are specifically manufactured to go around swimming pools.
In this category, popular choices include poured concrete, concrete pavers, and natural stone pavers. Less commonly found poolside are wooden planks, cut stone, and a wide range of synthetic and composite materials.
Within each material category, you will find various styles from suppliers and manufacturers. The kind of cut, pattern, and surface treatment impacts the material's temperature when exposed to the summer sun.
A variety of factors come into play. For example, on the synthetic front, various brands use their proprietary "secret sauce" to achieve greater heat resistance.
Or, a particular style of concrete paver stones may reflect away more heat than another due to its formulation.
When it comes to poured concrete decks, the surface texture can make a difference; some patterns, such as the uneven "lace" and salt finishes contain small crevices that may absorb less sunlight, so they remain cooler to the touch. In addition, their uneven surface may inhibit the warm concrete achieving 100% contact on the bottom of your feet.
An array of acrylic and decorative finishes for concrete pool decks represents another possibility. Along with adding color and style, lighter shades of these specialty treatments keep the surface temperature in check.
Another option is stone, such as granite, flagstone, travertine, slate, or quartzite. Each retains heat differently. For example, those with loose grain structures, such as flagstone, typically remain cooler than dense ones such as granite.
Wood decks in water-resistant varieties, such as teak, Ipe (Brazilian walnut), and redwood will be comfy on bare skin—but less so on your project budget if you are trying to keep costs down.
In some climates, an entirely different approach is a pool deck that primarily consists of a grass lawn.
With no hardscape at all or only small, intermittent amounts of inset stone or concrete, these alternative "decks"—in natural grass—deliver the softest, coolest sensation possible.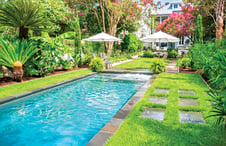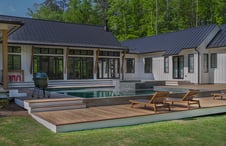 Covering all of the kinds of deck materials and styles and their heat quotients requires a separate, lengthy discussion unto itself.
Therefore, the takeaway here is this: Be sure to discuss material choice for hardscape with your pool builder or landscaper.
Along with the material's cost, durability, and appearance, it's critical to consider how they will behave in strong sunlight—and potentially impact your family fun!
3. Outdoor Grill or Kitchen
Imagine enjoying lounging on the patio, but getting thirsty. You have to get up off the comfy chaise and make the trek into the house for a cold drink.
Or, the kids want a snack, and—still wet from the pool—stroll through the house dripping as they make their way to the kitchen pantry.
Perhaps you prepared a complete meal for the family. Everyone sits down in the fresh air to enjoy it. But, you forgot the salad dressing or the ice for the drinks—and have to head back inside to grab it.
Wouldn't it be so much nicer if you had a stash of everything nearby in your island grill or custom outdoor kitchen?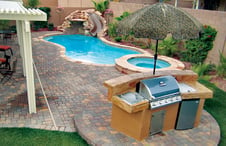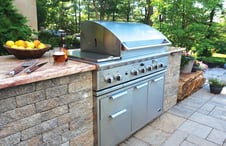 Perhaps you are lucky in that your indoor kitchen is mere footsteps from your outdoor dining area (and your kids know better than to go inside dripping wet.) But for many homes and backyard layouts, that's just not the case.
Being able to serve food immediately—hot off the grill—is the kind of activity that poolside living is all about.
The functionality of storing cold drinks, snacks, as well as dishware, cups, and other serving accessories is just so darn convenient.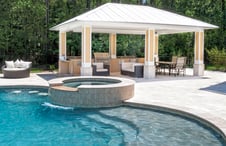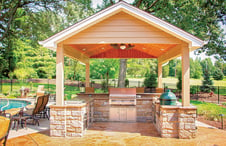 If you have the budget and space for an island grill with some storage and counter space, give it some consideration. Ditto for including a sink and drink cooler or mini fridge.
If you can splurge for a fully outfitted outdoor kitchen, it will likely pay off by magnifying the amount of poolside fun you have.
4. Outdoor Lighting
Some first-time owners may not realize how much a pool can transform their outdoor space—not only by day but by night.
When the sun sets, a thoughtful pool design with features such as a gunite spa, waterfall, various water features, and color-changing LED pool lighting will create a backyard entertainment center for the evening hours too.
But to take full advantage of the patio space—and to help ensure safety—you need lighting beyond the water's edge.
Landscape lighting will deliver lovely evening scenery. Spotlighting around pathways and doorways will make it easier for everyone to move around within the space and enter and exit it.
If your property rests on several levels or contains a multi-tier deck around the pool, strategic lighting is even more important.
For example, illumination near the steps or along the edge of each one will make the space safer for everyone.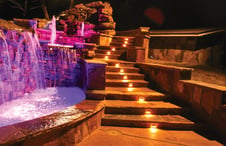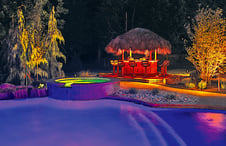 If your patio lies within view from inside your home, exterior lighting will bring added value: You will be able to enjoy the beauty of your outdoor setting after the sun sets, and at least partially, see when anyone is out in the yard.
5. Fire pit, fireplace, space heaters
With opportunities to enjoy a well-lit pool, water features, spa, and patio area at night, you don't want to miss out just because it's a bit chilly outside.
That's where some heat is needed. Investing in a few mounted or outdoor space heaters (think: outdoor restaurants) will boost the number of evenings in which you can indulge in an outdoor lifestyle.
Add flames for additional warmth. Imagine everyone huddled around a fire pit by the pool or nestled over at an outdoor fireplace. Gathering around the fire becomes an activity unto itself.
Dancing flames usher in a whole new dimension to any outdoor space and foster a cozy, relaxing ambiance.
In some properties with elaborate backyard buildouts, a fireplace is a wonderful addition. But virtually any typical pool and deck area can accommodate a fire pit—and at less cost than a fireplace.
Better yet, people can fully encircle the fire pit and keep warmer by sitting closer to the flames than they can around a fireplace.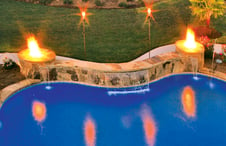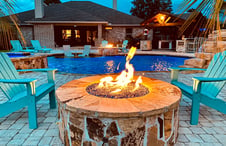 As a bonus, if the fire pit is close enough to the pool, you may be able to gaze at the flames reflecting in the pool water.
Extra Comfort Tip: Factors for Tropical Climates
Do you live in a humid, coastal region of the U.S., such as Florida or near the Gulf of Mexico or Eastern Seaboard?
If so, you may have another comfort factor to plan for: Flying, biting insects. (Far more than the occasional mosquito found inland and in drier climates).
In this case, consider investing in an outdoor screen room around your swimming pool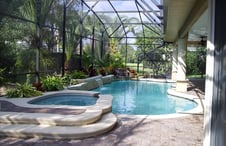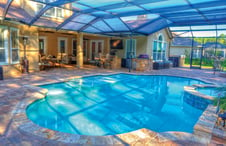 Along with keeping out uninvited winged visitors, the mesh screen will block some of the sun's intensity for a lower ambient temperature around the pool.
Now, screen enclosures do run well into the thousands. You can build a screen room later, post pool construction
In the interim, or in lieu of a screen room entirely, you can still take steps to protect your backyard from mosquitos and other flying pests. You can buy bug-spraying devices and other outdoor repellant systems for residential yards.