Get style and functionality with natural or artificial grass vs. traditional hardscape
For a fresh take on designing your new swimming pool and patio area, consider a grass lawn for the deck instead of traditional material like stone or concrete. A swath of green extending around your pool can provide a distinct backyard setting along with practical benefits for your lifestyle.Two key approaches to using grass are possible for your "deck" configuration. One is to forgo all hard-deck materials, and make your swimming pool "deck" entirely from grass.
Surrounded only by greenery, your pool area will have a more relaxed, natural appearance. You can opt to include a step stone or a brick path that extends from the pool steps along a route that swimmers are likely to take, such as to the home's back door or a grill area.
The other approach is to mix grass and hardscape: Install stone or concrete in only one area around the pool, and complete the rest with the soft, lush green alternative.
With this combination method, a popular technique is to place the hardscape material on the area that receives the most use. Frequently, this is the stretch between one side of the pool—typically where the entry steps are located—and the back of the house.
Along with choosing a configuration, you have a choice for the form of lawn: natural grass or artificial turf. Both offer unique benefits.
Let's examine the potential advantages and drawbacks when considering a lawn pool deck and choosing between the natural and imitation forms. Then you can decide if grass for some or all of your pool area makes sense for your budget, desired outdoor design, and preferences for backyard living.

NATURAL GRASS
Pros:

• The initial installation cost of natural grass is far less than a traditional deck. However, over time, dry or discolored blotches may form, and you will need to re-sod with pallets of grass you buy. Total costs will depend on the type of grass and the amount needed; in some cases, your whole lawn may need re-sodding, or, it may need only a few touch-up patches.

• Natural grass creates a genuine, garden-like or countryside look and feel in your backyard.

• Under a hot sun, natural grass does not absorb heat like stone, brick, concrete, and other man-made surfaces. With cool blades of grass to walk on, no one's bare feet will hurt from a hot surface.

• Unlike many kinds of stone and concrete materials that attract and retain heat, natural lawns won't boost the temperature of an already warm, uncomfortable patio area.

• Strolling on natural grass is more comfortable on bare feet than harder surfaces. Grass is soft and cool on skin, creating a relaxing sensation.

• Even with safety rules for your pool and backyard in place, accidents can happen when excited children play around a pool. No matter the surface, kids may run and get hurt if they slip. Natural grass provides a bit of a cushion for anyone who falls.
Cons:

• To remain healthy and attractive, real grass requires watering. Lots of it. During dry spells with little or no rainfall, you may need a sprinkler to keep grass well-irrigated.

In areas of the country where water resources are limited, such as desert regions, there may be regulations limiting the amount of natural grass in backyards and/or front yards.

Additionally, there may be rules on how often watering is allowed and how much may be used. Since lawns need so much H20 to stay vibrant, your yard may not look how you imagined if your grass doesn't receive enough.

• Natural grass requires regular maintenance such as mowing, fertilizing, and possibly pest control. These come with some ongoing costs and effort.

• Mowing the lawn creates cut blades of grass, and some of these may blow into your swimming pool.

• Pesticides and fertilizers contain chemicals that can be unhealthy for family members and pets if they get exposed to these substances. Some organic and safer alternatives are available, although they may cost more.

• With fertilizers, if you or your gardener are not careful while applying it to your lawn, some could end up in the pool and cause ugly stains on the walls or tile.

• Swimmers' wet feet can pick up dirt or blades of grass, which they can carry into the house or back into the pool water. However, there's a simple solution: Include a step-stone path from the pool to the patio area or your home's backdoor. That way anyone exiting the water can avoid walking on the grass with wet feet.

ARTIFICIAL GRASS
Pros:

• The initial cost of installing a synthetic lawn is usually less than a traditional hardscape deck built with stone or concrete. However, it will run more than a natural lawn.

Depending on the backing material, the man-made grass may not be as soft as the real thing. However, from a safety perspective, it still beats hard concrete or stone should someone fall on it.

• Synthetic grass requires minimal maintenance and resources. It needs zero water, pesticides, or fertilizer, which means a major advantage over natural grass. Keep synthetic grass clean with an occasional sweep of a broom or quick hosing off.

• Artificial turf is durable. Depending on outdoor conditions and climate, the material can last 10 to 20 years with little upkeep.

• Many artificial grass materials are designed to prevent drainage issues. The backing material to which the fabricated blades of grass are attached is water permeable. Water, such as rain, can pass through and quickly drain to the ground below. This allows the surface to dry faster than ground beneath natural grass.

Cons:

• While not as hot as stone or concrete, imitation turf can still become two to three times warmer than its natural counterpart. High temperatures can be uncomfortable on the bare feet of your family members, pets, and guests. On sunny days, you can cool the surface down by spraying cold water on it.

• Over the years, manufacturers have improved their products' overall appearance, better mimicking the real McCoy. However, it's still synthetic, and you may prefer the authenticity of a real lawn and enjoy its organic feel and earthy smell.

• With years of sunlight exposure and overall wear and tear, the faux material will eventually begin losing its color. Some brands feature UV protection that slows—but cannot stop—the aging process.

• Some factory-produced turf is made with potentially harmful toxins that may be less-than-ideal for the health of your family and the environment.

When natural grass just won't cut it
While a natural lawn can serve as a beautiful deck alternative, in some cases it may not be the best option. Pools that rely on chlorine or saltwater to maintain water could present challenges if it splashes out from the pool.
Here's how it can happen: If you have children—or large active dogs who like to swim—who will likely engage in boisterous water games and splash out pool water, your grass could be subject to ongoing exposure to salt- or chemical-laden splash out.
The same goes for certain kinds of water features that spray or stream water into the air where the wind can blow it to the grass. Over time, splash out can blemish your lush lawn with ugly brownish-yellow patches.
If you have your heart set on natural grass, your best bet is to use ozone and/or ultraviolet systems to sanitize your pool water.
Another reason grass may not be a fit for your patio: local building codes. Whether the grass is natural or artificial, some municipalities around the country may prohibit or limit use of either.
For example, regulations may mandate at least three feet of concrete around at least half the pool's perimeter. Your pool builder will be able to advise if your neighborhood is affected by any such requirement.
Grass is always greener
Using natural or artificial grass around your pool or patio area adds color and a unique backyard ambiance that your family can enjoy.
Along with your pool builder, you can decide if the real or synthetic form is the best fit for some or all of your patio area. During the planning stages, discuss ideas for giving your pool setting a vibrant landscape!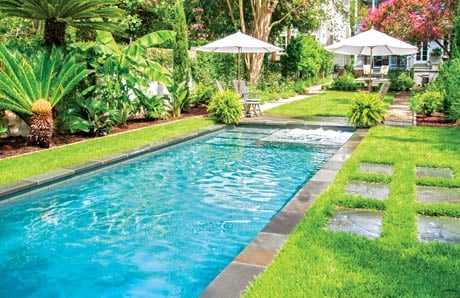 The grass deck around this lap pool features a stepping path in natural rock that complements the bluestone used for the pool's perimeter coping.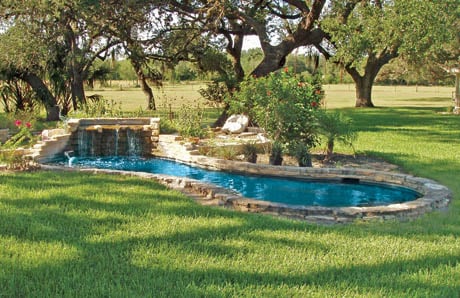 This lovely pond-like pool with rock waterfall at a Texas ranch is edged with stone coping and is completely surrounded by carpet grass.
Natural grass is paired with hardscape on this modern backyard in the Carolinas. The pool's coping and deck use man-made pavers that pass for the more costly, natural bluestone.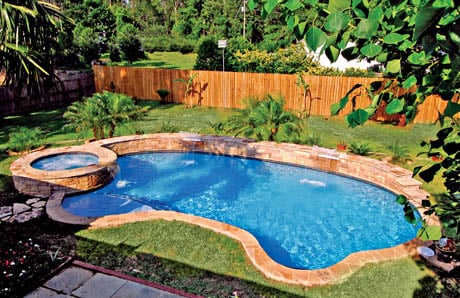 To save on the cost of a traditional deck, the owner of this Gulf Coast pool & spa opted for expansive lawns with a rock pathway in apple orchard stone.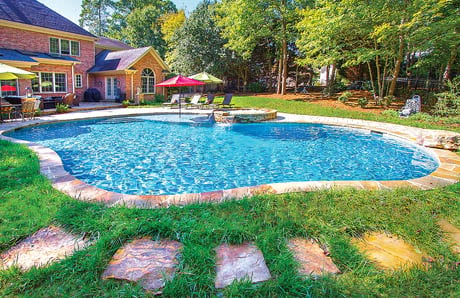 Traditional hardscape covers the most-used side of the pool near the spa, steps, and tanning ledge. Natural grass with flagstone stepping stones flanks the opposite perimeter.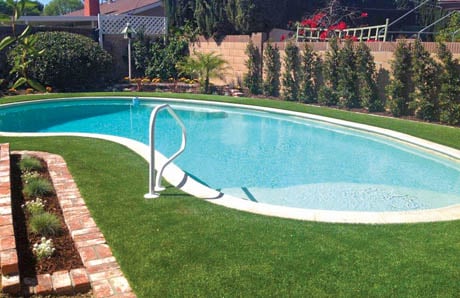 On this kidney pool in California, the water-conscious homeowners chose a fuss-free synthetic lawn over natural grass.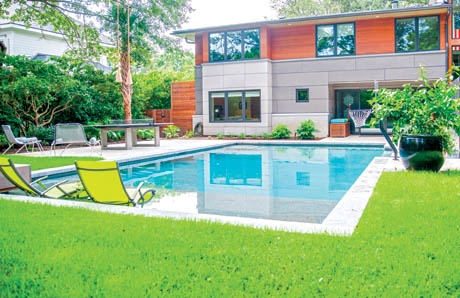 Because the family ping pong table required a hard, level surface, the decision was made to use concrete for a portion of the deck area, while verdant grass was used for the rest.