—Style tactics to enhance an organic aesthetic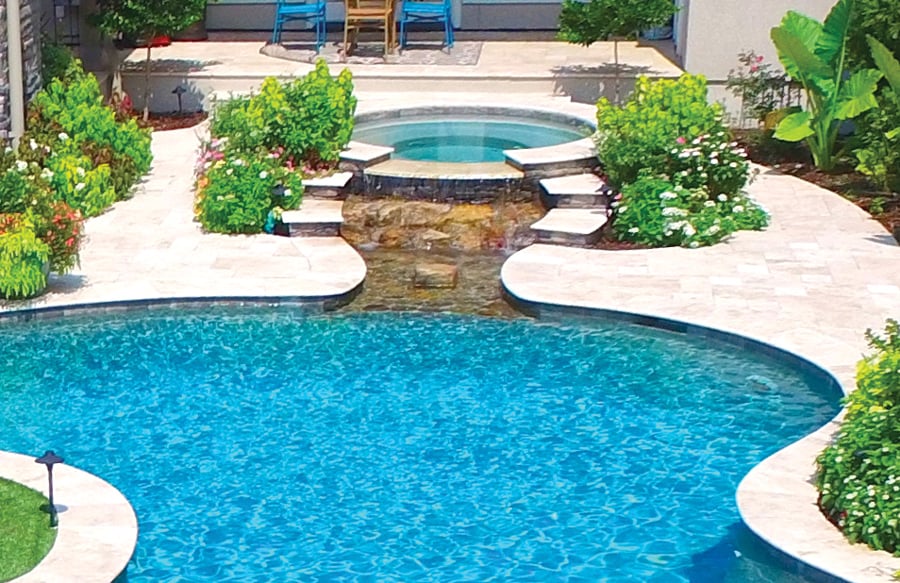 Incorporating stone into a swimming pool is a favorite design technique used in backyards across America.
You have probably seen custom pools with stone elements such as tile, decking, perimeter coping, or a head-turning waterfall or grotto.
These are proven, go-to features with rock that amplify the "natural" factor on poolscapes with rustic, desert, or tropical themes.
But did you know there are many other stone applications to take the organic motif of an aquatic resort to the next level?
Today, you have a variety of options that are less well-known for marrying rockwork into a gunite pool's configuration—even some for including the material below the water's surface.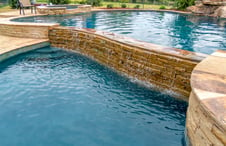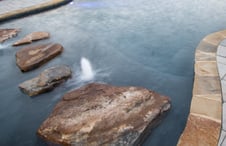 REAL OR FAUX
Variations of flagstone—such as bluestone, limestone, and sandstone—are popular in pool and deck construction. So are granite, travertine, and quartzite. The availability of each differs by region.
But if natural stone commands a high price where you live, there may be an alternative: You can achieve attractive results around a backyard pool & spa using a simulated version as well.
Pool builders produce an artistic facsimile using gunite—the same material used to build a pool's highly durable shell. The material is shot over a form—a cage-like scaffold of rebar and wire mesh.
Then, craftsmen carve the material while it's still wet in order to simulate the shapes, surfaces, and crevices seen in actual rock. Finally, they then stain the material to capture the look of the real McCoy.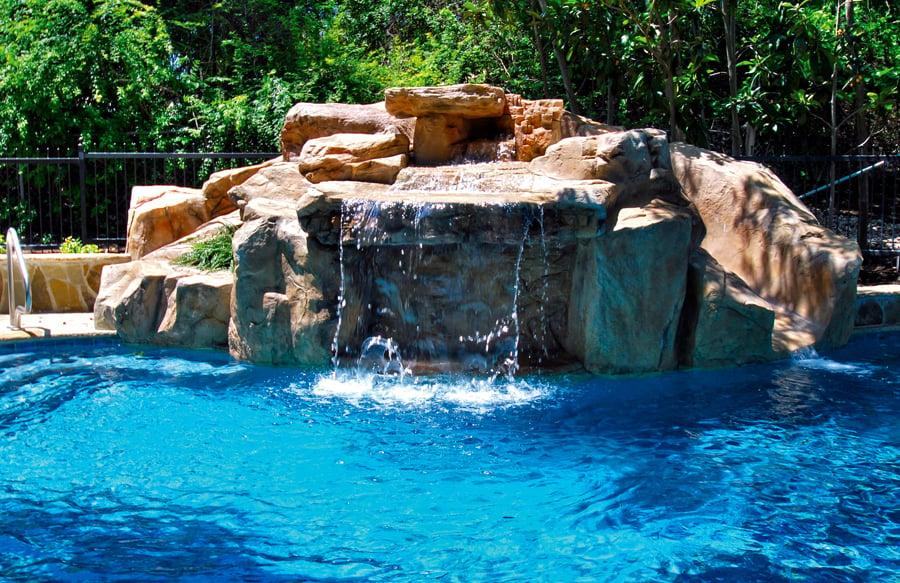 Note: Pre-cast boulders and waterfalls are also available. Factory-formed from concrete derivatives, they are not widely used due to their lackluster appearance. You find them used primarily by less-experienced contractors and in less-sophisticated pool markets where quality masons for natural and faux stonework are hard to come by.
Regardless if you use natural or imitation rockwork, let's take a look at some newer, more innovative ways to "rock out" your pool design.
BOULD-ER ACCENTS
If your pool plan will include a rock waterfall or grotto, capitalize on its dramatic presence with carefully placed accent boulders in the layout.
Or, for a more cost-effective option, ask about including a few boulders in lieu of a waterfall. Doing so is an effective, affordable way to enhance the natural style of any pool.
Best of all, accent boulders work very well in an array of locations around the pool whether they are natural stone or the faux version.
1. Perimeter positions
The most common approach to using accent rocks on a pool is to place them strategically around its border.
Small boulders can go on the pool's bond beam or pool coping or—for pools without coping—the edge of the deck where it cantilevers over the pool near the pool entry steps, a pool bench or loveseat, landscape pockets, or transition points in the pool's curves.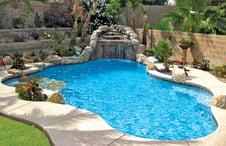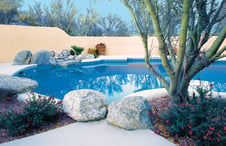 One favorite method: Set these accent pieces to loosely flank a waterfall's base to visually "extend" its overall impact and organic motif.
Another popular spot for small perimeter boulders is around a gunite spa.
Stones can top the spillway section of a spa where the water pours over into the pool.
You can scatter a few around the perimeter, or place real or faux accent boulders around the spa.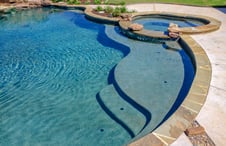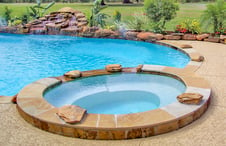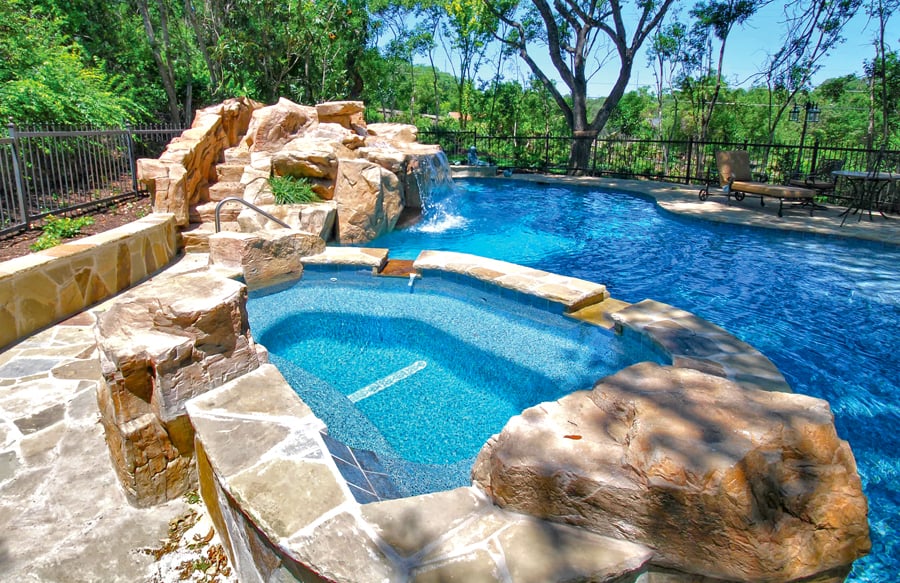 A more original way to use these decorative additions is on an infinity pool. Bookend each side of the pool's overflowing edge with a boulder, which will call more attention to this custom feature.
The same goes for placing a boulder semi-submerged on a tanning ledge.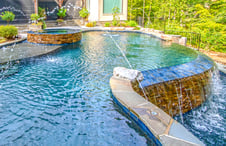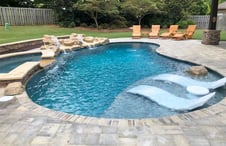 2. Flanking an entry
On a high-end pool that's large enough for a beach entry (aka a zero-entry), you have several excellent opportunities for placement.
One is to punctuate the sides of the aquatic entrance. By lining each with stones, you draw eyes to this unique element and create a kind of "gateway" effect into the water.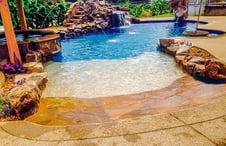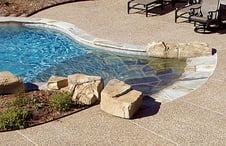 3. Marking the threshold
The other tactic involving a beach entry swimming pool is to "visually announce" its sloping path directly where people enter.
Placing a boulder in an inch or two of water not only makes for an appealing flourish, it signals the elevation change awaiting anyone walking into the water.
For added flair, a boulder can even be plumbed and turned into a bubbling fountain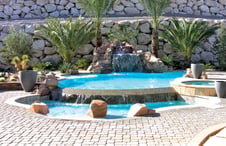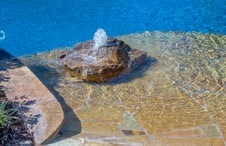 4. Floating Steps
Beyond playfully tricking the eyes, these captivating features provide practical functionality.
By placing the stones along structures such as tanning ledges or raised sections of pool floor in an already shallow area, they seemingly float along the water's surface for a mesmerizing attraction.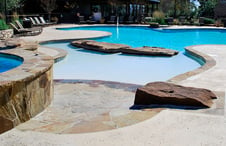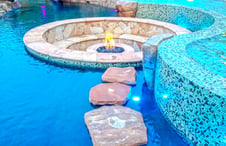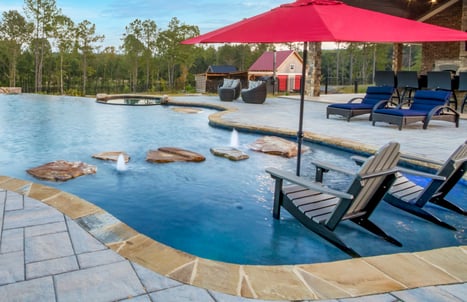 5. Hard alternative
Are you building a backyard pool that can safely accommodate a diving board?
If you are not wed to the spring-action that a board provides users, there is an option that's tailor-made for a nature-inspired poolscape: a jump rock.
This feature, which serves as a larger, more specialized kind of accent rock, can be fashioned from quarried rock or formed on-site using man-made material.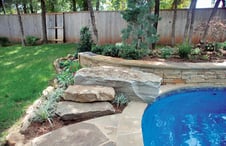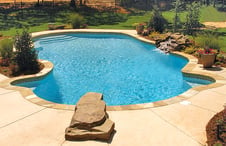 So, instead of a factory-made accessory by the pool, you will have another rugged, earthy element in your outdoor space.
STONE INSIDE THE POOL
Including stone accents around the pool Certainly increases its organic quotient.
But there are also ways to include rockwork inside your pool—and even directly in the water. Let's see some examples of how.
6. Submerged veneer
One highly visible method is to cover specific surfaces of the pool in one of the many varieties of natural stone.
Ideal structures for this fascia treatment include pool steps, benches, and tanning ledges.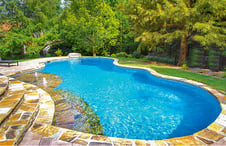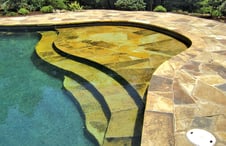 When it comes to stone cladding, a beach entry—once again—provides a special opportunity. A superb choice is to top the entry in bold stone veneer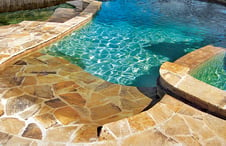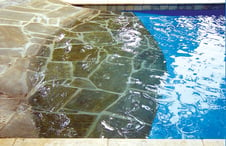 For any of these interior pool features, decorative stone fascia makes an especially bold statement if the surrounding pool and patio deck plan calls for a complimentary stone.
But natural stone cladding also works well if the pool deck is another material, such as decorative concrete that's stained or finished in a coordinating color or accentuating acrylic overlay.
7. Surfacing the infinity
If budget and backyard topography allow for an "exposed" or reverse infinity pool, you have another tremendous opportunity for an eye-catching exterior treatment.
In this kind of special infinity design, the backside of the vanishing overflow wall and its catch basin are visible. Instead of being hidden from view in an inaccessible spot (such as a hillside or canyon edge), the structure is designed to be seen and enjoyed by those on the deck and patio area.
Flagstone can be used to cover the exposed overflow wall and basin below it. The stone-faced structure and falling water serve as a distinctive backyard attraction.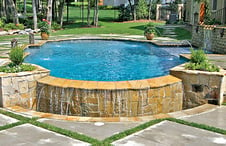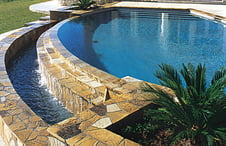 You can also use a stacked pattern of ledger-cut pieces. A stacked arrangement and rough, irregular texture on the stone surface will disperse the water's travel path, creating added visual interest.
The same goes for using stone to cover the exposed wall. This option is especially well-suited for a rustic or desert pool aesthetic.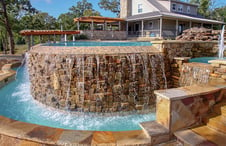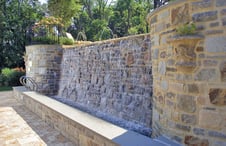 8. Rocking tables
The number of pools with swim-up tables with stools and/or benches is small. But this trend is rising and gives you another way to bring stone into the swimming environment.
In most projects, pool builders form the tabletop and stools on-site using poured concrete. Crews finish the tables in colorful, 1" x 1" ceramic tile.
But you can also use larger tiles cut from natural stone. Another trick is to stain the concrete to simulate the genuine material.
For a more "imperfect" table shape that compliments a lagoon-type pool or one in a woodsy, country-like setting, a bespoke alternative is to use a natural stone slab for the tabletop.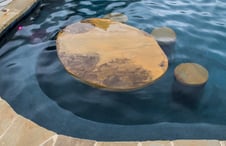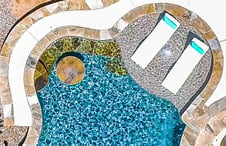 This approach produces an intriguing end result. However, the table surface may be more difficult to maintain, and in some parts of the country, may carry a higher price tag.
STONING THE SLIDE
Is a pool slide on the agenda for your new aquatic playground?
If so, you want this feature to blend as well as possible into the setting—particularly if the design is organic.
Three kinds of swimming pool slides are available to choose from:
- fabricated freestanding pool slides that are mounted on the deck;
- fabricated "landscape" slides—flumes (the "runway" you slide down) designed to incorporate directly into a rock waterfall for its base; and
- custom, poured-on-site flumes that are fully fused into a rock waterfall structure.
Let's see how real or imitation rock can be used with this fun aquatic feature in an appealing manner.
9. Surrounding a slide
If you will buy a deck-mounted model, pick an earth-tone color such as grey or beige.
Better yet, if you plan a rock waterfall, combine it with the deck-mounted pool slide: Doing so will downplay the presence of the prefabricated unit by partially integrating it into the masonry.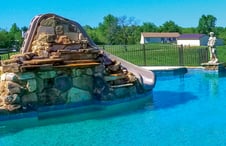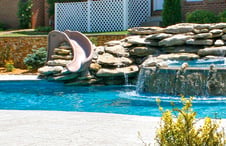 For the most natural aesthetic, a preferable option is a custom rock waterfall slide—a landscape slide that's incorporated into a natural or faux masonry structure.
Two options for a landscape slide are possible.
One comes from a factory with a flume specifically configured to nest into a large rockwork formation that's tailored around it.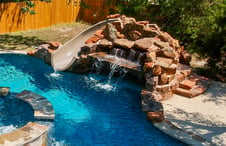 On a landscape slide, rockwork—real or simulated—can form the steps up to the slide. Small boulders can be used to line these steps, serving as an alternative form of handrails.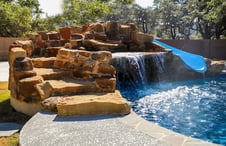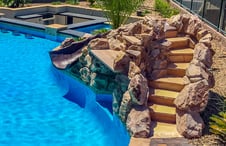 10. Pouring a flume
The other kind of landscape slide is formed right on the job site, usually on the same day that crews shoot the gunite pool shell.
In some cases, this version is built only if your contractor is building a rock waterfall or grotto using the faux technique, versus actual stone.
As crews form the structure of the waterfall using manmade materials, they will carefully fashion the slide's flume.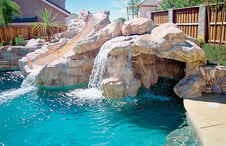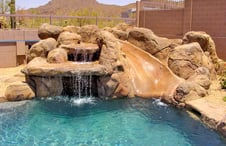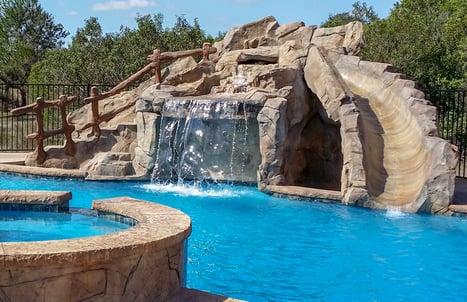 The result is a nearly seamless structure where the flume almost appears as if it was carved directly into the body of the waterfall!
Bear in mind, handcrafting an impressive slide flume like this is a true specialty, and tradesmen who perform this work are not available in all markets.
In regions of the country with ample supplies of natural stone from nearby quarries, masons tend to build waterfalls from this readily available material. Therefore, these markets may be less likely to have the kind of local expertise for these artisan flumes—or, only at a much higher cost.
ADDITIONAL SPA-PPORTUNITIES
Beyond adding accent stones, a gunite spa provides ample scenarios for employing stone in attractive, often surprising ways.
In most cases, the spa needs to be elevated above the pool. This position creates a spa dam wall with a larger, more versatile surface area to accommodate creative masonry.
11. Stoned walls
Specifically, stone can be added in interesting ways along the spa's entire dam wall and the open spillover section atop it.
For example, cut pieces can be stacked or layered in an array of patterns along the spa façade.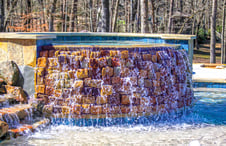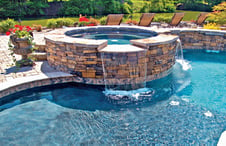 Real or faux rocks can also be used along the façade, but usually in a kind of "boulder-type" configuration.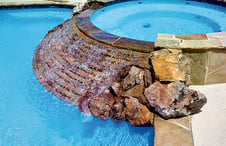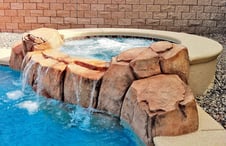 With enough stone—real or replicated—an experienced mason can make the entire spa structure look almost as if it was cut from a rock formation.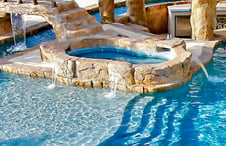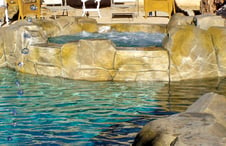 12. Spa-terfalls
The facades of most spas are finished with ceramic, porcelain, or glass pool tile.
But if you want a tropical pool design or other kind of organic theme, don't miss out on inventive uses of stone on an elevated spa.
On some projects, extensive use of stone in a strategic configuration can transform its façade and spillway into a lovely waterfall unto itself.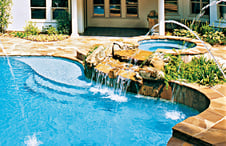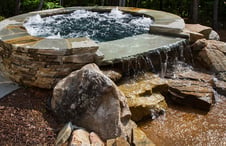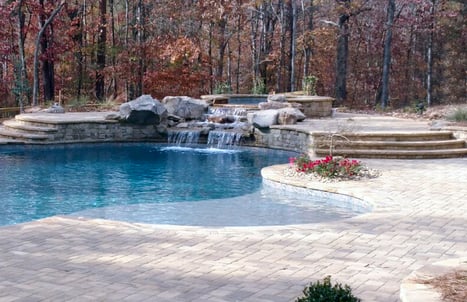 This kind of artistic masonry can be executed using natural or faux rock. With either material, the result is a beautiful focal point in any backyard.