—Surprising ways this essential feature can enhance your gunite pool & spa—with photos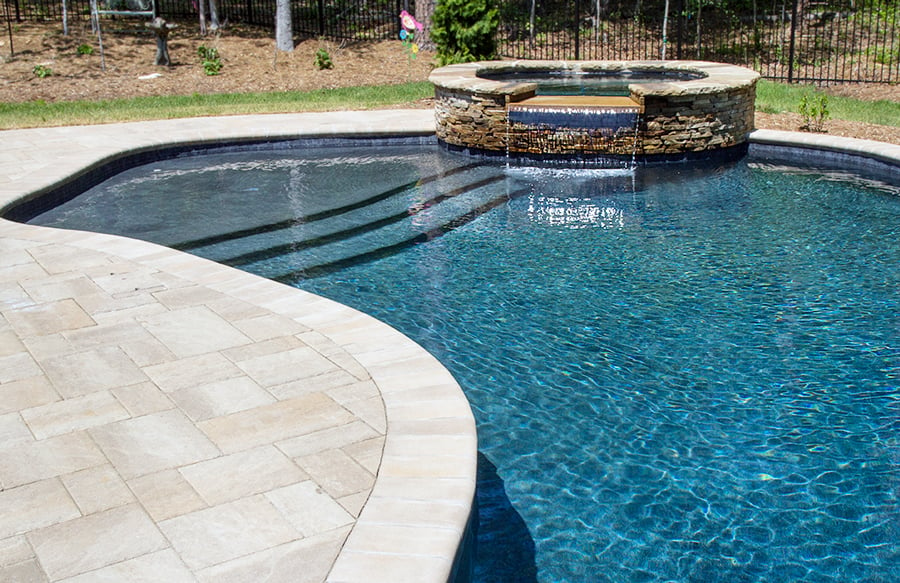 When homeowners plan a new gunite swimming pool, they usually don't think of its entry steps as a "fun feature" or decorative element.
Instead, they usually view steps as a necessary utility—a feature that facilitates moving in and out of the water. Period.
But steps can be so much more!
On most inground pools, applying thoughtful strategy to how the steps are designed will bring extra rewards.
Savvy step design can enhance the pool experience, delivering greater enjoyment, convenience, versatility, and overall aesthetics.
These "basic" features can provide a welcoming venue at several water depths for engaging in various activities.
On swimming pools across the globe, steps provide a kind of set of training wheels for beginning swimmers, shallow play spots for young children, and handy perches for both kids and grown-ups to casually linger in the water.
Pool steps also serve as a seating/lounge area—a favorite spot where you can socialize with people outside the water. And with clever design, steps can be an eye-catching feature in their own right.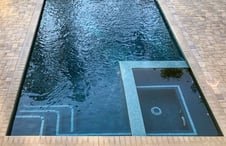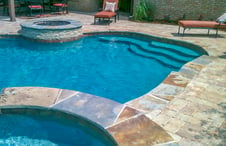 Proper step placement
First things first: Where do entry steps go in a pool?
Their location is key.
Above all, their location should make entering and exiting the water easy. Step placement should also maximize convenience and pedestrian flow for those on the pool deck and patio area.
With the possible exception of a complex custom pool, the entry point and steps should always go in a shallow area.
To determine the winning spot for the steps, experienced pool designers first evaluate how the entire pool will fit within the context of your overall outdoor living space.
Designers typically analyze factors such as the pool's proximity to your house, backyard doors and windows, nearby pedestrian paths, the layout of the pool deck, outdoor seating, cooking and dining areas, views and scenery, landscaping, backyard fencing and gates, and other elements or special amenities on your outdoor property.
Getting in and out of the pool should follow a natural path—harmonizing with pedestrian movement around other backyard amenities, doors, and walkways.
Reaching the pool entry should be efficient. On each pool, that point will vary.
In some cases, what works best is putting the entry steps adjacent to an attached gunite spa. Doing so facilitates movement between the spa and the pool.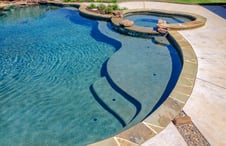 On other projects, a practical location may be a corner of the pool. Or, they may be better at the mid-point of a long side of the pool. On another pool, the optimal location might be all the way at one end.
ISPSC Pool step standards
Typically, residential pools are built with three steps, and the steps' dimensions follow the International Swimming Pool and Spa Code (ISPSC). These specifications promote safe entry and egress into and out of the pool water.
Width
Width is how far out the step—whether straight or curved—extends from the side of the pool.
For the pool's top step, the IPSC requires a width of at least 10 inches. However, for safety, the industry norm is at least 18 inches.
Each step thereafter must be at least 10 inches wide.
All steps should also provide at least two feet of unobstructed horizontal surface area.
Length
Length refers to how far the step runs along the pool wall or parallel to it.
Per ISPSC, the top step must run at least 24 inches long. Each one thereafter will be longer as needed for the step's overall configuration.
It's worth noting that many modern pools boast first and second steps that are much longer. The extra space provides added functionality and uses, as explained later in this article.
Height "risers"
The ISPSCalso addresses step height in terms of "risers". A riser is the vertical space between one step and another.
IPSC standards call for a riser maximum of 12 inches. However, shorter risers are appropriate in some cases.
For example, if young children or those with mobility challenges will regularly use a backyard pool, risers that are only 8 to 10 inches will be physically easier to climb up or down.
Whatever the riser height, it must be the same on all steps—within a one-inch variance. So, if one riser is 8 inches high, the second and third ones must measure the same within one inch.
Consistency in riser height helps maintain safety. Anyone entering the pool knows what to expect each time they extend their leg downward to reach the surface of the next step.
If riser heights did not match, entering the pool might be jarring; you would encounter a step that's unexpectedly shorter or taller than the previous one.
Choices for size, shape, formation
While the shape of steps in fiberglass and vinyl liner pools are heavily limited, that's not the case with gunite projects. When construction uses concrete—gunite or shotcrete—versatility reigns supreme.
Concrete designs feature a variety of step sizes and shapes—all tailored for each individual project. The size, shape, and design of the pool directly influence these three elements in planning the steps.
Depending on the design of the pool, the step length and width—as long as they meet building code—can vary greatly.
Take a set of linear steps, which look similar to a straight staircase. They may run three feet in length—or five, ten, or even more.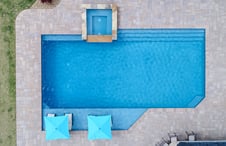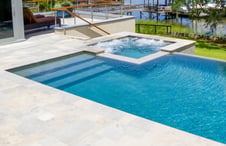 For example, positioned at one end of the pool, the linear steps could span the entire width of the shallow end, which typically ranges 12 to 20 feet.
Now, if the pool is shallow throughout (no deeper than about 3-1/2 feet), the steps could stretch across the pool's entire length. That could be 30 or 40 feet!
When it comes to how a set of steps is configured, a variety of approaches are possible.
For example, tucked into a corner, pool steps can take a round, square, or rectangular "wedding cake" formation.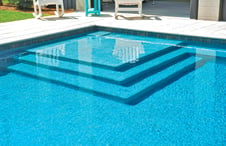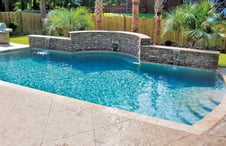 Another choice is an asymmetric arrangement. Another is "stadium-seating" style. In this format, linear "rectangle" or slightly curved steps at one end of the pool span its full width.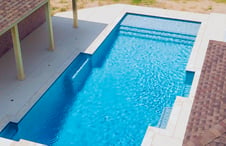 On some projects, the step arrangements are highly specialized for the design of the particular pool and the position of the steps.
For example, a builder can pair a beach entry with steps. On this space-saving hybrid, the entry begins as a slope.
But instead of extending the roughly 15 to 20 feet often needed for this specialty feature, the slope ends at just several feet; then, one or two steps lead into the pool's shallow end.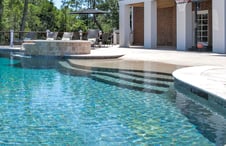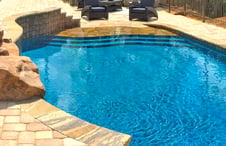 Step shape can also be customized. While traditional linear steps remain popular, gunite builders also fashion steps using circular shapes and flowing curves.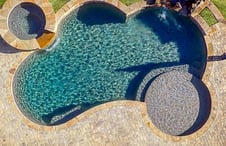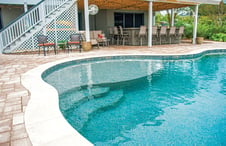 Designing steps for optimal use
While the fundamental function of steps for entry and exit is obvious, less so is their potential for relaxation in the water, amusement for small children, and as hubs for socializing.
Again, a solid design strategy will maximize what steps can offer those who will be using the pool.
Currently, two increasingly popular trends take the mundane pool step and essentially turn it into a special amenity.
The first is incorporating a tanning ledge. The trick here is to create an extra-large first step that performs double duty as a tanning ledge.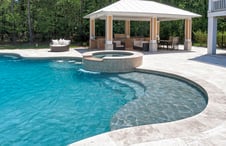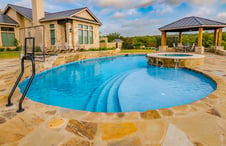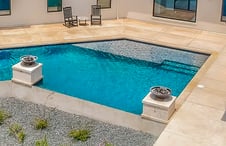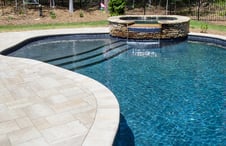 Along with looking good, this pairing is a space-saving tactic: Because you won't have to dedicate additional square footage elsewhere for a tanning ledge, you maximize interior swimmable space.
You can ask your contractor to make this hybrid feature large enough to accommodate furniture such as one or more chaise lounge chairs. To shade your tanning ledge, simply ask your builder to include a sleeve to hold the pole on a patio umbrella.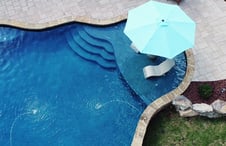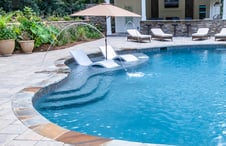 Another favorite hybrid is what's called an extended second step.
Running 18 inches deep—the same depth as a pool love seat—this customized structure continues past where it would traditionally end.
The special step wraps along the pool wall for another four to five feet, forming a bench. On some pools, the second step extends in both directions, creating two benches.
Sometimes, the second step's bench extension runs longer. In fact, it may span the entire length of the pool. Particularly if the pool has a deep end, tired swimmers appreciate this extra-long seating opportunity!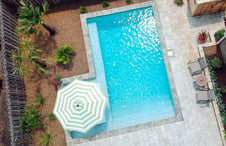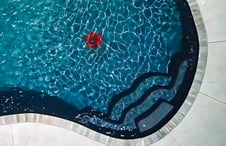 You can also consider a special variation on the extended bench.
Instead of a bench that's just wide enough for sitting, make it a couple of feet wider so it becomes a large ledge.
At 18 inches beneath the water's surface, this ledge gives children a play spot that's deeper than a tanning shelf. Grown-ups will also end up using it as a conversation area.
Stepping to the pool's style
With smart planning, steps will complement a pool's overall appearance.
To do so, the design of the pool should drive the design of the steps—heavily influencing decisions about their shape and style.
For example, take a curvy lagoon pool. You probably would not want linear steps; their hard edges would clash with the pool's soft, free-form silhouette.
Instead, wavy or rounded steps would align better with the pool's organic theme.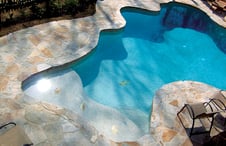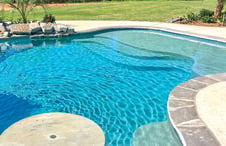 However, linear steps would be an excellent match when picking other pool shapes.
On a rectangle, modified rectangle, or other straight-edge geometric pool, these sleek steps would reflect the pool's architectural lines.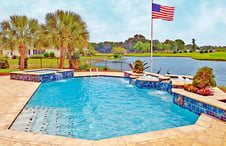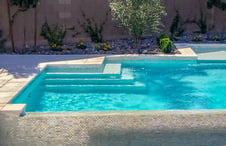 Arranged in the stadium-seating style, linear steps are also a frequent choice for Roman-Grecian pools.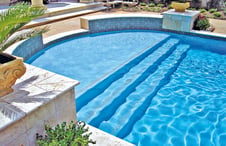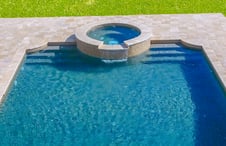 Adding interest and more
Some pool builders like to visually define the steps with a bit of decorative flair.
For example, they trim the step edges with a tile border. Or, they embed a colorful accent tile in the center of one or more steps.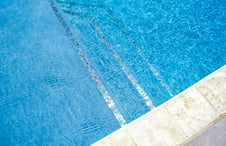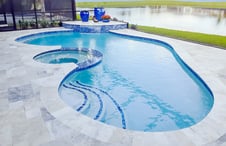 In some parts of the country on a high-end project, the steps can be covered in flagstone.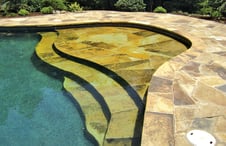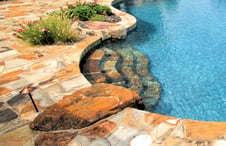 Another approach is to usher in a bit of whimsy. Pre-designed pool mosaics come in symbols, emblems, and various sea creatures, and they're an affordable way to embellish the steps.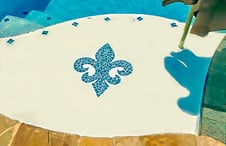 Among the biggest trends for highlighting pool steps: integrating bubbler water fountains. Builders plumb in one, two, or three of these playful water features on the top step.
Even when the pool is not being used by anyone, these soft, frothy fountains bring a dash of liquid motion to the aquatic scene.
In high-end custom projects, you can ask to illuminate the bubblers with color-changing LED pool lights for greater night-time drama.
Special considerations
Who will regularly make use of your backyard pool?
It's important to consider their needs when planning the steps for your new aquatic resort.
For pools that will be used for fitness, the top step is often used as a resting area for swimmers. And some people sit or hold onto a step while performing aquatic stretches or reps of weight or cardio exercises.
That consideration might warrant longer or wider steps or an extended-second step/bench.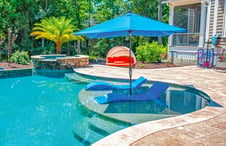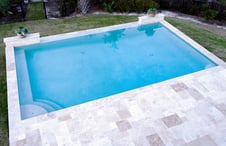 For lap pool designs, step placement requires extra attention. Steps should be off to one side or in another carefully chosen spot.
Proper positioning will ensure an unobstructed swim path. It will also keep the pool wall at each end clear for pushing off and completing kick turns between laps.
Children, seniors, or anyone with mobility challenges may benefit from shallow steps—those with shorter risers of 6 to 8 inches. The same goes for building extra-wide steps with plenty of space for foot placement.
(Have a pooch who likes to swim? As a bonus, your pet may find a shallow top step more inviting to cool off in the water—and more conducive for an easy exit.)
Another way to ease movement in and out of the water is to equip the steps with handrails.
Handrails have come a long way in terms of design. Today, these accessories come in attractive architectural—almost sculptural designs.
Stepping ahead…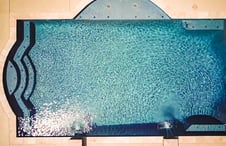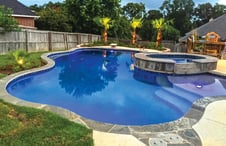 Of course, a set of entry steps will never win first place for aquatic eye candy. They can't compare with towering rock grotto waterfalls, elaborate swim-up bars dramatic water features, raised rim-flow spas, and other captivating options.
But with clever planning, these otherwise-simple structures can serve as notable, highly functional features that enhance your pool's visual appeal and how your family enjoys it.