—Understanding styles and features on deck-mounted units for inground pools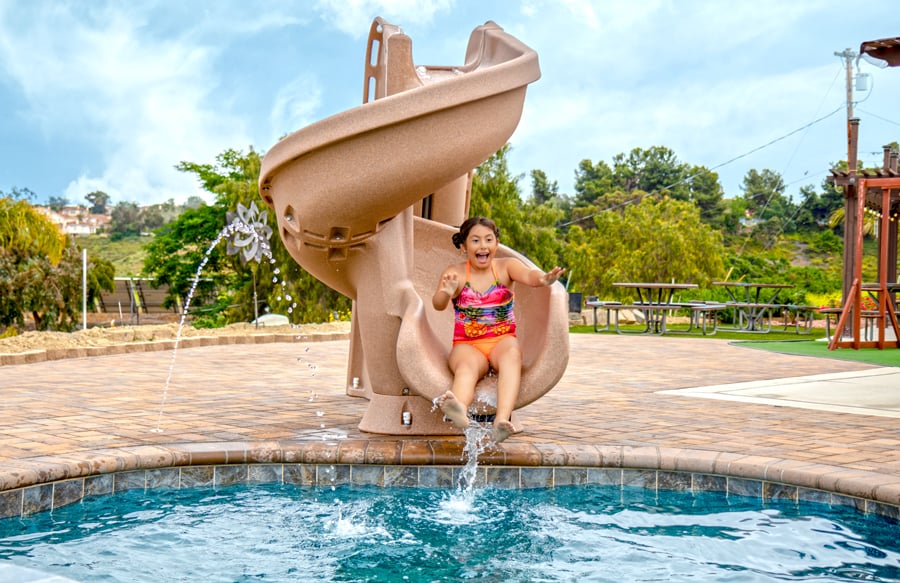 Free-standing swimming pool slides provide a terrific way to capture a little waterpark-style excitement at home in your backyard. Particularly if you have children, this fun-filled aquatic accessory is an ideal option to consider when building or remodeling an inground pool.
In the past, pool slides typically came in one basic model—a fiberglass body with a straight flume (also called a runway) and metal ladder attached to the rear.
However, this pool accessory has evolved for the better: Fabricated models come in a variety of sizes, shapes, and colors, and they are made from more appealing, more resilient materials. They boast improved safety and comfort features, and some models can accommodate users up to 275 pounds.
Professional installations also include plumbing for greater ease. Without dragging a garden hose up the slide, an integrated plumbing line will automatically bring water to the unit for a smoother, more comfortable ride down into the pool.
Advances like these mean that free-standing pool slides have never been safer. Nor have they ever been more durable, attractive, and comfortable to use. Other design innovations have upped the excitement quotient on the ride down, making this pool accessory increasingly popular among American homeowners.
Residential pool slide categories
Choices for a backyard pool slides fall into two main groups:
• pre-fabricated, free-standing models that mount onto the pool deck, and
• custom-built structures—also called landscape slides—that typically integrate into a rock waterfall or grotto configuration.
High-end landscape slides are a superb addition if your pool budget allows for this premium option. Our discussion here focuses on the pre-fabricated versions, which are known as "free-standing" or "deck-mounted" pool slides.
Free-standing pool slide options: model styles and features
Today's free-standing slides offer variety on several fronts. One new model on the market is even portable, allowing you to remove and store it out of sight when not in use.
Learning in advance about available slide styles and features will help you get a jump on selecting a model. To begin, here are the five primary options.
1. Flume / runway styles
The slide pathway that users travel down is commonly referred to as a flume; it's also known as a runway or glide path.
Along with slide height, the flume's shape and length influence the intensity and the adventure level for the gliding action. The longer the flume and the more turns and dips it provides, the more fun the ride!
Two basic flume shapes are available: curved and corkscrew. In curved flumes, the configuration / type and length of the slide varies by model. Some curved flumes include a small dip to vary the gliding sensation. In addition, several curved models are available in either a left- or right-hand orientation to ensure the best fit for various pool and deck layouts.
A corkscrew unit amps up the excitement in another manner—delivering a 360-degree spin. For added safety, these spiral-style models are produced with an extra-deep flume with high sidewalls.
Whether the slide travel course winds and dips or completes a full twist, all models offer water-splashed thrills for family and friends.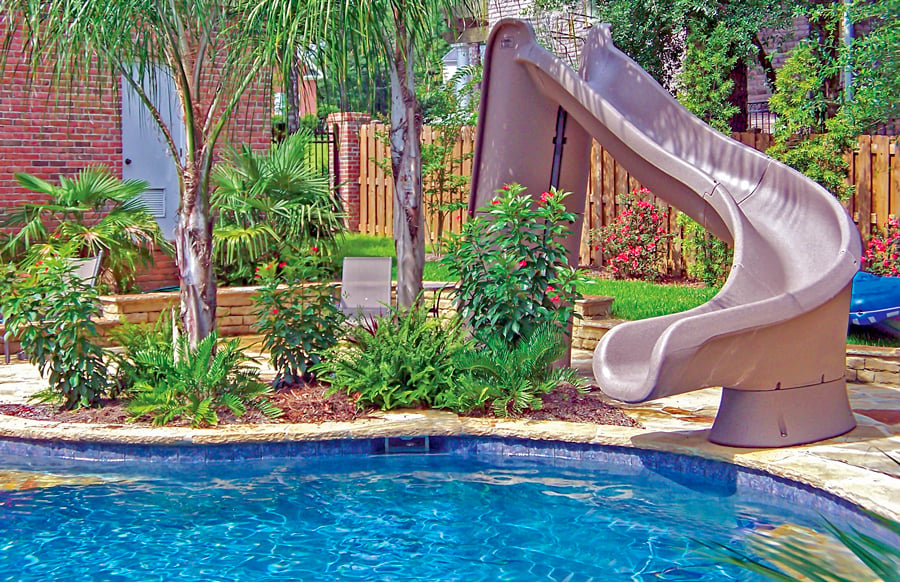 Clever greenery: Strategic landscape placement can help enhance the visual appeal of a free-standing swimming pool slide. Be that sure that any bushes or tree branches do not obstruct user access to the slide or extend over the slide flume.
2. Height profile
To accommodate various backyards and family needs, slide manufacturers offer free-standing models in different heights.
Tall slides are produced for models with the longest flumes with greater curves or twists. Short-profile designs were developed as a solution for particular needs, such as young children, smaller budgets, limited deck space, and HOA community height restrictions.
Along with the weight of the individual using the slide, the combination of slide height and flume length and shape impacts the speed and intensity of the ride down into the pool water.
—A note here: Following industry standards, the pool depth must properly accommodate the particular model of slide to help ensure safe use. Pool contractors design pool dimensions with a specified minimum depth under the slide.
Compact slides stand four to five feet tall. The more-popular, full-height models range from nearly seven-and-half to more than eight-and-half feet tall.
3. Footprint size
A slide's footprint represents the amount of surface space that the unit will cover on the pool deck.
Models with a curved flume generally require more space than a comparable-height unit with a corkscrew flume. However, even a compact curved model requires more than 30 square-feet of deck.
Generally speaking, the longer the flume, the larger the slide's overall footprint. For corkscrew models, the spiral shape helps minimizes the footprint size despite its lengthy flume.
Slide models from quality manufacturers specify the minimum deck square footage needed for proper installation. Your contractor will rely on these guidelines when determining where to position the slide within your pool and deck configuration.
4. Color
To better integrate with backyard décor and overall poolscape colors, residential pool slides come in several colors: white, blue, grey, and taupe. Natural stone patterns in neutral tones are also available in some models.
With a number of color choices, you can find a slide that better complements your pool, deck, and other backyard features. You may be able to coordinate the slide color with other backyard features, such as the color of your pool tile, patio furniture, or the trim on your house.
A favorite approach is to pick a color that reduces the slide's visibility. For example, if your new travertine deck will consist of beige tones, opting for a slide in taupe—versus blue or white—might be a smart choice. Doing so will produce a kind of monochromatic effect—de-emphasizing the slide in your overall pool-patioscape.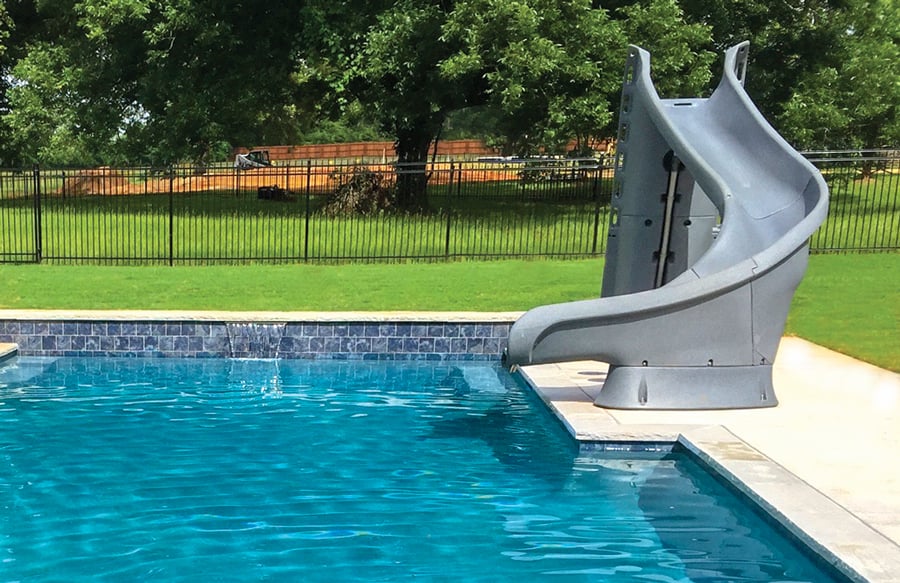 Beyond white: Today's deck-mounted slides come in several colors. In this backyard, the homeowners opted for a grey slide that echoes the grey tones in their swimming pool tile.
5. Safety & Comfort
Thanks to the U.S. Consumer Product Safety Commission (CPSC), modern free-standing slides from reputable manufacturers are safer than ever.
The CPSC defines more than 48 construction, material, and performance standards that slide manufacturers must meet to receive the highest safety rating. As a result, newer slides have features that enhance safety, as well as user comfort.
Depending on the specific model, units may include high sidewalls/a deeper flume and non-slip treads on the steps. Instead of a separate, attached metal ladder, some models have enclosed steps—manufactured in a uniform roto-mold using the same material as the slide structure. Ditto for the handrails, which makes them more comfortable to grip.
Never roll the dice and buy a second-hand pool slide that may lack these safety improvements. And don't dare consider using a regular playground slide that was not engineered for an inground pool!
Hands down, choosing your slide at the same time your pool is being built or remodeled is the smartest way to go: As long as you work with a reputable pool professional, the models they offer will come from a quality pool-slide manufacturer and carry the CPSP rating.
Professionals follow industry and manufacturer protocols for installation, which specify standards for minimum water depths under the slide, proper positioning on the deck in relation to the pool structure, and other technical variables.
As a result of using a pool professional, the "safety" factor in your slide selection will no longer be an "option"; instead it will be automatically included, as it should be!
Finalizing your pool slide model choice
Now that you have a general understanding of the five key options available on deck-mounted slides, you and your pool contractor can consider other personal factors and project needs that will drive your final choice.
These considerations revolve around your pool and patio configuration and related technical requirements, as well as your family's lifestyle.
When it comes to the technical requirements for slide installation—from the plumbing schematics to the precise location on the deck—depend on your pool professional to handle these critical details. They will develop a detailed layout and position your new pool slide to align with industry safety protocols while providing ease of use.
As for your family's lifestyle: This involves various considerations, ranging from user functionality to backyard aesthetics. The age, physical stature, and personality of your children will be a driving force in the model you choose. Of course, your pool project budget will be a factor as well.
Again, when evaluating these pre-fabricated units for your family, work closely with your contractor to navigate through these considerations. They will guide you in choosing the right model of pool slide for your budget, family lifestyle, and individual preferences.
With a new pool and an action-packed water slide, you will have lots of outdoor entertainment to look forward to. A free-standing slide makes a wonderful addition to any residential pool, providing hours of sun-splashed joy for young children, teenagers, and adults alike.