—Learn the benefits of portable spa models compared with custom concrete spas
Click here for part 1 of 2: Portable Hot Tubs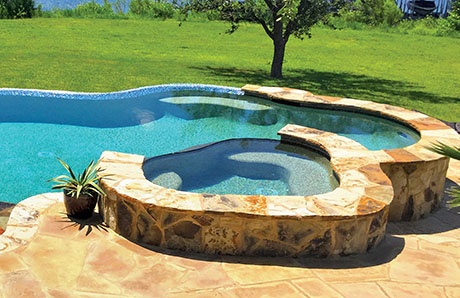 Part 2: Inground spas
A portable hot tub or an inground concrete spa—which one is right for you?
As discussed in part 1 of this article, both prefabricated hot tubs and their custom-built counterparts offer terrific benefits for your home and lifestyle.
Both can promote fun, healthy outdoor living for your family. In particular, their warm water and hydrotherapy jets soothe muscles and provide therapeutic benefits for various aches, pains, and ailments.
The concrete (gunite or shotcrete) version of this amenity can be built as a stand-alone spa or as a compliment to a swimming pool. Plus, since you can tailor it with an array of attractive design features, a concrete spa can also permanently enhance the appearance of your outdoor space.
You can enjoy an inground concrete spa with or without a swimming pool. Let's take a closer look at the design construction, and advantages of these custom creations. Then, you can decide if a concrete option or a pre-fab hot tub is your best choice.
Inground spas 101: How these concrete structures are designed and built
Like an inground concrete (gunite/shotcrete) swimming pool, concrete spas are custom-built to a homeowner's chosen design. Although often referred to as "inground," a concrete spa can be built in an elevated position—technically on the ground—vs. being level with the inground pool.
All spa features can be tailored to individual preferences: size, shape, steps, seating, jets, configuration, elevation, decorative finishes like tile and stone, and design options like the spillway through which the spa water flows into the pool.
Typically, a spa gets constructed at the same time as a new inground pool. In most cases, the spa is attached to the pool as part of the pool's monolithic concrete structure. However, you can also have a spa built separately from the pool.
However, even if you don't want or don't have room for a pool, you can still have a custom concrete spa—and the distinctive beauty it provides to most any backyard space.
From the design and construction standpoints, concrete spas differ significantly from portable hot tubs. Rather than being mass produced in a factory using standardized molds and uniform specifications, each concrete inground spa is constructed on-site using a unique design plan and the same construction materials and techniques as a swimming pool.
Construction sequence and materials
The materials used for both a concrete pool and spa have been used in around the country for decades: gunite and shotcrete. Both are a blend of sand and cement, but they have minor variations in the final mix and how they are prepared.
Regardless of which material is used, both create a rock-hard shell for the pool and spa, and the construction process to achieve this final result is the same.
It begins with digging: First, a hole for a pool and spa is excavated and shaped to follow the approved design. Then, a team arrives to install a network of reinforcing steel bars (called rebar).
Plumbing lines and electrical fixtures are also carefully installed to provide power and water flow. Fittings and plumbing for the spa's hydrotherapy jets also go in at this time.
Now comes the application of the gunite or shotcrete. Both forms are "pneumatically applied" concrete, meaning high-pressure air hoses are used. A specialist will spray the material over the steel rebar frame in the excavated hole.
Once dry, the concrete material hardens into a thick, tough shell. The next step toward completion is the interior finish. You can opt for traditional white marcite plaster, or upgrade to a blend with either color quartz aggregate or tiny colored pebble stones.
A variety of other functional and design options are available for a concrete spa. These include the total number, placement, and types of hydrotherapy jets, as well as finishing materials like tile, coping, and exterior stone that decorates the spa's walls. Additional embellishments can include fountains, wall sconces, mosaic flourishes, and color-changing LED lighting.
Prices and factors that impact construction cost
Depending on its size, style, and configuration, a spa typically adds about 15 to 20 percent to the cost of a swimming pool (for which prices vary greatly based on design, regions, and other factors).
For example, you plan a $40,000 pool. Adding a spa to the project may up the price tag by $6,000 to $8,000. However, the price could also go higher' costs vary widely. The final cost will be based on factors like your local market and the way in which pool equipment and options are typically sold there.
One of the biggest factors driving the cost is how the spa is configured in relationship to the pool: Will the spa be formed within the perimeter of the pool—usually in one corner of it—where the pool wall will form most of the spa's wall (as illustrated in this photo)?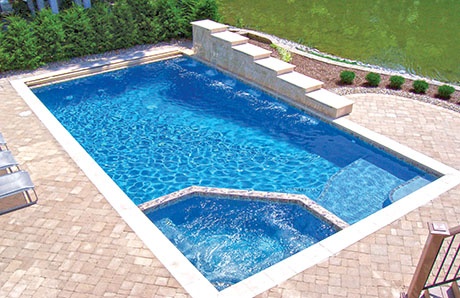 Or, is the design for an exterior spa? This kind of design is built chiefly outside the pool perimeter. Although the spa shares a portion of its wall with the pool, most of the spa structure is separate from the pool.
Concrete spa advantages
Pre-fab hot tubs offer many desirable features. But for many homeowners—particularly those putting in a an inground pool—a concrete spa is a much better choice. It delivers some incomparable benefits that it factory-produced counterpart just cannot. Let's take a look at them.
—Perfect harmony with pool
If you are building a concrete swimming pool, then including a concrete spa—referred to as a pool-spa combo—is almost always the best way to go. This double-duo design plan ensures that your spa seamlessly integrates with the pool for a truly pleasing final aesthetic.
Exceptions to this approach may be needed if a yard is tight or has a challenging layout or building obstacles. For example, space constraints may force you to locate a spa in another outside area, such as a side yard, instead of with the pool.
In some of these cases, a portable, free-standing hot tub may be a more practical solution. However, a stand-alone concrete spa may work just as well—and more beautifully—particularly if you build it at the same time as crews are putting in your new pool.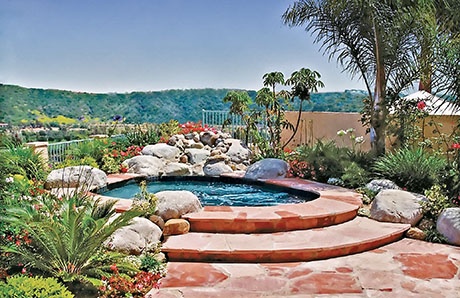 —Enduring value
Another major advantage that a concrete spa has over a hot tub is its long lifespan. Inground spas are built to last. Their durable concrete and steel construction typically provides decades of use.
In fact, when it comes to concrete spa guarantees, pool contractors often offer structural warranties for 10 years. Top builders will give you a limited lifetime warranty. Warranties on factory-produced hot tubs pale in comparison.
In addition, unlike a portable hot tub, a concrete spa is permanent. As a custom-crafted concrete structure that's built into your backyard, this kind of spa ranks as a genuine home improvement—a lasting addition that adds value to your home and property.
—Style & design versatility
As outlined earlier, a concrete spa offers superior flexibility for overall design. As with an inground gunite or shotcrete pool, superb versatility is one of the biggest payoffs of using concrete.
You can configure the spa as a stand-alone structure or incorporate it into your pool for a smart, cohesive look. If needed, you can also build a concrete spa as a separate, self-contained structure that's set a long way or few steps from the pool.
Make the spa as big or small as you like. As simple or elaborate. Build it in a standard shape or modify a basic silhouette to an original shape that mimics or accents the lines or curves of your pool. Get creative, and go for a design that you could never have in a pre-fab unit, like the cloverleaf shape shown here.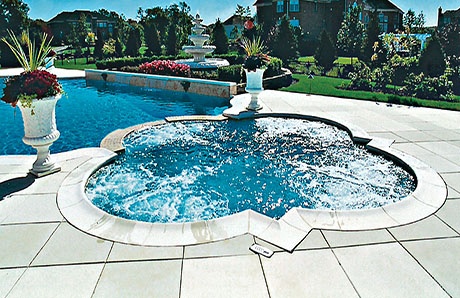 And when it comes to the elevation of your spa, it can sit level with the pool, or your builder can employ a favorite design technique to raise it up out of the ground. This popular approach provides an opportunity for an appealing "spillover"—an opening or channel through which spa water overflows in a cascade formation to the pool surface below.
A concrete spa can even include a distinctive infinity edge (aka vanishing edge). Or, it can take the infinity design to the next level with a full-perimeter overflow. With this design, as pictured below, the water spills over—all 360 degrees or all sides of the spa—recirculating into a collection area to join the pool water.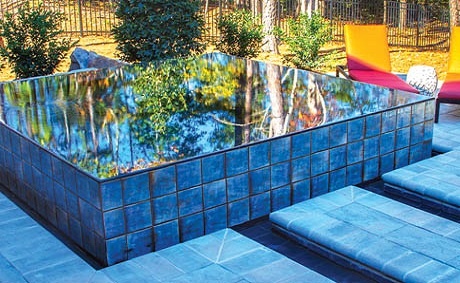 —Decorative options
No doubt about it, concrete spas beat out portable spas hands down in the "eye candy" department. Since each one is custom built, you and your designer can perfectly plan out yours to match your pool and the surrounding environment.
Along with immense design flexibility, you can choose to include a host of decorative touches. As noted, your interior finish can be upgraded to quartz aggregate or pebble blend. Available in assorted tans, whites, blues, greens, blacks, and grays, these specialty blends evoke images of nature like sand, rivers, ocean, lakes, and tropical lagoons.
Another choice you will have is for the tile to adorn the waterline. Deck out your spa with any number of choices in colorful ceramic patterns. For a modern sophistication, you can even spring to cover your spa walls with dazzling iridescent glass tile, just like the one pictured here.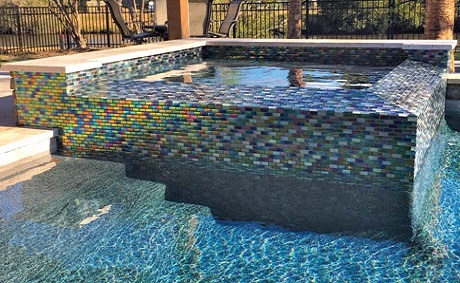 If your pool has coping—material between the pool and deck that covers the pool's dry, outer perimeter—seize the chance to cover it with your pick of natural stone or manufactured brick or paver stones. Coordinate your selection with the materials used around the pool, or pick contrasting ones for added drama.
In particular, a raised or elevated spa opens the door for plenty of embellishment prospects. This kind of spa boasts walls with highly visible portions, and here, solid wall are not obstacles; they're prime opportunities!
Here's why: If you have a pool, adorning the dam wall—the portion of wall directly facing the pool—with attractive tile or stone can turn it into unique focal point, as seen with the great examples of dam-wall artistry. In particular, the spillway or channel can become the star attraction as water gushes over or through it.
Concrete spas also allow you to include other distinctive features, such as fountains, water-spouting wall scones, sleek laminar jets, natural or faux rock waterfalls, and other water features.
Concrete spa considerations
—Construction time
Because a concrete spa is specially built on site, its completion takes much longer than a hot tub that's delivered by truck and hooked up on the spot. A concrete spa requires a series of specific construction phases, and the final result can take weeks or months to properly finish, vs. a single day.
However, as most concrete spa owners will attest, the superb beauty and long-term durability of a custom creation make the longer construction well worth the wait.
—Operation
Compared to a hot tub, a concrete spa may cost more to operate. What you ultimately pay comes down to a range of variables. Among them: local utility rates, how the spa is configured in relation to the pool, and factors like keeping the spa covered, frequency of use, and how hot you like the water temperature.
When built as part of a pool, a concrete spa typically shares some of the pump, heater, filter, lighting system, and sanitizing technology. If so, using the spa requires little additional maintenance over that of the pool.
However, if you have a spa only (no pool) or a spa that's built independently from the pool, all or most of the equipment and operation costs cannot be shared.
Overall, expect to spend more to heat a concrete spa compared to a hot tub. Keep in mind, if your builder provides energy-efficient, state-of-the-art pool equipment, then your monthly utility bill and maintenance cost for products like chemicals will be much more affordable.
—Heating
Heating is one factor where a hot tub with a cover usually triumphs over a comparably sized concrete spa. Covers for concrete spsa are available, and they can help spa water retain some of the heat between uses.
However, these covers don't tend to provide the nice, snug fit like their hot-tub counterparts do. Worse, they are not easy on the eyes. Plus, if your spa has a unique shape, finding an effective cover for it may be more challenging and pricier.
What this means is that you will usually need to preheat a concrete spa, and that lead time to fire up the spa will take longer and usually cost more than it would for a hot tub.
—Seating and hydrotherapy
Without you calling for a more specialized design from your builder, a typical concrete spas has fewer jets and seating options. More elaborate jet arrays and bench and lounge-style seating are possible upon request.
For example, your spa designer can take your measurements, and with this information spec out the ideal depth for your spa. However, going the extra mile like this will require more work by your builder and a greater financial contribution from you.
The good news here is that pool builders are more closely recreating the hot-tub quality hydrotherapy experience in concrete spas. A recent innovation takes the effective, powerful jet arrays found in hot tubs, and places it into a special, curved template—countoured for more ergonomic comfort.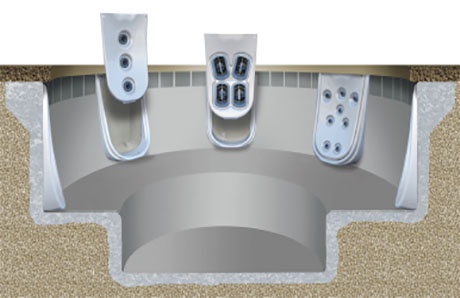 These sets of arrays goes into the spa wall directly behind the seat of a concrete spa. Available in several choices of massaging jets, these array installations are growing in popularity. Best of all, they are interchangeable so you can switch out one set of arrays with another for different kinds of massaging action!
—Other factors
Keep in mind that a custom spa can make a striking visual statement in your home's backyard. However, if you are not building a pool at the same time, the spa-only may be cost prohibitive: When constructed on its own, a concrete spa can cost about the same as a small pool.
That's because it requires all of the same construction phases, specialty craftsman, materials, schedules, permits, equipment—everything needed for building a pool. However, some homeowners still opt for this liquid luxury—splurging on a concrete spa for its handsome good looks and its long-term value.
The takeaway: Choose the version that right for you
Whether portable or concrete, hot tubs and spas make a great addition to virtually any backyard. One kind is not necessarily superior to the other.
What's "best" comes down to individual factors for each homeowner. Carefully consider the factors outlined here, and choose the version that suits your preferences, budget, backyard, and family needs. Then, soak up many years of healthy recreation and relaxation in hot bubbling bliss!