Stylish, functional features for your pool & backyard
Swimming pool design trends are constantly evolving. As new materials and technology come on the market and as pool builders take creativity to new levels, you have more choices than ever for options to add interest and character to your pool & spa in fresh, exciting ways.
Looking to up your style game for your backyard resort? Stay ahead of the Joneses by getting up to speed on these five swimming pool design trends for 2016.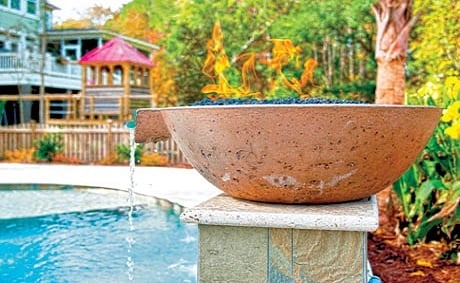 1. Combination fire-water bowls for accenting your pool
Add some sizzle to your swimming pool: fire-water bowls provide that "wow" factor and magnify the aesthetic appeal of any setting. You may have seen versions of these bowls in the past; some have fire, and some have water that overflows into the pool below. These design concepts have been combined to provide both fire and water in one dramatic feature.

Easy to install and operate manually or with a remote, fire-water bowls run on natural gas or propane. Your pool designer can show you various sizes, shapes, materials, and finishes from which to choose. For the greatest visual impact, it's best to position the bowls in elevated sections around the pool, such as on raised walls or columns. You can have one or several bowls around the pool perimeter. Regardless of the quantity, these gorgeous decorative pieces provide a focal point for any outdoor gathering!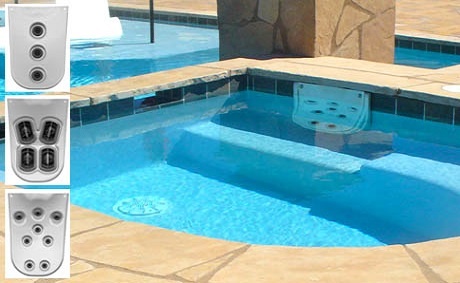 2. Custom spa hydrotherapy jets for relaxing massages
Take your relaxation to deeper levels with custom spa hydrotherapy. These pre-made "jets seats" with specialty jet arrays are not your old-school spa jets! This feature installs into the seating area of a custom concrete (gunite or shotcrete) spa to provide the kind of massage options typically found only in portable acrylic hot tubs.

A recent innovation, these custom spa hydrotherapy jets provide a tailored environment based on your body's needs—helping to stimulate circulation and relax sore muscles. Enjoy the versatility of these sophisticated jets that adjust for your ideal comfort to enhance your spa experience.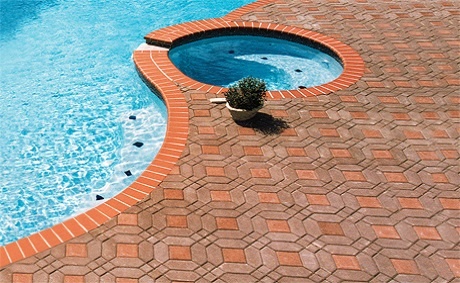 3. Concrete or natural paver stones for beautiful, durable pool decks
Increase the functionality and appearance of your pool deck with concrete or natural paver stones. Available in a vast array of shapes and colors—as well as in natural and manufactured materials like brick, flagstone, travertine, or colored, patterned concrete—these stones are professionally installed to form any size or shape of deck.

Pavers offer a durable, attractive alternative to traditional decking choices. Some forms of decking that are installed as a single, monolithic structure—such as poured concrete—have specific limitations. For example, repairs are more difficult when problems arise from stains, cracks, drainage issues, or soil contractions caused by drought. Paver stones, however, can be individually lifted out and replaced on an as-needed basis. To make your deck stand out from the crowd, consider pavers for the perfect combination of flexibility, performance, and eye-catching appeal.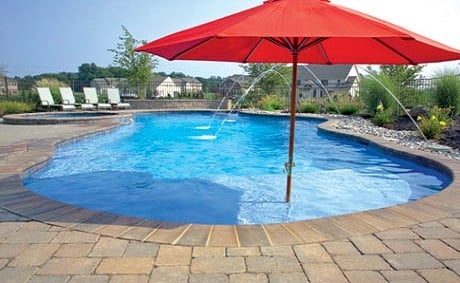 4. Pool tanning ledges with protective shade umbrellas
Streamline your relaxation with a shaded pool tanning ledge. These features, also called sun shelves or Baja benches, are shallow ledges (typically 3 inches) upon which you can place lounge chairs or lie partially submerged in the pool water. These features must be built when a new pool is constructed. Tanning ledges have been popular in recent years, and now are not only in higher demand, but are increasingly installed with a built-in umbrella. During construction a hole for an umbrella sleeve is poured into the ledge surface, so that just about any standard market umbrella can be added or removed as desired.

These ledges are a simple, highly functional addition to any pool: the cool, shallow water and ultra-convenient umbrella provide a respite from the hot sun—creating an ideal environment for reading or lounging. Simply adjust the umbrella to catch a few minutes of quality Vitamin D, and then revert back to your covered seating as desired. In your own backyard you'll have a personal retreat that captures the feeling of a vacation resort.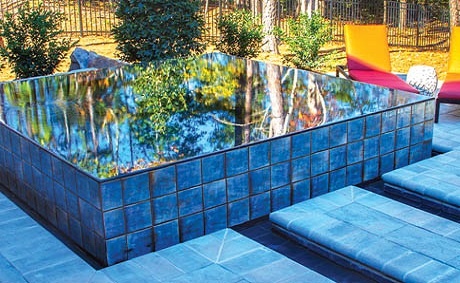 5. 360 degree Infinity spas to provide distinctive, vanishing-edge style
Bring flair and panache to your backyard scenery with a 360-degree infinity spa, a major new trend in pool design. With a regular infinity spa (also called a vanishing-edge or negative-edge spa), a portion of the spa perimeter—roughly one-fourth to one-third in a round spa or one side of square spa— is designed in such a manner that this edge appears to blend into the horizon. The visual effect is the same as with an infinity swimming pool.
With a 360-degree infinity spa, the infinity pool concept advances to a whole new level through an overflow edge around the entire spa perimeter. The appearance is stunning, with the full "negative edge" spa creating an almost mirror-like surface that reflects the sky and images of nearby trees, waterfalls, statues, fire bowls and other decorative pool and landscape features.
These five swimming pool design trends for 2016 bring a whole new dimension of style and personality to any project. Whether building a new backyard resort or remodeling your existing one, be sure to ask your pool contractor about options like these.