—From swimming pool shape to water filtration, tips for harmony and positive energy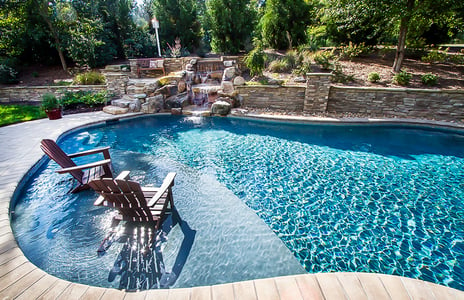 Are you planning a swimming pool and want to incorporate feng shui design principles into its design?
If the answer is yes, the news is good: Feng shui elements at home can extend into your backyard space and right into your new aquatic retreat.
When it comes to swimming pools—particularly inground ones—you have many options for incorporating feng shui elements.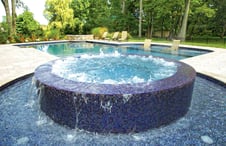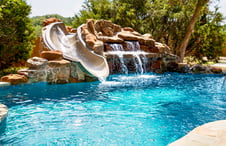 Feng shui basics
Some consider feng shui a pseudoscience, but for those who embrace its principles, this 3,000-year-old practice is essential to their home and office environments.
Some interior designers and homeowners entirely eschew this ancient Chinese tradition. Others take a more casual approach; they appreciate some principles but do not adhere to every one.
Instead, they take more of a cafeteria approach, by focusing on the tactics that represent sound design choices and create a more harmonious space.
The literal translation of feng shui is "wind-water". On the most basic conceptual level, it is a Chinese system of "laws" for governing the spatial arrangement and orientation in relation to the flow of chi (or qi). Chi is described as vital energy or life force.
Based on the design of the building, spaces, and elements—such as materials, furniture, fixtures, and accessories, feng shui practitioners say the application can have favorable and unfavorable effects.
The specifics of feng shui can be tremendously nuanced and complex. But some can be personalized and applied in a relatively simplistic way.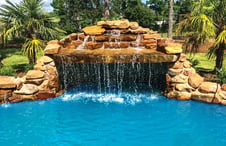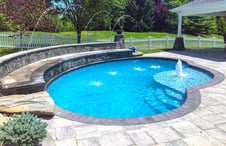 Because water is a key element in feng shui, the presence of a swimming pool can have a powerful, positive effect.
What's particularly nice about designing a pool with feng shui in mind is that doing so does not necessarily drive up costs.
Generally speaking, feng shui for a pool is about design principles—versus a prescription for expensive features.
For those interested in using this approach, here are some key elements to consider. True devotees might even bring in a feng shui expert to collaborate on their pool design.
Pool shape
What swimming pool shape is best to pick for aligning with feng shui principals?
Generally speaking, feng shui design favors curvilinear forms over hard geometric shapes. A curving path is better than a straight one and fosters the flow of chi.
Therefore, consider a free-from pool with curves. Silhouettes, such as a simple kidney, figure-8, or cloud shape would be good choices.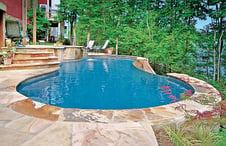 The same goes for natural, lagoon-style pools with soft, organic shapes.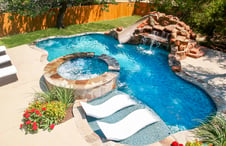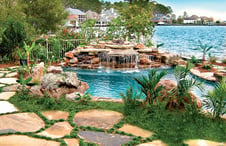 By contrast, right angles are especially problematic. Feng shui considers them "poison arrows" and particularly problematic if they point toward your home.
Therefore, a rectangle or modified-rectangle pool would be a feng shui "don't." The same goes for an L- or T-shape. Most custom shapes composed of straight lines and 90-degree angles would also be a poor choice.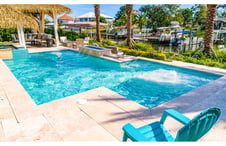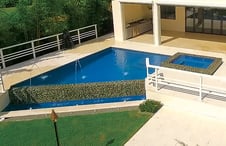 A few geometric shapes can work: a circle, oval, or modified version of either. However, these are not common choices for pool shapes.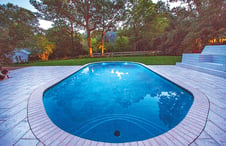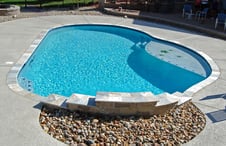 You can also request a custom geometric shape that strategically avoids or minimizes 90-degree angles.
For example, round each corner of the shape to soften it. Or, combine radiuses, curves, small right angles, and/or obtuse angles (an angle greater than 90 degrees).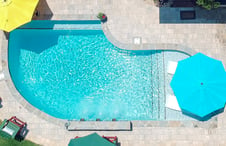 A similar approach could be applied to a traditional Grecian or Roman shape pool; replace the common 90-degree corners with obtuse ones.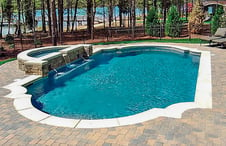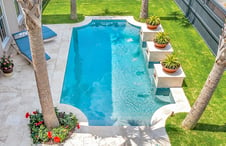 Backyard Location
As important as pool shape is in feng shui, so is its location in your outdoor space.
You want to position the pool to create a sense of balance on the property. Ideally avoid having the pool too close or too far away from your home.
If the pool is so far from the home that you cannot see it, your property won't benefit from the water's healthy chi.
On the other hand, if the pool is too close, that same positive energy can turn negative if it overwhelms other important elements of your home.
Based on the feng shui system of quadrants, specific directional considerations also apply.
For example, a pool located southeast of the house is positive, but to the west is not. Placement is where the help of a feng shui consultant could be especially helpful.
Of course, other practical considerations often supersede optimal feng shui pool placement. Typically, the available space in a backyard will take precedent.
In addition, experienced pool designers typically want to orient the pool, its entry steps, and the surrounding pool deck to create efficient, natural pedestrian flow.
To provide optimal convenience and functionality, they also strategically place gunite spas, tanning ledges, swim-up bars, and other features that typically attract and produce high activity levels and socializing.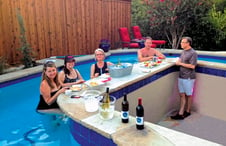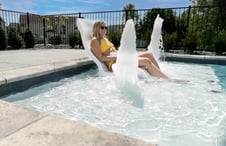 Location of the pool in a backyard relates to another aspect of feng shui—the sight of water. Feng shui considers a water view adjacent to a home's front door extremely beneficial.
Toward this goal, the ultimate tactic—if it's feasible on your property—is to position the pool so you can see it through a window upon entering your home.
Doing so is a big positive, as seeing the pool will "connect" the chi of the water through your home's interior.
Clean, moving water
For optimal feng shui, any bodies of water must be kept clean. Dirty water destroys chi, while fresh, crystal-clear water amplifies it.
For good feng shui, this means proper filtration - effective water maintenance, and regular cleaning are essential.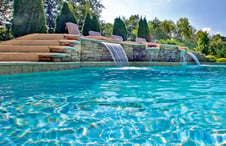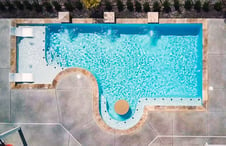 Maintaining quality water starts by choosing the right pool equipment. Ask about options for automated cleaning, as well as high-efficiency pool filters with Microban antimicrobial product protection.
For sanitizing pool water, consider alternatives to typical levels of harsh chlorine.
The two best options are ozone generation and advanced oxidation process. Both are incredibly safe and effective for ensuring healthy, pristine water.
Fluid Motion:
Along with keeping water clean, you want to keep it moving. That's why feng shui experts recommend running a pool pump 24/7.
With today's technology, you can do so more economically than ever before.
Variable-speed pumps programmed to run alternatively on low and high speeds will continuously circulate the pool water. These new pumps do so with up to 90% less energy than earlier models.
Maintaining constant water circulation also provides an aesthetic bonus: Unlike a static pool surface, flowing ripples glisten beautifully in the sunlight.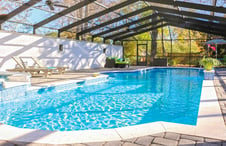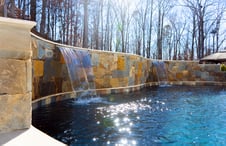 Water features:
Water features provide additional—and attractive—options for creating flowing tranquility around a pool.
Among the most popular: Sheer cascade falls, bubbler fountains, water bowls, arching deck jets and laminars, and rock waterfalls and grottos.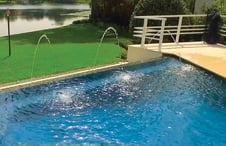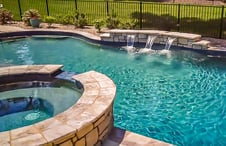 Pools with elevated spas provide another avenue for creating liquid motion. With this style of spa design and dam wall, the overflowing water travels over the spillway and onto the pool surface below.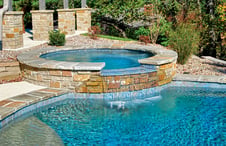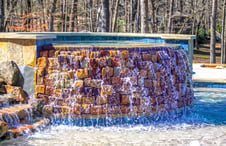 According to feng shui, the direction of the water flow also matters. To promote the flow of chi, it's preferable that the water flows toward your home. This way, wealth and abundance flow toward your house—not away from it.
That calls for the appropriate placement of an elevated spa or water features. A good approach would be positioning this feature so that the water emanating down from it faces your home.
Incorporating the five elements
One of the most important aspects of feng shui is including—or at least representing—its five key elements: water, earth, wood, metal, and fire.
Naturally, a pool addresses the water element. Here are some ideas for introducing the other four in and around your pool.
Earth:
In contrast to a prefabricated above-ground pool, feng shui prefers an inground pool that is anchored in the earth itself.
With this in mind, choose a gunite pool not only for its beauty, durability, and versatility, but for the ideal way it accentuates the earth element.
Want to maximize the chi flowing from the earth? Request a design that incorporates soil- and plant-filled landscape pockets directly adjacent to your pool structure and deck.
Wood:
While difficult to incorporate wood in the pool itself, you can include wood around the water and in your patio area.
In feng shui, trees are considered the best form of wood; trees are living and contain more energy than wood that's been harvested.
If you have a generous project budget and certain site conditions, another way to include wood is with decking in water-resistant varieties such as ipe, teak, cedar, and redwood.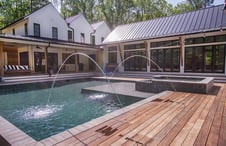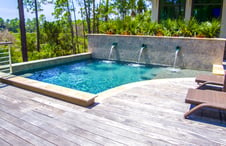 You can also turn to accessories, features, and backyard structures that include wood, such as patio furniture, arbors, pergolas, and gazebos.
Natural materials used in some patio furniture and shade structures—such as cane, rush, wicker, thatch, and rattan—also represent the wood element.
Fire:
Not only do pool and patio fire features create stunning visuals, they perfectly address the fire element in feng shui.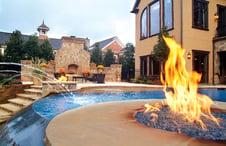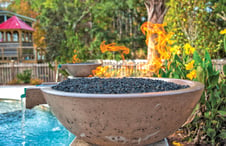 For mid- to upper-end budgets, choose fire bowls, fire pits, or fireplaces as part of your pool and patio design.
Highly affordable options such as tiki torches or large candles in outdoor glass holders will also suffice.
Metal:
A gunite swimming pool contains steel rebar throughout its structural shell. But you can also incorporate the metal element into your pool in a visible and decorative manner.
Accessories for certain water features come in copper, aluminum, and stainless steel. These include scuppers, spouts, funnel tubes, fire bowls, and water bowls.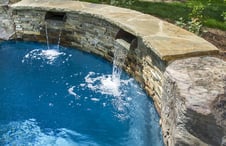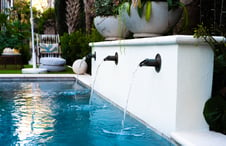 Brass, bronze, and steel statues—often in Greek figurines or aquatic life such as frogs, turtles, fish, and dolphins—around the pool are included in some custom projects.
Around the pool, you can bring metal into the setting with certain styles of patio furniture and lighting fixtures.
If you plan an island BBQ grill or custom poolside kitchen, even metal cooking appliances will check the box.
You must love it
The key to maximizing chi is that you love your home and the elements you choose to fill your indoor and outdoor living spaces.
The entire goal of feng shui is to boost positive chi. Therefore, your emotional state—relative to your space— is the most important aspect of this design approach.
Yes, it can be very helpful to bring in an expert. But don't forget to follow your heart in making design decisions that elevate your sense of joy, vitality, and prosperity.