—Five suggestions for upgrading your backyard retreat with cool amenities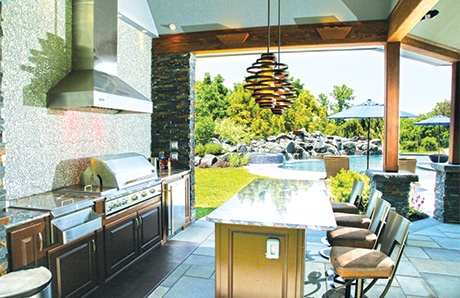 Considering making over your backyard with an amenity or two to complement your swimming pool and elevate your outdoor-living experience?
Various high-end options can create an upscale outdoor environment retreat around your pool and boost opportunities for entertaining friends and family.
As you work with a contractor, such as a pool builder or home-improvement company, here are five upgrades to zero in on: outdoor kitchens, outdoor pizza ovens, custom pavilions, weather-proof TV monitors, and tiki hut bars.
1. Outdoor kitchens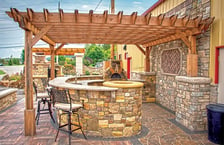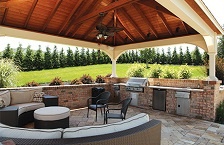 Take alfresco dining to a new level with an outdoor kitchen. More than a place to cook, it's a spot for entertaining and "eating out"—without making reservations.
Location of the kitchen in your backyard is key. You will likely be carrying food, tableware, and other supplies back and forth between your indoor and outdoor kitchens.
So, if possible, make the smart move of placing your new kitchen relatively close to the entrance of its indoor counterpart for greater convenience.
Your outdoor kitchen should include one or multiple cooking appliances, such as a grill or a stove-top. Rotisseries are popular. A sink and refrigerator are extremely helpful, too.
Appliances come in a variety of styles. It's best to buy products that are outdoor-rated for holding up year-round against bad weather.
Don't forget about places to set and store your cookware and utensils. Drawers and cabinets in your design help protect your goods and accessories and keep clutter to a minimum.
Larger kitchen installations afford great versatility. You may want to include a bar top and chairs to create an attractive hub for eating, sitting, and chatting while the chef's at work behind the grill.
To create a sophisticated outdoor kitchen, your contractor can use high-end materials to give it character. One approach is to coordinate surface materials with those use elsewhere in the backyard.
For example, the same tile pattern in your swimming pool can go on the kitchen countertops, or the same kind of stone used in your waterfall can be used to cover the exterior façade of your kitchen island.
2. Pizza ovens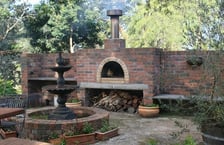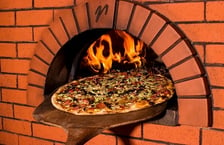 Doesn't a slice of hot, homemade pizza sound delicious?
Adding an outdoor pizza oven is a hot trend among homeowners, and it can take your backyard-party status up several notches.
Pizza ovens come in a range of styles, sizes, and prices. Typically, they are fired by wood or charcoal.
If your outside space or budget is limited, you can opt for a stand-alone unit. They cost as little as a few hundred dollars and sit atop a gas grill.
But if you have room in both your backyard and project budget, hire a professional contractor to install your pick of oven into a custom structure that beautifully houses the unit.
Material options for these specialty installations include brick or natural stone. Your builder can construct your unit as a stand-alone structure, situate it next to your outdoor fireplace, or make it a feature in your outdoor kitchen.
Do keep safety in mind when choosing where to locate your unit: A wood- or coal-fired pizza oven puts out a great deal of heat—higher-end models reach temperatures of 900 degrees! Therefore, position your unit at least several feet away from seating areas and spots where children play and hang out.
Have your builder coordinate the oven's building materials with the rest of your outdoor décor, and you'll have a distinctive baking appliance that looks great and serves as a unique conversation starter.
Turning your patio area into a mini pizzeria will deliver plenty of tasty fun for friends and family. Once you have your new oven fired up, prepare to whet your appetite and choose your favorite pizza toppings.
3. Custom-built pavilions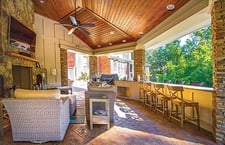 A sturdy, stylish pavilion is a great way to expand your living space with a virtual outdoor living room. These architectural structures also provide shelter from the sun's rays.
Pavilions are often confused with gazebos. However, they are distinct structures.
Gazebos are an assembled, self-contained product with a round or octagon shape and partial walls. Typically, they are just large enough to cover a dining table and chairs.
On the other hand, a pavilion is a larger, permanent structure with heavy-duty columns that support a solid, arched roof. Its infrastructure is built on-site from materials such as steel, wood, concrete, and stucco.
A pavilion shape is usually square or rectangle. The structure's large scale means it can house multiple amenities and functional uses.
Most commonly, a pavilion is constructed as a free-standing, four- or five-sided structure that's open on all sides without any walls. However, your contractor can also build one that's attached to the side of your house, which will provide one solid wall.
Styles vary. Your poolscape and backyard hardscape can provide inspiration for exterior, decorative materials to adorn the structure.
Frequently, builders will coordinate materials—often using a mix of several—such as attractive woods, natural stone, or man-made composites.
Granted, a custom pavilion is a high-end line item on your outdoor upgrade budget. But it can provide a comfy, welcoming exterior space with decorative and functional features.
Common features are those you might find in a den or living room: rugs, couches and chairs, coffee tables and side tables, plants, radios, and stereo systems. Be sure to purchase items made for outdoor use.
If space permits, you can include a dining table or combine a seating area with a dining table.
Sophisticated pavilions may include plumbing and electricity. If your project includes them, you have more option to consider.
For example, you can include an outdoor TV for watching and a ceiling fan to help keep the environment cool. To continue the fun into the evening, incorporate floor lamps or overhead lighting.
Is an outdoor kitchen part of your backyard makeover plan? Depending on your lot's configuration and if it has enough room, consider integrating one into the living area beneath the pavilion roof.
4. Outdoor TV monitors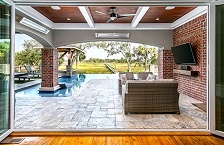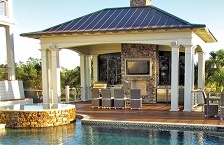 Whether for day or evening, an outdoor television enhances open-air entertaining opportunities. Hold an Oscars-watching event or invite football fans over for the big game on Sunday!
Keep special requirements in mind when shopping for a backyard TV. A monitor that delivers a perfect image indoors will likely not work as well outside.
Now, one affordable approach is to enclose any unit inside a waterproof, weather-resistant enclosure.
However, your best bet is a TV specially designed for outdoor use. Yes, it will cost a little more, but it will deliver a brighter picture engineered for outdoor sunlight.
More critically, most of these outdoor monitors can stand up to outside elements. Typically, they are water- resistant. That means they can go near your swimming pool without fear of water splashing out, and they can also endure rain and humidity. Additionally, these specialty units will hold up against dirt, dust, wind, insects, and hot and cold temperatures.
Outdoor TVs boast additional ventilation and cooling equipment inside them, making them heavier. A 55-inch outdoor model might weigh twice as much as a comparable indoor unit. The weight factor means they require a heavy-duty mount to attach the monitor to a wall.
One strategy is to incorporate a TV mounted into an outdoor kitchen if you have one. Or, if you are building a pavilion and creating a living-room setting, your monitor can go in there. The result is an ideal TV-viewing spot around which family, friends, and guests can gather.
5. Tiki hut bars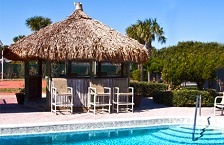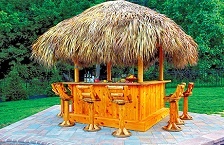 Anybody who likes hosting outdoor parties with adult beverages has probably dreamed of their own tiki hut bar.
Add a traditional tiki bar and serve up exotic cocktails—like mai tais or zombies—or even your favorite craft beer.
Tiki huts evoke images (and vacation memories) of tropical or island cultures, most commonly Polynesian ones.
Typically, these structures consist of thick cypress posts that support a thatched roof and a flat wooden platform.
Many people enjoy the look of the bar's thatched roof, which consists of dry vegetation such as palm fronds or water reed. Quality thatching won't require frequent maintenance, and it can last for decades.
Since thatched roofing is relatively light, the underlying support roofing need not be heavy or industrial strength.
This factor allows some people to build their own bars; in fact, do-it-yourself kits for basic units are available online for a few hundred dollars.
But perhaps you prefer a more elaborate tiki bar that will be the envy of the neighborhood. If so, you will want to bring in your pool builder or specialty contractor to install a more intricate, detailed design.
For an upgraded appearance, ask about building materials such as teak or bamboo.
Consider features that extend the tropical, organic theme: Great options are a bar countertop made of natural rock and barstools made of tropical woods. Finish off the look by accessorizing with island- or Polynesian-themed décor and barware.
Outfit the bar for nighttime action with lighting fixtures or strings of light. And if an outdoor TV is on your project agenda, you could also mount it on your tiki bar.
Transform your exterior space into a high-end oasis
If you have the budget and the desire to upgrade your backyard, many swimming pool builders can help you develop a coordinated plan with one or several of these amenities to fit your needs and preferences.
The five amenities covered here are great choices. But whatever additions suit your style, the sooner you make a decision, the sooner you'll be lounging outdoors under your pavilion eating homemade pizza, sipping mai tais, and watching the latest Netflix series in style and comfort.