—How your decisions may increase completion speed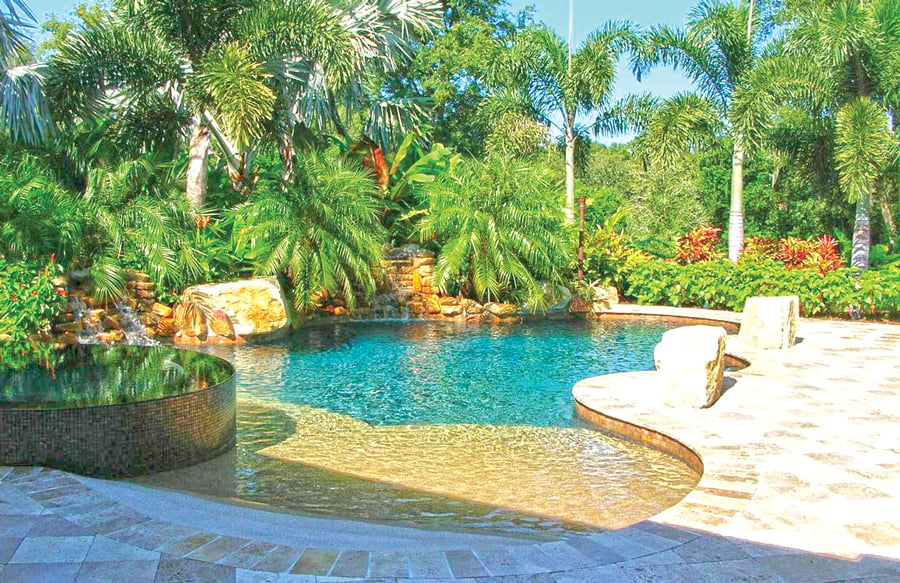 You have just signed a sales contract for a swimming pool and you're looking forward to a finished project to enjoy.
Particularly with gunite pools, a slew of factors can affect build time. Some, such as weather delays, permitting, local building codes, machinery breakdowns, and challenging backyard building conditions, are out of your hands.
But some fall partially or entirely within your control. Among these are choices you make during the pool design process.
Understanding how these options affect your pool's progress can be invaluable. By making strategic choices, you cut the odds for construction delays.
At the very least, you will make an informed decision so you can appreciate how the choice may contribute to a longer build time.
Let's have a frank look at some pool-construction realities. Here are key considerations you will face and their possible impact on the building process.
1. The complexity of your pool design
You have final say over the pool plan. The style, configuration, and what features it includes—or not—are your call.
An array of exciting options lie ahead for you. Choose thoughtfully to achieve the pool you want. But always remember: the more complicated you make the project's design, the longer construction will take.
"Complicated" generally means more features, certain kinds of design elements, and special configurations.
Examples include rim-flow spas rain curtains, fountain enclosures, lighted bubbler fountains, water and fire bowls, laminars, infinity edges, beach entries, swim-up bars, pool grottos, custom benches/loveseats and entry steps, elaborate faux or natural rock waterfalls, and landscape water slides.
To be sure, some of these features will add more time than others. And the more of them that go on a single project, the more time they are likely to require.
In some cases, a feature may not automatically add that much time—but carries the potential to do so.
Here's why: The feature's inherent intricacy and components require extra time during construction. Crews need to work carefully to achieve a quality, functioning result.
Complexity also increases the opportunities for something to go awry. Even experienced craftsmen can encounter one particular detail or obstacle that impedes the pace of construction.
To illustrate the point, let's consider an infinity-edge pool.
Crews will install pool tile along the entire edge. Alone, this specialty tile installation consumes more hours than tiling a pool without an infinity edge. But things could take even longer.
To achieve an even flow over the pool's infinity edge—which can range from 10 feet to the entire length of the pool—the structure requires precise tolerances.
Say, upon checking the freshly tiled edge, the project manager discovers a short section is out of level by a mere one-fourth of an inch.
Adjustments will be needed to correct the level. That takes time. The tile crew may need to be scheduled to return to the job site on another day.
No matter how diligent a contractor is, an array of variables like this example often toss monkey wrenches into project schedules across America's backyards.
2. Custom features or materials that require special sourcing
Will your project include special material, such as ultra-luxe glass tile or custom-blended pebble finish?
Did you include a trio of water-spouting dolphin statues or specific flagstone from a quarry three states away.
Or, perhaps a bespoke mosaic with your favorite sports team logo is on order (versus an off-the-shelf pool mosaic).
Well, think twice before you do. The delivery of those materials and components will take time, meaning weeks—and in some cases, even months.
Even if your pool builder is superb at planning ahead with plenty of lead time, there are no guarantees: With any special order or out-of-state shipment, unexpected delays can and do happen.
Whether it's due to an issue at the factory, supplier snafu, truck breakdown, one missing component, or bad weather, the arrival of your product or material can take longer than expected.
Or, the delivery arrives right as scheduled—but it was damaged during shipment. Or, the product is in perfect condition—but the manufacturer shipped the wrong color or model.
Ouch, now the clock must start all over as you and our builder wait for a replacement order to be prepped and shipped.
This delay has a ripple effect. In some cases, the next phase of construction cannot proceed until the needed material or item is installed.
But there may be even more timeline disruption. That shipping delay—even if only a few days—can trigger an even broader domino effect.
When the next building phase cannot go as scheduled, that can easily push back the entire schedule—deferring additional phases of construction
The moral of the story here: At a minimum, appreciate how a delayed special order can wreak havoc on your project timeline in more ways than you might imagine.
Don't want to roll the dice on your pool's completion date?
Before choosing that non-local, not-in-stock material or accessory, first carefully consider the readily available alternatives.
For example, you may be perfectly happy with a similar tile or pebble blend that's available locally.
Or, you learn that a swim-up table with bench seating can provide some of the same benefits of a swim-up bar. (Plus, it will cost less.)
3. Making changes to your approved plan
You are happy with your pool and deck plan and have signed off on it.
From here forward, anytime you consider making a change to this plan, think twice: Doing so may extend the construction schedule.
It will not in every case, but the odds are good it will prolong build time.
Certain revisions tend to produce more delays than others. Some plan amendments are relatively insignificant, especially if you make them early on before the pool is excavated.
Let's say you want to make the pool the spa bigger so it fits six people instead of four.
Or, upon reflection, you conclude that a shallower "sports" pool is a better choice than deep pool with a diving board.
If you do so during the pool layout (when the builder marks out a pool in the yard with paint or wood forms) and before the excavator shows up, you may incur zero or only minimal delay.
However, this "simple" depth or size increase at layout will trigger a needed plan change. The actual act your pool designer makes to alter your plan takes minimal time.
But, even if you sign off on it immediately, the short delay—in some cases—will cause you to miss your originally scheduled dig day.
Now, your project has to go back into a production cue to get a new place in line for excavation.
What happens if want to make the change later in the building process—for example, after crews have installed the network of steel rebar into the excavated hole?
Upon seeing the structure formed in your backyard, you decide you want pool or spa shallower, deeper, longer, or shorter.
At this stage, it's a whole other story. And not a good one.
Changing an element such as pool depth or spa size at this point will very likely extend the process—and increase costs as well.
Even worse: Wait until crews shoot the gunite to form the pool & spa shell to request a change and your alteration will become a major undertaking that may dramatically extend the timeline. (And yes, the cost will go up too).
Making informed choices—and the payoff
Now, none of what we have outlined here means you should automatically sacrifice a feature, material, or plan change that you really want.
With this in mind, if you do opt for everything on your wish list, at least you won't be blindsided.
Instead, you will embark on your pool-construction journey understanding that certain items on your list will likely translate into a longer schedule.
You are now better informed as well. You know to ask your builder how a particular feature or combination of features may involve more time. For some, your builder may suggest an alternative or a modification that's typically quicker.
You have also learned about strategic compromise. When deciding between a special-order option and a comparable one that's available in town, having some flexibility can go a long way.
Remember too: After all, once your pool is finally completed, you will have years ahead to enjoy the lovely features and materials for which you waited!