—Is the value of this high-end construction material worth the price?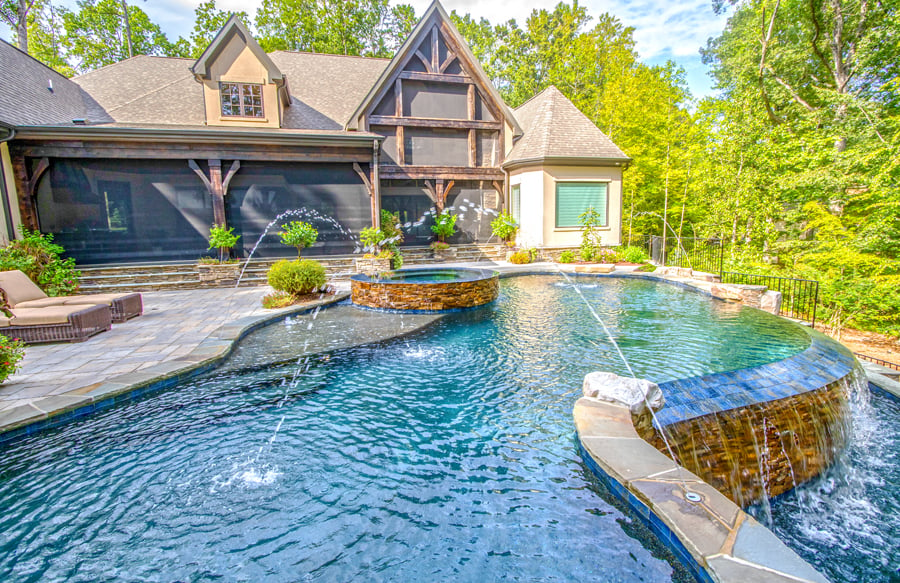 Pebble swimming pool finishes and the superb benefits that they offer have forever changed the material options available for your project's interior surface.
First developed in Australia, this premium category of pool finish gives pool buyers and those doing remodels an exceptionally attractive, high-performing alternative to traditional marcite plaster and to ColorQuartz™ aggregate.
This innovation began making its way to the American pool market in the late Eighties.
Since then, an increasing number of pool builders and pool-plastering companies began offering the material in metropolitan markets around the U.S.
Today, several manufacturers supply the product. Each offers its own line of blends with various sizes and colors of stones.
Compared to plain marcite plaster and ColorQuartz™, a pebble finish comes with some major advantages—but also a few caveats that keep some pool buyers and owners away.
If you're considering coating your new or existing pool's interior in pebble, here's what you need to know to make an informed decision.

What goes into a pebble pool finish?
Comprised of millions of tiny stones set into a cement base, a pebble finish—also called "pebble plaster"— contains small, specially sourced and prepped pieces of natural stone in various colors.
The pebbles are mined from lakes, beaches, and riverbeds where water has smoothed the pieces over thousands of years. Suppliers sort the stones by color and size.
Two general categories of size are available: Standard (aka "large") and mini.
Standard pebbles run from 3 to 5 millimeters in diameter. Better brands use natural stones that have been tumbled in large machines to further buff the surfaces.
With a mini blend, the stones have dimensions of one to two millimeters—just larger than a coarse grain of sand.
In some brands, these mini "pebbles" are actually the pieces of the material that are left from machine-polishing the larger standard pebbles. In naming these mini blends, manufacturers often use terms such as "sheen" and "micro."
Some manufactures offer blends that contain a mix of both standard and miniature stones that can tightly nest together.
Whatever pebbles are used, they will be integrated with marcite plaster.
Marcite consists of white Portland cement, marble dust, and fortifying additives to boost strength and water resistance.
The pebble aggregate essentially takes the place of the marble dust found in standard marcite plaster. Just as in concrete, the larger aggregate is what gives pebble finishes their unmatched strength and durability.
Great looks and style versatility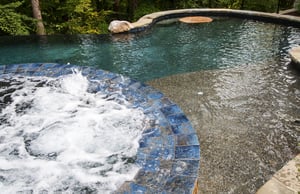 Applied over the entire surface of a gunite pool shell, a pebble finish provides a beautiful, long-lasting interior with a distinctive appearance and texture.
Installed on a gunite pool shell and under water, the strategically created pebble blends achieve a desired texture and color.
Unlike the homogeneous color of marcite plaster that's been dyed dark blue, grey, or black, a pebble blend can render multi-dimensional shades and hues of the chosen color or colors.
That's largely because the pebbles themselves are made by nature and come in a wide array of subtle, variated colors.
From bright white to jet black, these stones cross the color spectrum. In a finished blend for a pool's interior, popular choices include whites, creams, tans, grays, blues, teals, greens, and blacks.
Some manufacturers also offer pebbles coated with a colored ceramic surface.
In addition, some blends sparkle. By incorporating pieces of abalone, mother of pearl, or polished glass beads, a deluxe pebble finish will deliver a rich color that also glistens in the sunlit water.
Keep in mind, the dry mix or sample board you may see of a particular pebble blend will appear different once it's wet inside a filled pool. The color will appear deeper and more pronounced.
Although a wide range of standard color choices is available, some pebble manufacturers also create custom color blends for an added cost (and extra delivery time.).
As for visual differences between the two sizes, mini stones produce a rather uniform surface appearance. Standard sizes create a speckled, natural, multidimensional look.
When you combine color options with pebble size, the spectrum of aesthetic choices is vast.
This high-end finish looks fabulous in pools across the style spectrum. Whether the design is contemporary, classical, or naturalistic, pebble enhances the pool's appearance.
For example, a blend of whites, blues, and greens could coordinate well in a tropical-theme grotto pool. A palette of beiges and tans will convey an entirely different style in a rustic setting. A mix of deep grey and black could be used to accentuate a chic, modern design.
Are you intent on a pool with a deep blue, grey, or even black interior? If so, for performance reasons discussed below, a pebble finish will absolutely be your best choice.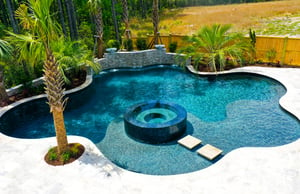 Touching the stones
The tactile sensation of pebble pool finishes is unlike that of smooth marcite plaster with which most people are familiar.
In addition, the two size categories of pebble create a sensation different from one another.
The mini pebbles, which as noted above are often stone chips from processing the larger standard pebbles, have rougher, more jagged surfaces.
But hold on!
Take a deep breath: The surface of the tiny individual pieces becomes moot once they are mixed into the cement base and applied to a pool shell: Their miniature dimensions will actually deliver a texture that's even and refined—nearly comparable to that of a marcite or ColorQuartz™ finish.
When it comes to the "standard" size category, the final pebble interior will feel very different from a mini blend. Each individual standard pebble is smoother than each individual pebble of the mini variety.
How much smoother varies among the brand: Because manufacturers procure their stones from different sources, the amount of natural "polishing" from the body of water varies too. And, as previously noted, some manufacturers use mechanical buffing as well.
Now, while the exterior of each standard pebble is smooth unto itself, when mixed and applied into a plaster finish, you will have a bumpier, more pronounced feel.
In fact, some standard size blends can produce pock-like indentations on the skin when you stand on the pool floor, sit in a spa or on a pool entry step, or pool bench or loveseat, or lie directly on a tanning ledge for an extended period.
So, the lesson here is that mini pebbles give you an interior that—overall—is smoother to the touch when compared with larger pebbles that provide a more uneven finish.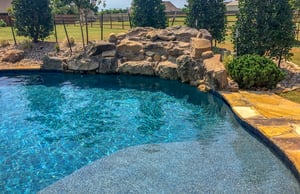 Textural feel tends to be a "like it or don't like it" issue with those using the pool.
Some swimmers prefer the comfort of mini pebble; others don't mind the bumpy sensation of standard pebble and may even prefer the increased traction and secure footing it provides.
The advice here: If you've never been in a pebble pool, it's probably a good idea to try it out first.
Stand, sit, and recline on pool structures such as steps, the floor, benches, and tanning ledges. Then you will experience how a pebble surface of a particular size and brand might feel on your feet, hands, bottom, and back of your legs.
Remember, how the interior of this "demo" pool feels is the result of the pebble being mini or standard; the brand used and plaster team who applied the finish will also influence how the final result will feel.
With this in mind, the blend you pick for your pool may feel different unless it's the same or comparable. At the minimum, it should match the pebble size you are considering.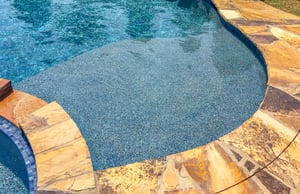 Pebble performance
Along with a gold medal on the aesthetic front, a pebble finish also scores big when it comes to durability.
Pebble prevents most sins that arise with typical pool finishes. It's no secret that marcite pool plaster is susceptible to a range of problems.
A marcite finish can fall victim to stains, scale, streaks, etching, mottling, fading, and delamination. It can even develop "growths" known as nodules.
In particular, marcite plaster that's been dyed to attain a deeper blue, grey, or black will present hard-to-control variations in color.
Whatever blemishes or deterioration may be present often stand out even more against the darker color. For these reasons, some buyers using plain marcite will regret choosing a black or dark-colored swimming pool.
ColorQuartz™ aggregate is a step up from plain marcite. Its blends marcite plaster with tiny pieces of super-hard natural quartz crystals that have been coated with colored ceramic.
ColorQuartz™ produces a lovely white or light-colored speckled appearance. It performs somewhat better than plain marcite.
Typically, the quartz aggregate helps the pool finish last longer. The material is easier to clean and it will have greater success fighting off or disguising some of the issues that plague plain marcite.
Many marcite and ColorQuartz™ plaster problems arise from how the cementitious material reacts to shifting water-chemistry conditions. Various material and installation factors can come into play as well.
Because pebble finishes are significantly more durable than marcite, and because so much of the pebbles' surfaces are exposed from the special application technique (discussed below), the material is super tough.
The material will maintain its original appearance indefinitely. Its original appearance can be more easily restored if it was affected by fluctuating water-chemistry conditions.
Pebble finishes can last at least twice as long as marcite plaster, which often only holds up for about five years. That's why material warranties on pebble finishes are anywhere from 10 to 15 times longer than that of their marcite counterparts.
Pebble truly goes the distance: In a properly maintained pool, it's not unusual for the material to hold up well and retain its color for 20 years or more. Some of the early pebble pools, built over 30 years ago, remain in place today and still look great.
Bottom line: With a pebble interior, your pool will escape virtually unscathed by the problems that often occur with other interior finishes.
In terms of performance vulnerabilities, pebble finishes have only a couple of very minor caveats.
In some cases, a few pebbles can come loose from the cement base. However, typically these separations are limited in number and occur only briefly when the pebble finish is first installed.
In projects with standard-size stones, some argue that swimming pool algae can attach to the tiny amounts of marcite between the pebbles more easily than it can on a plain marcite or ColorQuartz™ finish.
That being said, it is much easier to brush algae off the smooth pebbles than it is from other finish types— including mini pebbles.
In addition, pebble blends with variated colors provide a camouflage effect. This characteristic makes it more difficult to see any discoloration the algae may leave.
Keep in mind, consistent pool maintenance goes a long way toward inhibiting algae growth. There are even smart technologies that guard against algae (and soften water.)
However, generally; speaking, pebble finishes will prevent or cover up a range of sins that develop even in poorly maintained pools. That's why a pebble finish almost always boasts a longer warranty than a marcite or ColorQuartz™ finish.
Note: In all fairness to marcite plaster, there are now advanced products that some pool contractors use to literally form a shield that dramatically limits the most common pool-finish problems.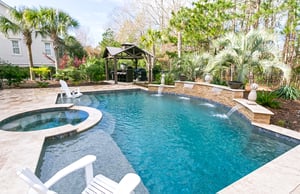 The rub against pebbles
So, if pebble finish is such an amazing product, why isn't it on every new pool and replaster project?
The answer is two-fold.
First, while pebble finishes provide tremendous value overall, they are significantly more expensive at the outset.
The price tag for pebble can easily run double or triple that of marcite plaster. That means at least several thousand dollars extra—and probably more.
One reason why is that the raw material costs more. In contrast with marcite or ColorQuartz™, the natural stone pieces are more expensive to procure and prep for a proper blend.
Another cost factor: Pebble plaster installation is more complex. The process requires specialized training and it's more labor- and time-intensive.
The final finish is possible only with a two-step application on different days, whereas marcite plaster and ColorQuartz™ are completed in one.
The added step means a crew must make two trips to the job site.
Day one involves the application of the pebble material. It is performed in a troweling manner similar to the method used for marcite plaster and ColorQuartz™ application.
Day two comes after the initial material application has cured for roughly 24 hours. Using an aggressive acid-washing procedure, crews remove the top layer of cement.
Doing so exposes a portion of the surface of the individual pebbles. (This is why pebble finishes are also referred to as an "exposed aggregate" finishes.)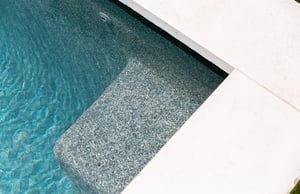 Now, it's worth noting that advocates of pebble finishes point out that the high initial price tag is well worth it.
The expense will be more than offset by the material's superior aesthetics, impressive resilience against common pool-finish woes, and increased longevity.
Replastering a pool is a major process. For pool owners looking at long-term value, avoiding or forestalling this cost and hassle is an enormous benefit.
The second reason you don't see a pebble finish on every new inground pool is limited availability in some areas of the country.
Despite widespread pebble proliferation in major metropolitan areas where gunite pools are popular, there remain gunite-pool markets where no qualified installers exist.
Typically, plaster companies offering a pebble product are organized in regional dealer networks for each pebble mlessonanufacturer.
The manufacturer requires individuals to complete special training on how to properly apply the finish.
When it comes to availability, your local pool builder will know the lay of the land and advise you.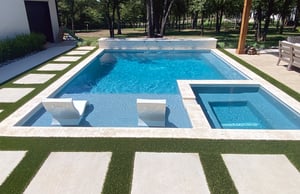 Expanding options
For many years, a pebble finish was available through only a single manufacturer—the brand PebbleTec® that pioneered the material.
Today, a number of suppliers offer an ever-widening set of options, in terms of both color and texture. Popular brands also include RiverRok®, StoneScapes®, and Wet Edge®,
While a pebble finish may not be the perfect choice for every pool and every pool owner and their project budget, the material's first-class appearance and performance prompts many to turn to it as their pool finish of choice.