—Tips to prepare for what happens with your pool plan and during project construction
—Updated August 5, 2019
Building a new inground swimming pool is a major construction project. No doubt about it.
So before your pool contractor shows up with heavy machinery to excavate your new backyard resort, get a leg up on the process by understanding the key activities that will—and could—take place.
Your pool contractor will take steps to help properly execute the project. For starters, they will create a pool construction plan.
The document will indicate key elements such as the pool location, placement of steps, benches, lights, tanning ledges, and other features.
Typically, the plan will also show the pool deck, location of the pool equipment, access areas for machinery to enter the yard, and position of any outdoor amenities—like an island grill. In some cases, areas for landscaping may be marked.
In certain areas of the country, the plan will note easements and elevations, as well as gas and electric hookups for the pool. Based on local building conditions, logistics, and regulations, additional information may be plotted on the document.
Pool planning: The layout process
In accordance with your plan, your contractor will physically lay out the shape of your new pool on the ground in your backyard.
Typically, tradesmen will do so with marking paint on the ground and/or with flexible wood forms, stakes, and string lines. This physical layout may also indicate the area for your pool decking (unless you have chosen to build your deck or hire another contractor to install it).
Before any digging starts, most contractors will ask you to review the pool layout, its location in your yard, the deck configuration, and the location of the pool equipment.
This physical layout will serve as a guide for the excavation crew to follow. Keep in mind, once the process begins, it can be difficult and costly to make changes. Before anyone starts digging, be sure you are happy with all of the elements of your pool plan!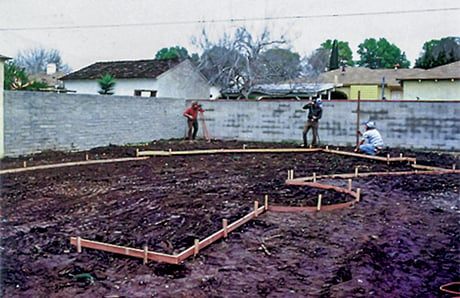 Seeing a visual depiction of your new aquatic retreat makes it easier to truly grasp its physical dimensions. The layout—which may be painted on the ground or plotted with wooden forms—will help you develop a better sense of the pool's position within the context of your outdoor space.
Pool excavation: Prepare for the process
Take a deep breath: A giant, ugly hole is about to appear next to your home.
Excavation is a significant undertaking. It will be messy. It will be an eyesore. It will be loud. It may be a bit unnerving.
But remember, it's all for a good cause: An attractive outdoor recreation retreat you will enjoy for many years. Such a valuable addition to your property will be well worth any short-term pain.
On typical residential pool projects, the dig is completed in a single day. However, larger pools or those with complex configurations can take two days.
In cases with challenging building conditions, such as soil instability or underground obstacles—from rock to unexpected utility lines—the dig process will likely take longer.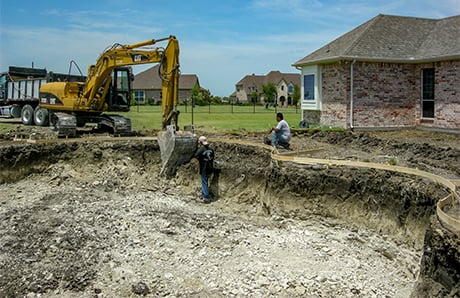 Although your contractor will schedule your dig date in advance with you, it can still be somewhat unsettling when that day arrives. Don't be surprised to wake up very early one morning to the awesome sight and sound of a large track hoe chewing its way through your once-serene backyard.
To better prepare for all the construction drama, here are some helpful points to remember:
• Big, loud, heavy machinery will dig the pool hole. In most cases, where entry access to a yard is adequate, a contractor will bring in large earth-moving equipment such as a track hoe, as well as and a dump truck.
In yards with tight entries—through which large equipment cannot pass—a builder will usually turn to a smaller alternative like a Bobcat for excavation. Unfortunately, this will result in a longer dig schedule and higher excavation costs.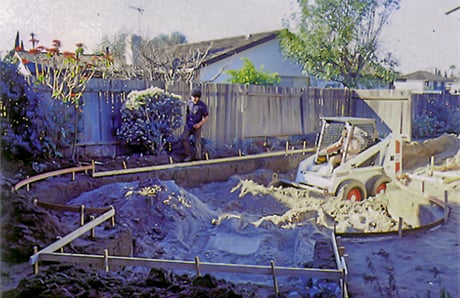 If your property has tight access, such as a narrow side yard, a smaller machine like a Bobcat can be used. This compact machine may take approximately two to three times as long to move earth as a typical large excavator. A mini Bobcat could take up to five times as long.
In other cases where backyard access is even more limited, other tactics will be required.
For example, a contractor may need to remove an existing fence. Or, it may be necessary to obtain permission from a neighbor to allow machinery to cross their property to enter your yard.
Tip for gardeners and DIY folks:
Many tons of dirt will be excavated. If you would like the fresh earth for gardening, landscaping, or other projects, a pool contractor may be able to set some aside for you.
However, to arrange this special request, you must notify your contractor in advance of excavation day—usually in writing. Specify how much soil you would like, and indicate the area in your backyard—away from the pool site—where you would like it placed.
• During excavation, a tremendous amount of earth will be moved from your yard to create a hole for the pool. Crews will haul it away—usually the same day as excavation. Dump trucks are typically involved.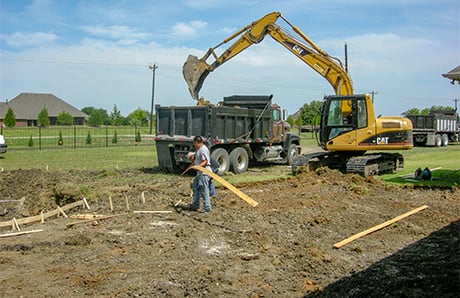 To build a typical-size backyard pool, large machinery might turn up roughly 75 to 100 cubic yards of earth. To haul it out of your yard, your contractor will likely arrange for several dump trucks.
On some projects, crews will intentionally leave behind a portion of the soil. The purpose here is to have the fresh earth available to serve as "backfill" to help prepare the area for deck installation or to level out and grade an uneven lot.
• Crews will take the freshly dug soil and haul it out of your yard. They will bring it to a special collection yard designed to accept excavation material. (Therefore, they will not be able to comply with any requests to remove trash or other debris you may have, except—in some cases—for an additional cost.)
• The excavated hole will be a bit wider in all directions than the pool plan dimensions.
This comes as a surprise to some homeowners. However, this "over-dig" is no mistake. The extra space will be filled up with a framework of reinforcing steel and a thick concrete (gunite/shotcrete) shell.
• With a big open the hole in your yard, keep your distance. The sides of the hole have an inherent tendency to crumble. Stepping near the open site can hasten dirt to shift and fall away along the perimeter. Be sure to keep your children and pets safely away from it as well!
• At this stage, crews will prepare the hole for concrete. They will install forms made of flexible wood or fiberboard along the walls of the hole.
These forms will serve as guides for concrete application; they provide a surface against which the material will be applied. They will be precisely positioned at a predetermined grade.
To maintain the integrity of your pool shape, it is critical that these forms are accurate. Therefore, do not move or adjust them in any way.
The forms will remain until concrete is applied; afterward, crews will remove them.
• Unexpected challenges can occur. After all, it's construction. It's outdoors. It's the nature of the beast.
For example, weather can create construction delays. A surprise downpour can turn a pool hole into a muddy mess.
Then, depending on the amount of rain and the kind of soil in your yard, it could take a few days or longer to dry out before any work can resume.
Or, the excavation could encounter subterranean surprises. They could hit hard rock—requiring different equipment to break it up, added labor, and increased cost and delays.
Crews could also find unexpected groundwater; if so, they may need to bring in pumps to keep the hole dry enough to continue.
Other unforeseen circumstances—and likely delays—are infrequent, but do occur. They usually will call for special measures. Examples range from the discovery of decades-old, buried septic tanks and utility lines to buried concrete slabs from a previous homeowner's patio.
These obstacles and accompanying interruptions to progress can try your patience. A good approach is to take things in stride. Remember that some of them—like heavy rain—are just par for the course in an outdoor, multi-phase building project like a new custom pool.
Closing thoughts
Despite the big construction scene in your backyard and any surprises that throw the excavation a curve ball, the good news is this: Any experienced pool contractor will have faced these kinds of hurdles before.
Where feasible, they will have solutions for them—from water pumps to rock-breaking machinery—and they will continue work just like they have done for many other homeowners.
Be sure to follow any other instructions your pool contractor provides in advance of excavation. Doing so is one way to help the process go smoothly—which helps so that everything is in place for the next building steps.
The goal, of course, is that construction for your new backyard resort stays on schedule and budget and delivers a beautiful, lasting result.