—Aquatic eye candy for inground pools & spas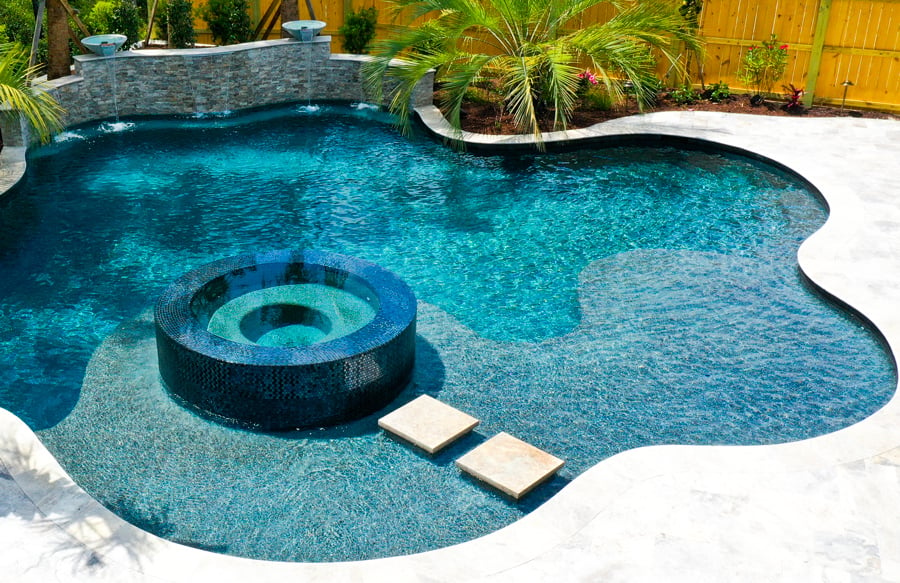 Make your gunite swimming pool an exceptional backyard attraction with strategically chosen design features.
The decorative features we cover here are among those commonly used to elevate a pool's visual appeal. Some provide fun and functionality as well.
While 10 appealing options are described here, most pools will contain only several.
Any of these choices require a higher investment—usually at least one to two thousand dollars. You will typically find them on mid- to upper-range projects.
Consider the Caveats
Have you heard the saying: "Just because you could, doesn't mean you should"?
When designing a new pool, this is smart advice.
You want an array of decorative features, but available space should also be a consideration: Can your property fit the size of pool that's needed to gracefully accommodate the number and kind of features you want?
Too many visual bells and whistles in relation to the size of the yard and pool can make the environment crowded and "busy."
Another key to achieving a harmonious scene: style. You may want a certain feature—that while inherently attractive—is an aesthetic mismatch with your pool.
For example, a tropical grotto waterfall is a breathtaking addition to a lagoon pool in a lush setting.
But on a geometric-shaped pool or other contemporary design, this organic stone feature would look sorely out of place.
Even climate can determine whether a design feature is right for a pool.
Take shimmering glass tile on a pool. It looks amazing.
But in parts of the country with freeze/thaw conditions, the temperature shifts can damage the expensive material—thus making it an unrealistic choice for pools in such areas.
These are just a couple of examples to drive home the point: When selecting features, you and your pool designer should do so from a holistic viewpoint and consider how all of the elements will work together.
With that in mind, let's take a look at some of the most popular options that elevate the looks of a gunite pool.
1. LED lighting
You will be amazed at how incredible your pool, spa, and backyard look at night with color-changing illumination.
When the sun sets, radiant LED technology will dress up your aquatic resort, highlighting your other decorative pool features, as well as the surrounding landscape.
Set your lights to remain on your favorite single color. Or, set the pool lights to transition through shades of red, white and blue—or even green, pink, gold, and purple.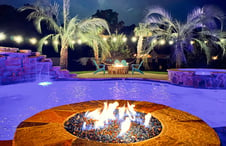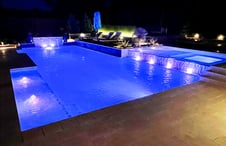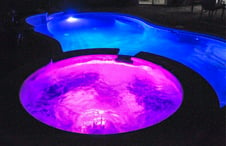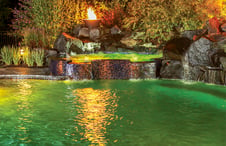 For more breathtaking after-dark entertainment, play dazzling "light shows".
In these dynamic LED performances, hundreds of flashing colors rotate at various speeds, patterns, and in different combinations.
For example, choose a festive holiday show such as USA or Mardi Gras. Or, set a mood for romance or relaxation with soft, gently moving colors found in programs such as "Tranquility" or "Twilight."
LED lighting works on any pool, no matter the shape, style, configuration, or selection of other design features you include—or don't. Plus, they're super energy-efficient and long-lasting.
You simply cannot go wrong with one of these systems painting a swath of color across your pool, spa, and backyard.
2. Deck Jets / Laminars
Deck jets produce elegant arcs of water over the pool surface. As the falling arc nears the end of its journey, it breaks into dancing, sunlight-catching droplets.
When deck jets are included in a pool design, at least two are typically used. Because they're relatively affordable, many projects often include three or more jets to achieve extra aquatic drama.
Placed strategically, deck jets beautifully accent any shape of pool.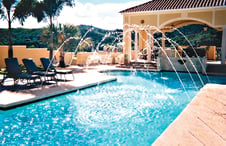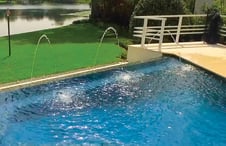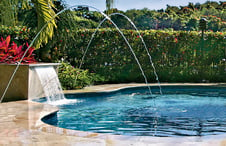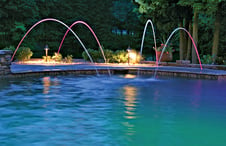 They pair well with most contemporary and classical Roman/Grecian styles of pool, as well as organic designs.
However, this presents a good opportunity for a lesson in making savvy choices: For a natural setting, a rock waterfall or grotto waterfall may be a better choice than deck jets.
If the budget allows for it, you can upgrade to the deluxe version of a deck jet, a laminar.
Laminars create perfectly formed arcs that look like they're made of glass. Instead of the splashier effect of a deck jet hitting the pool surface, a laminar holds its uniform shape throughout the entire arc as it gently falls on the water.
What really sets laminars apart from deck jets is how they perform at night: Laminars can be illuminated by LEDs.
When lit, you'll enjoy captivating scenes of arcing, glasslike streams that can change colors right along with your pool and spa lights.
3. Spillways-dam walls on raised spas
Along with a spa's valuable lifestyle benefits, this functional amenity wins high marks in the looks department.
To optimize the appearance of any gunite spa, elevate it at least a foot. For a bigger impact, go higher—18, 24 inches, or more.
Positioning the spa above the pool opens the door to enormous creative opportunities.
The taller spa wall boasts greater surface area and exposure for viewing. Cover the wall with colorful tile or decorative stone, and you have a beautiful backyard focal point.
Raised spas can have an innovative spillway design on their dam wall (the wall that separates the spa from the pool).
A spillway is the opening in the top of the dam wall through which water flows into the pool below.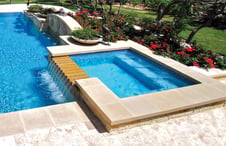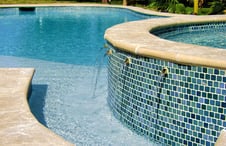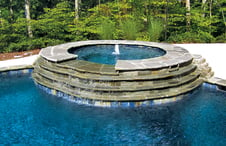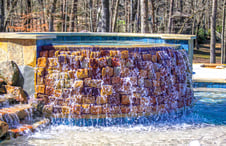 Builders can configure spillways in many clever ways with either a single opening with a wide cascade or several narrower openings.
The number and shape of openings control how the water emanates; water may come down in one or more cascades, streams, trickles, or other variations.
In more intricate spillway/dam wall arrangements, water may travel slowly over tiered steps in a "weeping" fashion or over a series of channels that produce thin arcing streams.
4. Rim-flow edge on spas
Ready for a jaw-dropping pool & spa ensemble?
Imagine an overflowing champagne glass, and you'll have a pretty good mental image of a rim-flow spa.
In traditional gunite spas, most of the dam wall is covered by deck or coping—with the spillway(s) the only area left exposed.
Returning to our champagne glass: What's trending now in gunite pool design is building the spa's entire dam wall as one big spillway.
Rather than directing water into the pool through a spillway opening in the dam wall, the spa's entire perimeter is exposed.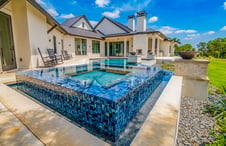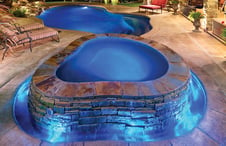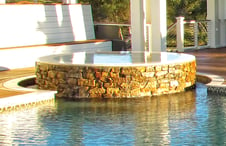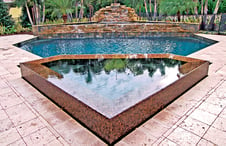 This configuration allows a thin sheet of water to come down—like an overflowing glass of bubbly—on all of its tiled or stone-covered sides.
A rim flow spa evokes a kind of artistic, sculptural appearance. It's a chic partner for a modern pool.
Adorn the wall in flat or stacked natural stone, and a rim flow spa will also coordinate well with some organic poolscapes.
Increase a spa's "natural" aesthetic even more with the right shape: Instead of a geometric circle or square, go for a soft, organic silhouette.
5. Rock waterfalls
Whether crafted in natural stone or faux rock, a waterfall is a sensational addition on many gunite pools.
These organic-inspired features evoke the emotions you might feel in lush natural settings.
Possible configurations—and price tags—cross the spectrum.
Some creations are just several feet tall and wide. Others are taller. More elaborate ones boast bases that extend along a stretch of the pool perimeter from which two, three, or four individual falls rise up.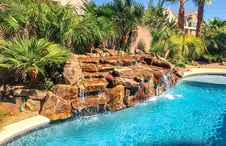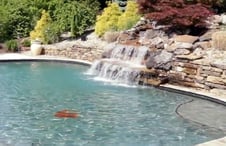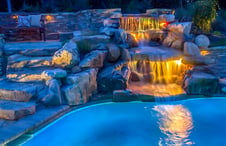 Upscale projects may have a towering masterpiece rising eight to ten feet into the air. A rock waterfall may incorporate a pool slide as well.
Most rock waterfalls include several tiers or catch basins that slow the water as it journeys down into the pool.
Along with the relaxing, nature-inspired sights that waterfalls provide, most generate soft, peaceful sounds of trickling or gushing water.
Most waterfalls are artisan projects.
The manner in which the stones are stacked and arranged varies dramatically from one mason to the next.
The same goes for artificial creations, which also require styling—as well as coloring to mimic the real material.
What also varies is the kind of stone used. Typically, it will be one of the varieties most readily available locally (unless you opt to pay for a custom variety shipped from out of state).
6. Grotto waterfalls
A swimming pool grotto is cave-like niche beneath a large, specially configured waterfall. At around six feet or taller, this custom structure a quite a sight in a private backyard.
Styles vary from grotto to grotto, but this bold waterfall is usually arranged in a manner that stands out from a standard waterfall.
A standard waterfall has several tiers or curves that slow the water's path down to the pool. But on a grotto design, one large flat stone tops the waterfall to form an overhanging ledge.
With this one path over which to travel, the water comes down in a single, wide sheet like a curtain.
Together, the body of the grotto waterfall and the overhead ledge form a cavern beneath and behind the single falling cascade.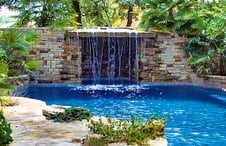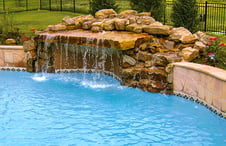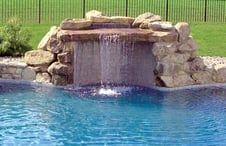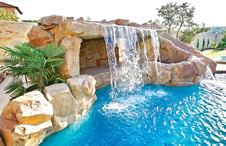 This cloistered area is the actual grotto. It may range from several square feet of a covered pocket to a virtual miniature cave.
Along with its grand beauty, a grotto serves as a destination within the pool itself for shade, privacy, and relaxation in space with cooler air.
One of these magnificent artisan works is a superb mate for a tropical swimming pool design or a rustic, organic setting.
7. Water bowls / Translucent Colored Bowls
Water bowls (also called wok pots) are a relatively affordable way to add the sight and sound of moving water to a backyard resort.
These prefabricated accessories come in round and square shapes, and in various finishes, such as brass, copper, and bronze.
Perched a foot or two above the pool with a cascade pouring out, one or more bowls brings added dimension and character to a pool.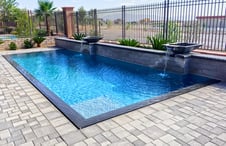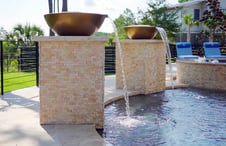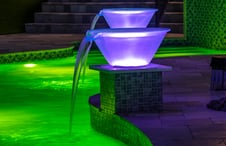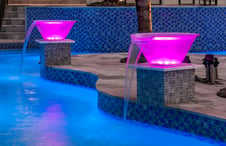 As the water hits the pool surface below, you will enjoy soft splashing sounds for a serene outdoor experience.
For a bigger wow factor, translucent bowls are now available.
Overflowing with sophistication, this exciting innovation is perfect for contemporary settings.
Acrylic puts an ultra-modern spin on the traditional water bowl. But the material's translucent quality holds the key to its biggest surprise: Illumination with changing colors.
Equipped with LED technology, these features appear to glow with show-stopping color displays.
Set the system to remain on one vivid color, or make it cycle through the spectrum for a jaw-dropping evening attraction. There's even a setting for simulated fire.
8. Fire bowls
Set the night on fire!
For a fabulous addition to an outdoor setting, consider dotting the pool's permiter of with dancing flames.
These intriguing beauties amp up the drama of any pool in any backyard.
Whether your pool is modern, classic, or natural in style, the element of fire is simply sublime.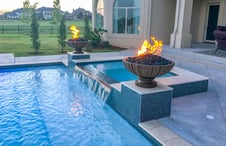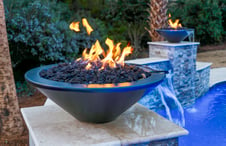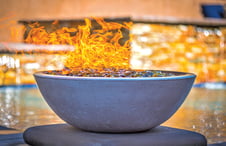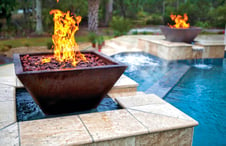 As for the vessel that contains it, you have plenty of options to ensure style versatility.
Pool fire bowls come in round and square shapes.
The variety of finishes mean you can pick the one that coordinates best with your pool's aesthetic profile.
A heads up: These features require both a generous project budget and an extended construction schedule.
Your pool builder will need to special order the specific bowl(s) you want, and installation requirements can be arduous.
The flames run on gas. Lines should be installed and hidden at the same time your pool and deck are being built.
You can also buy remote controls with electronic starters to ignite the flames with a push of button.
If you choose to spend even more, you can have the best of both kinds of decorative pool bowls: Hybrid fire-water bowls.
9. Spouts / Scuppers
Who says nothing pretty can come from mixing metal and pool water?
Perhaps they've never seen a scupper or spout water feature installation on a pool or spa.
When integrated into a gunite pool plan, these fashionable bronze, copper, and stainless-steel accessories will surprise—and delight you.
Installed onto the façade of a raised spa or onto a statement wall feature above the pool, spouts and scuppers channel water into tube-like streams and narrow or medium-width cascades creating a display of aquatic artistry.
Based on the shape, style, and metal you choose, these handsome fixtures can enhance virtually any style of pool.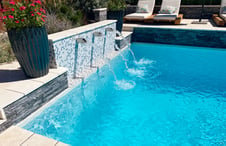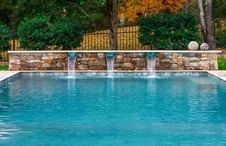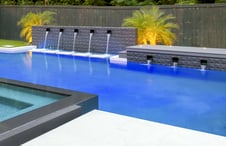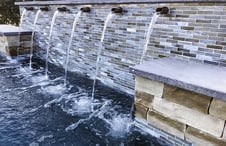 Keep in mind that copper and bronze oxidize. Without a rigorous cleaning routine, the fixtures will take on a bluish-green antiqued appearance; some people adore this patina finish, and the aged look coordinates well with a rustic or organic setting.
If your goal is a clean, sleek appearance for a contemporary pool, you may want to opt for fixtures in stainless steel.
These attention-getting accessories will require a custom order—and come at a price point to match.
10. Glass Tile
Sparkling, jewel-like glass tile provides a breathtaking way to embellish upscale pool designs.
Glass tile comes in an array of exquisite colors and patterns. Finishes include opaque, translucent, metallic, and iridescent.
This luxury material is captivating as it shines and shimmers in the sunlight surrounding a pool's perimeter waterline. Upscale glass tile is an ideal complement for sleek, modern pools.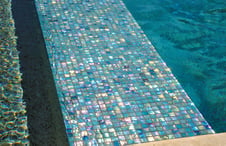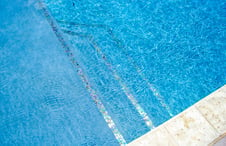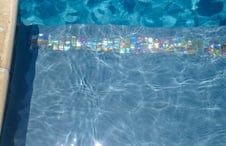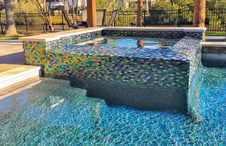 If the color and pattern are carefully chosen, glass tile can integrate surprisingly well on tropical, organic pool designs too.
In addition to using glass for the swimming pool's waterline tile, it can also be used to trim the borders of steps and benches for unexpected pops of glistening color.
For an even bigger splurge, adorn the spa dam wall, its entire façade, or even the full interior in glass tile.
Going ultra-lux
It's worth noting there are more elaborate pool features that are not covered here.
Some of these higher-end options are still within reach for many pools under the $100,000 mark, but they are less common.
Among them: infinity edges, zero/beach entry pools, multi-fountain enclosures, custom-designed pool fire features, and intricate hand-laid tile mosaics.
Other available features are pricier and/or demand an extra-large pool and possibly additional deck or backyard space.
Only a tiny number of pool owners have the budget, space, and desire for these top-tier features such as lazy rivers, tree-studded islands in the pool's center, pedestrian bridges across the water, all-tile pool interiors, and aquarium-style acrylic walls.
In some cases, certain features—such as an infinity edge or reverse-infinity edge—only make sense on sites with a grand view, varying ground elevations, or a specific orientation of the pool to the home.
Choose wisely
When picking options to accent your pool, remember: No matter how pretty a pool feature may be, that doesn't necessarily mean it's the best choice for your particular pool.
Consider what best suits your individual pool design, outdoor setting, as well as your personal taste, lifestyle, and budget.
Thoughtfully selected, the features described here—whether alone or in combination—will become an eye-catching addition to your pool and backyard.