Fitness, family fun, convenience, hydrotherapy, and avoiding public-pool dangers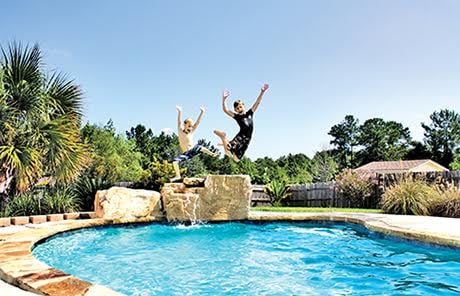 Residential pools provide homeowners and their families with multiple opportunities for beneficial exercise, relaxation, and family fun in the privacy of their backyard.
UPDATED
Along with adding beauty to your outdoor space and value to your home, a swimming pool can contribute to a healthy lifestyle.
Backyard pools can enhance a family's overall fitness and recreation levels in a variety of ways. Here are five reasons why. And the first one deserves special attention, as recent, troubling news from the Center for Disease Control (CDC) reminds us about hazards lurking at many public swimming pools around the country.
1. Public pools can pose health risks.
Aquatic facilities in gyms, clubs, schools, and community centers receive continuous use by numerous swimmers. Among them are individuals with open sores and contagious illnesses. Then, there are those who are perfectly healthy—but who fail to practice responsible personal hygiene. (Yes, you know what we're talking about here.)
Proper water maintenance—which involves high chemical loads—is designed to keep hazards at bay in these large aquatic facilities. However, even when pool managers do their utmost to avoid them, mistakes happen. When they do, any pool user can be exposed to harmful contaminants and become ill.
It's worth knowing that some pathogens are so tough that they cheat death by chlorine. Certain stubborn viruses and protozoa can survive the chemical—and live to spread illnesses like hepatitis, gastroenteritis, and Legionnaires' disease. One of the most infamous parasites is Cryptosporidium—better known as "crypto." You have likely heard news reports about outbreaks in public pools.
If you have not, then consider the latest CDC report (released in May, 2016). In it, the federal agency examined closures and violations found during routine inspections of public aquatic venues. What it uncovered is unsettling. And that's putting it mildly.

Studying the records of public pools in in five major states, researchers found almost 80% of their inspections uncovered at least one health violation that could affect the public's health. Unsafe water conditions, safety equipment violations, and disinfectant concentration levels that failed to meet standards were among the disturbing findings just released by the CDC. In fact, one in eight facilities were forced to close immediately due to a serious health and safety concern!
While public facilities provide opportunities for playing, exercising, and socializing, they also provide real risks. Potential threats can offset the value they offer the community. So how can you reap the rewards of water-based recreation and exercise, but with significantly lower risks? The answer lies in having your own pool at home.
Unlike a public facility that's used so frequently, by so many different people, a backyard pool gets used only by who you choose and when you choose. Pool use comes under your reigns, and you also have more influence over swimmers' behavior while inside the pool. As a result, the odds drop dramatically for someone introducing an infectious pathogen into the water.
As a homeowner, you also have choices for pool-water treatment. Instead of relying on chlorine (or saltwater systems—which produce chlorine gas) as a stand-alone weapon, you can expand your arsenal. Along with a small amount of chlorine, thousands of residential pools employ highly effective ozone purification; along with being gentle on eyes and skin, ozone works 3000 times faster than chlorine!
Residential pool builders can also pair ozone with a germicidal ultraviolet light. This technology is so safe and powerful that it's used around the U.S. and worldwide by municipal water plants to disinfect drinking water. Best of all, it kills even those chlorine-resistant invaders like Crypto, Giardia, and Cyclospora.
2. Swimming is a smart, unique form of exercise.
What distinguishes swimming from many other forms of exercises is it allows you to achieve a full-body workout in a supportive, buoyant environment. An aquatic gym makes it possible to exercise muscles without typical levels of stress on joints—even less so than low-impact exercises like yoga, walking, cycling, or using a stepper, elliptical, or rowing machine.
That feature makes swimming a particularly good fitness option for those with limited mobility due to injuries or conditions like arthritis or obesity. If you have pain or sore joints, swimming may just be the ticket: The water soothes those achy areas—without creating additional strain or tension on your body like impact exercises, such as running, jumping rope, and step aerobics.
The shallow end of your pool is an excellent place to stretch gently and increase your range of motion. It's also a good spot for the elderly who are trying to exercise in a safe manner, as well as for children who are new swimmers or who are still learning the skill.
If you are ready to take your workouts to a more ambitious level, looking to shed a few pounds, or get into better cardiovascular shape, then swimming laps is a great choice. Sustained swimming provides a total body workout, vs. focusing on a specific muscle group. Best of all, it provides a superb cardio routine You can do laps to raise your heart rate—but do so without breaking out in a sweat.
A spa can provide a whole other dimension for health and fitness. The warm, whirling water is ideal for exercise, with the heat relaxing tight muscles and boosting circulation. Even in wintertime, when it might be too cold for pool use, you can still work out in your spa.
Even if you don't use your pool for your gym, the water can still compliment your fitness routine. When you engage in land-based exercises, a dip in the pool afterward is a great way to wind down. And almost everyone enjoys a relaxing soak in a bubbling spa to help relieve muscle tension from a hard workout.
Expert Tip for Lap Swimmers:
Want to swim laps, but your backyard space is limited for building a pool? A narrow, rectangular lap design may be the perfect solution for a tight fit. Another option is a small, short pool or "spool" equipped with specially designed swim jets that allow you to do strokes in place against the high-velocity water current.
3. Water provides several forms of hydrotherapy.
Indulge in liquid therapy to unwind from the stresses of daily life. Simply lounging on a tanning ledge or swimming a quick lap can do the trick. Some people find they sleep better by ending their evening with a quick dip in the pool.
If you have a spa, there are even more relaxation benefits from its warm water and massaging jets. You can feel the heat help melt away stress. Various research studies have shown the therapeutic benefits of heated spas, including better sleep, muscle relief, and increased mobility in painful joints. The hot water allows your body to release tension—which may reduce pain, help you relax, and calm your mind.
Another quasi-form of hydrotherapy available with a backyard pool comes without ever getting wet: Listening to the gentle sounds of water splashing from a pool's waterfalls or fountains can create a sense of tranquility and well-being. Plus, various pool design features with flowing water foster a serene outdoor ambiance—just gazing at them can be relaxing.
4. A pool can help bring the family closer.
By creating a backyard entertainment center, a pool provides an ideal setting where parents and children can interact more and build stronger relationships. A pool sets the stage for outdoor living, and millions of homeowners have experienced how it becomes a magnet for family activity.
Kids love the water. A private aquatic playground may keep them at home more frequently. A pool might even entice your children's friends to spend time at your home with your supervision—vs. the other way around.
If your son or daughter has not yet learned to swim, a home pool encourages opportunities for practicing (under careful, continuous adult instruction). The ability to properly swim is a safety skill your children will carry throughout their lives.
Another way a backyard pool promotes family bonding and togetherness is by serving as a backdrop for social events that involve others. Your backyard resort provides a wonderful venue for socializing with gatherings like potlucks, barbecues, and pool parties.
Having your friends, your children's friends, relatives, and your neighbors over is a positive activity. Engaging in group activities cultivates healthy connections that carry over into other aspects of family life and your children's development in well-adjusted adults.
5. A pool provides an ultra-convenient staycation right outside your door!
Travel vacations are costlier and more burdensome than ever. No doubt you've encountered the traffic, parking, crowds, and other hassles. Trudging through the TSA security line to board a plane or worrying if bedbugs are hiding in your hotel room is stressful when you just want to have fun and relax. If you have young children along, that changes the equation; the entire set of travel logistics become way more complex.
Destination travel can be a wonderful, educational adventure for both adults and kids. However, the effort required and investment often may not be practical in all cases, or, at least on some occasions. One of those "occasions" is a long one: summer break when kids are off from school.
Even if your family travels out of town for a week or two, there's still the rest of the time to fill. Older children may go on their own with a summer job, summer school, or going out with friends. However, occupying the time of younger kids may be another story. A home pool is one avenue for keeping them engaged and providing an outlet for all that energy they have!
Even taking the family for local outings can be pricey and generate its share of aggravation. Depending on where you go, there could be limited parking, long lines, admission fees, and crowds of strangers. But your backyard resort is always open—and there's never a wait, required reservation, or entrance fee to get in!
Ready to start enjoying the benefits of a private pool right outside your backdoor? Would you like to provide more ways for your family to live a healthy lifestyle—and do so with greater convenience?

To learn more about building a new pool, contact your local pool company. Blue Haven Pools offices serve multiple markets, to find your local design & construction team, visit our national office directory.