—Affordable sports, floating board games, and other fun pool gear for healthy, high-energy fun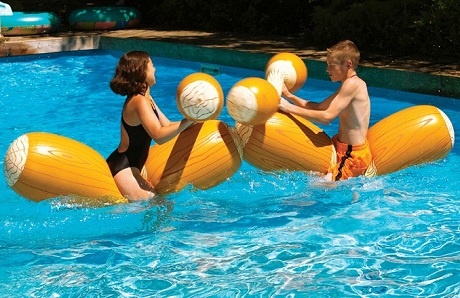 Your inground swimming pool offers numerous benefits. It beautifies your home, cools you off on a hot day, enhances family togetherness, and often boosts your property value.
Along with being a convenient setting for relaxation, your pool can also serve as an endless source of healthy outdoor recreation. Kids love to actively play in a pool with their pals, as do many adults.
Your pool is a fun-filled amenity on its own, but you may want to safely up its sun-splashed fun factor in a number of ways, especially by adding toys and games into the mix.
The number of swimming pool toys, games, and creative/colorful floats available for purchase are virtually endless. You can shop for them at the nearest big-box store, and find an enormous array of them by searching online.
Naturally, you will base product choices on personal tastes and hobbies. However, in some cases, your picks may be limited by the size of your pool and other factors, such as the age of your children.
Pool toys and games can be matched to any budget; most are available for less than $100. With a nod to the idea that adults like to play in the pool just as much as kids, here's a look at 10 reasonably priced picks for adding fun-filled action to your backyard resort.
1.
Watermelon Ball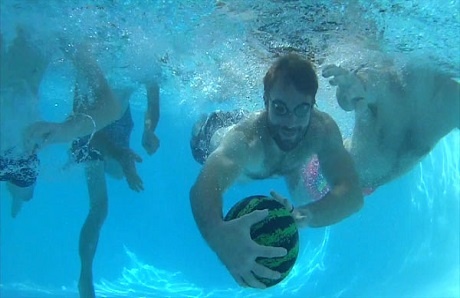 Painted to resemble that sweet summertime fruit, a Watermelon Ball looks, feels, and floats like a watermelon. But the toy version is a whole lot less messy!
Made with a vinyl membrane that's filled with both air and water, the ball's interior mix of elements gives it the ability to float in the pool for a short period of time before slowly submerging.
This unique feature allows you to dribble the ball (in seeming slow motion) on your pool floor, and you can pass it underwater to a friend up to 10 feet away. Watermelon Ball can be played as a team sport that's similar to rugby, or you can make up a new game with your own rules.
2.
Floating Golf Green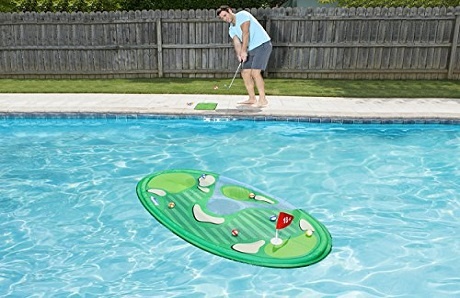 Hitting golf balls in your backyard oasis is possible—even if you don't have the budget or outdoor space for a private putting green.
Floating golf greens come in a variety of shapes and sizes, and they are designed to work in swimming pools. Most include a chipping pad that you situate on the pool deck and a portable floating green you place on the water's surface.
Options include floating balls made of plastic or versions affixed with Velcro that stick to the green when you make that perfect chip shot.
3.
Lob the Blob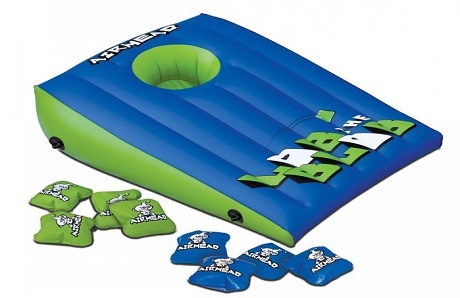 Have you heard of the popular backyard and picnic game called Cornhole? The game works with people tossing beanbags at a sloped wooden target with a hole in it. Well, now you can play an aquatic version in your swimming pool.
Lob the Blob is a waterproof version of Cornhole. The 37-by-26-inch floating target is made of heavy gauge PVC with welded seams. A Speed Safety Valve makes inflation and deflation quick and easy.
Game sets come with eight waterproof "blobs" for pitching at the floating target. The target contains stainless-steel grommets that provide the option of tethering the target with a weight—sort of like an anchor so that the target board remains in the same spot in your pool.
4.
Water Joust Game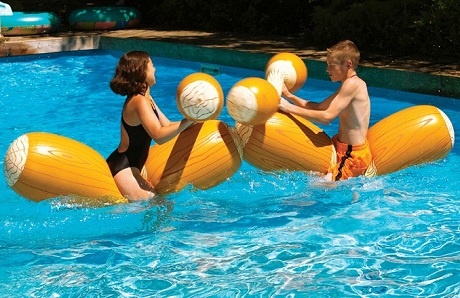 Swimmers can engage in some friendly competition with the Swimline Log Flume Pool Joust Game. The game's playing pieces are shaped like wooden logs—with a wooden print pattern look that brings the feel of a Renaissance festival to your backyard. Players slide onto the 58-by-14-inch floating logs and arm themselves with soft inflatable boppers.
Players engage by using the 4-foot-long boppers (also in wooden print) to try jousting an opponent off his or her log. May the most-noble knight or dame prevail!
5.
Volleyball Net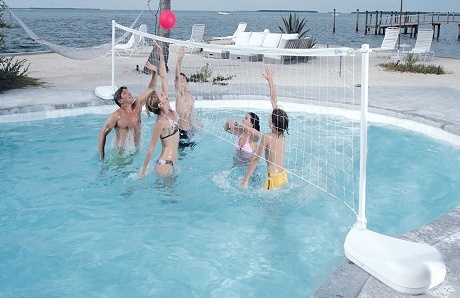 Pool volleyball is a longstanding tradition that fosters friendly competition (and sometimes some lighthearted family rivalries). And you can burn some calories while you're at it as well.
The size of your pool will help determine the type of net you'll need to play the game. Floating nets are available for sale, but they can be fairly unstable.
The Dunnrite AquaVolley Swimming Pool Volleyball Set provides a solution. The net is 24 feet long and is fully adjustable for length and height. Two sturdy aluminum posts are anchored by water-filled plastic bases placed on the deck. Use the hot pink volleyball (included) to set and spike, and it's game on!
6.
Floating Ping Pong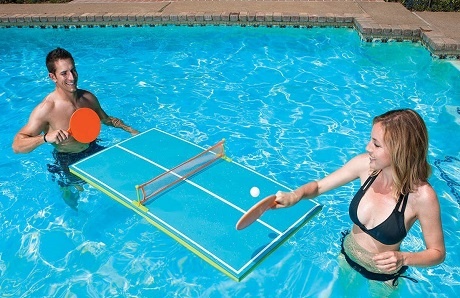 Ping Pong aficionados can keep cool during their heated volleys by playing Floating Waterproof Table Tennis. The 54-by-27-inch table floats in the pool, as do the balls and the oversized paddles.
The table surface is hard, so you can make solid slap shots and enjoy proper game play. In case players or spectators happen to bump into the table, the corners are padded.
And if you prefer to finish the action on dry land out of the pool, the portable, versatile Ping Pong table can accommodate your whims: Simply place it on a deck-side picnic table for game, set, and match.
7.
Basketball Hoop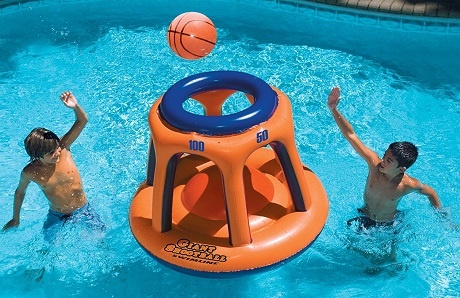 Want to play a peaceful game of horse or mix it up with some one-on-one action? Playing a round of hoops in your pool can be casual fun as well as a good workout.
Some sport fans may prefer a backboard-and-hoop that's set up on the side of the pool. Or, try an inflatable floating hoop like the one pictured above (45 inches tall by 36 inches wide).
This design will keep the action in the water—and the players cool on a hot day. Plus, you'll need fewer trips out of the pool to retrieve missed shots.
8.
Floating Hockey Game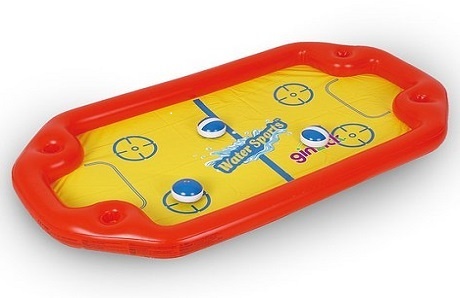 Ice hockey players ordinarily rely on a frozen rink. But the refreshing pool water in your backyard can also serve as the setting for a Floating Hockey Game version.
When inflated to full size, the 6-inch-tall, floating hockey board is 71 inches by 39 inches. Instead of traditional hard wooden hockey sticks, the game includes hand-held "pushers," similar to what you see on an air hockey table game.
Two players stand in the pool water, at either end of the floating playing surface, and then battle each other with the pushers to target a plastic puck. Kids aged 6-and-up can play, and you can also enjoy the game on dry land by setting the board on a table.
9.
Floating Pool Gameboard

You can't play every kind of board game in the pleasant confines of your backyard swimming pool. But with a Floating Pool Gameboard, chess, checkers, and backgammon can go onto your board-game bucket list.
The versatile board measures 20 inches by 16 inches. Go mano a mano with your pals. Hold a revolving Checkers tournament with a group of friends. And you don't have to be Bobby Fischer to enjoy some classic chess action in the shallow end of your backyard oasis.
10.
Bull Riding Float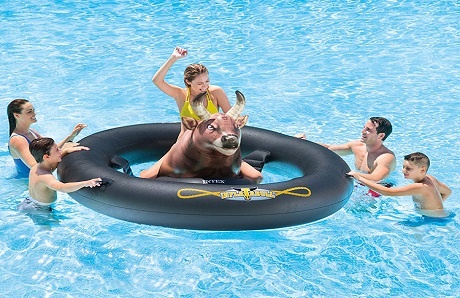 Yee-haa, ride 'em cowpokes! Channel your inner urban cowboy or cowgirl by taking a turn on the Inflat-A-Bull. Hop up on the 32-inch-tall plastic bull floatie made of durable 17.5-gauge vinyl. The bull is attached to a 96-by-32-inch oval floatie equipped with grab handles.
Your friends hold onto the handles and shake the oval tube, simulating a bumpy (albeit, watery) bull ride. Just like at the rodeo, the winner is whoever can stay on the bull the longest. But unlike the dryland rodeo version, you have the benefit of "soft landings" in which any falls are a splash into the pool water.
You got game.
Swimming pools and the toys and games you use are a great way to support a healthy lifestyle. Best of all, the products you pick don't have to break the budget to add energy and excitement to your background resort. Choose wisely by taking all family members' hobbies into consideration, and make sure your selections are age-appropriate for any children who may use them.
Always remember to keep safety at the forefront, and you should be able to take fun up a level in your backyard swimming pool.