—Budget-friendly options for a more attractive concrete design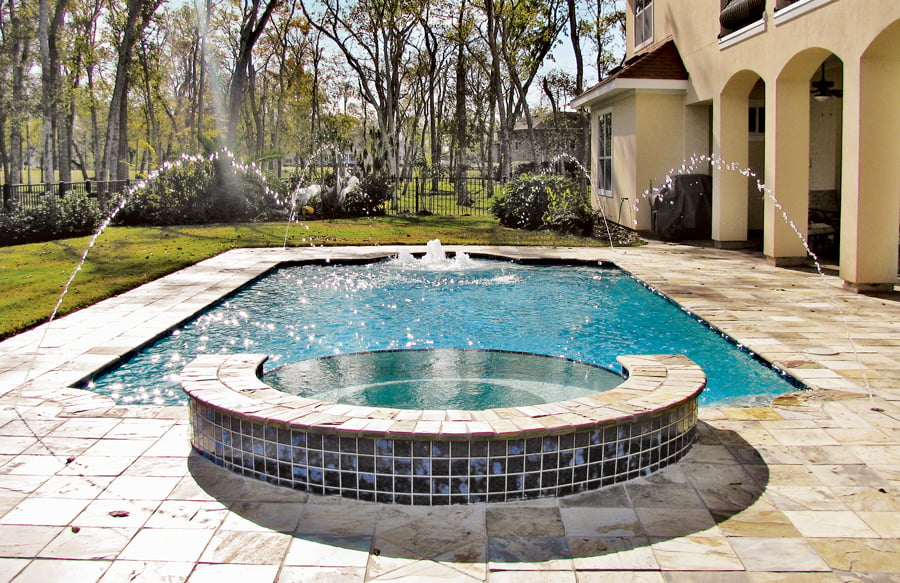 Are you planning a gunite swimming pool and want beauty and functionality—without busting your project budget?
The good news is that an affordable gunite pool can have style and personality too.
While the sky's the limit on how much you can spend customizing a gunite design, no one has to. A number of features are not only attractive and functional, but reasonably priced.
As you research inground pool prices, here are seven features to consider. Every one of them will add visual intrigue and pleasing aesthetics to any aquatic resort.
The final cost of each will depend on the size, style, quantity, and local pricing in your local market. Typically, options outlined here will run $1,000 to $3,000; a few will come in under $1,000.
1. Multicolor LED Lighting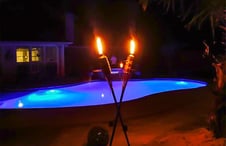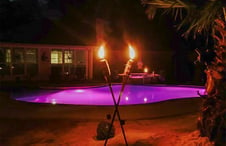 One low-cost, "brilliant" idea for enhancing your pool's appearance relates to how you illuminate it.
In recent years, the advent of LED pool lights has been a game-changer. Using light-emitting diodes, this technology transforms any pool with an array of vibrant colors each evening.
With the touch of a button, you can "paint" your pool & spa in a single color—not only white and blue, but in green, gold, pink, or purple.
For even more drama, set the LEDs to rotate through a spectrum of colors.
But for the ultimate in scenery and ambiance, go for an LED "light show." Preset, themed programs such as "Gemstone," "Tranquility," and "Cool Cabaret" cycle in hundreds of colors that flash and dance around your pool at various speeds.
As a bonus, LEDs cost less to maintain than old-school incandescent pool lights. LEDs are incredibly energy-efficient, and they will ensure many years of dazzling performance.
2. Umbrella Via Sleeve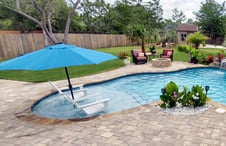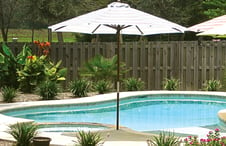 Bring comfortable shade and a bright pop of color to your pool area. Integrating a sleeve to hold an umbrella pole is a simple, effective way to make both possible.
During construction, your builder can incorporate a hidden sleeve. Later, when your pool's complete, pop in the patio parasol of your choice.
Since the sleeve is always present, it's easy to add or remove the umbrella as you wish.
You can request one or more umbrella sleeves in various spots around your pool or spa.
For example, the sleeve can be inserted into the pool coping around the spa. There, an umbrella can block some of the sun's rays while you hang out in the bubbling water.
However, the hands-down favorite approach is for sleeves to go into tanning ledges. Pool owners appreciate having an umbrella on the ledge for some sun protection.
An umbrella sleeve is a genuine bargain. Once the sleeve is ready, buy a patio umbrella in any price range you like.
Now you have a colorful, stylish, convenient way to beat the heat for minimal cost.
3. A Bubbler—or Two or Three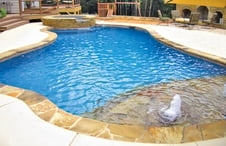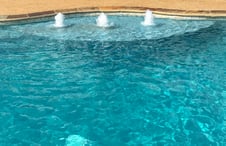 Add a dash of frothy bling to your pool water. Bubbler fountains bring motion and interest to your aquatic retreat even when it's not in use.
Entertaining poolside? Just switch on your bubbler fountains for a lovely, soothing sight.
Bubblers can go into a pool's top step. But by far, the favorite location is a tanning ledge.
Accenting the shallow ledge with one, two, or three of these fountains not only looks great, it provides a visual cue to recognize the ledge's shallow depth.
Bubblers are trending more than ever when it comes to modern pool design. With a low price point, these fountains can fit into most gunite pool budgets.
The playful feature is priced low enough that you can add a pair or trio of them to enjoy. Splurge a little, and you can add LEDs to light them up when the sun goes down.
4. Cascade Water Features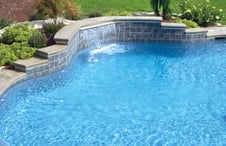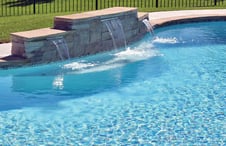 For some splashy spirit, include one or more cascade water falls on your pool. These affordable fixtures emanate a small, continuous sheet of water that flows into the pool below.
The plumbed fixture mounts to the pool's "bond beam." Bond beam is a section of pool wall that extends at least 6 inches above the pool.
On the shortest bond beam—just half a foot—it's possible to include one special kind. This particular style produces an arcing cascade. The water moves upward and out before falling onto the pool's surface.
However, the two other kinds are used far more frequently. One has a sheet that descends straight down in a sleek fashion.
The other kind produces a sheet that arcs; it travels several inches or more outward and over the pool before hitting the surface.
To accommodate one of these common versions, the bond beam must be at least one foot high. The final cascade effect will be even better if the beam is 18 to 24 inches high.
When it comes to width, most cascades run 12 to 18 inches. Custom versions span several feet.
Although a single cascade looks great, many pool buyers prefer two or three mounted at set intervals across the bond beam.
Most cascades will produce flat, sheer sheets of water. Their smooth surface will catch the sunlight and make them virtually shine. For a different cascade look, a broken "raindrop" style is also available.
Regardless of the size, quantity, and style, cascade water features introduce soothing sounds and an appearance that whispers luxury—without exorbitant cost.
5. Jets on Deck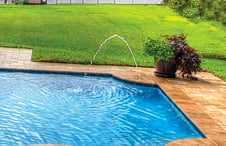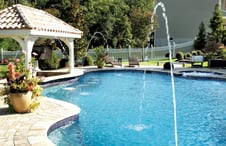 How about some liquid "eye candy" along with an aural ambiance that your ears will appreciate?
With deck jets, you'll relax watching graceful streams gently hit your pool's surface.
These moving arcs glisten in the sunshine as their spray falls onto the water below. With several on a pool, you may hear lovely sounds as well.
Pool deck jets project several feet upward, and some can go taller. As the emanating arc descends, the tubular shape diffuses and spreads into small droplets.
Whether they accent a chic geometric pool, classic Roman/Grecian, curvy tropical lagoon, or any other pool style or pool shape you pick, deck jets will bring extra motion and character to the setting.
Best of all, deck jets can be had for surprisingly little. With an economical price point, you can introduce one or more of these playful features into your pool and deck design.
Note: Avoid confusion between the modest deck jet and its high-cost cousin: a laminar. Equipped with its own motor, a laminar emits a highly uniform, glass-like arc. This pricier option can also be internally illuminated with LEDs.
6. Raise the Spa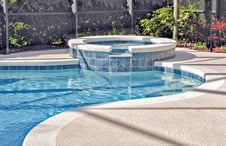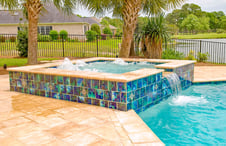 If you're already planning a gunite spa with your new pool, take it—literally—to the next level. Building a spa even just 6 inches above the pool will draw more attention.
Raise the spa 12 to 18 inches, and it transforms into a bolder focal point. This added height enhances the spa's aesthetics.
Here's how: As spa water overflows down a foot or more to the pool surface below, the spillway creates an attractive "water-in-transit" effect.
As a bonus, some spillover designs generate soft gushing sounds as they hit the pool surface.
But again, these wonderful effects are not possible with a spa that's level with the pool or raised a mere 6 inches.
A spa that's at least a foot above the pool boasts another decorative treat: The spa will reveal its upper dam wall—the barrier that separates the spa water from the pool water.
This section of exposed spa dam wall becomes a backdrop for showcasing colorful pool tile, specially arranged tile patterns, or decorative stone.
Elevating your spa may also elevate your backyard experience. As you relax in the hot bubbling water, the higher perch provides a better view.
From the comfort of your raised spa, you'll enjoy the views across your pool surface, surrounding landscape, and any distant vistas.
7. Ready-made Mosaics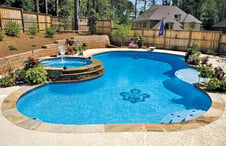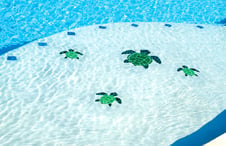 If the Greeks and Romans could enjoy the beauty of mosaics, so can you!
Now, handcrafted tile mosaics rank on the list of stunning, expensive pool features. It's true, "custom" mosaics are essentially original works of art that command big price tags.
However, you can achieve some of the looks of fancy mosaics—for a fraction of the cost. Many off-the-shelf mosaics are available for a gunite pool's floor, walls, ledges, benches, and steps.
These versions are easy on your wallet and come in colorful, whimsical, and sophisticated designs. The wide assortment of standard images will make choosing your pool mosaic big-time fun.
Sea creatures such as fish, crabs, turtles, and dolphins are among the most popular. You can also have graphic designs such as a monogram, compass medallion, or Fleur de Lys.
With even more distinctive options from which to choose, you're sure to find the perfect statement piece for your new pool.
Creative License
Because these features fall within reach for many pool buyers, they introduce a level of design flexibility. Combine several of them to bring multiple visual dimensions to your pool.
The beautiful bottom line is that your financial bottom line stays beautiful. You can boost the pleasure and excitement of pool ownership without a skyrocketing project cost.
To learn more about economical options for your gunite pool, request a free in-home estimate and design plan.