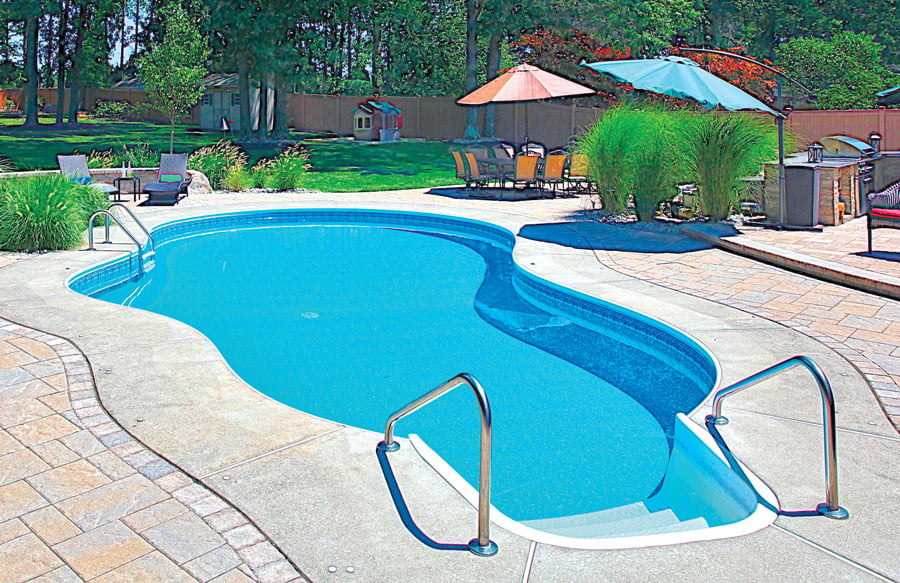 —Overview of package pools and their key components
So what exactly is a vinyl liner pool? Let's look at the chief components that comprise this inground vessel that's also known as a kit pool and package pool.
This pool begins with a series of metal or polymer wall panels. Once erected, they outline the pool's shape.
The panels surround a base material that covers the earth and forms a floor. Typically, this material is sand, a grout-cement mix, or vermiculate (explained below).
Prefabricated pool steps are also part of the equation. So is stainless-steel pool coping that borders the structure's perimeter.
Finally, since the wall panels are not waterproof, a liner is needed to retain water in the pool. Installers hang a colorful, patterned vinyl sheet from the walls—thus the name "vinyl pool" or "liner pool."
Like its gunite or fiberglass cousins, a liner pool requires equipment and accessories for operation. The basic line-up includes a pump, filter, and lights, as well as the requisite plumbing and related components, such as a skimmer.
Evolution of the vinyl liner pool and its components
Even today, vinyl liner pools are sometimes disparagingly referred to as "baggies." But certainly, these pools have improved immensely over the years.
Compared with their predecessors, they are far more attractive and durable, and more decorative and functional options are possible.
Because a vinyl pool is assembled primarily with factory-made components—vs. custom construction performed onsite by specialty tradesmen—it is the most affordable kind of inground pool. It is also the quickest to install.
For some families in some parts of the country, going the liner route for a new backyard resort makes good sense.
Before you contact local contractors, it's helpful to understand these package pools and some of the key options available on them.
Wall panels
Critical to the form and stability of any vinyl liner pool is the walls. Typically, these components are made of either galvanized steel, aluminum, or polymer (composite plastic).
Which material is optimal? The debate among manufacturers and contractors continues.
—Galvanized Steel
Some consider galvanized steel the more durable choice and assert it provides better structural support. The metal panels also provide greater versatility when tailoring the more intricate pool shapes and features.
Steel fares better in rocky and clay-like soils. However, to eliminate the risk of corrosion, some installers avoid using steel in areas with high water tables where the earth is often damp.
In addition, if you have a saltwater-chlorine sanitizer on a pool, beware: In case of a leak, the metal does not hold up well in the presence of this corrosive mineral.
—Polymer
Others contend that polymer walls perform better. Polymer is lighter, and along with the panel design, they are easier to install.
More importantly, the material is more durable over the long hall in the presence of some soil conditions, such as soils that contain high levels of chlorides.
However, in regions with cold winters and hot summers, it's another story; when the earth contracts and expands, polymer does not move well enough to adjust.
Finally, know that polymer carries a higher price tag.
—Production and assembly
Regardless of the material, factories produce the walls in sections or panels. Each is either straight, 90-degree angles, or curved with different radii.
Depending on the project specs for shape and size, the manufacturer will package the panels involving one, two, or all three of these shapes.
At the job site, installers will erect this set of panels by bolting them together. By creating a full-perimeter pool wall, the desired pool size and shape is achieved.
Depending on the kind of panels, the crew may also install a system of "X" braces to reinforce the walls' long-term stability. Earth is also backfilled around the pool walls.
Finally, to lock the base of the walls and braces in place, most installers will pour a band of concrete around the entire pool perimeter.
Pool buyers can order a package pool in standard shapes and sizes or with custom specifications. Wall panels can come with penetrations for LED lighting, drains, returns, and skimmers.
Some panels come with fiberglass "inserts" that will accommodate steps; in some cases, even benches/loveseats and tanning ledges are possible.
Panels can also be designed to accept different kinds of masonry coping besides the typical stainless steel variety. In some installations, an installer will build the surrounding deck cantilevered over the top of the wall so that coping is not visible.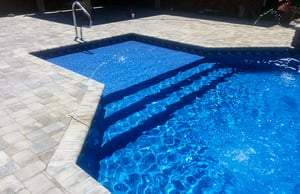 The pool floor
While the liner is what you see in the water and swim next to, it exists strung across the real floor of the pool. Liner pools typically have one of three types of floors.
—Sand
Sand carries the lowest price and is easiest to install is. Because sand lacks structural integrity and can change shape and distort the appearance of the liner's surface, it has heavily fallen out of favor.
—Vermiculite
Vermiculite is a flaky, lightweight mineral made that looks like mica. (Another use for it is in gardening and worm farming.)
When mixed with cement, the liquid slurry hardens into a solid, porous surface. In expansive soil conditions, it provides the needed flexibility to adjust while maintaining its integrity.
—Grout
Vinyl pool buyers willing to pay more for their project can opt for reinforced grout floors. Grout is a concrete blend of sand, cement, and water.
Installation uses some techniques for installing a concrete deck. The crew ties structural steel rods to the bottom of the pool walls. Then they pour the grout mix in place. The result is a highly durable pool foundation.
Access: steps and ladders
On a liner pool, the steps come from the factory in the kit for your chosen model.
The kind of steps you see most often is white polymer. While this style is the most common and economical, let's be frank: On most pools, the white jumps out against the pool's blue interior, sticking out like a sore thumb.
One solution here is to hide the jarring white structures beneath your liner. Doing so will require a special-order liner at a higher price. Since extra attention is needed to properly hang the liner over each step, your installer may also charge more for the labor.
If you are on a really tight budget, another option is possible: a ladder. But this accessory comes with major trade-offs and is ill-advised. First, a ladder is an eyesore. Second, compared to steps, its functionality is poor.
Ladders are tougher to rely upon for climbing out of the pool, particularly for some children and individuals with mobility challenges. Pool safety can be compromised.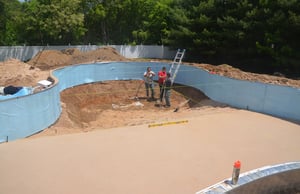 The vinyl liner
The liner is strung across the pool and held in place by a "bead" that snaps into a channel at the top of the walls. It is made of synthetic plastic resin; specifically, polyvinyl chloride or comparable polymer molecules.
Vinyl is flexible and waterproof. Manufacturers incorporate UV inhibitors so that colors and patterns do not quickly fade in sunlight—a common problem with older liners.
Liners come in several levels of thickness between 20 and 30 millimeters. The thicker the material, the more resilient it is.
However, a thinner liner provides greater flexibility, which is helpful for achieving a snugger fit over steps, corners, and tanning shelves.
In addition, liners fall into two kinds of "finishes": embossed and virgin non-embossed. Here too, professionals continue to debate the superiority of each.
When it comes to the virgin, non-embossed option, a key point is cleanliness: A perfectly smooth surface is less-hospitable to dirt trying to cling to it. Because its thickness is uniform throughout the entire liner, it is more resistant to damage.
On the other hand, some prefer an embossed liner with a patterned texture. The surface is less slippery than a non-embossed liner. But the embossing treatment means the liner's thickness is inconsistent, and therefore more prone to damage.
—Style options
Overall, pool liner quality and variety have advanced tremendously over the years. Today, liners come in a wide array of sizes and shapes, and the number of available patterns has exploded with hundreds of options.
You can still have solid blue, gray, or white. However, the possibilities now extend to patterns that mimic pebbles, marble, or other natural stone.
Some attempt to simulate the waterline tile of a gunite pool. Others contain abstract patterns, and some are fabricated with pearlescent, reflective material that shimmers in the sunlight.
—Performance
Under proper conditions, liners tend to last 6 to 12 years. Thicker ones—which carry a higher price tag—are more resilient. But be advised: A puncture-proof liner is like a unicorn; it does not exist.
Every liner is susceptible to damage from a variety of sources. Among them: dog paws, long fingernails and toenails, falling branches, patio furniture that rowdy individuals toss in the pool, and other sharp objects that find their way into the water—sometimes carried by heavy winds.
Design flexibility
In the past, one of the biggest knocks against liner pools was their extreme limitation of shapes, sizes, liner patterns, and possible features.
For many years, you could have a rectangle, kidney, and maybe a lazy L, but that was about it. Worse yet, they had a decidedly plastic look.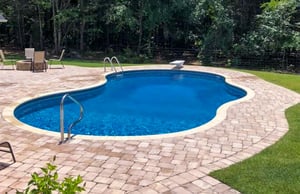 Advances began with the advent of modern design and manufacturing technology. In particular, CAD systems opened the door to many variations on standard pool packages.
Today, installers will lay out a vinyl pool in various shapes and send the measurements and customizations to the factory. Then, using these project specs, the manufacturer prepares the wall panels, liner, and other components.
Liners can be produced in pieces and "welded" together on the job site, making different sizes possible. Wall panels can be produced in many shapes and dimensions as well. Standard shapes and sizes remain an option, but customization is available for most package pools.
Liner pools also offer some flexibility for special features, such as tanning ledges (in limited shapes and sizes) and various step and bench configurations.
You can even add a slide and water features such as deck jets and rock waterfalls. Some vinyl liner installers have the skill to fashion a version of an infinity-edge pool—just don't expect it to look like the real McCoy you see on gunite pools.
On the technology front, you also have options. Consider features such as pool controls or healthier alternative sanitizers such as ozone or ozone/ultraviolet combinations. But stay away from salt systems, as the mineral will eat away at the vinyl material.
If you have the hefty budget for an automatic pool cover, you can also order a liner pool with built-in tracks and vaults to accommodate this feature.
On a large vinyl pool built with the proper dimensions, a jump rock or diving board is also possible.
So is a spa. Rather than a gunite spa though, it will be a prefabricated unit that is installed adjacent to the vinyl configuration.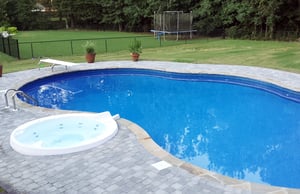 What level of customization and the kinds of features you include will come down to your budget and the skill level of vinyl pool installers in your local market.