—Get the facts on custom landscape slides and integrating them into pool waterfalls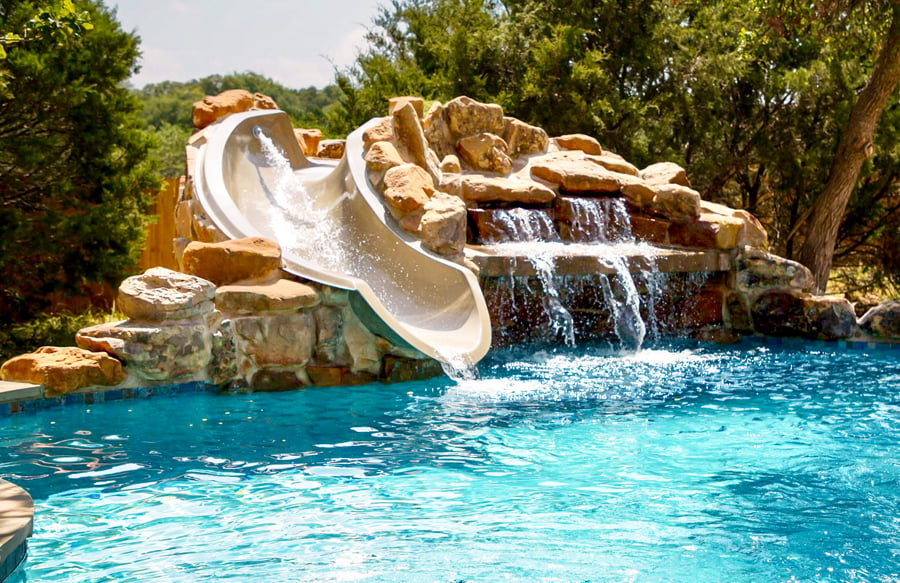 Incorporating an attractive slide into your swimming pool rock waterfall or grotto waterfall will boost the entertainment possibilities in your backyard while enhancing its overall beauty.
Compared to free-standing slides, rock waterfall slides—also called landscape slides—are both permanent and more visually appealing.
Because they are custom-built, they meet most design preferences, fit into most backyard settings, and deliver an alluring, organic aesthetic.
For these reasons, swimming pool rock slides are an increasingly popular choice for homeowners seeking a stylish outdoor living environment. They are also ideal for complementing a lagoon-style pool.
Are you considering this eye-catching, kid-friendly amenity as part of your gunite pool project?
If so, learn what defines a rock waterfall pool slide and its benefits, construction methods, and considerations when planning one for your new aquatic playground.
What is a swimming pool rock slide?
Unlike a deck-mounted pool slide, this specialized slide installation is a perpetual feature specifically designed for and built to flank a pool's rock waterfall or grotto.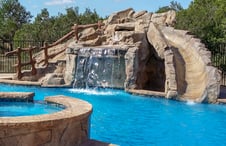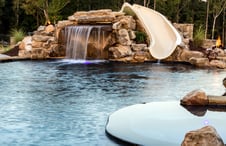 The rockwork in a waterfall or grotto may be faux (left) or natural (right). The material used often depends on the area of the country.
Slide elements include height, color, length, shape—how the runway curves—and steps. Each is project-specific to align with the particular waterfall or grotto configuration.
Pool builders employ one of two methods to fashion the rock slide: Installing a prefabricated custom-ordered "landscape" slide or handcrafting the slide on-site with masonry materials.
Let's break down these two approaches and how they create a functional, stunning backyard attraction.
Prefabricated landscape slides
With this approach, pool builders construct the waterfall-slide structure using a factory-produced slide flume (runway).
Contractors coordinate with specialty manufacturers to order a flume that properly integrates with the specific dimensions and configuration of the waterfall/grotto project.
The manufacturer provides the precise components and hardware needed for a perfect, cohesive installation.
Some pre-fab flumes come with integrated, powder-coated handrails. Others have such high sidewalls that rails are not needed.
In some cases, crews install metal support poles (from the manufacturer) beneath the slide's flume to properly position and support it.
Other flumes come with brackets, and the crew pours concrete pillars that attach to the brackets to firmly hold the flume in place.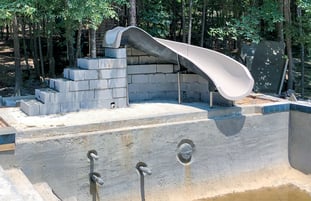 Pre-cast cement blocks (cinder blocks) provide a substructure foundation for a rock waterfall. When the surrounding rockwork is complete, it will hide the slide's metal support poles.
Since the flume comes without steps, your contractor will fashion ones using either natural stone, custom masonry with concrete, or gunite or shotcrete applied through a high-pressure hose.
Going with a pre-manufactured flume provides certain benefits. One is that it comes with manufacturer warranties.
Another is that the manufacturer has already developed each safety element, such as the pitch, contours, height, speed of the ride, and the slip coefficient of the flume's surface.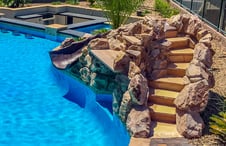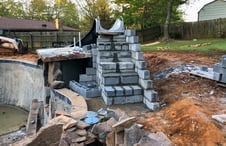 On a rock waterfall slide, the steps leading to the top of the slide are usually custom-built.
Deck-mount variation:
A variation on a pre-fab flume is to use a regular deck-mounted slide and construct a rock waterfall around it. The single-component deck-mount model comes with fully integrated steps and handrails.
This approach can be more affordable than using a custom landscape flume. The drawback: A free-standing unit never provides the same level of beauty and customization.
Even if it fits well with the surrounding waterfall, and even if its color generally coordinates with the surrounding rockwork, the appearance is not as attractive or cohesive as a custom installation.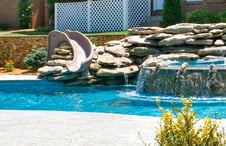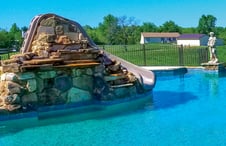 Aesthetically, setting a free-standing slide into a waterfall is a better alternative than leaving the unit fully exposed on the deck.
Handcrafting masonry pool slides
With this building approach, specialty craftsmen construct the slide's flume on-site with masonry materials. This construction method ensures a flume with precise contours and measurements.
It ensures the optimal level of tailoring and integration into a rock waterfall—and the most beautiful, unified, and natural appearance for slide.
To create these handcrafted structures, crews build a foundation using cement blocks and other building forms. They may also include steel bars and/or a heavy wire-mesh form in the general shape of the slide's flume, including its sidewalls.
In some backyards, a slope or hillside will serve as part or all of the foundation for the rock waterfall and slide. If so, crews may install some or all of the steel bars and wire mesh form on this elevated earth.
Over this steel and wire skeleton, one of two forms of masonry will be applied. In one kind, a masonry team will pour a concrete blend to create the slide flume.
In the other, a team will use a high-pressure hose and shoot gunite or shotcrete—the same material used to build the pool. If your pool waterfall is being crafted with gunite/shotcrete, the odds are so will the slide.
Whether poured masonry or applied gunite/shotcrete is used, the crew will then sculpt the material to mimic the shape of natural stone.
Next, they will stain the dried material in a color that approximates colors in the adjacent rockwork.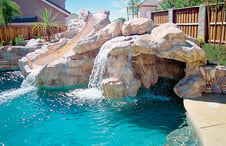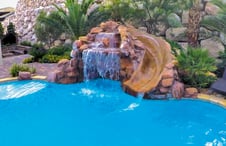 Depending on the natural or faux stone used in the adjacent waterfall, a custom masonry slide may provide the closest possible color match.
Finally, it's time for waterproofing, and so the entire slide will receive two coats of clear epoxy. Along with protecting against water incursion, the epoxy surface finish provides another benefit: A perfectly smooth surface for a comfortable glide down the runway.
Building functionality
Whether your slide is a prefab custom flume or hand-constructed masonry, two additional features are needed to make the runway easy to access and use.
The first is stairs. The slide's height, location of the entry, and design of the rock structure will influence the stairway design.
Stair location, quantity, layout, and material will vary based on the length and elevation that users must traverse to reach the top of the flume.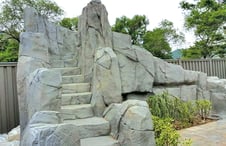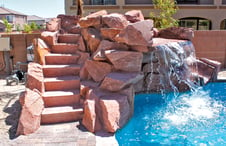 Stairs can be built in custom masonry, gunite/shotcrete, or natural stone to visually integrate with the rockwork.
Creating graduated stepping pads of differing shapes and sizes—versus uniform steps—is a great way to create a more natural appearance.
The second needed addition is plumbing. All slides need some H20 running down the flume to create a smooth glide. Plumbing is installed so you can turn on the water and ride.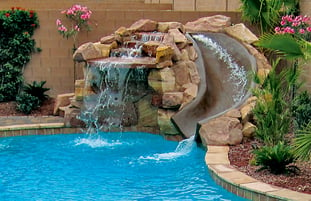 A slide's plumbing includes a valve so you can adjust the flow rate down the flume for the perfect riding action.
Key options for your waterfall pool slide
With this kind of custom pool feature, you have more choices than you do with a deck-mount factory unit.
The range of choices will vary to some degree based on the type of custom slide—masonry or prefabricated flume—in your project.
Dimensions:
Typically, waterfall slides are at least five feet tall—a great size for smaller waterfalls and grottos.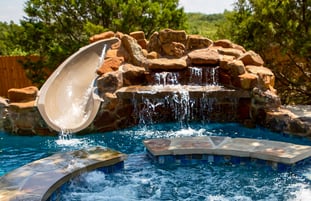 In HOA communities with backyard-structure height restrictions, low-profile slides meet compliance needs.
In most backyards, they are built taller—about 10, 15, or 20 feet—with longer runways that take advantage of space in a large-scale waterfall installation.
In extra-large, high-end projects, a taller, longer slide is possible. Big slides equal big fun! However, deluxe installations also require bigger backyards, bigger pools, and bigger budgets.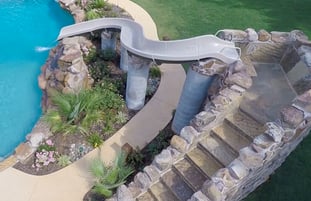 At the far end of the custom-slide spectrum, you can splurge for longer, faster rides for the thrill-seekers in your family.
Shape:
Some custom rock slides are straight. Without any curves in the glide path to slow the ride, this shape is the perfect choice for any speed demons in your household.
However, most pool owners want a slide with curves. Bends in the flume offer the excitement of changing directions and the sensation of "riding the walls" around the turns.
Color:
Custom masonry slides can be stained; flumes from the factory come in a variety of colors, including greens, blues, teals, and pure whites.
However, the most popular picks in both types of slide are greys, creams, beiges, and browns. These neutrals blend best with the surrounding artificial or natural stone, resulting in a more natural, harmonious look.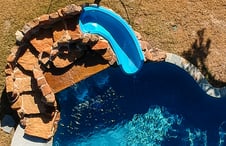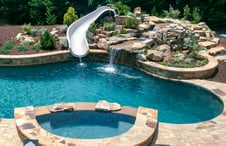 Most homeowners building a high-end rock waterfall prefer slides in coordinating earth tones. For a pop of color, the usual choices are blue and white.
Planning your rock waterfall slid

e
You and your contractor will collaborate on the design of your slide, as well as the rock waterfall or grotto that will surround it.
Several factors—functional and aesthetic—will influence the final design, such as the slide's height and length.
The size of your outdoor space and pool budget will come into play.
So will your children's age and physical stature. After all, they will be the slide's chief users (although the "grown-up" kids also enjoy the sun-splashed activity.)
Your builder will plot out where the slide will go in relation to your waterfall, as well as the backyard "traffic pattern" the slide's riders will create.
Where the slide's "approach" is located is another consideration. You want riders to have easy access to ascend the slide. In most cases, the approach includes a pathway to a set of custom stairs leading to the top of the slide.
Your builder will carefully plot out the slide's location around the pool in relation to elements such as the pool shape and its interior features such as steps, spas, benches/loveseats, walls, and tanning ledges.
Picking the right location helps ensure pool safety; when riders splash down into the water, the area is clear and unobstructed.
Do you have a hillside on your property? While it poses a backyard condition that can impact pool building, it may also present an opportunity.
In some cases, your pool builder can use the slope as part of the foundation for your waterfall and slide. Along with creating an impressive backyard drama, this approach takes advantage of space that might otherwise go unused.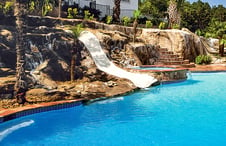 Pool builders often use slopes for creating distinctive rock waterfall/slide installations that look like part of a natural landscape.
Your path to backyard entertainment
Compared to their deck-mounted cousins, custom rock waterfall slides do require a greater investment. But they are more attractive as they transform your pool into a hive of stylish, sun-splashed fun.
Ask your swimming pool designer about incorporating one of these beautiful features into your new aquatic resort. He or she will advise you about design options and price ranges in your local area.
To view additional photos of these custom installations, check out our photo gallery of pools with rock waterfall slides here.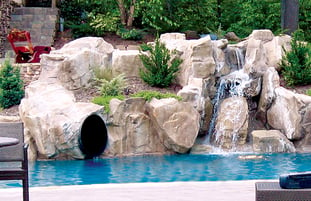 Many riders don't like the feeling of being enclosed, so the vast majority of waterfall slides have open, trough-like flumes. But you can enclose one like a big pipe too. The advantage is full concealment within a rock structure and less debris collection.