Command your backyard retreat from PC, tablet, smartphone, or with voice commands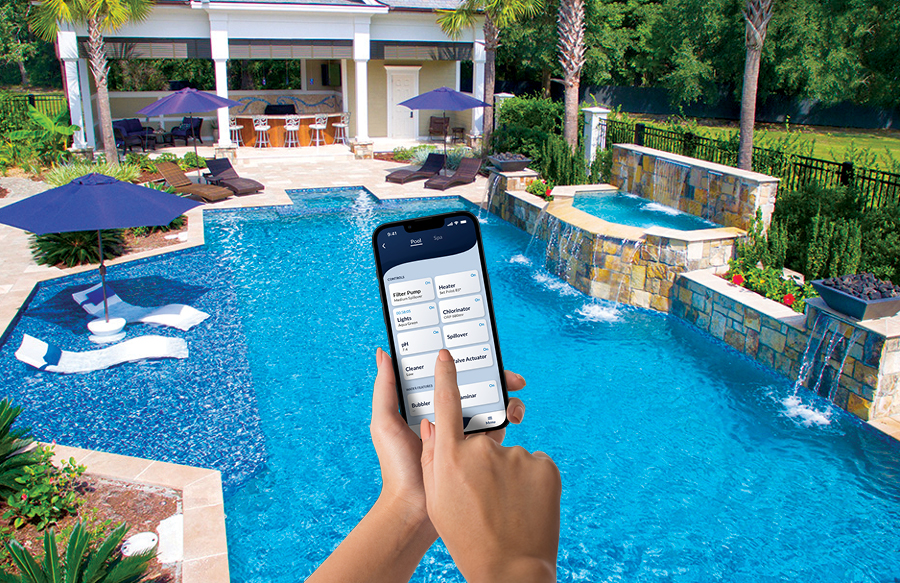 A quality swimming pool control automation system will streamline daily operation and maintenance, enhance energy savings, and make an aquatic retreat easier to enjoy—sometimes in ways you may not have imagined!
Whether you're away on vacation or sitting on your living room couch, it's possible to conveniently control pool features and functions, including cleaning, filtration, sanitizing, heating, lighting, spa jets, water features, and more.
Let's dive into the exciting capabilities that this technology can deliver for your pool and surrounding outdoor space.
Put your pool & spa on autopilot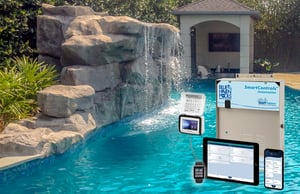 One of the most valuable aspects of automation for pool owners is the ability to schedule routine operations and maintenance.
Perhaps the best example is pool cleaning and critical filtration.
For example, you can set up a program that kicks on daily at 1:00 AM when everyone is asleep. The automatic pool sweep will make runs for several hours, the pump will activate to circulate and filter the water—and you will wake up to a sparkling body of water.
Or, what once was an annoying manual task—like walking out to your equipment pad to manually turn valves or reset a mechanical time clock—is now handled for you.
If you do not have alternative sanitation technology (ozone or advanced oxidation process), automation makes maintaining water easier too.
If you still rely on traditional chlorine or a salt-chlorination system to sanitize pool water, some automation systems will come in handy.
They allow you to adjust chemical levels such as dialing up the chlorine output when needed, like after a rain storm or a pool party.
Go mobile with pool management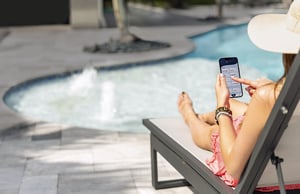 Today it seems like there's an app for practically everything.
So now you can manage your pool from one too. Monitor and control functions via an app on your smartphone or tablet.
Say you're returning from a long day at work. You are looking forward to a soothing soak in your spa.
Just hit a button to activate the heat and jets ahead of your return home so the swirling, bubbling waters are warm and ready upon arrival.
Let's consider another scenario. Perhaps you had a relaxing swim or soak in the spa before turning in for the evening.
Later, you climb into bed and are about to drift off—until you realize, darn it: you forgot to turn off the pool, heater, lights, and spa jets.
Not to worry: Simply hit a button on your phone app to turn off all three systems. It's just another way that automation provides easy control and can simplify a pool owner's life.
Upgrade your backyard experience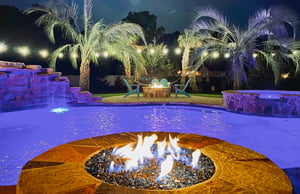 In effect, automation helps enhance your backyard paradise—without all the usual effort.
By taking advantage of this technology, you can enhance multiple elements around your pool, spa, and patio. And you might be surprised by the possibilities.
Activate landscape lighting, change light colors in your pool and spa, or even switch on outdoor sound systems and televisions.
Some automation systems can schedule a daily time to turn on patio heaters, fire pits with electronic ignition, and fixtures in a poolside kitchen.
Or, engage these amenities only when you're making use of your outdoor space.
Whichever functions you choose to automate or control on demand, you'll appreciate easy, app-connected operation from a phone, tablet, or desktop computer.
If your automation system includes an option for voice commands with Alexa, you can enjoy even greater flexibility with hands-free operation.
See prettier sights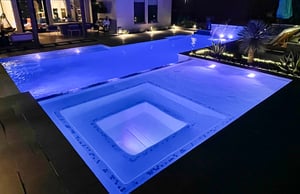 Did you know that automation systems can even make pools more attractive on demand?
Here's how: Without you lifting a finger and on a schedule that you set, elements in and around your pool will come alive.
The pool lights activate—and change colors or play dynamic flashing shows.
Water for features such as rockfalls, grottos, cascades, deck jets, bubbler fountains, and rim-flow spas begin flowing for beautiful, soothing liquid visuals.
Since a body of water in motion is always a lovely sight, you can time the pump to run on low speed for a few hours to create gentle sunlight-capturing ripples for a sparkling aquatic scene.
Do you have a view of your pool, patio, and landscape from certain rooms inside your home?
Use the system to automatically kick on the outdoor lighting each evening so you can easily take in the backyard sights. The same goes for any automated pool fire bowls or patio firepits.
In addition, some high-end pool automation will unlock additional colors of LED lighting systems.
Activate multiple functions at once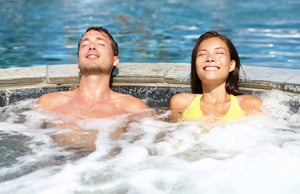 One of the key advantages of a pool automation system is the ability to activate multiple settings in one fell swoop.
Some systems allow you to set up custom programs—tailoring functions to your needs and preferences.
For example, create one to turn on a waterfall, fire up the spa to 101 degrees, activate the hydrotherapy jets, and switch on the "Tranquility" LED light show with calming pastel colors.
The best brands of automation allow you to custom-name your operating scenarios. You can use names that you make up—say "Zen Spa" or "Joan's Evening Ritual.:
You can set the program in motion from your smartphone during your evening commute home so it's ready when you get home.
In the same household, another family member may set up an additional program for another scenario, such as one that's ready to party.
Say what you want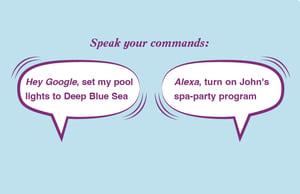 Pool automation systems with voice-control integration with Amazon Alexa allow you to make operating a backyard resort even faster and more convenient.
With the best systems, you can use your voice to turn on/off features such as pool lighting and water features. You can check the water temperature of the spa before getting up off the couch to dip in a toe.
While inside the kitchen, you can speak to turn on the patio lights to see if you left an item outside—before venturing out into the cold night air to flip a physical light switch.
Maximize energy savings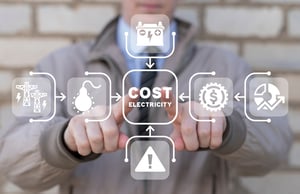 Do you have a variable-speed pool pump?
If so, good for you. The pump minimizes energy use by adjusting its output to match the needs of each pool function.
Quality pool automation systems can perform another trick: helping cut electric consumption. They enable your pump to operate even more efficiently.
These systems can communicate with the pump to ensure that the motor never runs at a higher RPM than is needed to perform a particular function.
Maximize your fun with minimal effort
Everyone appreciates cutting hassles and saving time.
Your investment in pool automation will enable you to make the most of your outdoor living space and maximize the pleasure your family will have owning a pool & spa!