—Decorative and functional options trending on new gunite pools & spas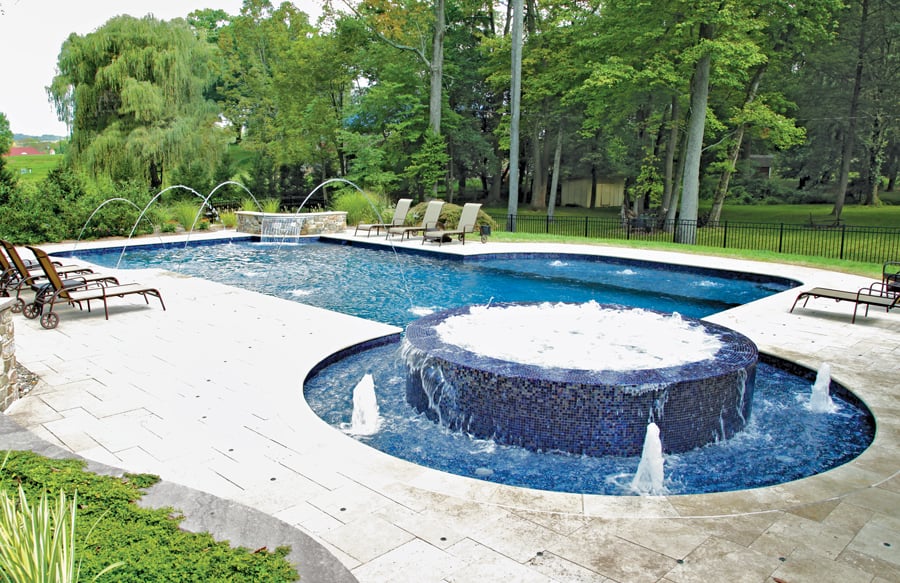 Most of the design trends you see today in contemporary swimming pools have developed over the last several years, steadily gaining momentum among pool contractors and their customers.
Much of what's trending upward are purely aesthetic, but others are more functional in nature. But any one of these increasingly popular features can help make your backyard staycation-worthy and add value to your home and lifestyle.
As we approach 2022, let's take a look at what will continue to be "cool" for swimming pool design in the new year and beyond.
1. Tanning Ledges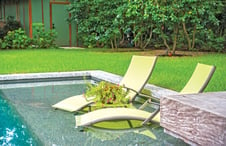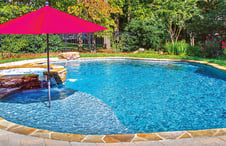 These large shallow structures go by many names, including sun shelves, wet decks, Baja benches, and others.
Whatever you call it, this feature has become one of—if not the most—popular pool options of the last several years. The comfort and convenience a pool tanning ledge provides often makes it the backyard social hub.
Tanning ledges are built similar to a big top entry step. Typically, they run four to 18 inches deep and five to eight feet wide. A common approach is to make them large enough for two lounge chairs, but some are much larger.
The shape can be round, square, rectangular, or curved. This amenity is usually built adjacent to the entry steps or elsewhere along the pool's interior perimeter.
In some cases, the size of the pool's entry steps are expanded, and the first step is built so large that it doubles as the tanning ledge.
A ledge is perfect for relaxing, playing with little ones in just a few inches of water, or laying on a chaise lounge in the cool water. For shade, request a pole sleeve in the structure so you can pop in a patio umbrella.
2. Bubbler Fountains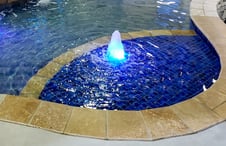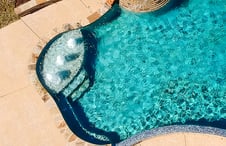 Who doesn't enjoy watching a decorative water feature in a swimming pool? So why not consider adding one or more of them to your new backyard oasis?
Excellent options include sleek deck jets, cascade waterfalls, and spray fountains. Driven by the incredible demand for tanning ledge, these bubbler-style fountains are going on more new pools than ever before.
What's lovely about these vertical, bubbling plumes is how they playfully animate the water even when no one is using the pool. And along with being easy on your eyes, bubbler fountains are generally easy on your project budget.
On virtually any pool, a builder can include one, two, or three of these peaceful features.
One of the favorite spots to locate a bubbler is a tanning ledge; there, the low-profile bubbling water fountain serves as a visual cue to the structure's shallow depth. The same is also true for a beach-entry pool.
When the sun goes down, you can still take in the beauty of these dancing water features. Upgrade by including LED pool lights with them. The LEDs will illuminate the fountains in vivid, changing colors.
3. Grottos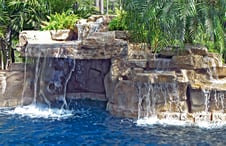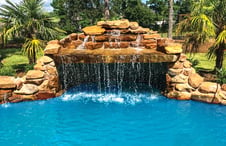 Think of a grotto as a specific style of rock waterfall that is both dramatic and pleasantly surprising.
In a grotto waterfall, a large flat stone cantilevers over the pool's surface. The water pours down across this piece of cantilevered rock, cascading in one large sheet of water to the pool surface below.
Along with the eye-catching waterfall, an unexpected treat comes with this feature: a cozy niche or even a tiny cave. Technically, this covered space is the actual grotto.
A grotto is an all-around crowd-pleaser. It allows swimmers to catch some shade while remaining in the water. It offers a secluded spot for kids to play.
For the grown-ups, a grotto provides a bit of privacy away from other, more-energetic pool users and their activities.
Some grottos contain a submerged bench for taking a break from the sun's rays. Large, upscale ones may include a spa, LED lights, or a sound system.
Some higher-end pool plans incorporate a grotto into a larger, extended rock waterfall configuration.
However, pool grotto waterfall can be affordable, since your contractor can tailor the structure's size and complexity to your budget and preferences.
4. Extended Second Step and Bench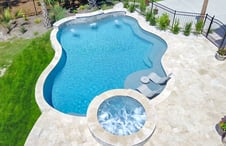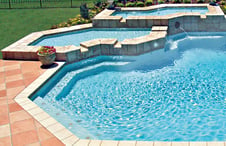 Swimming pool interiors have evolved to include more elements. Today, not only are builders including the tanning ledges, they are configuring the entry steps in strategic ways.
Builders can specifically configure the second step so that it provides greater functionality. By extending the step's length several feet or more along the pool's interior perimeter, a bench/love seat is created.
Some projects include an extension that runs along an entire side of the pool's perimeter.
Whatever the length, the 18"-depth provides a convenient perch for both playing and relaxation. In fact, you might be surprised to see how children can gleefully entertain themselves just walking and horsing around on the shallow seating area.
An extended second step comes in handy in other ways too. After swimming across an expanse of pool water, young children, seniors, and less-experienced swimmers also appreciate the generous, convenient seating area.
Because the elongated step can consist of straight lines, curves, or both, a pool's size and shape do not matter. From a modern, geometric pool, to a tropical lagoon pool, you can have this feature on any kind of inground design.
5. Rimflow Spas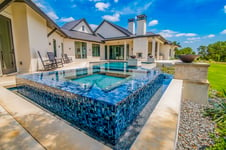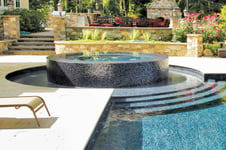 A typical elevated gunite spa usually has one or several spillways—a 12" to 36" open section at the top of the spa dam wall that allows water to pour out into the adjacent pool.
But in the newer rimflow spa configuration, the top of the spa's dam wall is styled in an open fashion so that it does not block water flow. This way, entire perimeter of the spa dam wall serves as the spillover.
The water descends into a narrow trough around the bottom of the spa, and it channels the water into the pool. The trough can be partially concealed below the pool coping, or it can be built exposed to show off a beautiful tile finish.
This custom spa design delivers a sleek, ultra-modern appearance. The sheeting water moving down the spa walls accentuates the tile or stone finish material. And when the sun's rays hit the falling water, it creates a subtle, glistening effect.
Even when not in use with static water, a rimflow spa makes a bold statement. The still surface creates a lovely, reflective, mirrorlike appearance. You will also appreciate how the monolithic structure looks like an artistic architectural feature.
6. Swim-up Bars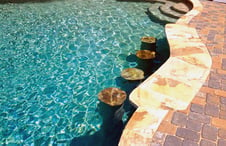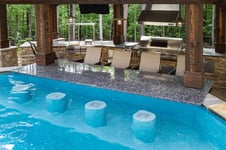 First popularized in resort pools, a swim-up bar has gone mainstream in residential settings.
Along with the visual interest it creates, this amenity fosters social interaction between those in the pool and those outside on the deck.
That's one reason why it's such a big hit with homeowners who like entertaining and throwing backyard pool parties.
The most basic sim-up design consists of two elements: a countertop installed atop the pool's perimeter bond beam (raised section of wall) and a set of barstools constructed inside a shallow area of the pool floor (or on a built-up platform).
The best layout also involves a third element: building a sunken area—also called a vault—on the "dry side" of the bar's countertop. From this recessed spot, someone can bartend for those sitting inside the pool.
Adding a swim-up bar to your backyard can be relatively simple and affordable with only the two basic elements—and preferably the third.
Or, this custom option can be elaborate: Go all out on the vault and invest in a fully accessorized kitchen. Another upgrade is shade. A favorite approach is to build a pergola-type roof or a solid canopy over the swim-up bar.
7. Integrated rock slides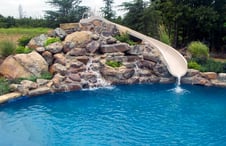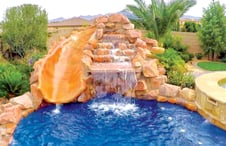 For pool projects with ample budgets, both a water slide and a rock waterfall may be on the wish list. If both are also on your list, a smart way to go is to combine them into a single unified structure.
Marrying the two features is much better than your pool builder's masons crafting a rock waterfall while another crew installs a free-standing deck-mounted slide.
Have your builder incorporate a custom slide flume (also called a landscape slide) into the body of a specially designed waterfall.
You will pay more, but you will love the integrated result! A pool slide that's part of a rock waterfall configuration will always be more attractive than a deck-mounted version.
One reason why is that these custom slides come in neutral colors such as creams and tans. By blending with the adjacent stone, colors like these contribute to a pleasing aesthetic.
Whether your waterfall will be created with faux or natural stone, your builder can place a custom slide into the structure.
If you want or need to minimize the height of your waterfall or slide, request a unit with a shorter runway. Masons can accommodate the low-profile pairing in the design.
Making your pool feature picks
If you plan on building a new pool or doing a major renovation of an aging one, consider the options here.
Which of these trending features do you find most appealing?
Which ones might best fit with your family's lifestyle? Your aesthetic tastes?
Which ones might your backyard have room for?
And of course, which might fit within your budget?
If you want a pool with distinctive character, as well as comfort and functionality, be sure to ask your pool designer about your favorite options.
During a free in-home pool estimate, your designer will answer questions and review key considerations. With the criteria at hand, they will develop a pool plan tailored with items from your wish list.