—Imagine the benefits a custom inground design can bring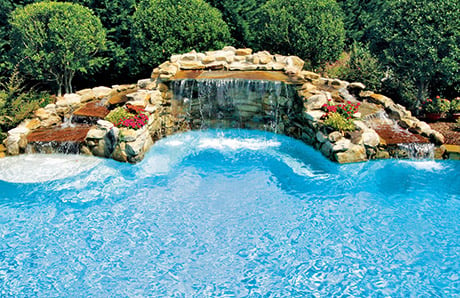 Many products claim to change your life, very few even come close. Swimming pools and spas are among those that actually often do.
By deciding to add a gunite pool to your home, you're making an investment that will deliver a variety of rewards for as long as you live there.
For many homeowners, it's a decision that not only transforms their properties but that helps make positive changes in their lifestyles.
Adding a swimming pool represents a major home-improvement venture for anyone. So it only makes sense to consider the various ways that this addition can enhance your lifestyle.
Understanding this bounty of benefits will influence the design decisions you make as you and your gunite pool builder plan for your new "life aquatic."
With a broad view of the advantages, you will be better-equipped to make decisions for your pool's design, features, and options. This way, you will reap the most rewards from taking the pool-ownership leap.
Here are five factors to consider.
#1. Gunite pools are beautiful.
As humans, we are innately drawn to water. An indefinable quality of water attracts our attention and gives us a sense of joy, well-being, and tranquility.
That's why the physical appearance of a swimming pool is so important. Most likely, this amenity will become the most prominent feature in your backyard.
Hands-down, gunite designs are the most permanent, attractive, and functionally versatile kind of swimming pool. Because they are fully customizable to your tastes and so flexible for creative design ideas, you'll have lots of choices to make during the planning stages.
You can specify your plan using an array of sizes, shapes, colors, and surface materials. You can have a pool that looks like a natural pond or lagoon, an elegant Roman bath, or a modern work of art.
Maybe you like the look of a beach entry pool, a vanishing edge/infinity pool, or the mirror effect of a rim flow spa. Contemporary pools can include decorative bubbler fountains, elaborate rockwork, grotto waterfalls, and other custom options.
Some features add functionality as well as style. For example, convenient, attractive tanning ledges let you stay cool near the water while you get your tan on.
Energy-efficient LED lighting systems illuminate your pool with dazzling, changing colors. A swim-up bar expands entertainment options.
Quality pool builders will present a spectrum of possibilities that will give you a backyard resort you will enjoy viewing and using for years to come.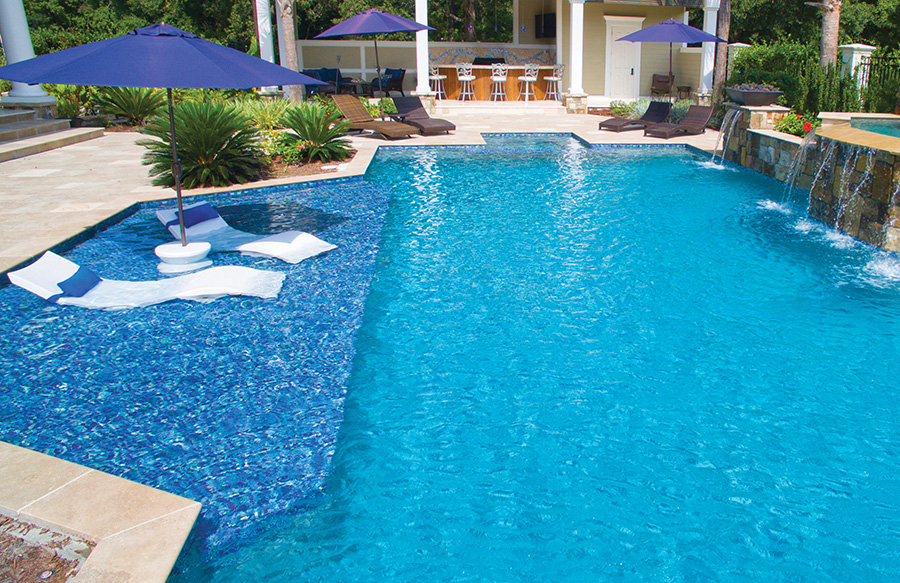 2. Families enjoy life together in and around a pool.
Due to their safety, privacy, and convenience, we hear a lot about the "staycation."
Once completed, your gunite pool and the surrounding patio area will become the perfect backdrop for "stay-cationing" at-home.
A pool offers superb entertainment opportunities. Your outdoor space will be a place where life unfolds—a retreat for gathering with family and friends to experience good times.
Having a private environment where you can pass fun times together right outside your backdoor means you'll spend more time with family. And you can have a good time without the hassles of travel.
From small children to elderly relatives, most everyone can take advantage of the pool and patio area. Include a hydrotherapy spa, and you introduce even greater dimension and functionality to your aquatic retreat.
The pool area is the place to be on hot summer days, swimming and splashing the hours away. You'll also enjoy dining poolside—perhaps by a fire feature—during both the day and when the sun goes down.
Maybe you're a grandparent looking to entice the younger generation over to your house with aquatic play features. Consider a water slide, jump rock, or a grotto with a miniature cave below the waterfall.
You can have a basketball hoop installed along the pool perimeter for swimmers to shoot from within the water. Or, build a sports pool with a shallow area at each end that's ideal for stringing a volleyball net across the water.
Now, perhaps cooking or grilling is your passion. Imagine preparing meals in a beautifully appointed, poolside kitchen as you watch family or friends splash about in the pool? How about serving drinks to friends at your stylish swim-up bar.
When planning your pool, it helps to visualize the kinds of gatherings you want to host, who you will invite, and how your family will use the aquatic amenity and its surrounding space.
Be sure to review your ideas with your pool designer. Information about your planned activities will help your designer integrate certain features and elements into the overall poolscape.
3. Swimming fosters a healthy lifestyle.
Imagine having the best form of exercise right outside your back door.
It's no secret that swimming laps in a pool and other forms of aquatic exercise are among the healthiest of physical activities.
Even the simple act of relaxing in a spa contributes to overall health and just all-around feeling good.
What's less well-known are other benefits of swimming pool exercise—how working out in water benefits both your body and mind.
Above all, activities—including rigorous ones—in water is a great way to improve your condition without aggravating joints or risking injury.
Because water offers a uniquely buoyant environment, doctors and physical therapists often recommend various forms of hydrotherapy for recovery from back surgery and hip or knee replacements.
Swimming pool exercise can even help ease arthritis ailments. Hydrotherapy—especially in a warm, bubbling spa—can provide relief.
Research indicates that aquatic exercise has a positive impact on diabetes, hypertension, and some respiratory conditions.
Water can enhance your overall sense of wellness. It can help foster relaxation. More specifically, a short daily swim can help improve your mood and the quality of your sleep.
Simply sitting in water up to your neck has been proven to increase blood volume in your chest cavity, which can improve cardiovascular function.
Indeed, swimming may slow aging and provide a veritable fountain of youth. A recent study of elite swimmers 70 years and older showed that those who swim regularly into their senior years—on average—slow the effects of aging as measured by key physiological markers, such as cardiovascular health.
Other data shows that time in and around water dramatically improves your state of mind. Even people with severe cognitive conditions, such as dementia, have demonstrated improved function from water-based therapy.
While not a guarantee, it is fair to say that swimming, water aerobics, resistance training in the pool, and just splashing around in the water will likely boost your health. Sometimes, those benefits are life-changing.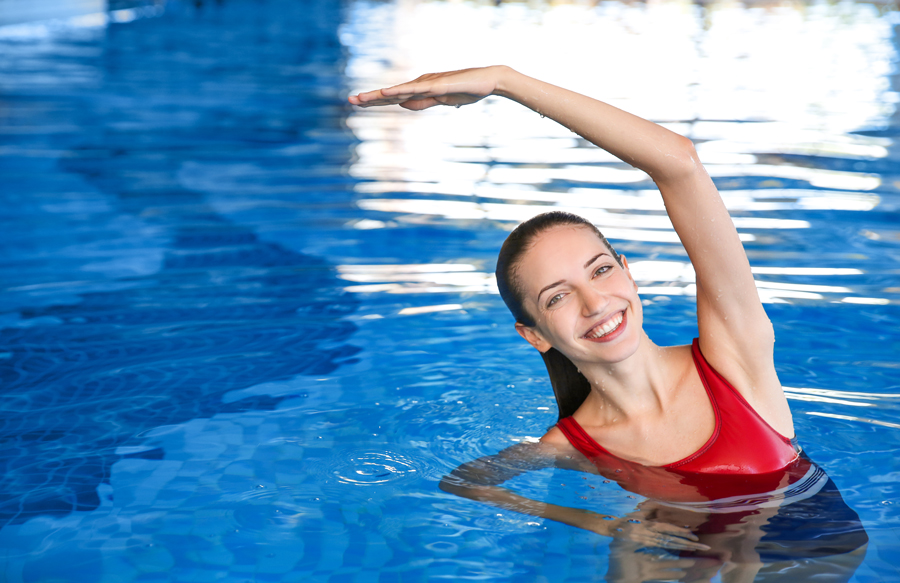 4. Gunite pools expand your living space.
Let's face it, some backyards are little but unused or rarely used space. Maybe for the dog, but not for the two-legged homeowners, the grass lawn and flower beds don't see much action.
Pools and the amenities and landscapes that surround them change that. They do so by creating an entirely new dimension to your property as they add beauty and functionality.
With the rise of outdoor kitchens, grills, cabanas, pavilions, pool houses, fire pits, outdoor TVs, LED lighting, space heaters, and the always-expanding world of outdoor furnishings, the at-home, backyard lifestyle has certainly come of age.
Residential landscape architects often discuss "outdoor rooms." This concept serves as a guiding design principle, where designated areas are devoted to specific activities. Many will point out that several indoor activities can be exported outside the walls of your home.
Often, when a swimming pool goes in, it immediately becomes the central hub of the exterior space. A well-designed pool will provide several activity zones that integrate with the landscape and support various uses.
For example, the shallow play area in the pool might be located next to an outdoor kitchen. Now, the chef prepping the meal can easily watch the kids splashing about.
At another side of the pool, you could have an area suited toward adult activities. Adults can catch some rays on a pool tanning shelf; adjacent is a spa, where they can chat with friends relaxing in the warm swirling water.
The key is to visualize what outdoor activities that you and your family member will engage in. Then strategically configure your pool, patio amenities, and landscape accordingly.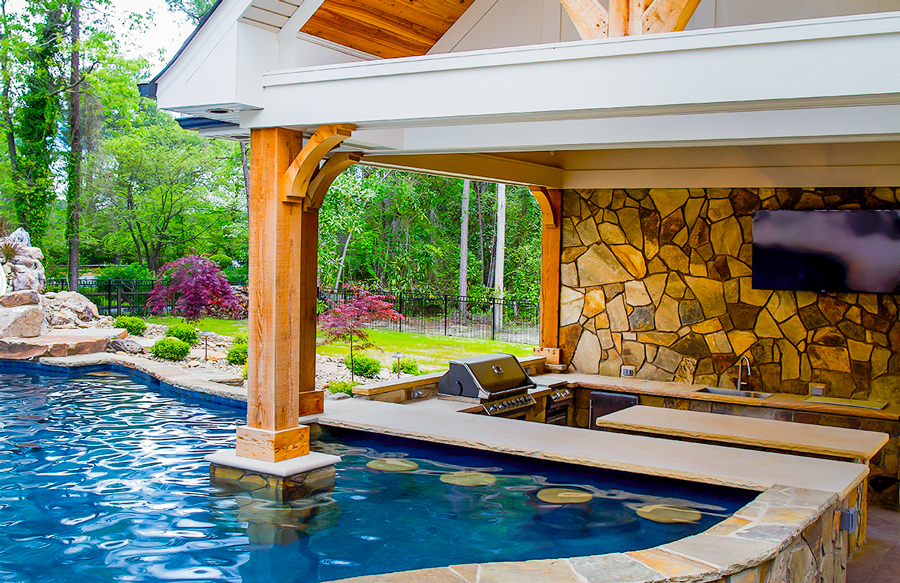 5. Gunite designs allow for personal expression.
Just as the interior of your home is the manifestation of your particular taste, so too is your outdoor space.
Absolutely, you should treat your pool as an opportunity to express your aesthetic preferences.
Style is part of it. Do you like classical Greco-Roman architecture, the stark simplicity of modernism, or the lush atmosphere of the tropics?
Developing a pool and landscape that reflects your favorite design theme is in your hands. You can do so by picking a wide range of features, material choices, and design details.
But there's more to it. Some homeowners want to recapture an experience they had as children or during their travels by integrating it into their pool and patio design.
It might be a lagoon setting you fell in love with in Hawaii. Maybe an elegant Grecian bath at a spa in Europe. Perhaps you couldn't get enough of the swim-up bar at a Caribbean resort. Or maybe you have happy childhood memories of the family's rustic cabin on a pond or lake.
Some creative ways to infuse your personal tastes into a pool & spa are simple to implement. For example, you are fond of lions. So you include some water-spouting statues of the king of jungle around your pool.
Or, let's say you're an avid sports fan. You can have your favorite team's logo installed in a mosaic in the pool floor.
Maybe you like decorating using Asian feng shui design principles? Collaborate with your pool builder on an oval, cloud, or other curvy, free-form pool shape that fosters good flow of chi around your backyard.
Even the appliance selection in a poolside kitchen plan can reflect your preferences for cooking and entertaining.
You have multiple options that will allow you to command your cook area with the functional capabilities of your choice.
Yes, pool design and overall exterior design can be powerful and enjoyable means of self-expression. It's one more way that an aquatic backyard resort can transform your home and, indeed, your life.