—From better sleep to safer exercise routines, how a spa promotes well-being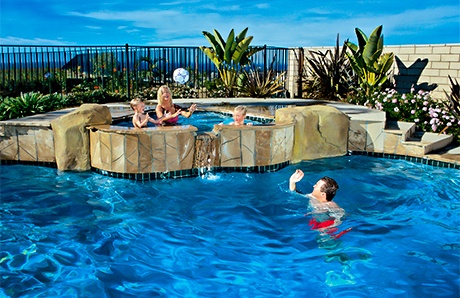 Ready to build a swimming pool and deciding which features to include with your new backyard oasis? If health and wellness are important to you and your family, making a hydrotherapy spa part of the plan for your new aquatic retreat is a smart move.
Spas support a healthy lifestyle on multiple fronts. Incorporating one into your pool design will bring unique opportunities for exercise routines, forms of relaxation, and physical health benefits. Let's take a look at some key ways a spa can enhance options for fitness and leisure.
1. Overall Wellness
At the top of a spa's list of benefits is its therapeutic effects on body and mind. The warm, bubbling water produces a calming environment for unwinding both mentally and physically.
You can temporarily escape the stresses of the day and indulge in a soothing soak. Within a few minutes of entering a spa, you can feel tension virtually melt away into the water. A spa serves as a private refuge and wraps you in swirling liquid bliss.
Sure, you could soak in your bathroom tub, but unless you have a large, deep, jetted model, it's hard to beat the sensations of a spa's warm, swirling water and jetted massage action. In a spa, you also enjoy the fresh air outside and your backyard surroundings—instead of the confines of your bathroom. Better yet, a spa gives you real space to move around and stretch out in the buoyant environment.
2. Soreness Relief / Muscle Recovery
For anyone with an achy back or muscles, a spa brings liquid relief—"hydrotherapy." Using the force of water, spa jets massage your body while you relax in this aquatic sanctuary. With a spa, you have the space to position your body just how you want against the hydrotherapy jets for maximum effect.
Additional benefits await if you engage in a regular, land-based exercise routine. The spa's high water temperature is particularly comforting when your body needs some TLC. Winding down afterward in a spa may support muscle recovery.
The combination of jets and hot water can help release muscle tension, and it may help reduce symptoms of conditions such as arthritis, tendonitis, and muscle strains. Another benefit is helping remove lactic acid that builds up pushing your muscles during hard exercise. That's why a dip in hot water with pulsating jets is rejuvenating and can minimize the typical post-workout stiffness and soreness.
3. Gentle, Effective Exercise
Now, you can also use a spa as a gym. Exercising in warm spa water presents advantages that a dry workout cannot.
For some, weight-bearing training on dry land can be rough on the joints; an alternative is resistance training to strengthen muscles in a different kind of environment—water. Its buoyancy means less stress on your joints—allowing for an inherently low-impact workout and a comfortable way to stretch.
Intensify exercises by adding weights or exercise accessories designed for use in the water. A warm spa may be a great choice for those with injuries, mobility issues, or conditions such as arthritis; check with your physician or physical therapist.
For a cardio routine, a spa's high-temperature environment also makes a difference. It's easier to raise your heart rate quickly when doing aqua-aerobics. Careful: You want the temperature just a few degrees higher than the pool—just enough to be comfortable, but you do not want to overheat!
One other benefit of a liquid gym: Although you do still perspire in the water, you won't have to worry about getting that icky, sweaty sensation. But do keep hydrated, just like you would with any other activity where your body temperature increases.
4. Enhanced Circulation
Research shows that heated water and hydrotherapy supports wellness, especially by enhancing blood circulation. Being in warm water boosts nitric oxide—a vasodilator that relaxes blood vessels and causes them to widen, allowing blood to flow more easily.
Good blood circulation means oxygen and nutrients can more efficiently travel throughout your body, supporting the body's natural healing process and muscle recovery. Your heart, brain, and other organs also benefit, and good circulation supports cell growth. According to medical sources, it may even support better skin tone, digestion, and blood-sugar levels.
5. Better Sleep
Did you know that a spa may help you catch some Z's? Several factors come into play for this benefit.
A variety of research studies (1) (2) (3) (4) indicate soaking in warm water before bedtime can promote better sleep. First, warming your body can ease the transition into a deeper slumber, according to the National Sleep Foundation.
Here's why: Immersion in hot water will increase body temperature; then, as it gradually returns to normal, the effect can make you feel tired. Another way that warm-water immersion helps is with changes in blood-flow patterns. Increased flow and warmed muscles allow your body to decompress.
A heated spa helps you relax mentally as well. Dilated blood vessels around your body divert some blood from your brain, reducing brain activity—a process similar to becoming drowsy and falling asleep.
6. General Relaxation
Now, along with an evening soak to help usher in bedtime, you can use a spa to achieve a little daytime Zen. Another way a spa supports tranquility is with soothing sounds.
Spas connected to pools with a dam wall that has a spillway—a section where water flows out and into the pool surface below. The gently splashing water creates a lovely trickling or whooshing sound reminiscent of a running stream or a natural rock waterfall.
However, pleasant sounds come only if you have a spa that's raised; it must be built at least 6 inches higher than the pool. Unlike a spa that's level with the pool, one with extra height will produce sounds of falling water.
While a spa contributes to a peaceful ambiance you can hear, it also generates beauty you can see. With its contrasting shape, a spa serves as a visually appealing focal point in a pool's design. Simply put, it's a pleasant sight that helps create a sense of serenity.
7. Healthy Activities
Along with nurturing better health, a spa supports having more FUN. And that has a positive effect on your well-being, too.
This small aquatic venue is a natural magnet for activities where adults and kids alike can interact and play in unique ways. Even when it's too chilly to use the pool, you can quickly fire up the spa for some healthy recreation.
In fact, you can choose from a series of simple, affordable games designed to play in the small space. From floating chess to musical jets, you have plenty of options for friends and family of all ages. Check out some suggestions here:
• 7 Fun Hot Tub Games You Can Play with Family & Friends
• Family Games to Play in the Hot Tub
• 4 Spa Games to play in your Hot Tub (the G rated version!)
Pool-spa combos: Getting the best of both liquid assets
A swimming pool addition is a home run for most any outdoor living space. But why stop there when you can have a best-of-both-worlds backyard oasis? A pool-spa duo introduces opportunities for a healthy lifestyle that's ideal for both adults and children.