Relax in the sun & water with clever inflatable lounges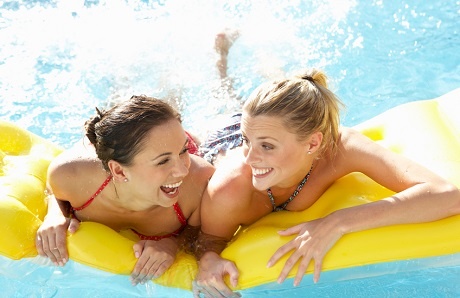 How do you relax in your backyard resort? If you're like many swimming pool owners, you kick back by lounging on a comfortable pool float—or would like to, but need to shop for a few to outfit your pool.
With an inflatable float, you can unwind while wafting along the pool surface for as long as you like—or at least until your sunscreen holds out!
After all, your backyard is for leisure. Adding one or more floating accessories to your swimming area enhances the environment and creates another dimension for how you, your family, and your guests experience your aquatic retreat.
Contemporary float designs can also bring personality to your outdoor space. Manufacturers have put their imaginations to work, creating engaging, functional inflatables that appeal to the kid in all of us.
You'll find these pool floats in all kinds of shapes, including those inspired by food, clothing, animals, and other surprising everyday items. A range of sizes and models include options for children and for adults, as well as larger ones that accommodate several people at once.
Inflatable floats offer a distinct advantage over non-inflatable ones: As pool season ends or you want to clear your backyard, putting away floats is a snap. Inflatables require minimal space for storage. When finished using them, simply hose them down, let out the air, and fold them up for easy storage.
Note:
While many manufacturers make floats for children, this article focuses on those meant for adults. If little ones will be using the pool floats, make sure to pick a product that is age appropriate.
What to seek when choosing inflatable pool floats
At the store or shopping online, you'll see an array of inflatable choices. Bright colors and creative designs may be enough to steer you toward certain versions. However, before making a purchase, a few other factors are worth considering.
Material:
For starters, think about the material. Inflatable floats are all about providing comfort and leisure, so what they are made of matters. Watch out for those fabricated with inexpensive plastic. While they may carry a smaller price tag, some are more vulnerable to holes and punctures.
Another potential drawback to plastic: The material—especially darker colors—absorbs the sun's rays and can get uncomfortably hot. In fact, temperatures can get so warm to the touch that swimmers are unable to comfortably use these floats.
Instead, look for versions made with nylon or heavy-duty vinyl. These products may cost a bit more, but they will withstand a lot more use, provide greater comfort, and are likely to last longer than their plastic counterparts.
Weight Capacity and Dimensions: Weight limits are also key. Think about who will be regularly using the float. You want to find a sturdy, durable product that will fully support the weight of those who will be lounging in it.
Check the dimensions as well. You don't want to get a float that's too big or too small: If too small, users might not comfortably fit. If you have a small pool, then a float that's very large can be a mistake; its bulk may frequently run into the sides of your pool or collide with other swimmers in the water.
Convenience Features & Accessories:
You also want to think about comfort and function features. These include armrests, footrests, headrests, cup holders, pillows, and other extras. Some are built into the float structure, while others come as separate additions.
Be sure to know which features come standard with each design and which require a separate purchase. You don't want to find out later that the float you bought does not include your favorite option.
Another tip involves a dull—but helpful—accessory that many float buyers overlook: an air pump to inflate your new purchase.
Some floats are easy enough to blow up using lung power only. However, larger ones may be difficult to inflate manually. For these, check the product box or description to see if it includes an air pump; if not, you'll need to buy—or borrow—one.
Ready to add some floats with flair to your swimming pool? Here are some fun, innovative options for your backyard resort.
1. Inflatable lounge chair pool float
Kick back in style in this nylon fabric inflatable lounge chair on the water—or leave it poolside for lounging on your deck.
Grown-ups of all ages will appreciate the armrests, footrests, and headrests so they can comfortably recline in the sun or shade. A built-in drink holder on the armrest allows you to take a beverage with you inside the pool. The lounge's durable nylon material gives it a healthy shelf life, and the chair is easy to store away when not in use.
2. Inflatable gummy bear pool float
This giant inflatable gummy bear is an amusing choice for homeowners with a sweet tooth and taste for playful backyard accessories.
The hole in the center provides flexibility for use: You can either float along with your legs submerged in the cool water, or you can sit in the hole and drape your legs over the sides.
The oversized bear is 5 feet long, can hold up to 200 pounds, and is made with durable vinyl material. It is simple to inflate, deflate, and store. And it's available in two "flavors": lime green or cherry red.
3. Inflatable white swan pool float
Made trendy by celebrities like Taylor Swift, Calvin Harris, and Kylie Jenner, this giant inflatable swan is becoming a popular backyard accessory for pool owners.
The whimsical bird float is made with heavy-gauge vinyl for durability, and at 75 inches in length, it's roomy enough for two people at once. You can choose to either sit or lay on the swan as you glide through the water. The swan's neck also features grab handles. Because of its size, you'll need an air pump to inflate it.
4. Inflatable sofa lounge pool float
Are you looking for a relaxing pool float that several friends or family members can pile into at once? Check out this inflatable sofa lounge that's big enough for up to three adults.
Giving new meaning to the "outdoor living room" concept, this sofa float can be used in your backyard two ways: Set it out on in the water, or set it up on your pool deck.
The sofa is topped with soft fabric and features a large wrap-around backrest. It comes with three matching pillows for added comfort. The product includes its own air pump and carry bag so you can easily inflate it and let out the air to store it.
5. Inflatable pizza slice pool float
Perhaps the "cheesiest" option on this list is the inflatable pizza slice—a great conversation piece to get the pool party started.
If your pool is large, and you either have a big family or like to entertain, go for the whole pie: Purchase the full set of floats with eight slices—so you, your family, and your guests can relax in the water together! For smaller pools, consider a two-slice set.
Made with heavy-duty vinyl, the float features the pizza crust for a headrest, as well as two cup holders. The slices have hooks on the sides, so you can easily attach them to one another, and coast in the water as one giant float.
6. Inflatable cabana shirt float
This tongue-in-cheek cabana shirt design brings amusing, tropical touch to your pool. The float comes with two cup holders and extra room in one for putting ice around your beverage to help keep it cold. The attached pillow makes it comfy as you lay back.
The floral float is durable and made with heavy-duty vinyl. In case a leak or puncture occurs, you'll be ready to quickly "button up" the problem because this float comes with its own patch repair kit.
7. Cooler couch inflatable lounge
If you've heard of the "couch surfing" trend, you probably never envisioned it quite like this. The cooler couch inflatable pool lounger has what's most important for a truly lazy afternoon in the water: two cup holders for beverages and—so you don't even have to get up out of the float—an onboard cooler to store ice or other drinks.
With two arms rests and an elevated backrest, this lounge may be the most sought-after float in your pool during parties. Its heavy-duty vinyl material provides a sturdy and comfortable lounge that's 64 inches long.


Whether you want to unwind in your swimming pool for some alone time or have guests over for a gathering, pool floats are a great option to boost the laid-back vibe in your outdoor space.
Consider purchasing at least one, and if you plan on entertaining guests often, select a few different models for a variety that appeals to a range of tastes and preferences.
What are some of your favorite inflatable pool floats? Let us know in the comments section, or reach out to us on Facebook or Twitter!