—Decorative and functional design elements to include in your backyard resort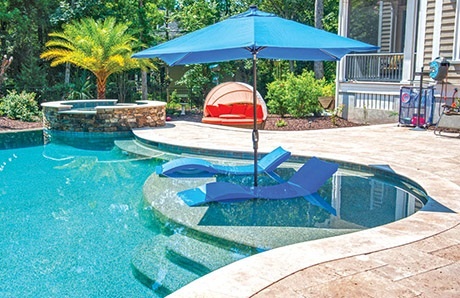 Would you like to make the experience around your backyard pool the most enjoyable one possible for your family? When you're ready to design a new concrete (gunite or shotcrete) swimming pool, don't forget about great options that deliver added comfort and convenience.
Toward that end, here are three leisure-oriented pool features to consider: an umbrella-covered pool ledge for tanning and lounging, a built-in table and seating area inside your pool, and an activity-oriented, shallow-depth pool design.
Include these options on your project, and your personal resort will win a gold star for a resort-like experience.
1. Pool tanning ledge with built-in umbrella (aka "sun shelf" or "Baja bench")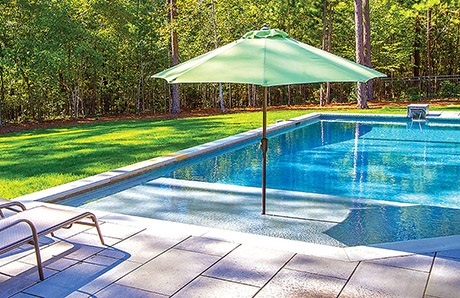 Tanning ledges used to be found mostly in swimming pools at high-end hotels, but now they are commonly included in private residential pools of most any size or shape.
Also called a "sun shelf" or "Baja bench," a tanning ledge is a solid span along a pool perimeter that's similar to a wide, shallow step or bench—usually about 4 to 8 feet in length and 3 to 18 inches deep. In fact, a popular approach is to build a large, extended first step on the pool entry that doubles as a tanning ledge.
Ledges come in rectangles, circles, semicircles, or custom, free-form shapes. You can cover the ledge surface in the same interior finish as your pool, or incorporate material—such as flagstone—that's used elsewhere in your pool or deck.
By definition, these ledges are perfect for lounging and tanning (with properly applied sunscreen, of course!). Shallower-depth ledges—about 3 to 6 inches—are designed for you to lie on directly—so your body is submerged a few inches in the cool water.
Ledges built a bit deeper under water—about 12 to 18 inches—provide an ideal spot to set out chaise lounge chairs right in the pool. When you get hot and want to take a dip or to splash some H20 on yourself to cool off, the water is always just a few inches away.
Other uses for a tanning ledge include: as an area for supervised play by young children; a place for dogs learning to swim to become accustomed to water; or for anybody who cannot swim or does not want to get completely wet to enjoy the water.
Other benefits include your ability to chat and supervise children swimming in the pool. Anyone on the lounge chairs is right next to swimmers, versus being further away up on the pool deck.
To up your comfort quotient, adding an umbrella to the mix is an excellent tactic. The canopy provides some shade and keeps anyone lounging on the ledge a bit cooler.
You can have an umbrella sleeve—a cylindrical tube for the umbrella's pole—built directly into the bottom of your tanning ledge during pool construction. It's easy for your pool builder to form a 1.5-inch-diameter hole to accommodate it.
When shopping for an umbrella, select one that complements your backyard décor and any outdoor furnishings. Have a natural, lagoon-style pool? Opt for a tiki-thatch-style umbrella. What about a modern and geometric pool design? A square canopy might blend nicely.
Typical outdoor umbrellas poles range from 7 to 9 feet tall. Keep in mind that the pole will descend approximately 8 to 10 inches into the sleeve. Therefore, the best route is to buy a table-top style umbrella. These are taller poles that allow for a height loss from the extension down through the water and into the sleeve.
Also, be sure to pick an umbrella with a pole that's fiberglass, stainless steel, or aluminum. Never choose wood; it might expand in water, and its thickened diameter can get stuck in the sleeve.
Now, pour yourself a chilled drink, grab some reading material, and nestle into your umbrella-shaded lounge chair.
2. In-pool dining table & seating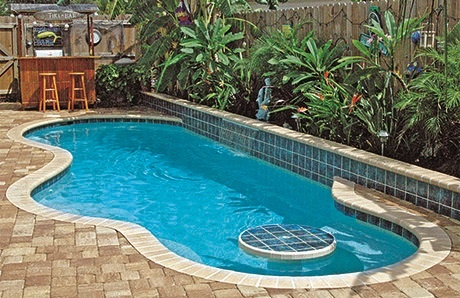 To stay cool in the water with family and friends while you take in a meal, here's what might be right up your alley: an in-pool dining table with individual or bench-style seating. Along with enjoying beverages, snacks, or full plates of food, you can use the tabletop for other activities like playing cards or a game of dominoes.
The best approach for making this arrangement possible is to plan ahead: Integrate your table and seating preferences into your pool design from the get-go with your pool builder.
The fundamental question to discuss with your builder is this: How many people would you like the table to accommodate—and for what kind of dining or activities?
Knowing this is key. To a large extent, the answer will dictate the size—and potentially the shape—of the table. Armed with this information on your needs and preferences, your builder will advise you on the best options.
Hands down, the most common tabletop shape is a circle. However, you can have a square, oval, or rectangle. And as for the location for your aquatic dining spot: An alcove in the pool's shallow end is an ideal choice.
While constructing your table, your builder will form it and the seating using steel, concrete, and other materials. Typically, concrete is used to form the base or pedestal to support the table top.
As for the tabletop itself, your contractor will form it with steel, wood forms, and concrete. For its surface, the most common approach is to adorn it with tile that matches or coordinates with the tile used inside your pool.
If you have decorative stone used elsewhere in the pool, deck, or perimeter coping, you can also go with a custom option: Have specialty (and yes, a bit pricey) masonry work performed to cut thin slices of the same stone and set it into your tabletop.
A good tip is to elevate the tabletop on the pedestal at about 3 inches above the water level, so the bottom third of the tabletop is actually in the water. That way, your tabletop virtually appears to be floating on the water.
Seating options fall into two chief styles: The first is individual stool-like chairs. Your contractor can arrange these solid, tubular seats in the pool color around the spot where they build the underwater pedestal.
The second option is a bench built into the walls of the pool. You can have a single straight version, but more often, the approach is to provide either two benches in an L-configuration or one large semi-circle or horsheshoe-shaped one.
If you opt for a large table, you may also want to add an umbrella for some protection from the sun. Your pool contractor can include a sleeve for an umbrella pole when building your table.
With these construction methods, materials, and decorative options, the table and seating installation that's possible in a concrete pool is not only downright useful but highly attractive. Because the table and seats get built during the pool's steel and concrete applications, you'll enjoy a distinctive, seamless result in your aquatic resort.
3. Sports pools / play pools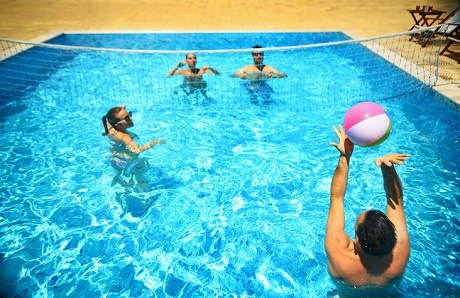 Hold on! Even if you don't plan on using your pool for activities like water volleyball, don't rule out a "sports pool" or "play pool."
For many pool owners, this design provides unexpected and welcome advantages. And if you lead an active lifestyle, this kind of pool will offer even greater rewards.
First and foremost, a sports pool or play pool usually looks like most any regular pool. The sports or play element is essentially hidden down in the water and is barely visible gazing at your pool.
The design is practical—really practical. The strategic depth configuration provides increased usable area for families with young children, short adults, and swimmers who primarily like to splash around in shallow water.
Unlike a pool that begins shallow at one end and graduates to about 8-feet in depth, a sports or play pool has two shallow ends with a deeper section in the middle. You can have this configuration in a rectangular shape, and in many cases, other geometric or free-form shapes as well.
With this type of design, it's easy to set up a volleyball net in the center of the pool and have teams stand on either side in shallow water. It's also easier for everyone to engage in other types of active games, such as shooting balls into a basketball hoop on the pool deck.
These pools also offer an extra measure of safety for enthusiastic children and adults who like jumping into the water from the side of the pool: Someone entering the water this way is less likely to hit a sloping wall, as sometimes occurs in traditional deep-end pools.
For additional safety, there's no 8-foot deep end in which to get stranded. And with two shallow ends in the pool, a place to plant their feet is never far away for young teens or less-experienced swimmers.
Your pool contractor will plot out the depth of the shallow ends and the deep middle section to suit your preferences and family needs. Sports or play pools are also called "3-5-4" pools. That's because the shallow ends are about 3 to 4 feet deep, and the deep portion is around 5 feet deep.
Now, these depths are approximate. One popular set of dimensions is shallow ends of 3.5-feet, with a 5-foot-deep middle. Another common choice is 3.5 feet to 5.5 feet to 4 feet deep. Based on your pool's shape and size, coupled with your family needs and lifestyle, your builder will advise the best approach for depths.
So, consider how your family might benefit from a sports or play pool. Why limit the aquatic playground space where you can just relax—without treading water. Unless someone in your family is a die-hard diver, having a traditional deep end just won't do all that much good.
In addition to providing more practical-use area for young children or shorter adults, pools with shallower overall depths typically provide another advantage: Because their volume is smaller—containing fewer gallons of water than traditional pools—you will save money on the costs of pool heating and chemicals the water needs. And that will makes your wallet a whole lot more comfortable!
Enjoy ultimate aquatic solace
Homeowners build pools primarily for the comfort and convenience they deliver. With a backyard resort, you can enjoy the rewards of that decision year after year. Along with strictly decorative features, remember to ask about features that will enhance your pool's functionality—and your enjoyment level.
Features like shaded tanning ledges, in-pool dining tables, and depth configuration options like sports pools will boost your comfort and convenience levels to new heights.