—Masterful custom projects that take aquatic style to new heights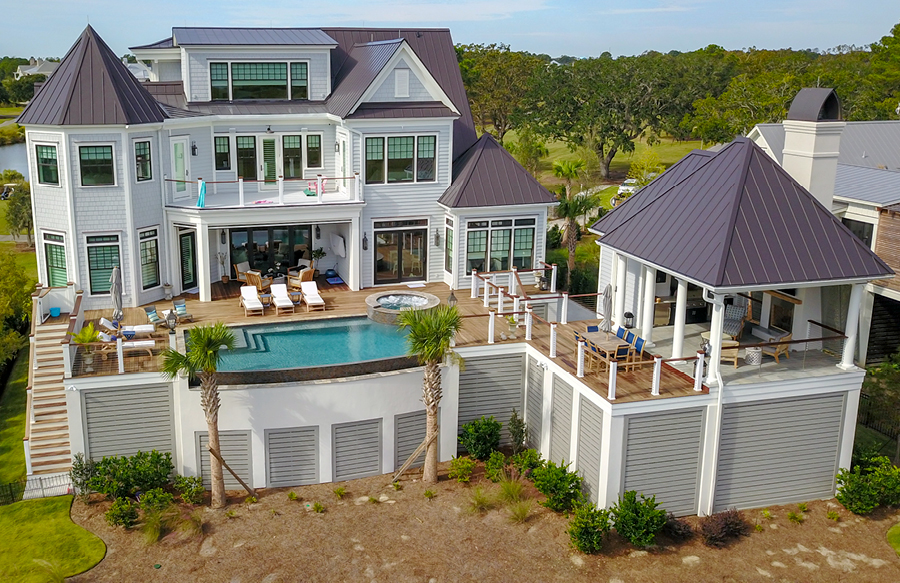 One of the most challenging and visually dramatic types of swimming pools is an elevated pool. This concrete (gunite/shotcrete) creation is not only built completely out of the ground, it stands soaring high above it.
A "high-altitude" project is distinct from gunite pools that are built on top of the ground or semi-inground. Those pools are far from rare. While they are not entirely underground like a common gunite pool, they are still generally level with the home's ground floor and backyard setting—versus up in the air at second-story level!
Rising to the occasion
Typically, an elevated pool is built for necessity. At least one reason exists as to why the pool cannot go in the ground like a typical one.
The vast majority of the time, it relates to very challenging pool-site building conditions.
In some cases, the reason comes—in part—from the homeowners' strong preference for ease of access to the pool.
A committed desire to make the most of a stunning view from the property may be another factor prompting the elevated pool placement.
Let's begin with a deeper look at the common motivations to build a pool so high up off the ground.
But before going further, a word of caution: Due to the complexity of their construction, these highly custom pool projects always cost more to build and are reserved for higher-end budgets and unique home architecture and site conditions.
Limited space
Steep terrain is one compelling reason to elevate a pool.
A heavily sloped lot may be unable to accommodate a pool unless the structure is configured entirely out of the ground. Literally, there may be no other spot to build a pool unless it is positioned 100 percent above the earth and away from the ground level of the home's foundation.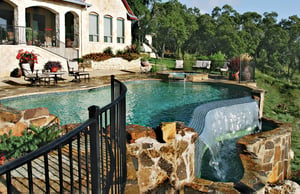 This hillside called for building this free-form infinity pool and its overflow catch basin high out of the ground. The pool & patio configuration enables the homeowners to take full advantage of the scenic views of green rolling hills.
Other unusual conditions that pre-empt a traditional inground pool may exist if the house is situated on a cliff, a lake, or has an extremely tight lot and/or setback requirements.
In these cases, it generally calls for putting the pool at a second-story level atop a massive, specially engineered concrete foundation.
Building for unwanted water
Another justification is that the home needs protection from water intrusions.
If the house lies in a flood zone and is subject to periods of torrential water, the smart move is to build both the home and the pool in the safety zone above what's known as the Base Flood Elevation. Doing so can prevent damage to both structures from the onslaught of water.
Oceanfront homes are also often built above the shoreline to protect the structure from high tides, and the same is true for the pool.
And in parts of the country visited by hurricanes and frequent tropical storms, some houses are positioned up high at the designated local high-water marks. In some of these cases, the homeowner will want their pool to be as well.
Creating a "higher level" of convenience
Another reason for a raised pool placement comes down to user ease of access to the pool.
With a multi-story dwelling built on a hillside, canyon edge, lakefront, or flood zone, the homeowners may want the pool to align with their second story to allow access from the living area.
This configuration may be more important than you might imagine. After all, a chief motivation for building a pool is the pleasure of taking a backyard staycation whenever you want. So not having the pool level with the home's main living area can present several drawbacks.
For starters, say the pool is situated level with the ground or the home foundation, and the home is on the second floor. You can forget about being able to enjoy gazing at your aquatic resort from your living area.
For the same reason, you will have zero ability to be in your kitchen, bedroom, or living room and gaze out the window to keep an eye on children playing in the pool.
Yet another drawback: The pool's lower and distant position from the house will make it a real hassle to use. Family members will need to climb down and up a steep staircase to take a dip or relax in the spa. It's even worse if you have to go back up to the house to grab the towel or cell phone you forgot upstairs or want something from the kitchen fridge.
Ditto goes for using any patio area and backyard amenities like a fire pit, backyard grill, or outdoor dining room. Set so far from the home's main living level, these features—which also required a financial investment—will often see less frequent use.
Pool with a view
In rare cases, a suitable location for a traditional inground pool is available on the ground-level property. However, for purely aesthetic reasons, the homeowner chooses a specific pool site that requires a complex—and pricey—elevated build.
What's the motivation here? Well, the homeowner opts for a tall perch for the pool because it will make optimal use of the property's views.
Now, on its own, a pool is lovely to gaze at. But when you place one in the foreground of a scenic view, magic happens: The beauty of both the view and the pool multiplies.
In particular, an elevated pool with an infinity edge (also called a negative- or vanishing-edge) provides doubles the visual drama for an incomparable sight.
Sky-high projects
Let's take a look at this elevated design and construction concept put to real-world outcomes. Here are seven examples of masterful execution of the elevated custom pool integrated into the home.
They illustrate how this sophisticated design and build approach takes aquatic architecture to a truly "higher level" and achieves superlative harmony between the pool, deck, and home.
Modern Angles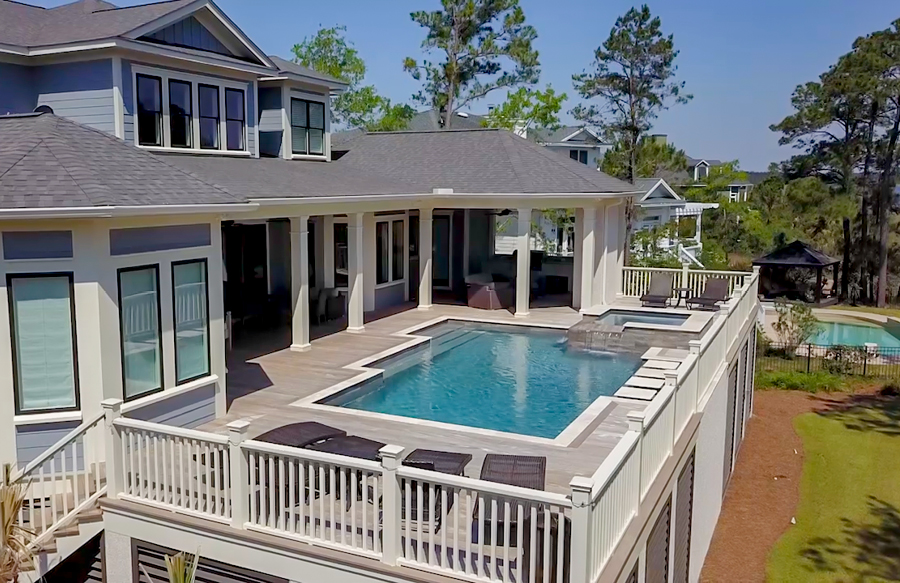 Built 13 feet off ground, this aquatic creation sits atop a massive foundation. Its careful construction included an integrated concrete footing system reinforced with loads of steel rebar and structural masonry block walls. Next, loads of compacted, engineered backfill of soil went into the structure.
The geometric creation features a chic swimming pool design trends: a floating step-stone path on the far side of the pool that leads from the deck across to the raised spa.
The surrounding patio area is completed with a durable Ipe wood deck.
Rectangular Infinity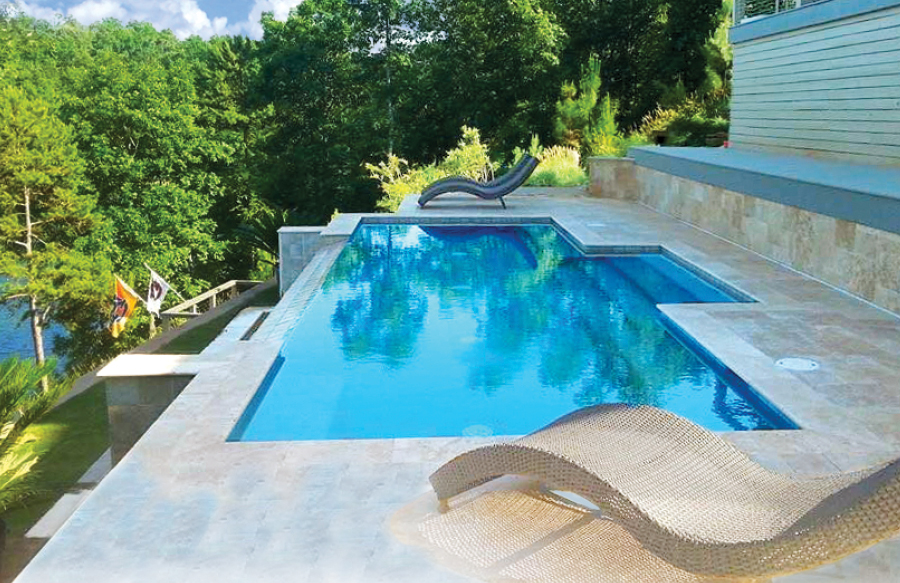 This infinity pool overlooking the lake below was a challenging project designed with specifications from a structural engineer.
It was built on the site of an existing home approximately 15 feet above grade. The pool had to be tightly positioned between the home and a structural concrete wall that was already in place.
Although a soil engineering report confirmed the earth met required compaction, the steel schedule in the pool was increased to heavier, #4 rebar and the structure included special supporting wing walls.
Mini Pool with Raised Spa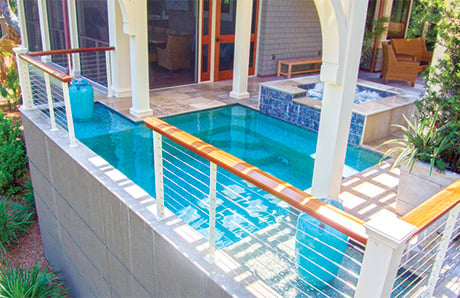 Designed by an architect for this home, this compact pool with raised custom spa was built upon a massive block foundation and before the house was built around it.
Real estate on this home site was very limited, so the pool had to be small. Yet the design still succeeds in making room for an attractive raised spa.
The elevated aquatic retreats sits at a whopping 12 feet above grade to circumvent flooding that frequently occurs in the local area.
The owners also wanted the convenience of walking directly out their back door—vs. a long flight of stairs from their elevated home—in order to reach the water.
Geometric Infinity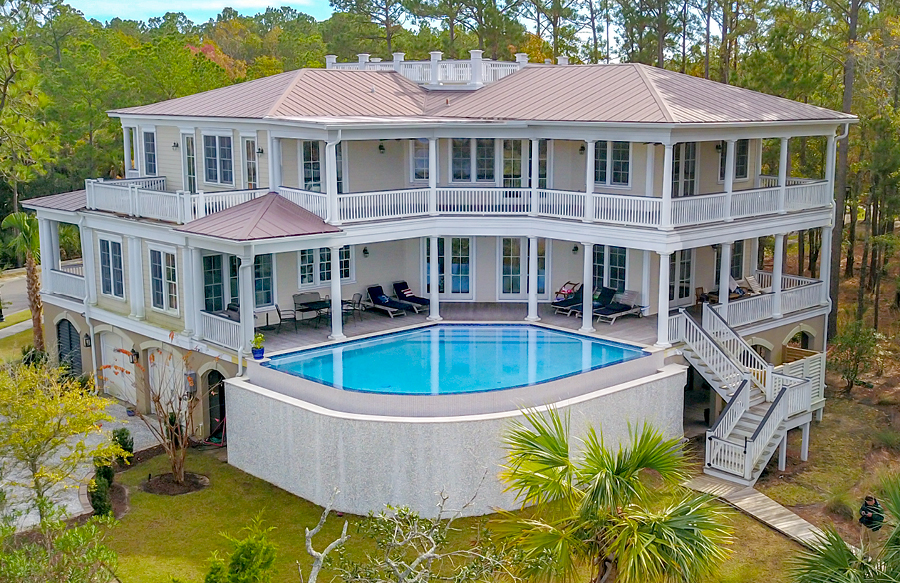 Soaring approximately 15 feet above grade, this infinity-edge pool features an in-floor cleaning system for extra ease of ownership. Travertine coping and tropical Ipe wood decking surrounds the pool.
Nearly half the pool's perimeter is built with a vanishing edge. The water overflows into an extended catch basin and then recirculates back into the pool.
The pool includes what's known as an extended second step; it serves as an outward-facing loveseat/bench with a perfect view over the vanishing edge.
Classic Symmetry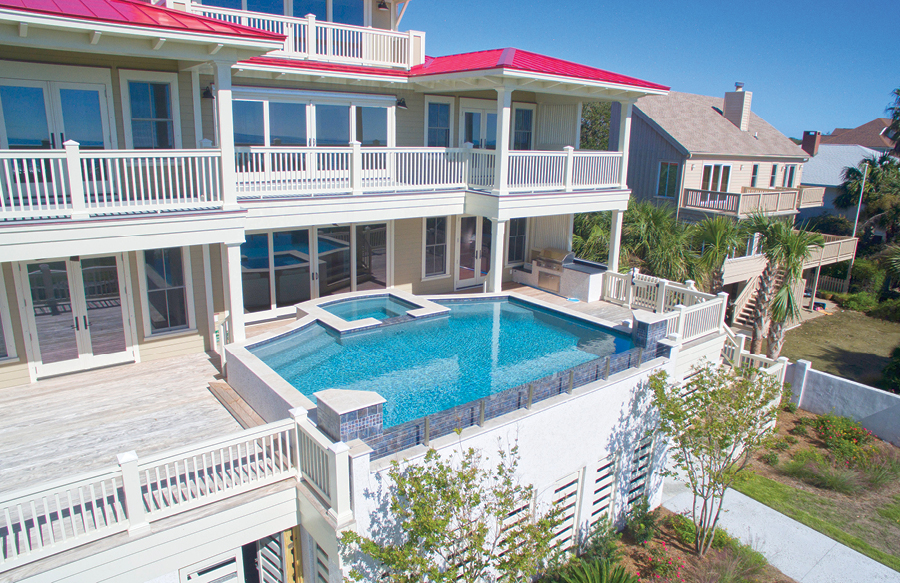 This pool was constructed atop a foundation created with an intricate footing system with structural block piers. This approach ensure a solid, highly durable foundation without trucking in and compacting tons of dirt for a high load-bearing capacity. And because the foundation is not backfilled with soil, there is open space underneath—you can actually walk below this entire pool
Along with a sleek spa, this modern design boasts a dramatic vanishing-edge that visually merges with the horizon of the Atlantic ocean.
All vanishing-edge pools need a catch basin where the water flows over the pool edge. To maximize the size of this pool's footprint, the size of the catch basin was kept to a minimum, and to provide additional capacity for overflow water, a hidden surge tank was built below the pool.
Angled 8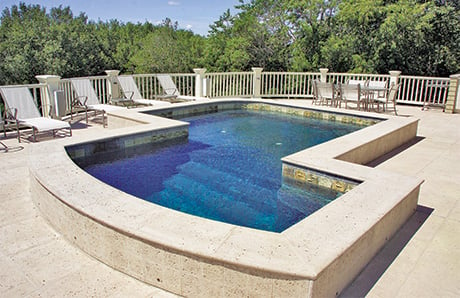 Built on a spacious rooftop deck, this spool is loosely modeled on the figure 8, but contains contemporary geometric lines. This is a miniature pool also known as a splash pool or cocktail pool.
It's only a few feet deep, but offers enough space for cooling off and has room for a large tanning ledge for partially submerged sunbathing.
Gunite pools are considered an inground build. However, this roof top project is a free-standing, self-supporting structure. It demonstrates how a pool can be built above grade and higher than its surrounding deck area.
Integrated Landscape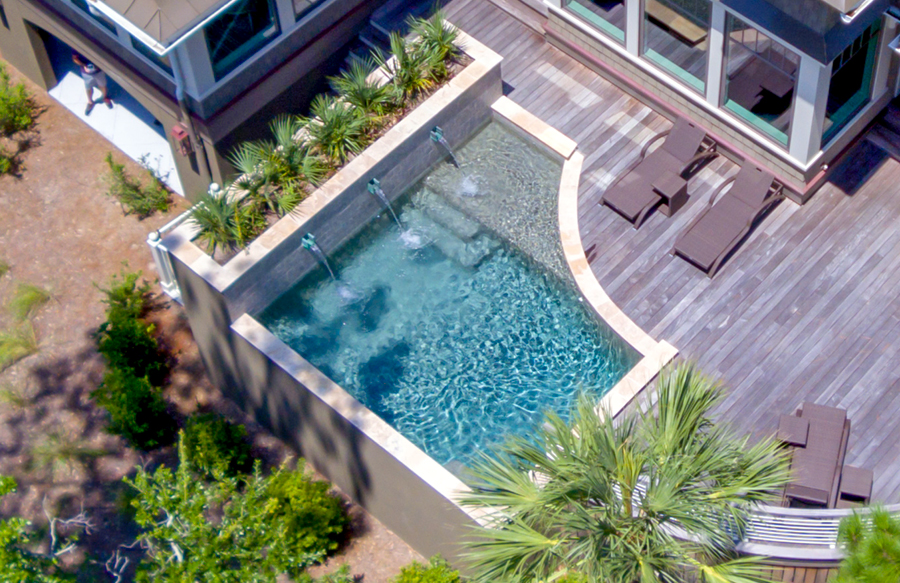 Due to the soft, marshy soil surrounding the property, this pool had to be constructed up against a property set back.
While no one will be swimming laps in this pool, the owners have enough room to splash and relax together. In addition, the pool designer maximized the space by having the first step perform double duty as a tanning ledge.
By simply making one side of this pool partially concave, the designer also created visual intrigue from a familiar square shape.
The project's centerpiece even brings greenery to the raised patio area—something that can be tricky to do in a tight, elevated poolsite. One full side of the pool is built with a large landscape box for a row of plants and row of copper scupper-style water features.