—See beautiful concrete pools that "rise above" construction challenges with added style and function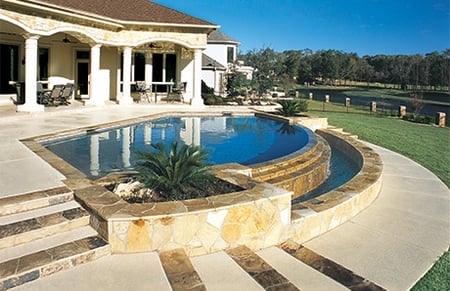 While most concrete (gunite or shotcrete) pools are constructed beneath the ground, did you know that some are built partially—or even entirely—above it?
On-ground and semi on-ground pool designs achieve an inventive, multi-level aesthetic that's popular with homeowners striving for an inspired outdoor addition. The out-of-ground pool concept also provides a solution for backyards with certain construction challenges.
What is an on-ground / semi on-ground concrete pool?
Not to be confused with a portable, prefabricated above-ground pool sold at retail stores, these custom designs are individually constructed in backyards just like typical inground concrete pools.
All of the standard concrete-pool building techniques and materials, such as steel bars and gunite or shotcrete, go into their construction. They deliver the same durability, longevity, and design versatility you expect with a gunite or shotcrete pool.
The single difference: All or a portion of the pool shell's bottom and perimeter wall are constructed on the ground or above it—versus being hidden beneath the earth.
The pool's configuration and exposed wall or wall section add visual dimension to the poolscape, and the exposed wall even enhances the pool's overall beauty. What makes the exposed structure attractive is how it is covered with decorative tile or stone that either accents or matches materials used elsewhere in the pool.
Why build a custom pool that's on the ground or partially raised above it?
Homeowners and their pool contractors choose a concrete pool design that's completely or partially out of the ground for several reasons.
One is to achieve a particular aesthetic. These original pool configurations stand out from the crowd. In particular, a pool structure that's built completely on or above the ground delivers a distinctive look that breaks from the typical inground swimming pool appearance.
Occasionally, homeowners opt for an on-ground pool design for the unique functionality it may provide. For example, in a heavily tree-laden backyard, the exposed walls of a total on-ground pool may hinder fallen leaves from blowing into the water. Or, a strategically configured on-ground pool can provide more convenient access for individuals with some kinds of mobility challenges.
However, the most common reason for using an on-ground or partial on-ground pool design is a backyard building challenge. Typically, the construction hurdle falls into one of two categories.
The first is a slope or uneven grade in the backyard. In some cases, a pool builder can grade an uneven property lot by removing massive amounts of soil. In other cases, a builder must erect one or more retaining walls and also haul in and compact many yards of fill dirt to compensate for lower areas of the lot.
Both of these solutions are costly, difficult, and may create undesirable effects in a backyard. Therefore, building a pool partially out of the ground often provides a more cost-effective solution—as well as a more eye-catching, functional result. It's the swimming pool version of turning lemons into lemonade.
The second category that may pose a construction complications is soil condition. In some regions of the country, certain kinds of ground, such as hardpan or Caliche, make standard excavation impossible. Ditto for soil that's filled with rocks beneath the topsoil. Special machinery and added labor are the only way to overcome rock.
Another kind of problematic soil condition relates to underground water sources. Home properties near a body of water may have high water tables that can seriously complicate an excavation. Dig down more than a foot or two and water seeps in. Here again, extra equipment and tactics are needed to properly excavate a pool hole and to keep it dry.
On-ground custom pools for innovative style and smart solutions
Regardless of the motivation for building out of the ground, the outcome can be a creative masterpiece that's lovely to view. Depending on factors in your outdoor space, it may provide a more economical construction solution as well.
Best of all, you can tailor the design with the same range of creative features and decorative options as a typical inground concrete pool. See for yourself with these great examples of on-ground and semi on-ground projects.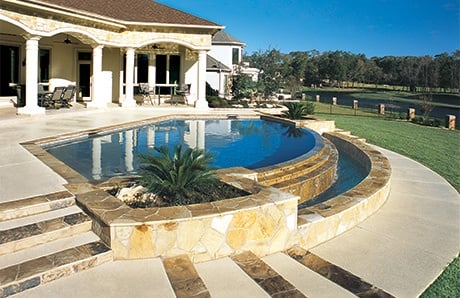 1. This vanishing edge pool (above) with multi-tier deck takes advantage of the backyard's slope with a view of the lake below it. The semi on-ground design blends modern geometric lines with rustic flagstone coping, with the same stone used to edge the patio steps. As the raised patio area provides no exposed ground for landscaping, a pair of complementary planter boxes was integrated into the pool's configuration to bring greenery to the hardscape.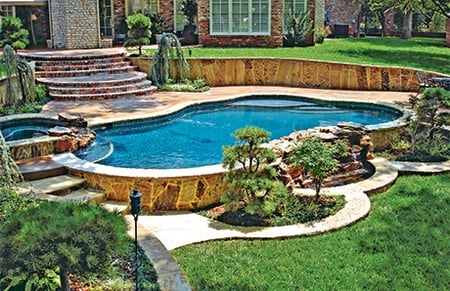 2. This pool illustrates how a semi-inground configuration can provide a solution to a backyard with a 6-foot difference in grade. To build on the out-of-level property—without hauling in any fill dirt—the design employs two sets of patio steps, a retaining wall above the pool, and a dropped deck area. Along the back pool wall where the slope descends, a small, outward flowing waterfall and two integrated landscape pockets punctuate the poolscape.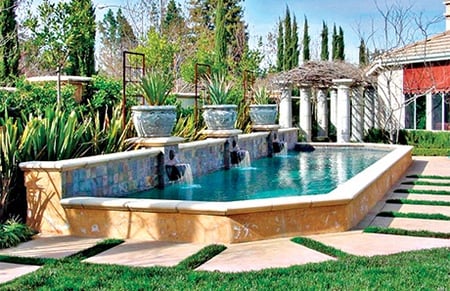 3. Exemplifying an ideal marriage of aesthetics and functionality, this full on-ground project was tailored to the needs of its mobility-challenged owner. The 16-inch edge provides the perfect height for sliding into the water from a wheelchair. Along with using the pool for exercise—with its ease of entry and exit—the owner enjoys a year-round view of the Tuscan-inspired "half-Roman" pool with elegant water features in a Mediterranean garden setting.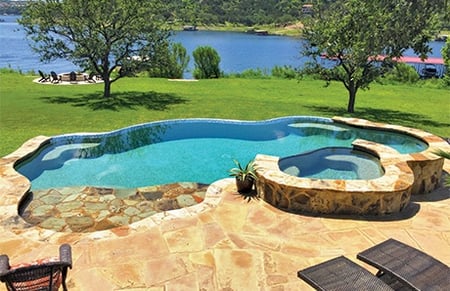 4. This design delivers the appearance of an infinity pool, but without the typical cost. It's what's known as a "faux infinity" in which the water spills out over the edge, but there's no catch basin below to recirculate it back into the pool. The sloped yard made the design possible with the edge positioned over the incline below. To achieve the visual design trick, the tile color was matched to the plaster color for a seamless appearance, and the faux section was intentionally left without flagstone coping over it.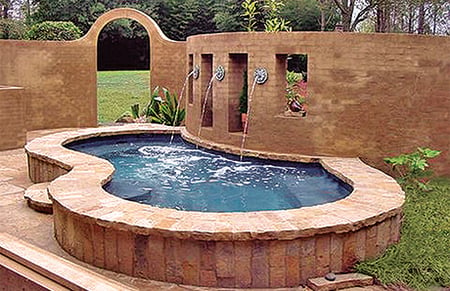 5. Built 100 percent above the ground for decorative effect—versus necessity—this small pool in an enclosed section of the backyard is inspired by the kind of pool/fountain installation you might see in a park, office building, or other public space. But it's a true swimming pool—large enough for a cool splash and complete with ample seating for the homeowner's family.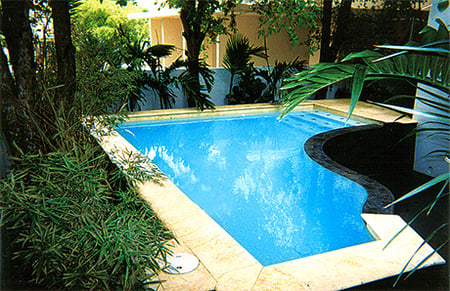 6. Have a tiny, tree-filled, fully walled-in backyard—but you really want an infinity-edge pool? These homeowners did. To make it happen, this pool's construction meant building it several feet out of the ground to create the needed elevation; doing so preserved the lush, mature trees and allowed for pool water to overflow into a catch basin below and recirculate back into the pool.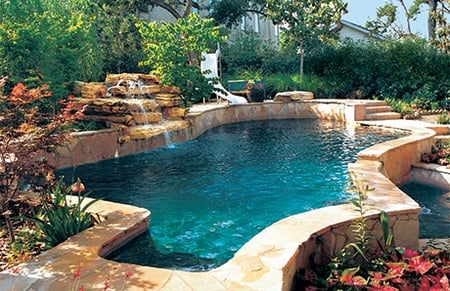 7. The natural grade in this backyard provided the foundation to create a lovely cascading waterfall and multilevel decking. With its two-tier configuration, the main pool overflows into a small decorative one that's positioned below. From front to back, the yard's elevation drops three feet, so the overall design was balanced with a raised beam (wall) on the high side of the pool and a dropped deck installed on its low side.