—Get peace of mind by outfitting your outdoor space with emergency supplies and accessories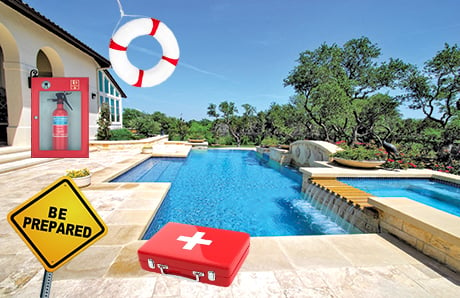 Backyard swimming pools are designed for fun, relaxation, and entertainment. Whether you prefer sunning on the deck, soaking in the spa, or splashing in the water, responsible pool owners understand that safety should always come first.
Even when you take appropriate safety measures, an accident could happen. That's why every prudent pool owner should maintain a well-stocked first-aid kit at all times and keep the right rescue and safety equipment nearby.
Pool and backyard mishaps and injuries can occur. However, when they do, most are relatively minor, such as a bee sting or skinned knee from slipping on the pool deck.
With a good set of first-aid supplies, you are ready to treat simple cuts, abrasions, and other small wounds quickly and easily onsite. Rarely, a more serious injury may require a trip to the emergency room.
What to include in your backyard first-aid kit
Swimming pool first-aid kits come in two basic types: One for private home pools and one for public facilities that have high numbers of users. The larger version, often called a "lifeguard first-aid kit," generally contains more items.
Unless you have a large backyard pool that is constantly full of neighborhood kids, a home kit should suffice. At minimum, it should include the following items:
Adhesive bandages
Gauze pads of different sizes
Adhesive tape
Non-latex gloves
Insect sting relief pads and/or ointment
Antibacterial soap
Antiseptic cream and towelettes
Scissors
Tweezers
Cold compresses and/or instant icepacks
Sunscreen (as convenient back-up supply)
After you have a first-aid kit in place, make sure to check it regularly. Mark on your calendar to check the supplies everyone few months; during pool season when your pool and backyard get heavier use, you may want to schedule this for every few weeks.
Look to see that the stock of supplies has not been depleted. Check too if any have become damaged due to outside heat or moisture, and if any have expired. Then you can replace those items.
The importance of water rescue equipment
When used safely, backyard pools offer excellent environments for family leisure and entertaining guests. However, people and pets may occasionally need assistance when enjoying the water. Keeping rescue equipment within easy reach at all times can prevent a tragedy.
No matter what size, every backyard pool should have two particular devices: a life hook (also known as a shepherd's crook) and at least one safety ring buoy.
You can use the life hook to pull struggling swimmers to safety. A quality device will be made of lightweight, but sturdy metal. Select one that will extend at least half the length and width of your pool so it's long enough to reach a swimmer in distress.
The ring buoy, which helps keep swimmers afloat, should have a diameter of at least 17 inches. Keep both the life hook and ring buoy situated as close to the pool as possible for quick access during an emergency.
Additional safety equipment and accessories to consider
Add more layers for greater safety. To further enhance safety around your pool and outdoor space, keep these items on hand around your pool, patio, and backyard area:
Public pools always post the rules in plain sight to remind swimmers of the need for safety. So why not post house pool safety rules in your backyard as well?
Standard pool signs cost as little as $10 online, while customized versions run around $25. Signs are especially important if your pool gets heavy use from guests.
On rare occasions, someone facing a heart attack may need assistance before medical help can arrive. Having an automated external defibrillator (AED) nearby can save a life by restarting a person's heart.
If anyone in your family has a heart condition, an AED is an excellent addition. The same goes for a friend or relative with a heart condition if he or she frequently comes over.
Ideally, you will have training in how to use the AED. Even so, always keep a set of written instructions for the AED near the device to guide people in using it in case you're not around.
This may sound like a head-scratcher for pool safety. However, if you have a fire pit, grill, or some other type of flammable device such as tiki torches in your patio or pool entertainment area, always store a fire extinguisher nearby to have on the spot in case the flames get out of hand.
Do you have a land line in the pool or patio area? Or, do you have one inside the house that you can reach within seconds? If not, make sure at least one person using the backyard has a cell phone on hand in case anyone needs to call 911.
Final thoughts
The final step in pool safety involves education. Educate every family member about your first-aid kit and safety equipment so they can respond within seconds. If you have certain friends or neighbors over on a frequent basis to use the pool and backyard, it's a smart move to educate them as well about your kit and pool safety practices.
If you're planning a pool party or other event with children, take a few minutes at the start to speak to adult guests about pool and backyard safety. Show several adult guests where you keep the first-aid kit and safety equipment or make sure they're in plain sight.
Another great strategy is to get certified for life-saving situations. The American Red Cross offers courses in CPR, use of an AED, and first-aid training.
As a pool owner, it's your responsibility to family and guests to maintain a safe pool environment. Stocking your pool and backyard with the appropriate first-aid supplies and safety equipment, along with knowing how to use them, will ensure everyone has a fun and safe backyard pool experience.