—How high-tech features make pools easier, healthier, and more efficient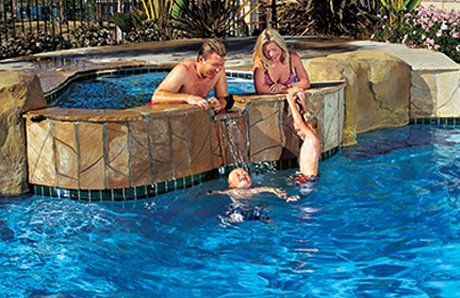 Like so many other aspects of our lives, swimming pools have gone high-tech. The result: Today's industry innovations and features are making pool ownership better than ever for fun, relaxation, and efficiency.
Thanks to technology, you can minimize the time and effort for pool operation and also enjoy a swimming environment that's healthier and more attractive. Now, while these options come with a higher upfront cost, the long-term rewards make them well-worth the investment.
Among the most popular ones to consider: automation systems, remote controls, automatic pool cleaners, purification systems, and heaters. Let's take a look at each and how they can enhance your overall pool-ownership experience.
1. Automation systems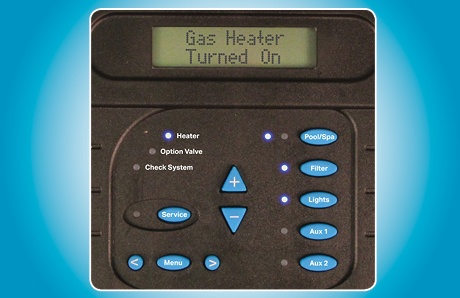 Automation systems allow you to program various pool & spa functions and features that require manual oversight or manual operation. Pool builders and remodelers can include these options at your pool's base equipment pad (where the pump, filter, and other systems are installed).
Units provide control panels with buttons for making changes and setting schedules for pool & spa operations. With the press of a button, you can schedule and activate/deactivate a variety of processes. Depending on the brand and model of the system, the total number of functions will range from about four to 30.
Put your choice of multiple functions on autopilot: cleaning, heating, lighting, filtration, purification, spa jets, water features, and more. If your pool lights include dynamic, multicolor LED "light shows," most systems will accommodate them as well.
Pool automation is a great timesaver. For example, you can schedule your pool vacuum to go to work in the middle of the night, when no one is using the pool.
Or, you may want to set the pool lights to go on each day at 7 p.m.—so your family has attractive evening scenery to view—and turn off at 11 p.m. when everyone goes to bed.
If you include a multi- or variable-speed pool pump on your new pool or remodel, automation can help save money as well: By programming the pump to operate on low speed for less-demanding functions—such as daily filtration—it will consume less energy.
2. Remote controls: Handheld units, web platforms, and mobile apps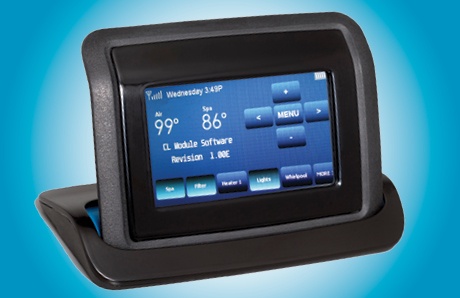 If you are including automation on your pool, take convenience to the next level by adding remote controls.
They allow you to skip the walk over to your system's base unit at the pool-equipment pad when making adjustments. Many models also provide greater versatility and options for activating and monitoring pool equipment, features, and water conditions.
You have three broad categories of pool remotes from which to choose: handheld/tabletop remotes, web-based platforms for desktops, and apps for mobile devices.
Capabilities for handheld units vary by brand and model. Most are simple to use and come with backlit LCD touchscreens for easy operation and visibility at night. Typically, functions include a display of air and water temperature and the ability to activate multiple features. Some provide programming of custom group functions as well.
They also allow you to manage your pool from several locations on your property: The device sits on a charging base kept at a regular spot near the pool, such as a table or outdoor ledge.
You can use the remote from its stationary spot, or, simply pick it up from its base and keep it nearby while using it in the pool or spa. Some are waterproof and float for use in the water.
All will operate over distances and through structures like house walls, allowing control from the comfort of your kitchen counter or living room couch.
Another remote option is a web-based platform. These cloud-based systems work from anywhere in the world. Log on via a desktop PC or Mac or a tablet. Monitor your pool and spa, and make adjustments to various functions—even when you're away from home.
Your third choice for a remote is a mobile app for your smartphone, typically for Apple and Android operating systems. Stuck at the office and want to activate your spa so it's hot and bubbly when you arrive home? Just pull out your phone to make it happen.
3. Automatic pool cleaners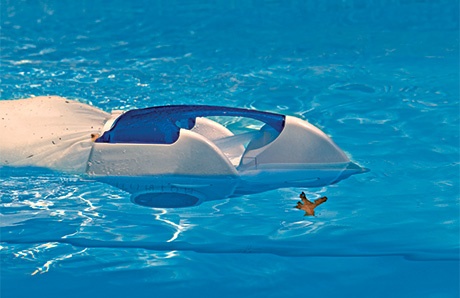 Thank goodness you can delegate the task of cleaning your pool! With a roving, automated pool cleaner, getting rid of dirt, leaves, and debris from the water is one routine chore you won't have to do by hand.
These units travel throughout your pool for several hours a day doing their housekeeping work. Three categories of cleaners are available: suction, pressure, and robotic. (A high-end alternative to a roving cleaner is an in-floor cleaning system.) All are effective at tackling unwanted matter that makes it into your pool water.
Which type is best for your pool depends primarily on backyard conditions. These may include kinds of trees—and the leaves they shed—and foliage near your pool. In some regions, like the desert or near a beach, more sand and silt will find its way into your pool water. And on certain pool renovations, your builder may not be able to add a pressure-type model easily.
Your builder should advise you on which kind of cleaner will provide the best performance for your pool. Ask about the specific benefits of the brand and model they suggest. For example, how many hours will it typically require each day to handle your pool? Is the model energy-efficient? How long is the warranty?
Including an automatic cleaner on a new pool is a no-brainer. It saves you on the hassle of removing dirt and debris and helps keep your pool water cleaner and more pleasing to the eye.
If your pool has an automation system, you can schedule the times for a pressure or suction cleaner (but not a robotic one) to run; scheduling is even esier with a hand-held remote, PCs dashboard, or mobile app.
4. Ozone and ultraviolet (UV) purification systems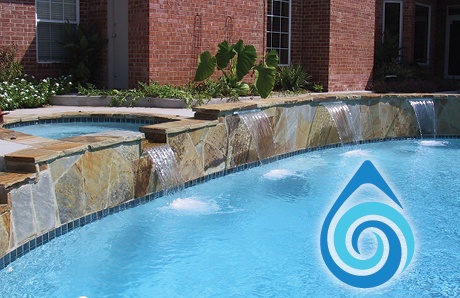 Having the right technology goes a long way toward delivering sparkling fresh pool water—without the typical chlorine levels and harsh effects its byproducts can produce.
You likely know of these unwanted effects—red eyes, dry skin, bleach-like fumes. But did you know that tens of thousands of pool owners avoid most of them with ozone generators and ultraviolet (UV) light systems?
These alternative purification methods destroy a wide variety of organic contaminants while simultaneously slashing the need for the chlorine. They also neutralize a higher percentage of disease-causing pathogens than chlorine can.
Ozone (O3) occurs naturally in the environment when two-atom oxygen molecules (O2) combine with a free atom of oxygen. Ozone can also be man-made using an ozone generator installed inside pool equipment.
Ozone produces water that's soft and gentle on your skin, and it's much more effective than chlorine at killing the diarrhea-causing Cryptosporidium parasite.
Unlike chlorine, once ozone completes its killing mission, it quickly dissipates without leaving any byproducts in your swimming environment.
For even better sanitation results, use ozone in tandem with an ultraviolet system. Special UV bulbs emit controlled germicidal rays within a quartz or polymer tube inside the pool equipment.
UV light eliminates 99.9 percent of disease-forming microorganisms. And like ozone, UV light gets the job done without any toxic byproducts in the pool!
Another benefit of ozone and UV: Unlike chlorine, these systems have zero impact on pH levels (the proportion of acid and alkalinity in water). As a result, your pool water will be easier to balance.
Ozone and UV save you on maintenance time and costs—maximizing the time you can spend in a healthier, more comfortable, crystal-clear swimming environment.
5. Heaters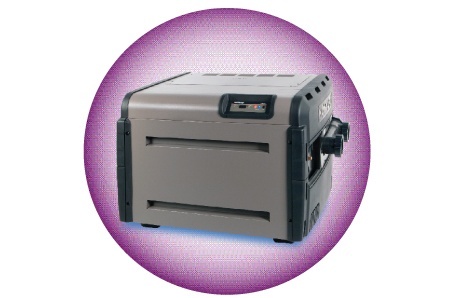 Typically, pool water runs around 10 to 15 degrees less than the outdoor temperature, depending on the time of year. Heating your pool makes it more comfortable—even when the weather is a bit chilly.
So, if you want to use your aquatic resort longer each year—versus only during summer or extended periods of hot weather—a good heater makes a major difference. And if you include a spa with your pool, you really need a heater for it.
Traditional gas heaters are the right choice for most pools and for how most homeowners use them. These units are the fastest way to raise water temperature. For a spa, a gas heater can quickly fire it up so it's nice and hot when you want to use it.
In some areas of the country—and for some families with certain patterns of pool use—the best fit may be a lesser-known option: a heat pump.
These units run on electricity and extract heat from the air outside. But, they do not work in cooler temperatures or areas with low humidity. Nor do they boost temperature as fast as their gas counterparts. However, once they achieve the target degree level on the thermometer, they offer greater energy efficiency for maintaining it.
Another benefit: In regions of the country with hot climates where pool-water temperatures rise to uncomfortably high levels, you can use some heat pumps to cool down the water; certain models provide a "chiller" feature with a cooling cycle that removes heat from the water.
A solar heating system can also be a smart option—particularly in regions with plenty of sunshine and high utility rates. While they carry a substantial upfront price tag, they pay off over time. Eventually, you get to rely on the sun for free, clean energy to keep your pool heated for extended periods.
Whatever kind of heater works best for your pool, you can also make its operation a piece of cake by connecting it to an automation system. For even greater benefits, pair it with a remote device.
For example, you can schedule the unit to kick on so the pool water temperature is just right when you're ready to use it. Automation and remote controls are not only convenient, but they can also save money by making it easier to run the heater only when you need it.
Benefits of technology options
Technology makes many facets of daily life easier. The same is true when it comes to pool operation and optimization of your swimming environment.
Advanced features allow you to automate key pool functions, while heaters, automated cleaners, and alternative purification systems deliver a more pleasant swimming environment.
They make your pool easy to use and save you valuable time. With a better pool environment and less effort needed to manage it, you can spend more hours enjoying your high-tech backyard retreat.