—Giving contemporary personality to the classic bean-shape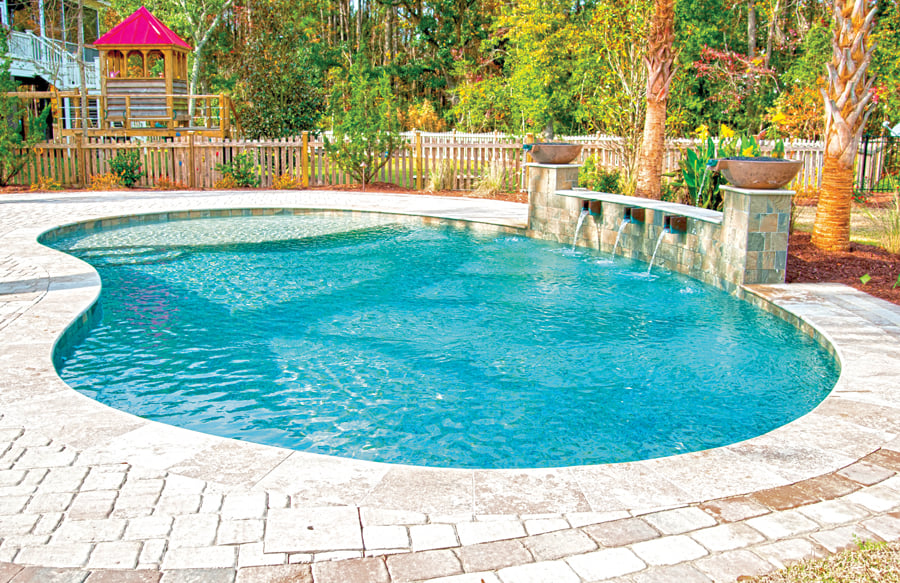 Yes, the kidney-shaped pool remains alive and well in 2023—boasting a current design that holds its own against today's curvy pool shapes.
In many ways, the kidney is the godfather of all pool shapes.
It's synonymous with the explosion of backyard pools across America in the 1950s and 1960s. Perhaps second only to the basic rectangle, the kidney is the most iconic and beloved of all pool shapes.
Its emergence marked the beginning of freeform pools, meaning those with curvilinear forms rather than straight lines and angles.
Shaped like a kidney bean, versus an actual kidney, this pool silhouette is appealing and always feels familiar. If there's such a thing as a "retro" swimming pool, the kidney is it.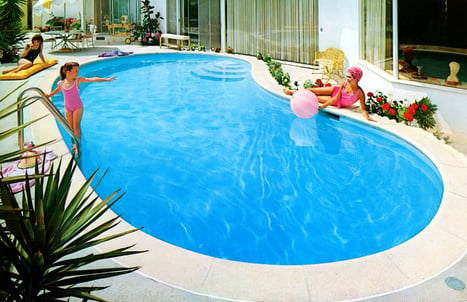 The versatile shape also makes efficient use of space and integrates successfully into a variety of backyard settings.
Not your father's kidney pool
Many people associate kidney pools with Mid-century modern design.
Others recall a kidney pool from childhood, and for them, the design holds a kind of sentimental value.
And some just appreciate the gentle sweeping lines of this simple shape.
For any of these reasons, some pool buyers would like to build a new backyard pool with this specific shape.
So, it's nice to know that this old-school shape can fit nicely with most contemporary and modern homes.
In fact, with thoughtfully chosen aesthetic touches, a kidney pool can integrate into rustic or tropical settings as well.
Seasoning the Bean
For starters, any kidney pool built today will automatically appear more contemporary due to the nature of the pool-building materials.
Examples may include ColorQuartz and pebble interior finishes, chic porcelain and glass tile, and distinctive concrete or stone coping along the pool perimeter.
Some may also boast the latest pool-design features such as fire bowls or water bowls.
In addition, here are seven attractive, guaranteed ways to put a modern spin on the classic pool shape.
1. Add a Spa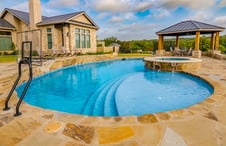 When kidney pools first emerged in the Fifties, residential spas had yet to be invented (and would not in any meaningful numbers until the Seventies.)
But today, many pool buyers people include a spa for its many health and lifestyle benefits.
With cleverly designed dam walls and spillways, a gunite spa also wins high marks for style, creating an attractive focal point on any pool.
In particular, a ultra-chic rimflow spa will deliver a home run in making a kidney pool current and even trendy.
The right-shaped spa will achieve a neat fit: On a large kidney design, a round or modified circular spa will gracefully nestle within the "inside" curve of the shape.
But a spa that's round or a custom circular shape will integrate well with other spots along the pool's perimeter.
(A square, rectangular, or most other hard-angle shapes would be a visual abomination.)
Your spa can be either level with the pool or raised a foot or more above it.
A spa that elevated above the pool spa will always provide greater design opportunities and make a bolder, more modern statement on a kidney pool.
2. Turn on LED lighting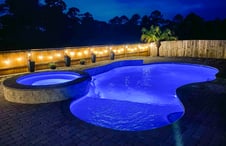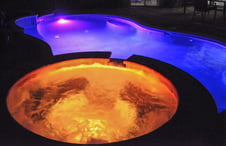 While kidney pools are traditional in a sense, they need not be married to antiquated pool lighting that resembled the headlamps of an oncoming train.
LED lighting systems have redefined how swimming pools and spas are lit. Pool LEDs come in plain white, but the special effects are from upgraded systems.
High-end LEDs provide an array of changing whites, blues, golds, pinks, purple, and greens that will highlight the contours of your kidney pool and any other features it may have.
They also provide spectacular light shows. These high-tech programs have hundreds of LEDs flashing at various speeds and patterns across your pool & spa.
Whether you play a dancing, party color scheme like "Mardi Gras" or a slow transition of soothing blues and whites in "Tranquility", bathed in dazzling light, your kidney pool will look anything but "old school".
3. Deck out with deck jets or laminars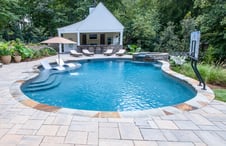 For an added dose of liquid elegance for a pool setting, some homeowner turn to deck jets or laminars.
Mounted along the pool perimeter, these graceful arcs of water—typically three to six feet in height—produce a lovely sight as they gently fall onto the pool surface below.
With its sweeping curved lines, the distinctive kidney pool marries extremely well to these water features in particular. The arcing streams playfully accentuate the pool's curvy shape.
It's important to note: Deck jets and laminars are not different terms for the same feature. While they appear similar at first glance, there are differences between the two.
Deck jets are the more affordable of these two options. The stream they produce begins to break apart into spraying, glistening droplets as it travels toward the pool.
Laminars, on the other hand, hold their sleek, glasslike form throughout the entire arc. Perhaps the biggest differentiator is that the arc can be illuminated by color LED lighting that travels throughout its full length.
With several of either one, these appealing features can serve as chic accents to the traditional kidney pool shape.
4. Build a water-feature wall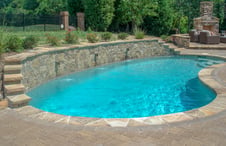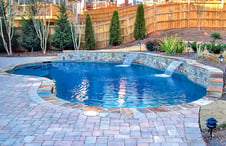 A superb way to add style to a kidney pool is with an artistic water-feature wall that stands above the pool's surface.
This custom raised section of pool wall is also known as bond beam. The wall is typically at least 12 to 18 inches high, and it is always finished with colorful tile or decorative stone.
Outfit the wall with one or a series of water feature, and you have an eye-catching attraction. This decorative structure will usher in motion, as well as the music of gently falling water.
To create this kind of focal point on a kidney design, the wall should be curved to follow the contours of the pool shape.
You can incorporate one of several varieties of sheet-style, cascade falls into the structure. The higher the wall, the more dramatic the end result. Ditto for the number and width of the cascades.
Where the budget allows, include metal fixtures known as pool spouts and scuppers.
These special kinds of water-feature accessories will make a decidedly modern statement on any kidney pool.
5. Go to infinity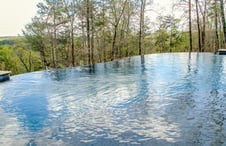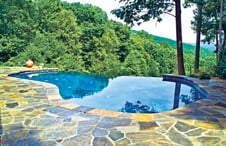 An infinity pool, aka vanishing- or negative-edge pool, represents a signature hallmark of modern pool design.
This custom feature will visually declare that your kidney pool is chic and modern.
In the right backyard settings—typically ones with a scenic view—this design creates an almost magical appearance as the water's surface appears to connect with the adjacent horizon.
On a kidney shape, this special edge treatment is typically placed on the long, far side of the pool's silhouette overlooking a scenic view.
No view in your yard? Meet the newest trend: a "reverse infinity."
In this configuration, the custom edge faces toward your home or patio area in full view. The exposed section of pool wall is built to be appreciated, and the visible sections are will be covered in beautiful tile or stone.
Along with the tiled catch basin into which the pool water overflows the edge, the decorative wall creates a large, intriguing water feature.
6. Lounge in the shallows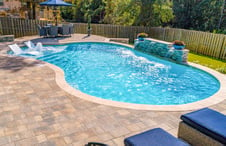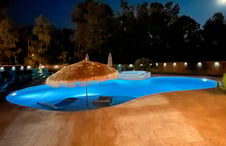 Tanning ledges, also known as sun shelves, and Baja benches, have become wildly popular in residential pools. Having one of these convenience features represents a hallmark of modern pool configurations.
Tanning ledges are great for relaxing in shallow water.
A favorite way to homeowners make the most of them is by adding a pair of lounge chairs that are designed for this specific purpose.
You can stretch out in comfort on the chaise while remaining close enough to those in the water to carry on a conversation
Kids love a ledge as well. These shallow perches are ideal for youngsters to more safely and comfortably play in the pool water.
On the aesthetic front, a curvy tanning ledge can add another visual contour to a Kidney pool, further celebrating the shape.
You can dress up this miniature oasis as well. Ask your pool builder about including one or more bubbler fountains, colorful border tile or natural stone, or an affordable mosaic design.
Builders often incorporate an umbrella sleeve during construction. Once your pool is complete, just bring in a sun umbrella for both shade and a pop of color around your kidney pool.
7. Tweak the shape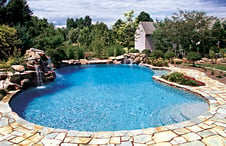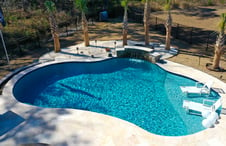 Over the decades, the kidney pool paved the way for the development of several similar freeform shapes.
One of the best examples is the "figure-8". It's just like it sounds—a pool shaped like the number eight. The two halves may be equal in size or purposely disparate to create asymmetry.
The other popular kidney-pool offshoot is a "cloud" or "bubble shape". Like a cloud in the sky or two or three grouped bubbles, this pool shape is curvy and varies from one pool design to another,
You can indulge your affection for the old-school pool shape by choosing one of these popular descendants of the kidney.
You can also select the kidney shape, but update it with one or two minor customizations to the shape.
For example, your pool designer can tailor the shape of the overall perimeter or a large section of it. Minor changes to the degrees of a curve preserve the overall kidney shape while giving it a fresher appearance.
Another tactic is adding a small, but distinctive "bump" along the perimeter—creating what is sometimes referred to as a "pregnant kidney."
In some pool designs, the extra bump may be the site for entry steps, an underwater bench or loveseat, rock waterfall, or a water-feature wall.
Kidney pools in the 2020s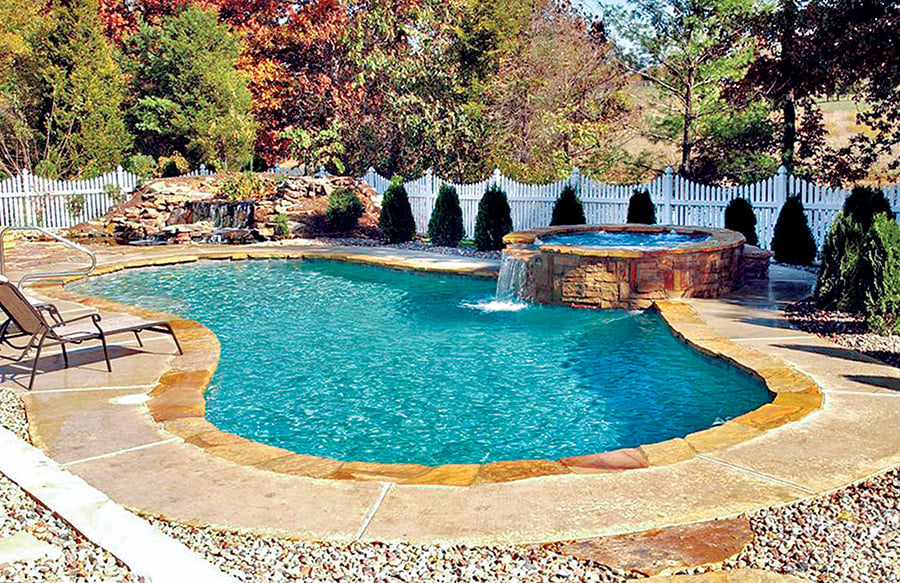 As you can see, kidney pools aren't just about the past. Today, a well-designed one with the right aesthetic features and materials has modern written all over it.
That means you can have it both ways: a revered silhouette with the sophisticated options found on modern pools.
If you're considering a kidney pool for your home, discuss different options with your designer to ensure it has the level of contemporary style you want.
Yes, this pool shape has been around for a long, long time and can be considered a kind of throwback to another era.
But with a little creativity and strategic design approaches, you can have a kidney pool that can still be the life of the backyard party and a beautiful addition to your home.