—From round to custom organic, evaluating options for spa shape (illustrated with photos)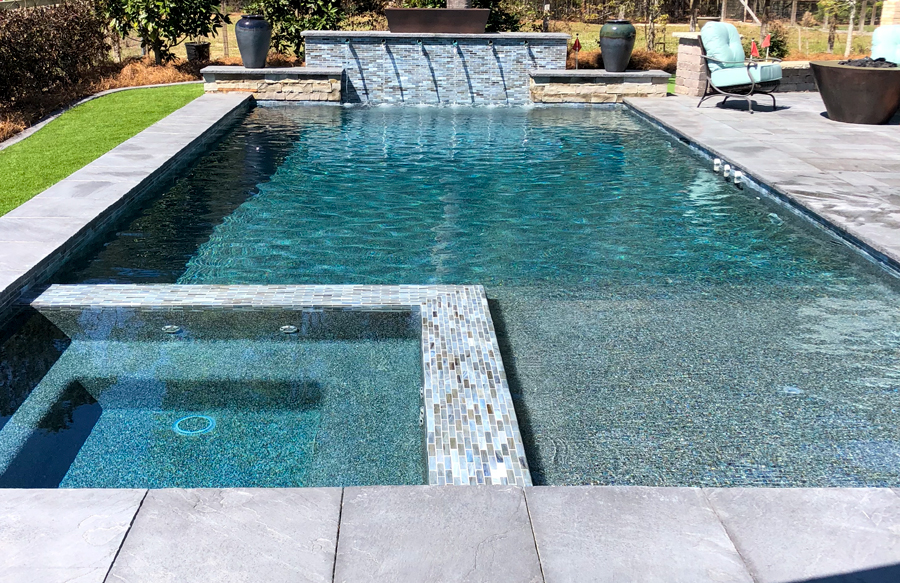 As with a new gunite swimming pool, you have a wide array of choices for the shape, style, and configuration of the custom spa that will accompany it.
Many attractive spa design options are possible. Covering all of them could fill several articles.
For this discussion, let's focus on shapes for gunite spas and some of the features and considerations of each.
Bear in mind that how your spa is configured with the pool—inside, outside, hybrid—often comes into play when determining the best-suited shape for the adjoining spa.
Above all, the shape and style of the pool should weigh heavily in determining the shape and style of the spa.
When it comes to evaluating these factors, having an experienced pool designer will be key in developing a winning concept.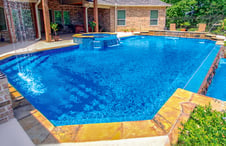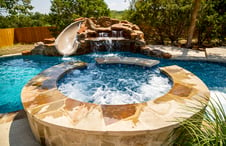 The shape of spas to come…
Whether it be a circle, square, octagon, triangular, organic, modified geometric, or custom concept, each of these spa shapes will deliver a bold statement in your outdoor space.
On certain shapes of gunite pools, it's easier to marry some shapes of spas versus others.
And even if the shape is simply round or square, the level of customization that's possible with gunite construction takes the spa to a whole other level of style and beauty.
Let's take a look at the most popular spa shapes, some less-common ones, and some highly customized options.
It's also important to understand the attributes of each shape and why your pool professional may suggest one over another for your pool design.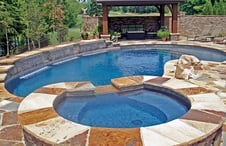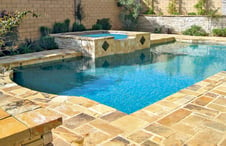 Round / Circle
Hands down, the most common choice for a gunite spa is round. Odds are high that you will ultimately go circular.
There are very good reasons why.
First, from a construction standpoint, a round spa is the most economical to build. Most gunite pool builders consider round as the standard shape for a spa.
In many cases, this shape delivers the greatest square footage in relation to the perimeter footage.
Why does that matter?
Because when it comes to retail pricing, some pool builders base their costs on linear footage. Therefore, a circle may be the most economical choice.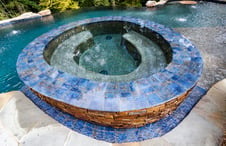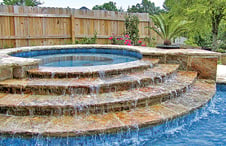 A circular spa gets five stars for maintenance and operation too.
Heated water circulates most efficiently and thoroughly in this shape. Dirt is less likely to settle in one spot, as there are no corners where it can do so.
A round spa guarantees another home run: The cozy, circular environment is perfect for socializing. Conversations and fun flow easily in a circle.
A 360-degree space is ideal for accommodating multiple people—and they can face one another as they chat and relax in the warm swirling water.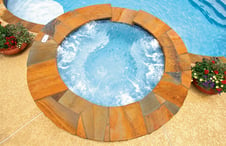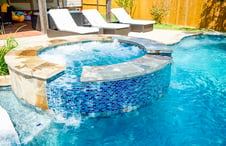 On the aesthetic front, a circle is extremely versatile. In the arena of pool-spa matchmaking, a circle complements virtually any swimming pool shape and design style.
For example, a round spa provides an excellent architectural counterpoint to a sleek geometric pool.
Whether the geometric pool is composed of all straight lines or a combination of straight and curved ones, a round spa almost always fits well into the pool's borders.
The super-adaptable circle also integrates seamlessly with many curvy pool shapes, including kidneys, "clouds" and "figure-8's."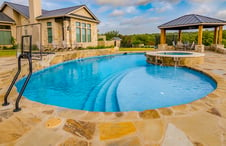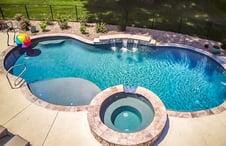 A round spa will hold its own in elegant, formal settings as well: It pairs well with most Roman or Greek pools.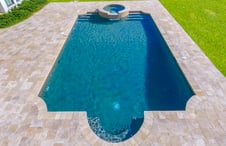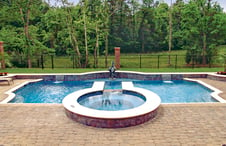 You can also put a new spin on the standard circle by modifying the shape. Learn how in the section below "Custom Geometric."
Square
The second-most-popular shape for a spa is a square. Thousands of square gunite spas across the country stand as a compelling focal point on a backyard pool.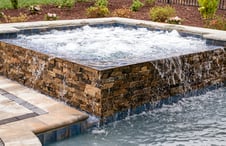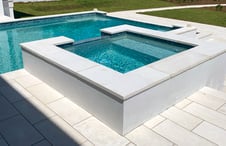 With its tidy, uniform profile, this four-sided structure effortlessly combines with rectangle pools and most other angular ones.
A square spa is a masterful way to accent a modern pool with clean lines.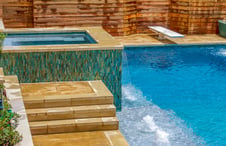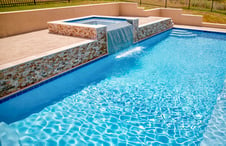 Like a round spa, a square spa can also mesh surprisingly well with a traditional Roman or Greek design.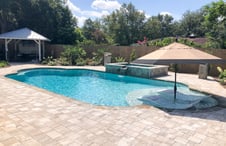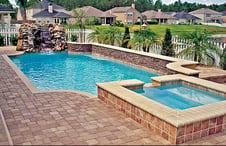 While a square spa performs well in the looks department, it won't beat the versatility of a round one.
Here's why: The same qualities that make square spas ideal mate for contemporary, geometric pools make them undesirable on many free-form pools.
A square's chic linear form may disrupt the flowing, graceful lines in a curvy pool.
For example, a square spa may look "too perfect" and unnatural on a tropical lagoon-style pool. If incorporated into a cloud, figure-8, or kidney pool, a square spa may be an almost jarring sight.
Now, a number of tried-and-true solutions for this design limitation are possible.
By making thoughtful changes to a square, the customized version can partner surprisingly well with a wider array of pool shapes. See how in the section below "Modified Squares and Rectangles."
Rectangle
Although it offers virtually the same attributes as a square, a rectangle is chosen far less frequently for a spa.
A rectangle maintains the clean lines and sleek look of a square. But since you don't often see rectangular spas, the elongated silhouette provides a little visual treat.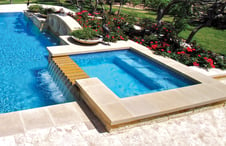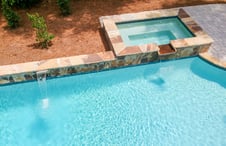 On some gunite pool projects, a rectangle makes sense to achieve a goal.
Say your backyard contains fabulous scenery—maybe a lake, ocean, water, valley, canyon, mountains, or lush greenbelt.
You want everyone to be able to see the outstanding view while soaking in the spa, right?
The long sides of a rectangle spa afford the space for extra-wide seating. This means more people can fit onto the one bench that faces the view and enjoy the scenery.
One way to configure a spa is to build it within the pool's interior, forming what's often called an "inside" spa.
On these spas, a rectangle may be advantageous over a square for space planning.
For example, if the location of adjacent pool features is a consideration, a rectangle may provide better use of limited space.
Using a rectangle—versus a square—may provide greater flexibility for the size, style, and location of the entry steps. It may allow space for an extended second step that doubles as a bench or for a first step that doubles as a tanning ledge.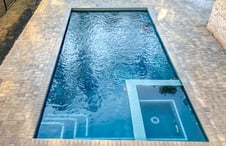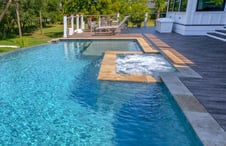 Compared to the space that a square spa consumes in the pool's interior width, a narrower rectangle spa can leave a few more feet of the pool's shallowest section open and available for swimmers.
Modified Square / Modified Rectangle
When designing a square or rectangle gunite spa, it's possible to venture "outside the box." Simple tactics will inject more personality into the shape.
For example, the mere act of inverting each of the four corners makes the spa shape more appealing.
So does chamfering"—cutting away one of the spa's four corners. While you never want a pool builder to cut corners on construction, this is one exception: This single, unexpected change creates a more interesting profile.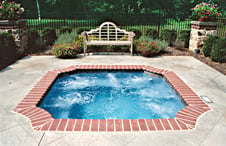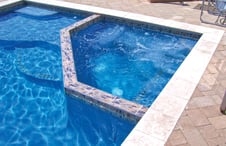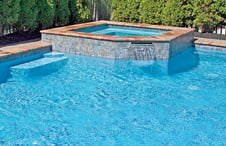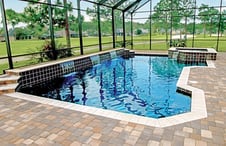 Another technique is to forgo the 90-degree corners. Instead, round one or all of them.
Doing so softens the spa borders, allowing the shape to blend successfully with fluid lines on a curvy pool.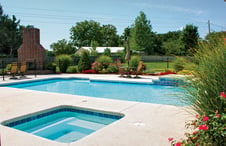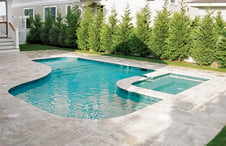 Introducing a curve will also make square and rectangle spas more intriguing. Replace one of its straight sides with an arc.
This unusual "bend" along the spa perimeter adds character to any poolscape. An outward arc also slightly increases the spa's interior square footage.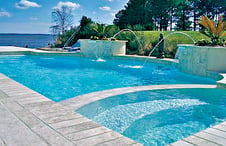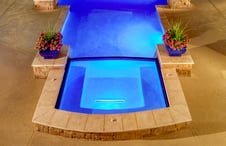 Triangular (and Quarter Circles)
First things first: Note this is called "triangular"—not "triangle. That's on purpose.
Whether equilateral, isosceles, or scalene, you will probably never see a gunite spa with three entirely straight sides that all meet at an angle. And most pool contractors will never build one either.
For a spa environment, a standard triangle is rather inefficient; it requires the most linear feet for the least amount of interior space.
Even if the triangle shape is modified, the spa may have space challenges. Unless the spa is particularly large, it may have room for a bench on only one of its three sides—or two at most. That translates into a limited seating area.
Therefore, unless you have the space and budget to build an oversize triangle spa, expect it to be cramped whenever there's more than two people.
Triangles are less practical in other ways.
For the same reason that round spas are excellent for water circulation, triangles are not: The corners—especially those tighter than 90 degrees—are not as conducive for water flow.
Worse yet, those same tight corners are more accommodating for what you don't want: Dirt to settle.
But since a triangle on a pool is an unusual sight, it sure does look neat! So it may remain on your wish list for its "cool" factor.
Well, here's some good news: Tricks exist for building a triangle-like spa. Some strategic tweaks to the classic shape will get the job done.
Among the proven methods is curving one side of the triangle.
Technically speaking, this change now makes the shape a quarter circle.
This shape has a little more interior space room than a regular triangle—which may be more comfortable and functional.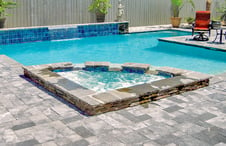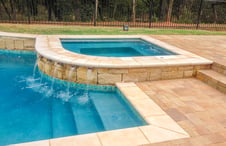 A less-common approach to the classic triangle is to "blunt" one, two, or all three of the corners. In other words, replace one or more of the sharp points with a straight cut.
This modification to the point can be minimal—just a few inches and one just one corner.
Or, blunting roughly a foot on two or three of the corners (versus only one) will yield a distinctive, custom silhouette.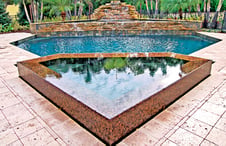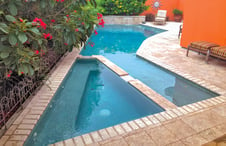 As with a square spa, a triangular spa design can retain its straight sides, but have rounded corners.
Along with a softer appearance, rounded corners make a spa a little friendlier for water circulation and cleanliness.
A biophilic interpretation of the hard, angular shape will also soften a triangle. With this approach, a pool builder fashions a nature-inspired design with three intentionally imperfect sides.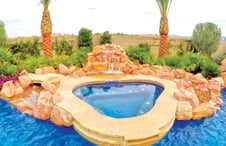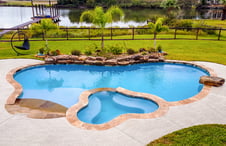 Octagon, Hexagon, Pentagon
Other polygon shapes are an optimal fit for most rectangular pools and those composed of hard angles.
Octagons, hexagons, and pentagons are instantly recognizable. But no one expects to see one in a backyard.
With that in mind, a spa built in one of these multi-sided shapes will certainly turn heads in an outdoor setting.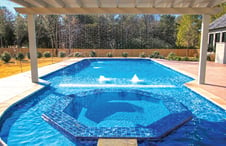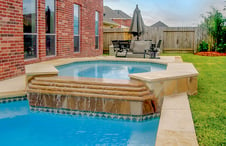 While five-sided pentagons and six-sided hexagons are feasible for spas, designers rarely propose them.
Among these three polygon shapes, the octagon is preferred for spa design.
Builders find this shape easier for integrating the spa's dam wall into the side of the pool, and it divides the spa into eight identically sized seating areas.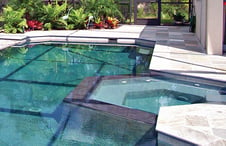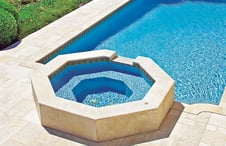 An octagon offers slightly better functionality too. It provides nearly the same advantages of a round spa.
The eight-sided shape more closely approximates the surface area of a circle than does its five- and six-sided cousins.
Such an attribute makes the shape more effective for water circulation and ease of face-to-face conversations.
Where an octagon may not have the same advantage as a round spa is cost: Some builders consider a gunite octagon—as well as a hexagon or pentagon—an upgrade when buying a pool & spa.
As with most spa shapes other than a circle or square, don't be surprised if the price is higher for the more demanding construction
Semi-Circle / Half Moon
Once in a great while, someone builds a semi-circle (aka "half-moon") gunite spa.
But even when they do, it is rarely a "true" semi-circle spa—the standard one you see in geometry textbooks.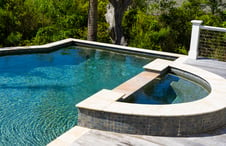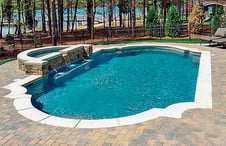 On many pool designs, a spa shaped like half of a circle just does not make good use of space.
Above all, this shape is difficult to integrate successfully into many pool configurations.
To meet the "semi-circle: challenge, you need a savvy designer to carefully develop the perfect shape of pool and the proper location for the spa.
Instead, the typical go-to alternative used by designers is to modify the classic shape. Learn how in the next section.
Modified Semi-Circle / Half Moon
Nearly any semi-circular gunite spa you see will have an alteration to the standard shape.
The trick to making the shape practical for a spa is replacing the straight side with a curved one that bows outward.
Gaining more room in the spa interior is the payoff. In turn, the spa may have enough space for an additional stretch of bench seating.
On a modified semi-circle spa, the curved radius may be symmetrical and uniform.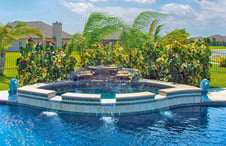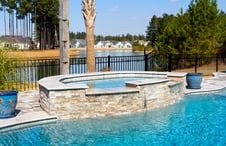 On other versions, this section of the spa wall is intentionally non-uniform and wavy.
Particularly on a curvy pool, a flowing shape that echoes the pool's architecture enhances the overall visual harmony.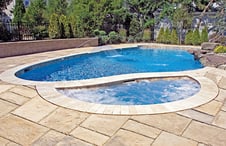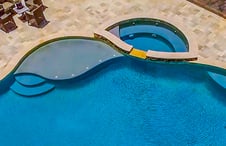 Other "Uniform" Shapes
A raindrop and teardrop are not usually covered in basic geometry lessons. Neither is a horseshoe or quatrefoil.
But since everyone generally recognizes them, we will refer to them as "uniform" shapes.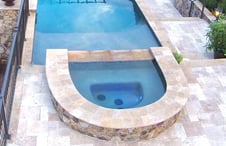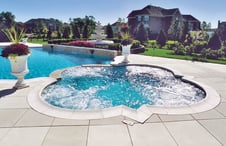 Each comes in a few iterations with small variations to the fundamental shape.
For example, one horseshoe spa may have longer sides than another horseshoe spa.
A "classic" teardrop is shaped like a water droplet. But it could be curved as well. Another version is extra-wide and resembles a one-cornered circle.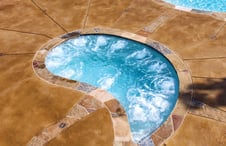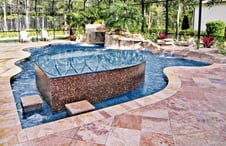 Any one of these will become an eye-catching feature in your backyard.
In general, these shapes coordinate best with geometric pools. Any one of them will ensure a compelling attraction on even a basic rectangle pool.
While these shapes come with attention-getting good looks, some have a few minor shortcomings.
For example, a teardrop is not space-efficient.
Or, if a shape has corners running under 90 degrees, seating may be less practical: Configuring usable space on the bench may be difficult—possibly limiting how many people can enjoy the spa at one time.
Tight corners can make it easier for dirt to collect in them, and cleaning these spots may require a bit more diligence.
In addition, there's the expense: From a pool-construction perspective, these "uniform" shapes are considered custom projects. So yes, most pool builders will charge extra.
Custom Geometric
This alluring group of spa shapes overlaps with the categories of modified square, rectangle, triangular, circle, and semi-circle.
Altering these common geometric shapes using the tactics described in previous sections can also be considered customization.
Using these five standard geometric shapes, as well as other geometric options and the "uniform" shapes described above, a seasoned pool designer makes substantial revisions that develop a new, original shape.
A designer begins with a basic shape, such as a rectangle or semi-circle. Next, they strategically tailor the shape and configure it to unify with the pool's shape.
The artisan creation may consist entirely of all straight lines. Their hard-edged shape guarantees a stunning centerpiece on a geometric pool.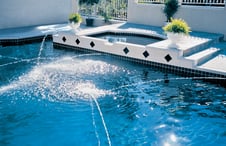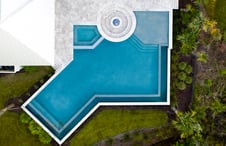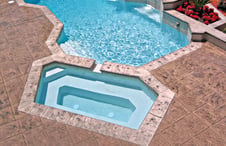 Heavy customization is also an option for circular spa shapes.
Designers conceive sophisticated designs by performing similar tricks on a circle or oval.
The resulting shape will complement a curvy pool as well as an angular one.
For example, on a round spa, the design can include an inverted radius in one section.
Or, take a semi-circle. The customization could be an outward bend in the side that is normally straight. This one subtle alteration achieves a sophisticated profile that a regular semi-circle would not.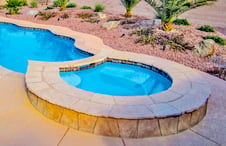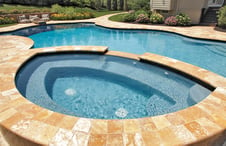 In spa design, another way to enhance a circular shape is to go organic. See more about that in the section below, "Organic Curve."
Be advised: Whether straight-edge or circular, these kinds of bespoke spa shapes come with bespoke price tags.
Your builder wants to ensure a quality result. The highly curated array of angles and curves demands more attention and skill level throughout the multi-phase construction process.
Organic Curve
An entirely different take on a round spa shape is to morph it into an organic one with flowing lines.
Think of a circle or oval with borders that look like they've been stretched or have begun melting.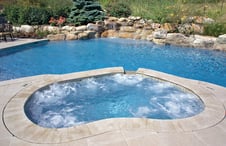 These abstract shapes typically resemble a wavy, imperfect circle or oval. But there is no "official" or "standard" organic shape for spas. Each one is a tailored concept.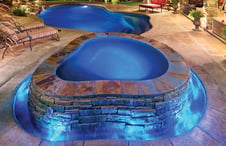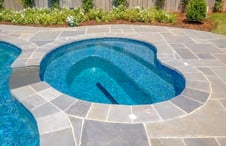 This category of shapes also encompasses the modified triangular shapes and semi-circles we explained earlier.
On a triangular or semi-circle form, it's common to take the side that would normally be straight, and make it wavy.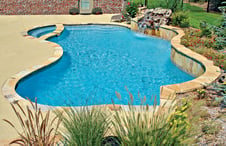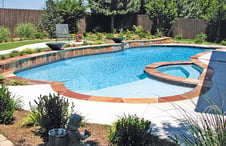 Doing so achieves a natural aesthetic. This free-form spa perimeter compliments a pool with similar kinds of lines.
In particular, a spa with this organic shape is a superb match for a natural, lagoon-style pool.
Beyond circles and squares…
Knowing about the range of gunite spa shapes gives you a leg up when meeting with pool designers.
You will appreciate why they will probably recommend an ultra-versatile round spa or maybe a square one.
When they design your lush grotto pool with an organic-shaped spa—and caution a hard pass on your suggested octagon—you will understand the rationale.
Do you have the budget and desire for a bespoke specialty shape? If so, you're ready to discuss some of the high-end custom ideas described here with your builder.