—From round to custom organic, evaluating options for spa shape (illustrated with photos)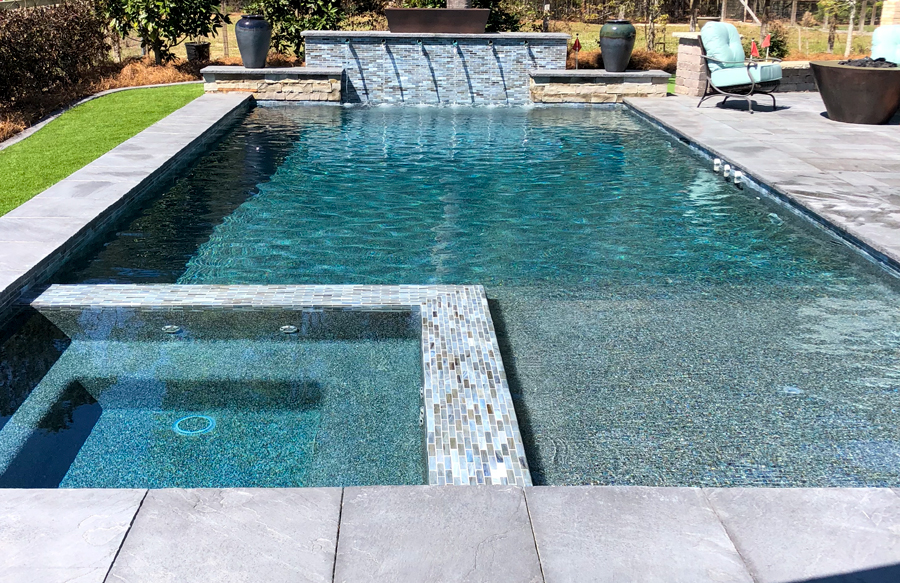 As with your new gunite swimming pool, you have a wide array of choices for the shape, style, and configuration of the custom spa that will accompany it.
After all, the style and appearance of your hot, bubbling hydrotherapy retreat are just as important as the fun and relaxation it will provide.
Assuming your spa will be "attached" (incorporated directly into the pool's structure) like the vast majority are in American backyards, many interesting design options lie ahead.
Among them are the spa's configuration—in other words, its placement in your pool's layout. This is fundamental to any pools-spa project plan.
Configuration involves where the spa is built around the pool—how it is positioned in relation to the pool's perimeter. A spa configuration can be inside, outside, or a hybrid.
Understanding all the attributes of each configuration and which one will work best for a particular pool design and project budget is a broad topic—one unto itself for a separate article.
Another key design consideration for a spa is its elevation. Some spas are constructed level—flush—with the pool. Others are "raised;" contractors build them elevated 6, 12, 18 inches or more above the pool.
Particularly if the spa is raised, you will have many appealing options for the spa's spillway.
The spillway feature plays a major role in just how dramatic and eye-catching your spa will be. (To some degree, its style even impacts the kind of gushing sounds the overflowing spa water will produce.).
In turn, some of these choices will impact opportunities for the spa's overall aesthetics and design elements. Some of these choices can also influence how your family uses the spa.
Covering all the possibilities for spa design in depth can fill several articles. For this discussion, let's focus on options for spa shape and the features of each.
Bear in mind that how your spa is configured—inside, outside, hybrid—often comes into play when selecting the spa shape best-suited for a project.
Above all, the shape and style of the swimming pool should weigh heavily in determining the shape of the adjoining spa.
The shape of spas to come…
If you are familiar with mass-produced acrylic hot tubs for sale in retail stores, you know they are fabricated in round and square models.
But along with these two standard shapes, gunite spas are built in custom variations not possible from a factory assembly line.
And even if a gunite spa is round or square, the level of customization that's possible takes these basic shapes to a whole other level of style and beauty.
Whether a circle, square, or custom shape, each option delivers a visual statement. Some complement certain shapes and styles of pool versus others.
Let's take a look at how. You will gain a better understanding of your spa shape choices and why your pool professional may suggest a one over another for your pool design.
Round / Circle
Hands down, the most common choice for a gunite spa is round. The odds are high, this is the shape you will ultimately go with.
There are good reasons why.
First, the cozy, circular environment is perfect for socializing. Just think about how everyone's natural instinct is to form a ring around a fire pit or a campfire when they sit. Conversations and fun flow easily in a circle.
This same kind of seating arrangement holds true in the water as well. A 360-degree space is ideal for multiple people to fit in the enclosed area—and they can face each other as they chat and relax in the swirling warm water.
Now, on the aesthetic front, this familiar geometric form is highly versatile. When it comes to pool-spa matchmaking, a circle compliments many popular pool shapes and design styles.
For example, a round spa is an excellent architectural counterpoint to a sleek geometric pool. Geometric compositions consist of either all straight lines or straight lines mixed with radius forms.
So whether the pool's outline is a basic rectangle or a unique geometric concept, it's pretty tough to go wrong accenting it with a round spa.
A versatile round spa also coordinates seamlessly with many "cloud" or "figure-8" shape pools and others with a curvy silhouette.
Depending on the specific design, a round spa can also pair well with a modified Roman or Greek pool.
Square
The next most popular shape for a spa is a square.
With its clean, formal appearance, this four-sided structure easily integrates with most modern, angular pools. Square spas serve as a striking focal point on thousands of backyard pools.
But unlike the highly versatile circle, a square is somewhat limiting. Yes, a square makes a bold statement on a contemporary pool with straight edges.
But these same qualities may disrupt the flowing, harmonious lines in the kinds of curvy pools described above.
Occasionally, pool builders modify a square spa to give a softer appearance. The trick here is to forgo the 90-degree corners and instead, round them,
For an added benefit, if someone ends up in a corner, leaning back against the softened versions may be a bit more comfortable.
Another way to tailor the corners on a basic square is to invert them. The unexpected "bend" along the spa perimeter delivers a distinctive shape rarely seen in aquatic architecture.
Organic Curve
A twist on the round shape is a kind of circle that's been modified; rather than a perfect circle, the shape has been flattened or stretched.
There is no "standard" organic shape; each is a custom concept b the pool designer. Unlike the standard geometric shape, this customized form produces a more natural aesthetic.
While this tailored creation maintains a flowing, quasi-circular form, its unique silhouette gives special character to the spa.
In particular, this approach for a spa shape is a superb match for a natural, llagoon-style swimming pool design.